New ATOMOS Blade Announced
Atomos just announced a NEW NINJA called the Blade. I have one of these in my hands right now and I can tell you that the new screen on it is amazing. It now has a IPS 5 inch screen that is not only easier to touch, it's more accurate and easier to see outdoors.
I will be showing this off on a future RAWtalk as well as highlighting the new features that Stephen and I are really excited about.
The price of the new Ninja is $995 and the Ninja 2 is still $695.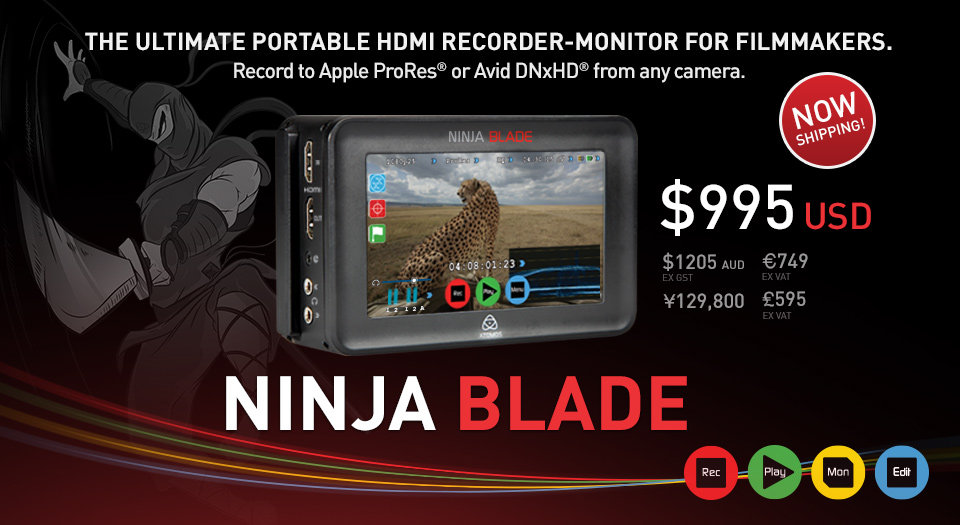 Atomos Launch Ninja Blade
Atomos at the Cutting Edge at BVE 2014, London
Melbourne, Australia – February 25th, 2014: Atomos, the creator of the award-winning Ninja and Samurai camera-mounted recorders, and the pocket-sized Connect converters, will launch the new HDMI Ninja Blade at BVE Expo, 25-27th February 2014 at the Excel Exhibition Centre, London. The Ninja Blade brings new levels of professional monitoring to camera mounted recorders for DSLR's and any HDMI capable device.
"We are extremely proud to work with all the major camera companies, especially technology leaders from Japan, which gives us a unique advantage over our competitors." said Jeromy Young, CEO and Founder of Atomos. "And I am especially pleased to be able to announce a product that is also ready to ship, which is something of a rarity in this industry these days. With the Ninja Blade we are able to deliver fantastic, professional-grade monitoring functionality and recording codecs straight from the multitude of DSLR's, mirror-less and HDMI video cameras. And we can deliver it now, not in 6 or 12 months' time."
Atomos recorders have broken new ground in production by combining recording, monitoring and playback all in one easy to operate, portable device. Like the Samurai Blade, Ninja Blade allows the recording of pristine, 10-bit images straight from the camera sensor directly to inexpensive HDD or SSD drives, captured using Apple ProRes or Avid DNxHD codecs. Waveform, vectorscope and monitor assist tools such as tri-level focus peaking, zebra, false colour and blue-only offer a very comprehensive test and shot setup tool kit.
The Ninja Blade takes advantage of low-cost, modern technology by utilizing HDMI-capable pro-video and consumer camcorders, as well as DSLRs. Many features from Atomos are designed with real productions and real situations in mind, to create smarter workflows, keeping the highest quality but also keeping running costs low. The Ninja Blade was designed with a long battery life. Atomos' unique Continuous Power technology (patent pending) means that you never have to interrupt recording to swap batteries.
The new Ninja Blade features a stunning 1280 x 720 SuperAtom IPS touchscreen, at 325ppi 179-degree viewing, 400nit brightness and multi-frequency (48/50/60Hz) operation depending on video input, giving super-smooth monitoring and playback. Every screen is calibrated to SMPTE Rec 709 colour space and a D65 white point with 100% gamut from factory. On-the-fly screen calibration is built into every Ninja Blade, so you are always accurate in any shooting environment.
You can see the Ninja Blade and the full range of Atomos products at BVE Expo www.bvexpo.com on the Atomos stand (G32) together with UK distribution partner Global Distribution. For more about Atomos see www.atomos.com and Global Distribution www.globaldistribution.com.
Pricing and Availability
The Atomos Ninja Blade is now shipping for 995 USD, 749 EUR and 595 GBP (excluding tax and delivery) and will be available through the Atomos Worldwide reseller network. See www.atomos.com
for more details.
About Atomos
Atomos designs and manufactures smart production tools: affordable, easy-to-use field recorders and converters that save video professionals time and money, without sacrificing quality.
Atomos is based in Australia, with offices in the USA, Japan, China and Germany partnering with a worldwide distribution network. Further product information can be found at www.atomos.com. Connect with Atomos on Facebook or follow on Twitter (@Atomos_News)