RANT Ken Rockwell says "Pros only shoot in 'Pro mode,' that's why it's called Pro mode" - RAWtalk #112
Download this weeks MP3 right here.
Welcome back to another fun filled week of FroKnowsPhoto RAWtalk where I occasionally curse, scream, sing, rant and talk photography. This week I did not plan on ranting I only planned on sharing a few direct quotes from a certain someones website.
Now I know you are asking yourself why do you read that guys site and my answer is because I want to see what he will say next. Now that that's out of the way what did he say this time? First there was a quote about a camera being free but it costs $1,250 followed by "some people have this idea that pros only shoot in manual exposure mode". All I can say is skip to 36:48 put your earmuffs on and get ready to be frustrated.
This weeks show sponsor was RODE microphone and I featured their Invisilav which honestly will come in handy when I need to put a lav mic under my shirt. The truth of the matter is we currently just use gaff tape to stick the mics to my chest. In reality we should be using the invisilav which we are going to start doing. You will notice I had a little bit of trouble getting the included tape to stick and I have verified that it's because it's skin safe. My solution to this is use wig tape or gaff tape and you will be good to go.

Stephen brings us the last two weeks in photo news from the new Sony A7 II to the rumor of GoPro manufacturing their own drones. Check out the photo news starting at 08:05 .
Don't forget to subscribe to the Podcast on iTunes or your iPhone to automatically have the new episodes sent right to your phone.
Screen grab taken from Ken Rockwell's website.
Here's all of Stephen's photo news stories in detail:
Sony's New A7 II 5-Axis Stabilization In Action
The first footage of Sony's new A7 II 5-axis in-body stabilization at work is now online and it looks incredible. The video shows the sensor shifting left, right, down, up, diagonal–all around–while the body is being shaken up. For those that missed it, the 4.5 stops of optical image stabilization is said to work on any lens as well since it is the body doing all the work. Check out the video below: (via SAR)
Canon Repurposes Body Cap With New Patent
Canon patented a new type of body cap that is said to clean your contacts on your lens mount. The patent suggests that as you screw it on and off, it will clean them–ingenius, right? Just another reason to actually use your body cap, who knows if this will become reality or not though… (via CW)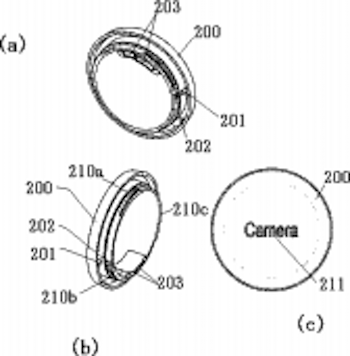 If Social Networks Were People
Fashion photographer Viktorija Pashuta put together a new photo series that revolves around the idea of what if guys were social networks. The goal was to try and capture the character of each major social network, with Viktorija writing on her blog, ""even though they share very similar functions and features, each social network has its own character and style." Also, here's what she says about each network: "Facebook depicted as casual, Twitter as classic, Pinterest as creative, LinkedIn as Business, Instagram as vintage, Flickr as artsy, Tumblr as hip and Google +as innovative." She adds, "this is exactly how I imagined the networks would look like if they stepped down from the computer screens to the streets." Another unique series that I wanted to share with all of you!  (via PP)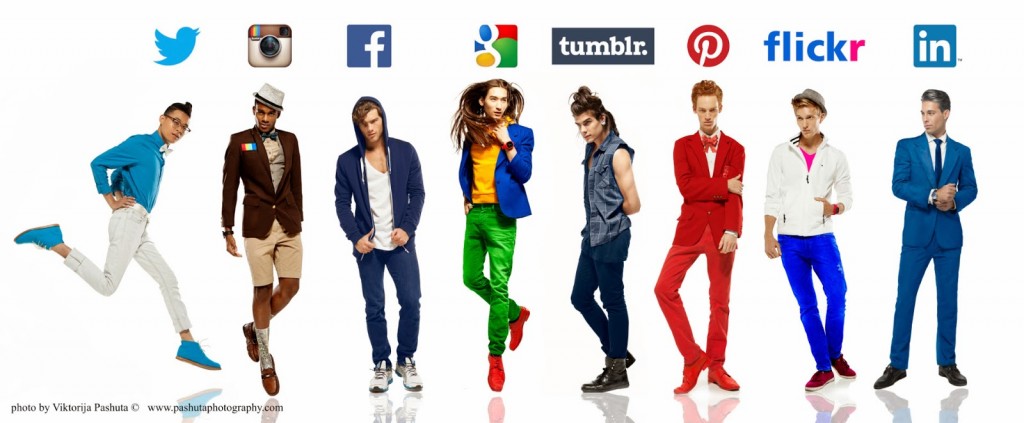 Photos by Viktorija Pashuta
Instagram's Top Geotagged Location of 2014
Speaking of social networks, Instagram released their official list of the top 10 places that were photographed in 2014 according to geotagged locations. Starting at the bottom of the list at number 10 is: (via PP)
10. The Dubai Mall, Dubai
9. Yankee Stadium, New York
8. Madison Square Garden, New York
7. Red Square, Moscow, Russia
6. Musée du Louvre, Paris, France
5. Gorky Park, Moscow, Russia
4. Siam Paragon shopping mall, Bangkok, Thailand
3. Times Square, New York
2. Dodger Stadium, Los Angeles, California
1. Disneyland, Anaheim, California
First True Color Image of Comet 67P Beamed Down
Rosetta beamed down now the first true color image of Comet 67, and it's not grey…The comet actually does has some color to it, being a natural reddish-beige color which you can see below. The photo was captured by Rosetta's OSIRIS Narrow Angle Camera, taken with 3 separate RGB exposures and composited in post. Pretty amazing, right? (via Sploid)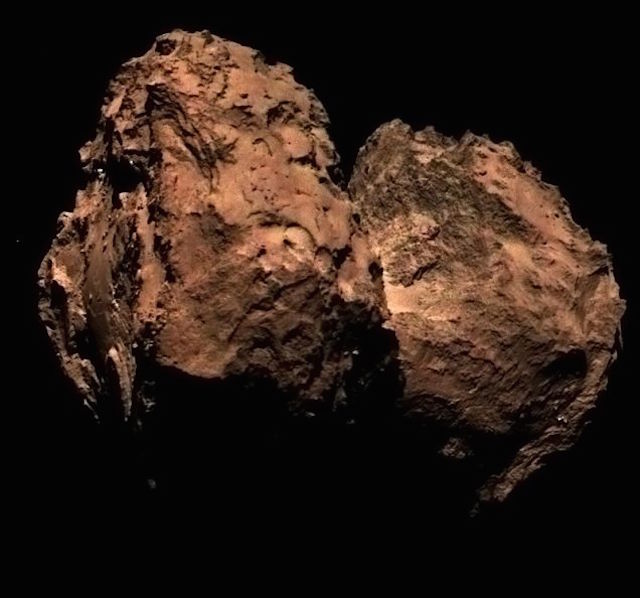 Historic Moment Captured at Ferguson Protest
A powerful photo has risen to the top from the on-going Ferguson protests: it's a picture of a young 12-year-old black boy named Devonte Hart hugging a white police officer named Bret Barnum as he sheds a tear. The image that screams Hope was taken by photographer Jonny Nguyen in Portland, Oregon. It was taken after the young boy was holding a "free hugs" sign at the protest, and the officer pointed to the sign asking, "Do I get one of those," which Hart then answered with a tearful hug. The photographer says, "I had a gut feeling there was something special about Devonte, so I stayed at the scene. Before I knew it, Sgt. Barnum was speaking to Devonte. That's when I got the powerful image of them hugging. From there, I knew I had something special. Something that I wanted the world to see. A powerful message I wanted to communicate. As a photographer, you always have to trust your gut – your intuition. It's your best tool." A historic moment captured once again. (via OL)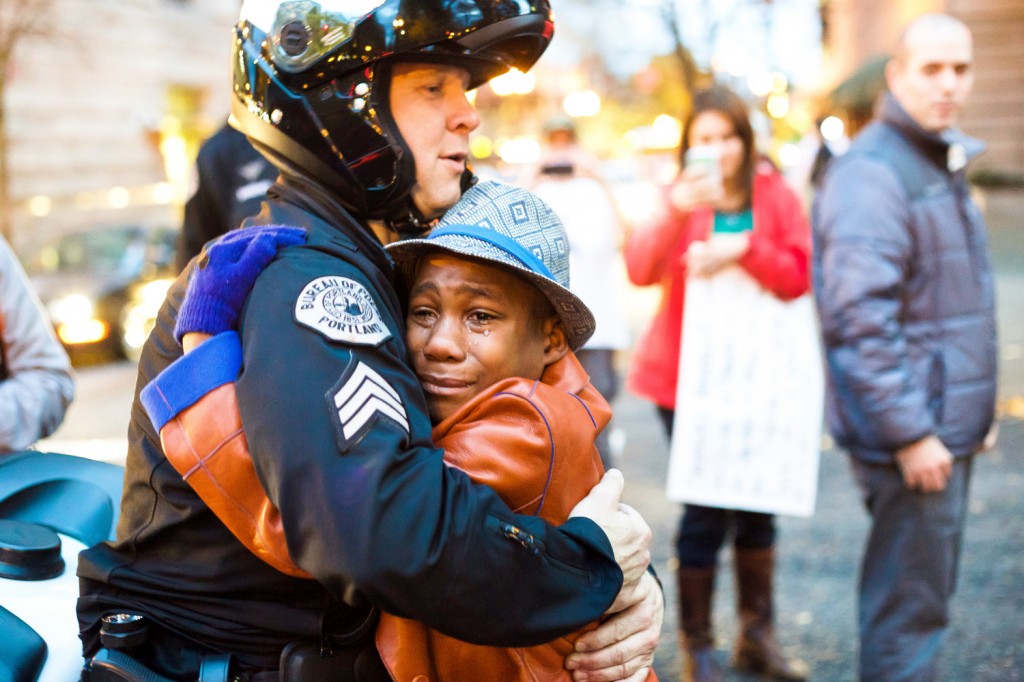 Photo by Jonny Nguyen
RUMOR: FAA To Issue Strict Drone Laws
On to drone news: sources are noting that the FAA will soon be releasing regulations for camera drones, which we all have been waiting on, however they're pretty strict rules if they do become reality. The sources says the regulations include: requiring a conventional pilot's license, no flying at night, no flying above 400ft, and always staying in sight of your device, which in my opinion is just outrageous. The Wall Street Journal is reporting that this will apply to ALL drones weighing 55lbs or less too, so if you think a smaller drone will get you out of this, think again! Now these aren't official just yet and won't be for some time, but be prepared if drones are being used for much of your business currently. Also, the FAA published a report saying that drone-related air traffic incidents are on the rise: a total of 175 incidents are reported, 25 of which are described as near-collisions. In one case, a drone flew less than 50 feet from a US Airways plane taking off from a major airport, and just about every case involves the camera copters flying above the 400ft limit. So as usual, there's a few people out there breaking the rules ruining it for the rest of us; bummer. (via Engadget)
GoPro To Make Their Own Drone?
Another rumor and more drone news: GoPro is rumored to be making their own line of camera drones–finally! This would be pretty big since just about every drone uses a GoPro as their on-board camera. The report, by The Wall Street Journal, claims the drones will retail for between $500 and $1,000 and will arrive sometime late in 2015. Will this be a gamechanger?
Photographer Recreates Game of Thrones Poster with Camera Lenses
A photographer named Tanner Johnson and his friend Beau Larson recreated the Game of Thrones Season 1 poster with camera lenses replacing the swords. This is of course a photoshopped image, where they basically took individual studio shots of each large lens they had and composited them with an image of Beau sitting at the throne. The funny thing is that it's a Canon shooter sitting on a throne of Nikon lenses (where he holds a Canon lens) but since the throne is made from the swords of defeated enemies in Game of Thrones, this makes sense. Now the Photoshop job and lighting isn't the best but it's certainly a fun idea. (via PP)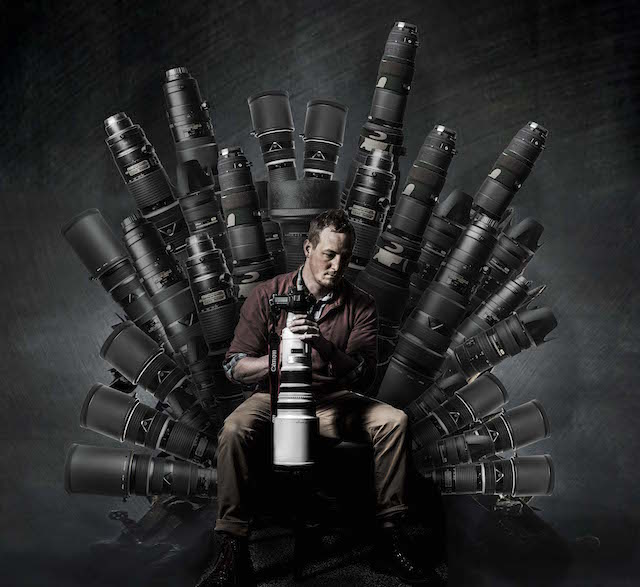 A Billion Dollar Photoshoot with Five Airplanes
Airbus put on a very expensive photoshoot of five $300 million dollar A350-900 airplanes flying together, totaling a whopping $1.5 billion dollars! The photo shoot was put together to celebrate the certification of the company's latest twin-engine, wide-body jetliner. It was obviously a very expensive photoshoot, with fuel prices costing about $11,000 per plane for the hour-long shoot, bringing the bill up to $55,000 just to fly the planes! Factor in the cost of preparation, pilots, the photographer, the helicopter for the photographer and more–very expensive. Check out a 6-minute behind-the-scenes video below that showcases the planning stages to the actual flying photoshoot. I oddly enough can't find any actual pictures from the shoot though…Hm. (via FS)
First 3D-Printed Portrait of a President
The first-ever 3D-printed presidential portrait was taken recently during the White House's Maker Faire. Autodesk, 3D Systems, the Smithsonian, and the University of Southern California teamed up for this project, creating a mobile rig featuring 50 LED lights, 14 cameras and hand-held 3d scanners that surrounded President Obama. Once the image was taken, the team used a high-res 3D printer to bring the detailed rendering to life via a plastic mold. Prior to this, presidents used to do Life Masks which required literally pouring plaster on a president's face, making a realistic mold. Check out the whole behind-the-scenes video on the shoot, very interesting. (via Engadget)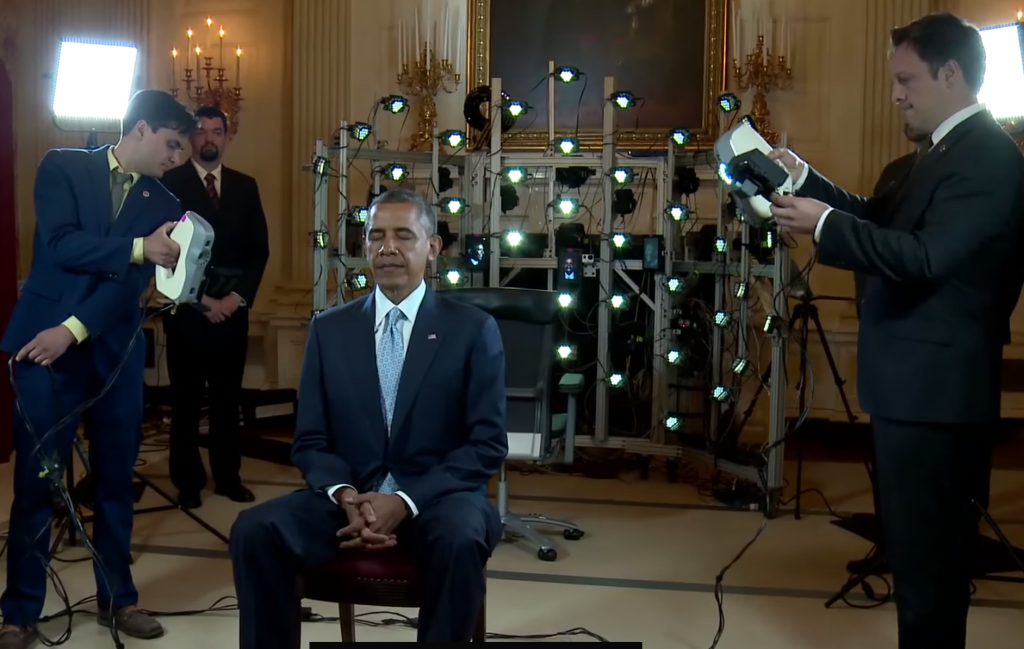 Haunting Chernobyl Drone Footage Captured
Filmmaker Danny Cooke was capturing footage for a 60 Minutes segment about Chernobyl and got to explore the abandoned surrounding city via drone. The haunting video, called "Postcards from Pripyat, Chernobyl," was captured both on ground and in the air. Check out the real life ghost town below; eerie. (via FS)
This New Tiny Drone Fits In The Palm of Your Hand
Yet another new Kickstarter, and–it's about a new drone…This one is a little different however, as it literally fits in the palm of your hand. Called the ZANO, the mini drone is just 2.5×2.5 inches big and weighs in at 1.2 lbs. The nano drone was created by Torquing Group Ltd–a company that has spent years creating micro-drones for military use–so this isn't their first rodeo. The new drone is piloted via an iOS/android app with features including a built-in timer and much more. It's gesture based so you point your phone in a direction and it goes. It takes both stills and video like every other drone and it has built-in stabilization. Spec-wise, the built-in camera features a 5MP sensor with 720P video and a built-in mic, so the props must be ultra quiet when in operation. It reaches a top speed of 25mph with the battery life only lasting 10-15 minutes, depending on weather. Also, the range is really low at 15-30 meter optimal operating range. As far as price goes, you can own one for around $220 for the early bird special, or $297 once they're all gone. The campaign still has a month to go and already quadrupled their goal of £125,000, with the current fund at £613,206 at the time of writing this article. ZANO is set to go into beta in March of 2015 and ship in May 2015. Will you be funding it? (via TC)