RAWtalk Episode #097 - I HATE When the band does not CREDIT ME
Click Here to download this weeks RAWtalk as an MP3.
How many of you out there have ever had a band, business, client, family member or anyone else not give you photo credit? Don't think that this is just new for the online world. I can think back to a few times where magazines were supposed to run my photo credit only to see if did not get printed. I would get the we're sorry, we will get it right from here on out. Man that answer is really lame.
Well recently a band used my images, with permission I might add but they did not credit it the way I asked to be credited or at all for that matter. Did I flip out and go all social media on their asses, NOPE. I simply took the it must have gotten lost in translation approach and contact the band directly along with their management. Be sure to listen to the full episode to hear how it all turned out in the end.
A FRO reader sent Postman FRO a very nice gift in the way of a USPS Safari hat. You will need to see the video to check out how Sutter looked wearing it the entire show.
Stephen Eckert hit us with some photo news including one story about a woman who PEES on her film to get interesting results. Yea, I think I have some reactions to go along with that story.
Finally we go Flying SOLO with more of your questions that get submitted on Facebook.
Enjoy the show and don't forget to subscribe on iTunes. A Big think you to AllensCamera.com, Atomos, RODE Microphones, and all the companies on the Wheel of FRO.
Here's all of Stephen's photo news stories in detail:
RUMOR: Nikon to Release CMOS Medium Format Camera?
First up on the rumor mill this week: Mirrorless Rumors is reporting that a "trusted source" says Nikon is working on a medium format camera based on Sony's 50 MP CMOS medium format sensor. The rumor site is saying it could be unveiled as early as Photokina. Now, to back this claim up, Nikon did file a patent for a 100mm f2.5 medium format lens last year. Take it with a grain of salt for now until we hear something official…
WTF?! Photographer Urinates On Film For Unique Look
A lot of people want that unique film-look today, especially with all the filters they have going around on apps like Instagram and VSCO. Well, one photographer named Brigette Bloom took her film to the next level, by peeing on it…Yup, she has a new series called 'Float On'–-clever huh?–which showcases underwater photos taken in Hawaii that were shot with film that was pre-soaked in a cup of her own urine. The chemicals in the pee break down the film's emulsion so it's an interesting final look, sort of like compositing a microscopic image and a photograph. Check out what I mean below for a sample and head on over to her website for the rest: (via FS)
SWAT Engagement Photos Spice Things Up
Speaking of photo series, a set of interesting engagement photos went viral which feature a Chinese SWAT officer and his bride-to-be. The couple mix your classic engagement photos with an action-packed SWAT-themed environment. Supposedly the SWAT member couldn't be away from his gear or equipment in case a situation arised and he needed to be there, so instead of dressing up like everyone else, she took to his workplace–the swat training grounds, for the photo shoot. The photos feature him on the ground–sniper position with a rifle–as she looks through binoculars next to him. Also, photos of his SWAT team members decked out in their uniforms, surrounding the couple as he's on one knee. My personal favorite is when he's coming off the side of the building cliff-hanger style for a kiss. Click the image below to view the full set: (via CRJN)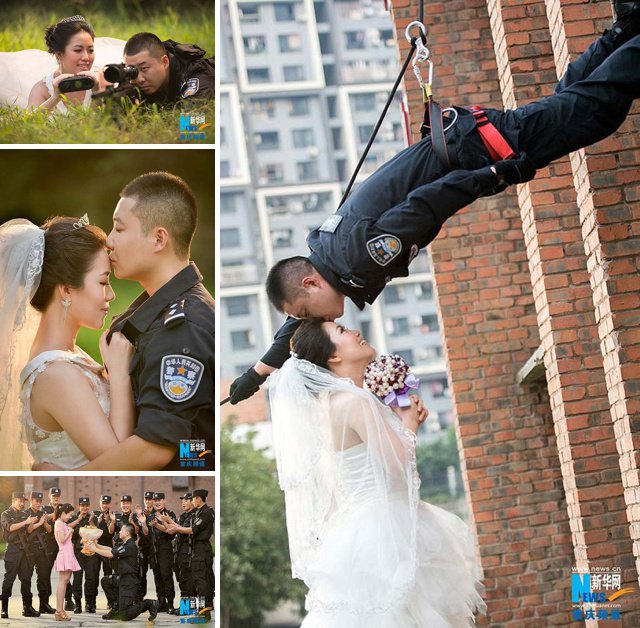 Photo: Chongqing Armed Police Corps
Introducing the "World's Cutest" Medium Format & 35mm Cardboard Camera
There's a new Kickstarter campaign called Viddy that is a cardboard cutout medium format 35mm pinhole camera. It's modeled after a Rolleiflex camera, with each cutout having a different creative color theme to it, dubbing what they're calling the "world's cutest medium format and 35mm camera." It's available in either black, green, blue or red with stickers too, and they promise it can be put together in 30-minutes, with only a drop of glue needed to construct. You can load up Viddy with either 35mm or medium format film, and it even comes with a medium format spool. How much does it cost? Early adopters can take one home for about $50 USD–kind of expensive for some cardboard eh? Its currently funded its goal at £24,942 already at the time of writing this post with the initial goal set at £18,000 with a month still to go. Will you be contributing? (via Engadget)
HILARIOUS: Husband Poses For Maternity Photos When Wife Says No
This is hilarious: a husband's wife refused to take maternity photos so he posed for them instead. Him and his beer belly did all the sterotypical maternity shots, creating their own oddball photo series. Posing in his Superman underwear with the cliche hand on the belly pose, the images range from cheesy black & white photos to even a composite where he's kissing his own belly; love it! Click the image to head on over to the full gallery by Kerri Lohmeier Photography. (via PP)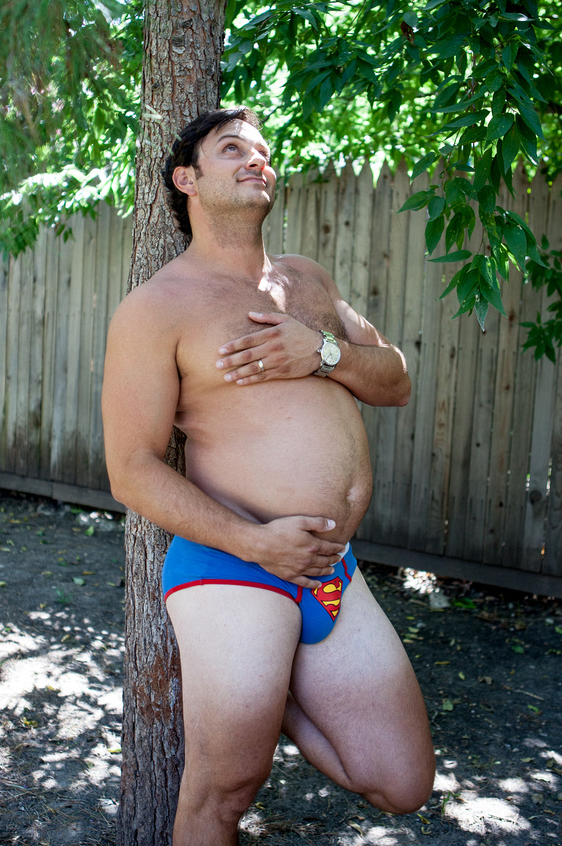 Photo: Kerri Lohmeier Photography
Flickr Getting Into The Licensing Game
Some really big news for the licensing game, Flickr is taking on Getty and 500px with their new commercial licensing platform. They describe the program as a way to "partner with photo agencies, editors, bloggers and other creative minds who are seeking original content." Flickr hopes major media sources start using users images for news stories vs. the major players already in the game. The announcement is very broad in terms of details, there's no word on what the actual licensing fees will be just yet. If you want to be one of the first to try out the program, click the screenshot to sign up!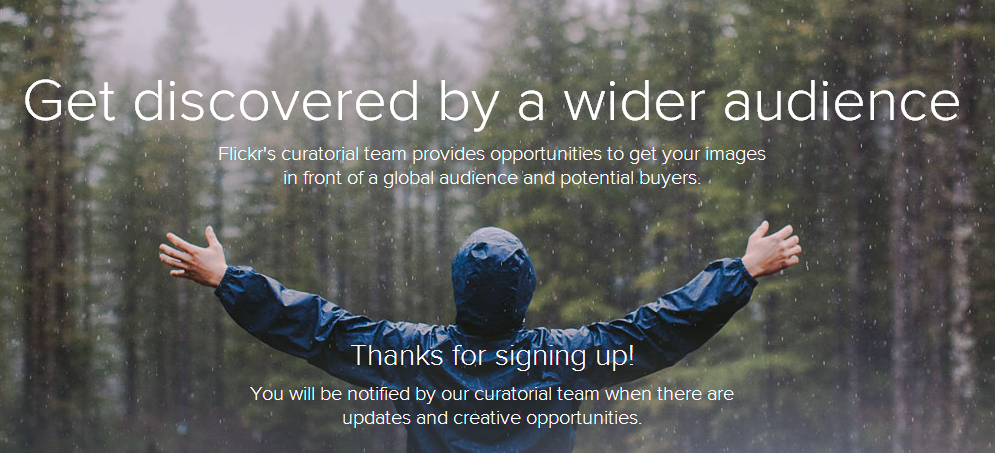 500px Introduces Insights App
Now speaking of 500px, they unveiled a new iOS app called 500px Insights, which does just that–showcases the statistic of your 500px content. It shows both personalized statistics and stats from the entire 500px community, in either chart of graph form. Beyond looking up just photo stats, users can also browse through what cameras, glass and other gear that is being used the most in the community. It's a free app currently available over in the iOS app store. Is this beneficial to you?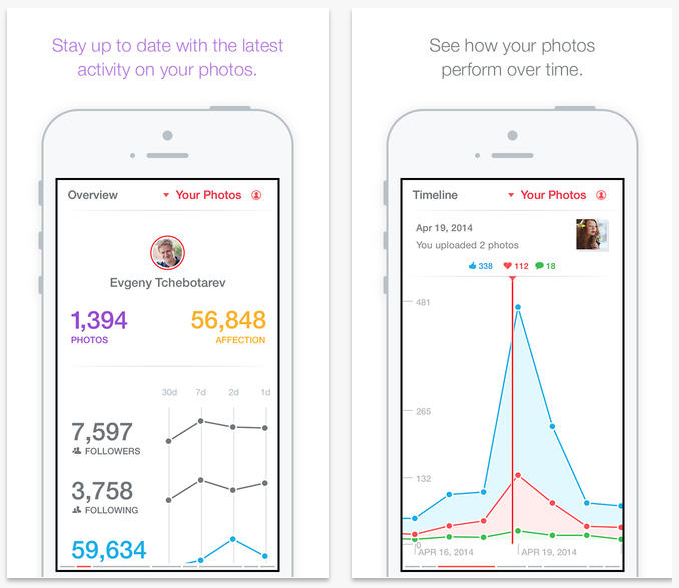 Photo Series: What WiFi Signals Would Look Like If We Could See Them
Photographer and designer Luis Hernan created a new photo series called "Digital Ethereal" that showcases the clutter of WiFi signals in today's busy world. Now he didn't actually capture WiFi signals, instead he used a colorful Android app and long exposure and basically light-painted what the signals would look like if we could actually see them with the naked eye. The app, called Kirlian Device mobile, visualizes actual WiFi signal strength using a series of colors so the photos are fairly accurate. The resulting images have a very creative ghostly effect to them, which remind us of how much is going on around us that we can't see. (via LS)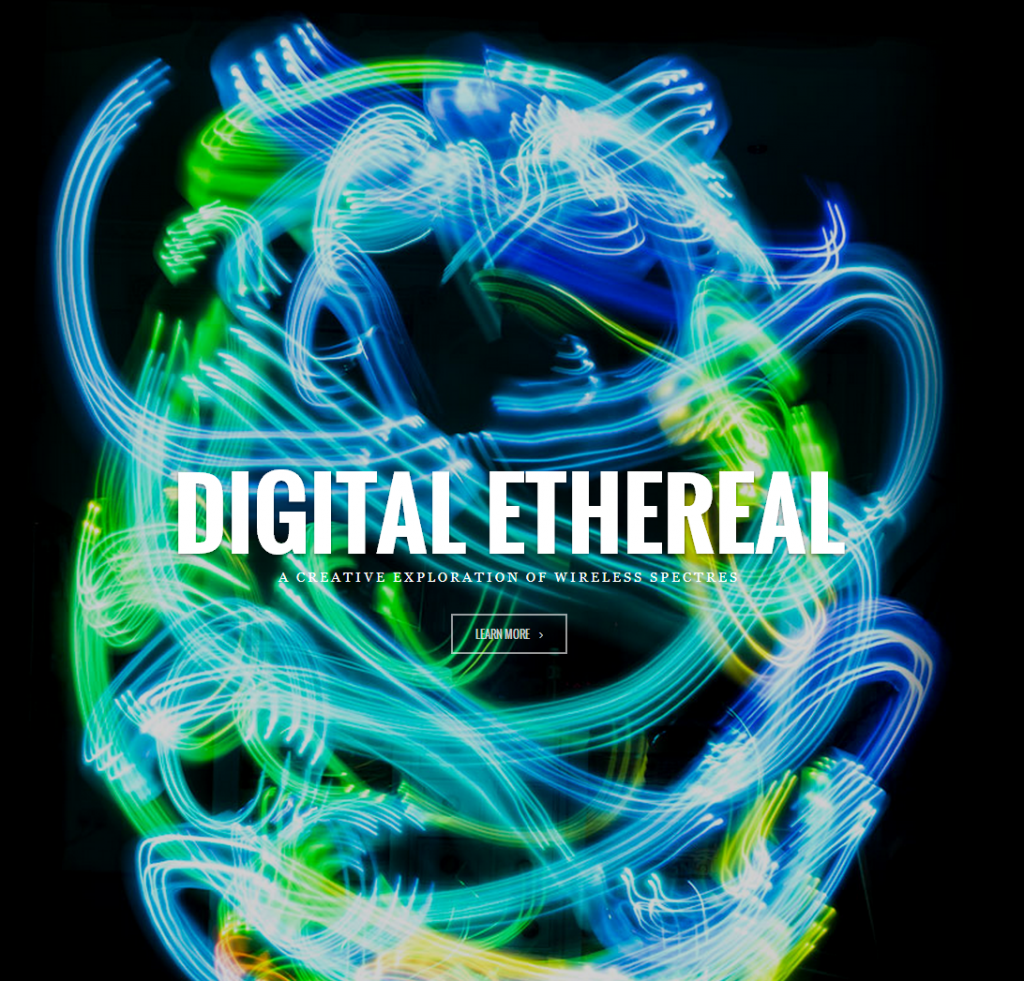 DJI Introduces Automatic Parachute System for Drones
DJI is making drone photography safer by announcing the DropSafe, an automatic parachute that will help your drone from falling out of the sky. The parachute will be able to be used on Hexacopters (the s800 and s1000 to be specific) and it's reusable. It'll automatically deploy in less than a half-second when the power is cut mid-air and can even be remotely deployed if needed. It's said to be "coming soon" with no hard details yet besides the preview video below. Now they just need to figure something out for the consumer-friendly Phantom series…
MAP: Where You Can And Cannot Fly Your Drone Legally
On the topic of drones, a new interactive map has been released which visually shows where you cannot fly a drone in the U.S. and Canada, with all the off-limit places being shaded in red. The current no-fly zones include U.S. national parks, military bases and a 5-mile radius around national airports. Very useful information for you drone operators. (via Engadget)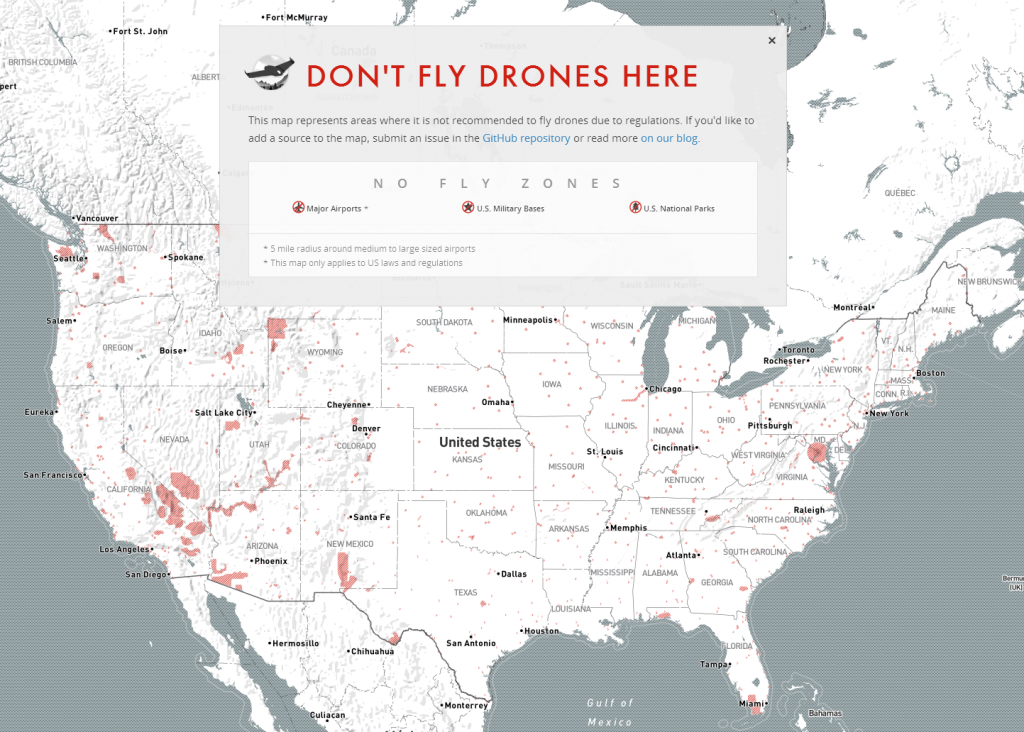 The Friendly App That Prevents Overswiping Photos
A new iOS app prevents a friend from overswiping your images when you want to show them pictures on your iPhone–you know, that over-eager relative that does it every time you see them. The new app is called Overswipe, and basically lets you select the images you want to show and then makes a specific collection of just those photos, preventing from overswiping and looking at your private images. You can even prevent users from going back to the camera roll by enlisting a password too. It's currently a free app in the app store so head on over to make sure your Aunt doesn't see your naked selfies again… (via TC)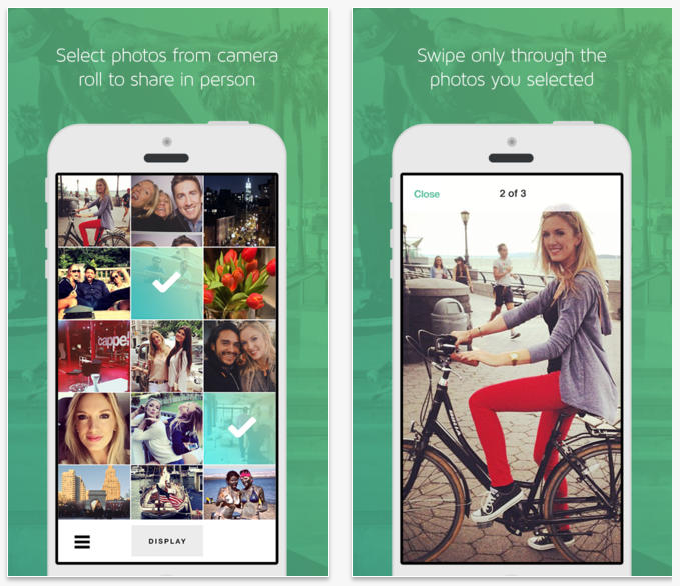 The Perfect Concert Photography iPhone App
Another new free iOS app called Kimd lets you minimize your phone from being a distraction at concerts or events, which is certainly an ever-growing issue these days. The app automatically lowers your brightness level to zero and disables the flash, preventing your phone from being a distraction. Is it worth downloading? Or do you simply do this anyway? I know I do… (via TH)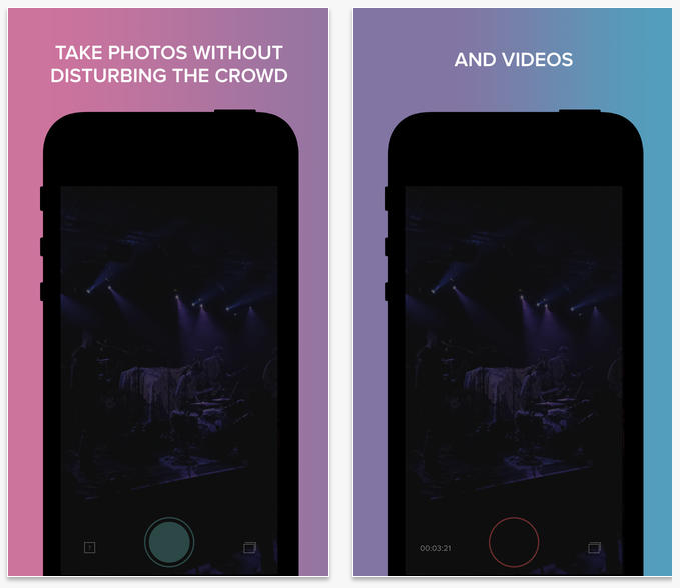 'Vertigo' Image Taken Minutes Within Alfred Hitchcock Passing By
A man named Ron Yungul uploaded an image to the web which was taken by his late father on the hills of San Fran in 1957. Who cares? Well, it turns out the image looks nearly identical to a still taken from Alfred Hitchcock's classic 1958 film, Vertigo. Taken nearly minutes from each other, both images display the exact framing and scene, with almost every car aligned the same. He must have actually seen Hitchcock drive by when they filmed the scene. History in the making. (via PN)
Here's Yungul's image: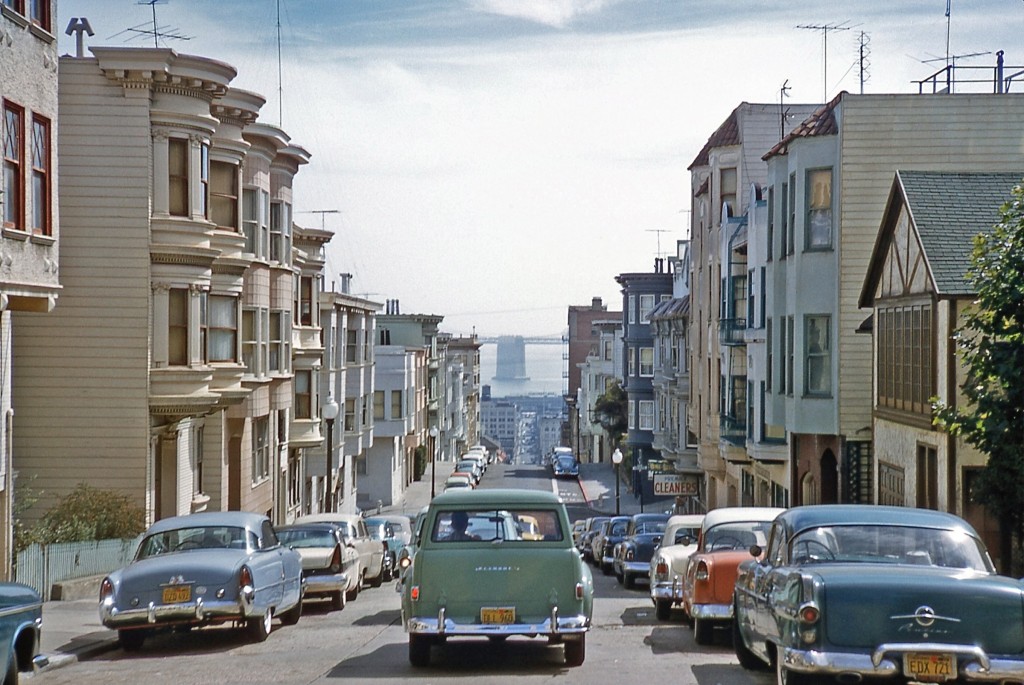 Here's a still from the movie: