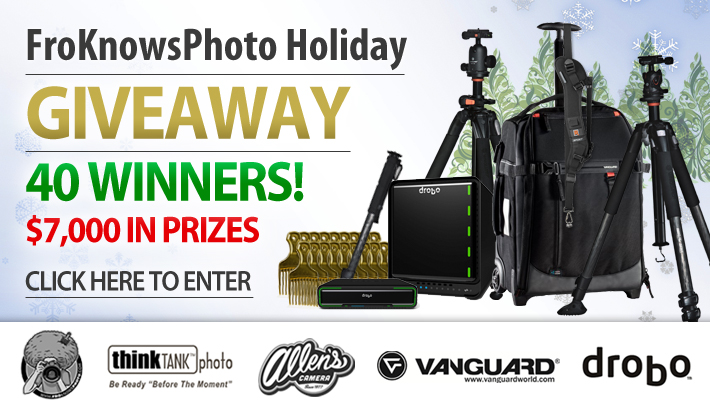 Enter For Your Chance To Win :
1 Drobo Mini
1 Drobo 5D
12 BlackRapid RS Sports
12 FroKnowsPhoto Beginner Guide (Digital Download)
ThinkTank Sling-o-Matic 20
ThinkTank City Walker 20
12 Vanguard Items
Will you find the GOLDEN Fro Picks this year??? Welcome to the FroKnowsPhoto 2012 Holiday Giveaway with prizes valued at $7,000!!!! Last year we had five prizes, this year there will be 40 WINNERS!!!!! There will be 20 Golden Fro Picks sent out at random with Holiday orders in the Fro Store. The other 20 winners will be selected at random when you enter the FREE Holliday contest by following the rules below.
There are 40 different prizes from companies such as Vanguard, Drobo, BlackRapid, ThinkTank Photo and FroKnowsPhoto.com. This contest is open to everyone around the world.
Enter for FREE by filling out the form below. All you have to do is "like" the companies and enter your e mail address. (your e mail address will only be used to contact you if you win) Remember you get 5 bonus entries for each person who signs up via your link, so be sure to share it on Facebook, Twitter, Etc. The contest will run until Dec 24th 2012 at 11:59 PM. A list of winners will be posted a week after New Years.
Starting December 4th 2012 I will be announcing a new winner each day for 20 days and listing the names right here. The names below will be winning one of the 40 prizes selected at random.
Winners: Dec 4th-Trisha Scott, Dec 5th-Getulio Chich Rodriguez, Dec 6th-Ardelean Bogdan, Dec 7th-Matt Desrochers, Dec 8th-Linda Ann, Dec 9th Rocky Campbell, Dec 10th-Selina Phothisarn, Dec 11th-Alona Ashkenazi, Dec 12th Rachael Sherwood, Dec 13th-Tanya Rose Buksa, Dec 14th Kim 'Spencer' Boucher, Dec 15th Rich Ratner, Dec 16th David Maltby, Dec 17th Jônatas Flausino, Dec 18th Rafael Antonio Castillo, Dec 19th Richie Kelly, Dec 20th Brayan Collado, Dec 21st Patty Smith, Dec 22rd Tanya Rose Buksa, Dec 23rd Mark Perkins, Dec 24th Jaymes Sabater

20 people who purchase gear from the FroStore will be selected at random to receive a Golden Fro Pick