Nikon D5500 Preview
Nikon has announced the D5500 which is replacing the D5300 that was initially announced on October 17th 2013. The life cycle for these cameras keeps shrinking time and time again.
You may be asking yourself why didn't they name it the D5400? From what I have been told is that the number 4 is considered bad luck in certain cultures. But what about the D4 and D4s, did someone think that wasn't bad luck? I think it has to do with consumers and not pros. Pros know the number 4 in the camera probably won't effect anything but consumers are a different animal.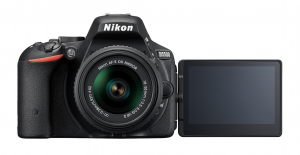 So what sets the D5500 apart from the D5300? The answer is honestly not that much. It has the same size sensor at 24.2 but the difference is the D5500 does not have an OLPF. This means images should be sharper and more vibrant right out of the camera.
The ISO range is now 100-25,600 Natively. No longer will you find an H1 or H2 setting which were considered not recommended but they were there.
You still shoot at 5FPS and have 39 AF points with 9 of them being cross type.
One of the largest changes has to do with the LCD screen, it's officially Nikon's first touch screen. They are far from the first company to do so with Canon, Sony and a few others doing this for years. Is a touch screen a major deal when it comes to a DSLR, not exactly. But it can play a part during Video if you can touch where you want it to focus and the camera responds well. Time will tell if this touch screen is something that will find it's way into other models.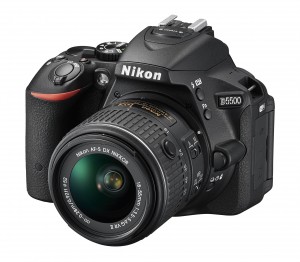 Speaking of video, you are capturing it at 1080 at 60 FPS which is the same as the D5300. This model does offer the Auto ISO Smoothing that I have come to love in some of the higher end cameras. You can not change the Aperture during recording.
Other than that everything is the same and you can read Nikon's press release below.
Who is this camera for? In my opinion it's for someone just starting out who has an interest in filmmaking as well as stills. If you don't think you will be capturing video than this camera probably is not for you and you can save money with the D3300. But this camera not having the OLPF will really up the quality of the stills for people looking to capture them.
This is a starting point camera one step up from the lowest end model. For the price of $799.99 for the body only you are dropping a good amount of money and still need to invest in lenses. In my opinion I would look at investing the money in a Sigma 17-50 2.8 which will serve you well for stills as well as video.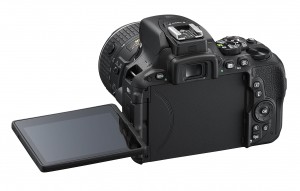 That's it, not much to see here, just another updated camera in the lineup. If you have a d5300 at this point this is not a camera for you to concern yourself with.
Nikon D5500 Press Release
INSPIRED PHOTOS WITH FLAIR, READY TO SHARE: NEW NIKON D5500 DSLR
HELPS CREATIVELY CAPTURE THE MOMENTS THAT MATTER
Alongside the Compact and Versatile Nikon D5500, Nikon Announces the Expansion of Legendary NIKKOR Lens Lineup with the AF-S DX NIKKOR 55-200mm f/4.5-5.6G ED VR II Zoom and AF-S NIKKOR 300mm f/4E PF ED VR Telephoto Lenses
MELVILLE, NY (January 5, 2015 at 9:01 P.M. EST) – Today, Nikon Inc. announced its latest DX-format DSLR, the Nikon D5500, a lightweight yet powerful camera that offers a robust feature set, built-in Wi-Fi connectivity and the ability to capture incredible photos and HD video with ease. An ideal entry-level DSLR for the creative photographer ready to take their storytelling to a new level, the D5500 sports an impressive arsenal of imaging technology, including a 24.2-megapixel CMOS sensor with no optical low-pass filter (OLPF) and a new 3.2-inch Vari-angle touch operation LCD display. All of this and more is packed into a new monocoque design that makes the camera one of Nikon's lightest and most convenient-to-carry DSLR offerings. Nikon has also expanded its already impressive line of NIKKOR lenses with two new additions, the versatile AF-S DX NIKKOR 55-200mm f/4.5-5.6G ED VR II zoom lens for DX-format shooters and the FX-format AF-S NIKKOR 300mm f/4E PF ED VR, a lens with advanced Phase Fresnel optics for lightweight super-telephoto performance.
"Whether capturing an unforgettable sunset or the game winning goal, the Nikon D5500 was designed to foster creativity and provide the tools any budding photographer needs to easily capture and share amazing images and HD video," said Masahiro Horie, Director of Marketing and Planning, Nikon Inc. "Additionally, the new DX-format 55-200mm and FX-format 300mm f/4 lenses reaffirm Nikon's steadfast commitment to expanding the NIKKOR lens lineup with versatile additions for both DX and FX-format DSLR shooters."
Tell a Story with Breathtaking Quality
The Nikon D5500 makes no sacrifices when it comes to image quality, featuring a 24.2-megapixel CMOS sensor capable of rendering amazingly sharp and tonally-rich images and HD video. The removal of the sensor's OLPF allows for an impressive level of detail and sharpness from an affordable DSLR, while the addition of the EXPEED 4 image processing engine works to improve overall speed and performance in a variety of shooting situations. When shooting in low-light, D5500 users can also take advantage of an expanded wide-ranging ISO spanning 100-25,600, which makes it easy to capture great images, even when available light is scarce. Alongside Nikon's impressive arsenal of NIKKOR lenses, the Nikon D5500 is a powerful imaging tool capable of incredible image quality, whether shooting flattering portraits or stunning HD video.
Compact, Portable and Ready to Share
When the perfect moment is ready to be captured, having a camera that is ready to go anywhere is essential. One of Nikon's smallest-ever DSLR offerings, the Nikon D5500 is compact (4.9 x 3.8 x 2.8 in.) and surprisingly lightweight (14.8 oz.), making it the ideal DSLR for users constantly on-the-go. Ergonomically designed, the camera also features a new monocoque structural skin that increases durability without weighing it down, while allowing the user to securely and comfortably hand-hold.
Nikon Snapbridge describes the experience of quickly and easily sending photos wirelessly from your Wi-Fi®1 enabled Nikon DSLR, Nikon 1 or COOLPIX camera to a compatible smartphone or tablet for times when a great moment is captured and ready to be shared. The D5500 sports built-in Wi-Fi that allows the user to easily share high-quality images with friends. Simply shoot, tag and share great moments with the quality they deserve. Additionally, users can utilize their smart devices to shoot remotely – ensuring that even the photographer doesn't have to miss out on the next group photo.
Capture and Create with a Touch of Class
The Nikon D5500 also offers the ultimate in DSLR control with an incredibly sharp 3.2-inch Vari-angle LCD monitor, and is Nikon's first ever DSLR with touch operation, which will help photographers discover new shooting perspectives for both stills and HD video. Intuitively designed for easy menu navigation and intelligent operation, the D5500 allows the user to choose their focus point via Touch AF, pinch in to check focus and even activate the shutter with the touch of a fingertip. Additionally, a new Fn (Function) touch feature gives one-touch access to important settings like AF point selection, aperture, ISO sensitivity, AF area mode and more. The adjustable Vari-angle screen also allows the photographer to capture images and video from exciting new perspectives, easily shooting above the crowd at the dance recital, getting on a toddler's level to capture their first steps or simply taking a creative selfie. The Nikon D5500 helps the budding photographer easily compose, shoot and review each image or video in high-resolution (1,037k dot), helping preserve the moments that matter most.
Never Miss the Perfect Moment
A versatile yet powerful DSLR, the D5500 is equipped with the latest imaging technology to help tell every story with precision. The camera features a powerful and precise 39-point autofocus (AF) system with 9 cross-type sensors that quickly locks on to even the fastest moving subjects to render beautifully focused images. Whether photographing fast-moving subjects in the championship game or the kids in the backyard, users can select from a variety of advanced focus modes, including 3D Tracking to track a moving subject. Paired with the camera's 2,016-pixel RGB sensor and Nikon's Scene Recognition System, the D5500 decisively recognizes and follows each subject in nearly any lighting condition, while continuous shooting up to approximately 5 frames-per-second (fps) makes it possible to capture every fleeting moment.
When the moment is better conveyed through motion, users can also tell their stories with smooth Full HD 1080/60p video with Full-Time AF and stereo sound for a cinema-like experience. The Nikon D5500 also offers a wealth of creative options, including 16 unique Scene Modes that choose the right settings for a variety of common shooting scenarios. Super Vivid, POP and Photo illustration have been added as Effects Modes, and Picture Controls have been enhanced by adding a "Flat" option. These settings now have a 0.25-step adjustment and an expanded "brightness" range to ±1.5 available for photographers who want to completely customize the look and feel of their images and video.
An Affordable Companion Telephoto Lens for DX-Format Shooters
In addition to Nikon's standard retractable design AF-S DX NIKKOR 18-55mm f/3.5-5.6G VR II kit lens, Nikon has now added the ideal companion 3.6x zoom lens to help take DX-format photographers from wide-angle to telephoto with ease. Compact and lightweight, the new retractable design AF-S DX NIKKOR 55-200mm f/4.5-5.6G ED VR II is great for capturing sports, people or school events, and presents an affordable way to get closer to the action. The lens also features three stops of VR image stabilization2 and core NIKKOR technologies including a Silent Wave Motor (SWM) that helps ensure quiet and precise AF operation.
Smaller, Lighter, Faster Telephoto
Nikon has also introduced the AF-S NIKKOR 300mm f/4E PF ED VR, the world's lightest 300mm full-frame fixed focal length AF lens2, which is nearly 30% shorter and 1.5 lbs. lighter than its predecessor. Extremely easy to handle and built to suit the needs of serious photographers in the field, the new 300mm f/4 lens utilizes Phase Fresnel optical technology to help correct chromatic aberration and reduce the overall size and weight of the lens, making it easy to pack for any assignment. Capable of producing tack-sharp images and beautiful background blur at a distance, Nikon's newest FX-format lens also features four and a half stops of VR image stabilization3, a VR Sport mode, VR tripod detection as well as several of the latest NIKKOR optical technologies including electromagnetic aperture control, a Silent Wave Motor for quiet AF operation, ED glass for further controlling chromatic aberrations and Nano Crystal Coat for superior image quality.
Price and Availability
The Nikon D5500 will be available in early February, in black and red, in two different kit configurations: alongside the AF-S DX NIKKOR 18-55mm f/3.5-5.6G VR II lens for a suggested retail price (SRP) of $999.95* or with the AF-S DX NIKKOR 18-140mm f/3.5-5.6G ED VR lens for $1,199.95* SRP. The Nikon D5500 will also be sold body only for an SRP of $899.95*. The AF-S DX NIKKOR 55-200mm f/4.5-5.6G ED VR II and AF-S NIKKOR 300mm f/4E PF ED VR lenses will also be available in early February for an SRP of $349.95* and $1,999.95*, respectively.
About the NIKKOR Brand
With a comprehensive assortment of FX and DX-format lenses and focal lengths, from the ultra-wide 10-24mm to the super telephoto 800mm VR, Nikon photographers have come to rely upon the NIKKOR core technologies that contribute to their optical superiority. NIKKOR is the brand name for Nikon's photographic lenses, which are precision crafted to the most exacting standards in Nikon's own glassworks. In 1933, Nikon marketed its first camera lens under the NIKKOR brand name, the "Aero-NIKKOR" for aerial photography applications. Since then, NIKKOR has been used as a brand name for Nikon's lenses that symbolizes durability, high image quality and optical excellence.
About Nikon
Nikon, At the Heart of the Image™. Nikon Inc. is a world leader in digital imaging, precision optics and photo imaging technology; globally recognized for setting new standards in product design and performance for an award-winning array of equipment that enables users to tell their stories through amazing photos and videos. Nikon Inc. distributes consumer and professional digital SLR cameras, NIKKOR optics, Speedlights and system accessories; Nikon COOLPIX® compact digital cameras; 35mm film SLR cameras; Nikon software products and Nikon sports and recreational optics as well as the Nikon 1 compact interchangeable lens camera system. Nikon Corporation, the parent company of Nikon Inc., recently celebrated its 80th anniversary of NIKKOR optics, and announced the production of over 90 million NIKKOR lenses in 2014, creating a new milestone in Nikon's heritage of superior optics. For more information, dial (800) NIKON-US or visit http://www.nikonusa.com, which links all levels of photographers to the Web's most comprehensive photo learning and sharing communities. Connect with Nikon and other photographers on Facebook, Google+, Twitter, YouTube, Instagram, Vimeo and Flickr.