DJI Inspire 1 Real World Preview with 4k Footage
We had the pleasure of going to a super secret location aka Brooklyn NYC to get some flight time with the new DJI Inspire 1 to do a Real World Preview.
I am going to run down the top level specs that I think are the most important to focus on right off the bat.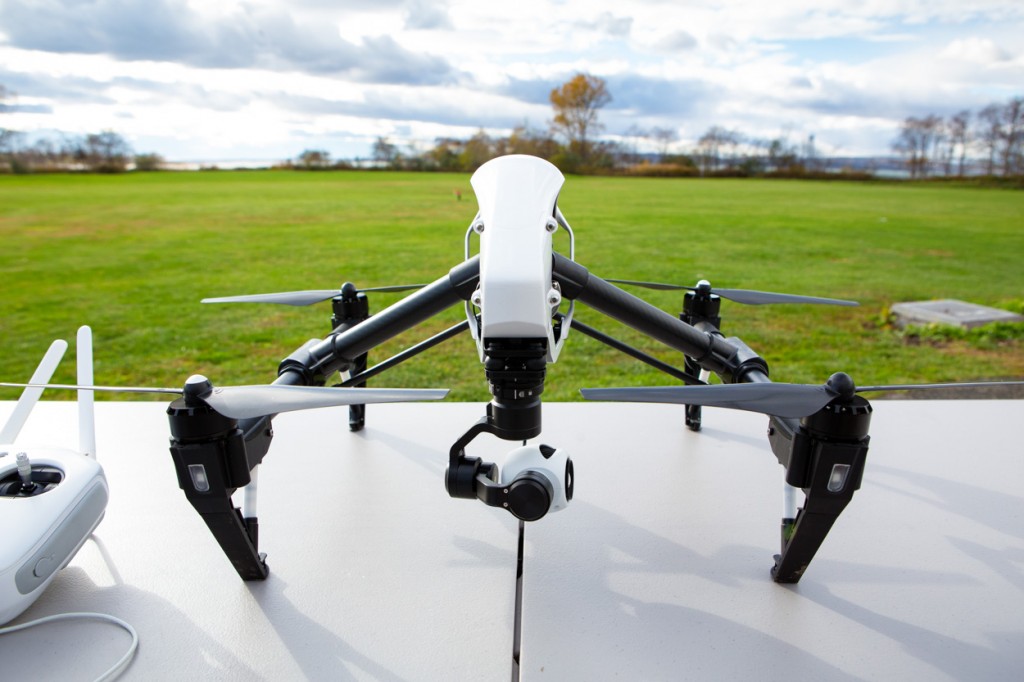 This is an all new "drone" from DJI that will be priced right around $3,000. I am sure you are curious where this falls in on their lineup. At the bottom of the lineup you have the DJI Phantom which I equate to a cropped sensor camera like a rebel or D3300. At the top of their range you have the S-800 and S-900 which are more like your 1DX or D4s. Now you have the Inspire 1 which falls smack dab in the middle and I would equate it to an entry level full frame camera like the D610 or so.
This drone is larger and more powerful than the phantom and is now carbon fiber (2.9 kilos or 6 pounds). It is extremely simple to set up, all you have to do is attach the self tightening props, connect the battery and you are pretty much ready to fly.
You have a built in DJI designed and built 4K capable video camera on a 3 axis gimbal. It is a removable "payload" that means at some point you may be able to switch out other cameras or devices that DJI or possibly others release.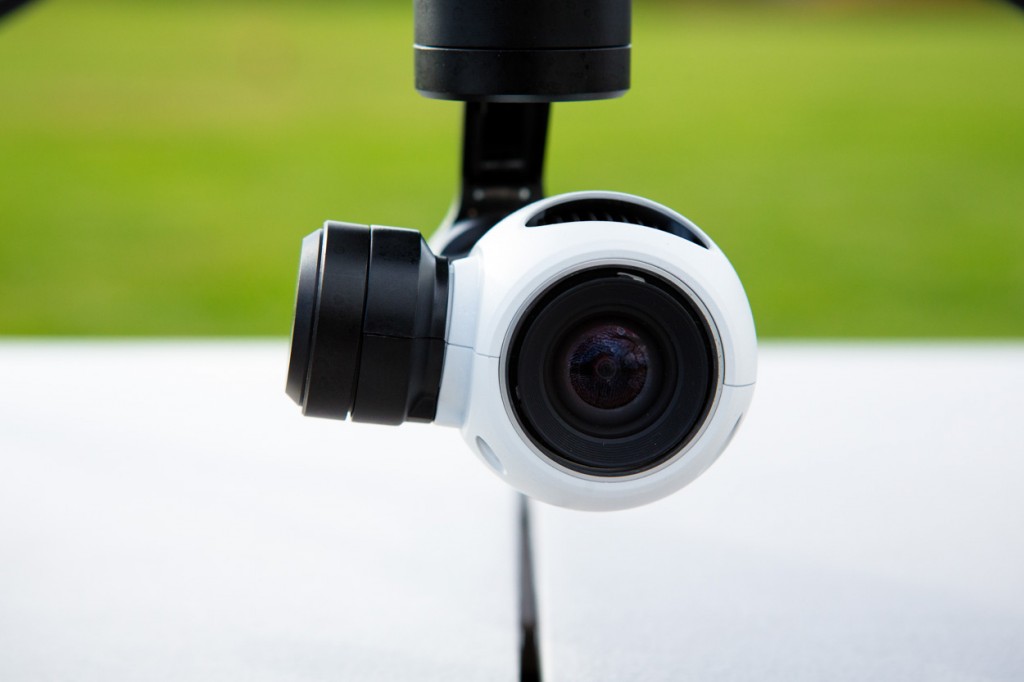 Another point of emphasis is that the lens is no longer a fisheye lens. This should make most filmmakers very happy.
It can record video at 4k 24 and 30 FPS at 65 megabit and 1080 at 60 FPS progressive all to a removable Micro SD Card.
Here is a video with real world sample 4k footage from the DJI Inspire 1.
After previewing the footage at home I noticed what I would call a warble in the video. It's something like a herky jerky flicker type movement. I am not sure if this is because the camera was set to 30 FPS in the app when it was being recorded or if it was in something else we may have done wrong. I am going to have to get my hands on a production model really spend more focused time shooting video.
Lets get back to the specs. You can record video in either MOV or MP4 and photos in DNG or RAW. You now have full manual control of the video which I did not test out during our short test flight. Finally having the ability to have full manual control is a really big deal. No more do you have to rely on the camera to get the video you are looking for.
There has been an entirely new designed app that looks fantastic and really shows you a lot more detail about your flights. It also gives you a lot more control over integral settings of your camera.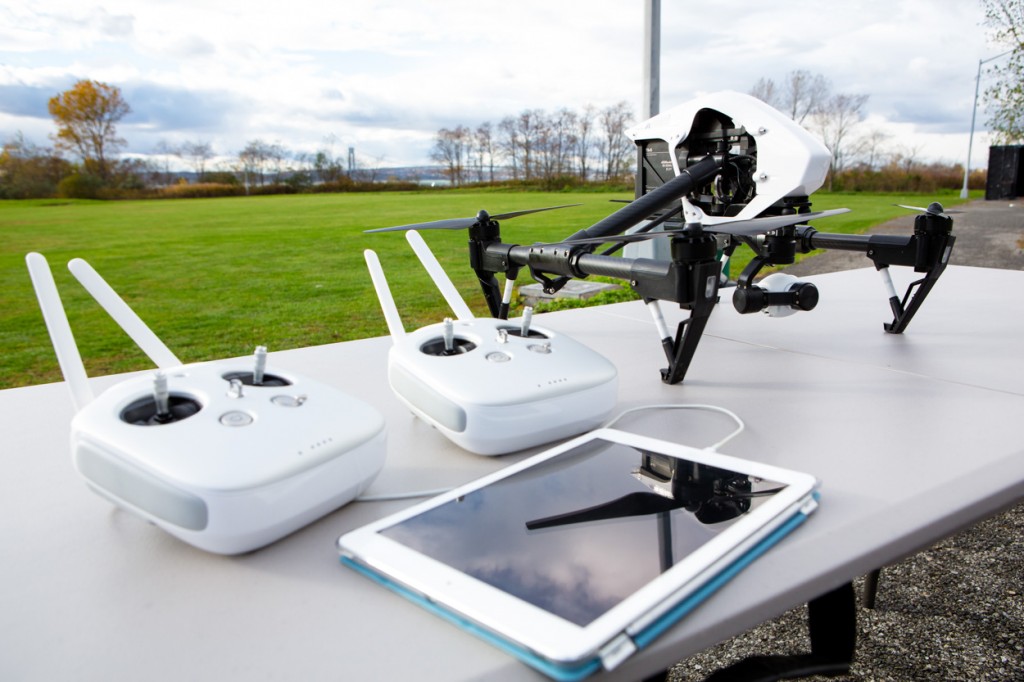 The remote has been completely redesigned and now features a built in rechargeable battery. It has added shutter buttons and iris controls as well. On the back you have a USB, HDMI and some other kind of video link port. You can plug an ipad directly into the remote and get a full 1080 downlink preview. If you fly with goggles you can also plug them in to get your live preview.
One of the coolest features of the Inspire 1 is that you can connect two remotes. One remote can be used to fly while the other can be used to control the camera and payload. I know I personally rather control the camera than fly.
In terms of flight time you can fly for 18 minutes. This is not a short amount of time for such a powerful beast. You can purchase extra batteries but at the time of the preview we did not have pricing for extra batteries.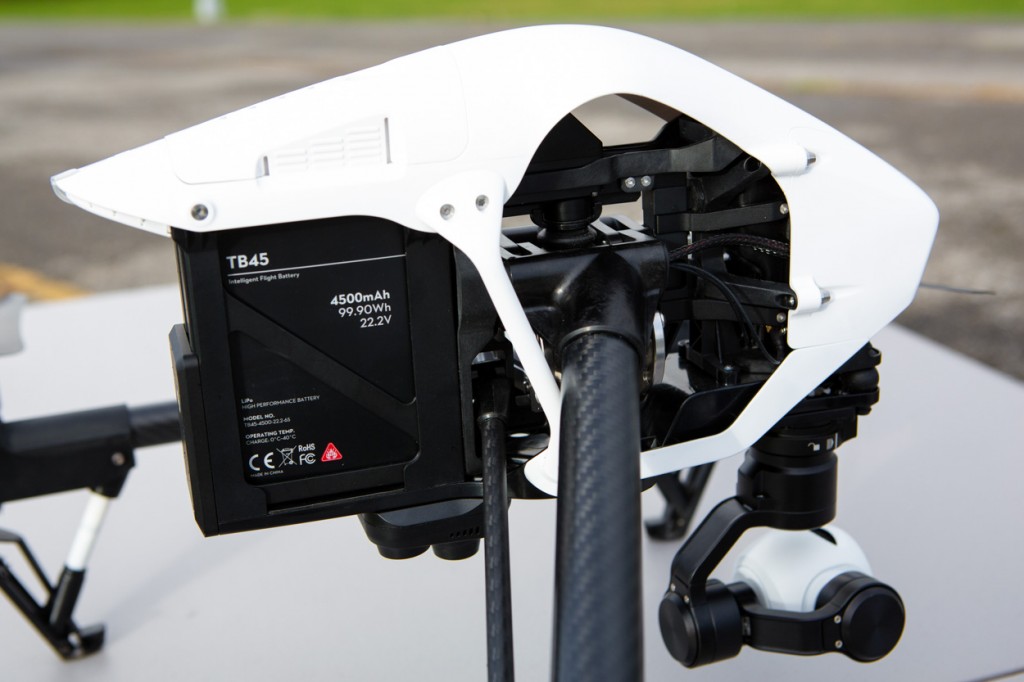 On the bottom of the drone there is a down facing stereo scope camera that helps you keep the drone level when you are without GPS or attempting to fly inside. I can tell you this is a great edition any drone.
Those are the basic top level specs but who is this for? This is for someone who needs more out of their drone. They need better build quality with more features and a better camera. But they don't want to spend $10k on a top level drone with the ability to attach a DSLR or more. This one falling in around $3k is affordable for someone who is making a living with these drones.
I can see them being perfect for film schools or filmmakers on a budget. If you film home fly overs or even walkthroughs this could be for you.
My final real world preview thoughts are that this falls into a place that is affordable for working photographers and filmmakers. Based on the unit we saw I think this is going to be a huge seller. My concerns would be the quality of the payloads camera. It is still using a small sensor and would be nice to see a larger sensor camera built into the payload.
But the good thing is that the payloads are interchangeable which means in the future with advancements in camera tech you should be able to swap one out for a new one.
What do you think about it?