ZOOM H6 Review
Jareds Thoughts
When ZOOM announced the H6 there was a lot of excitement in the audio community. Now I want to put this out there first, I am in no way an audio expert. I know how to hit record, tweak the levels and that is about it, but that may be enough.
Back in the day I purchased a Zoom H4 as I thought it would come in handy at concerts or for other recording needs. The H4 had a small screen, hard to work buttons and an even stranger menu system. I found that device very hard to figure out and use thus why I rarely used it.
Fast forward to the H6 coming out and I must say they have done an amazing job with this little wonder. It now has a large easy to read color screen. Multiple XLR inputs along with the ability to switch out the top microphones or add additional XLR inputs.
It is built very well and feels great in the hands. All the buttons seem to be placed logically and function as expected.
I ordered the H6 right after it was announced as I felt it may be good to have for recording RAWtalks either in the loft or on the road. As soon as Stephen and I unboxed it he was explaining to me all the functions and settings we should be using. Being that Stephen is an audio pro it's a great thing to know that right out of the box the settings just make sense.
From here until further notice we will be using the ZOOM H6 to record RAWtalk and other interviews. For $399 you can not go wrong with something that is packed full of so many amazing features.
Click Here to download a SAMPLES .WAV file.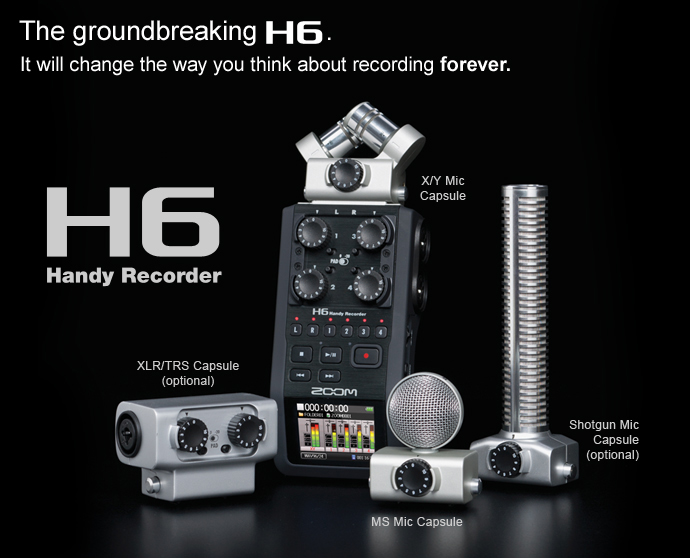 Stephens Thoughts
The Zoom H6 is an excellent upgrade to its predecessor, the H4n. This thing packs four XLR/TRS inputs with the option of adding an additional two XLR channel (record 6 simultaneous channels at once!) via a separate adapter that mounts to the top piece where the H4n's original static XY mics were placed.
Speaking of adapters, it comes standard with a mid-side microphone along with the XY mic and an add-on windscreen if needed. You can also purchase the additional XLR adapter as well as a shotgun mic. The H6 will record up to 96 kHz/24-bit which is pretty insane for a tiny portable recorder like this. It gives you the option of recording either in .wav or .mp3 format which is also a plus. It also has a color screen!
On the outside, it features your normal playback functions along with buttons for your channels that you want to arm. It has manual gain control knobs at the top with a built-in -20db pad for those over-sensitive microphones. Each input is phantom-power enabled, up to 48v, for those condenser mics that need that extra punch. It takes an SDXC card, up to 128 GB for those on the run.
Or, if you want, you can mount it as a USB interface and record directly into your computer which is a great option. As far as batteries go, it takes four AA's. My recommendation would be to grab some lithiums for this guy, as four AA's only give you about six hours of operation (and we noticed that it drops rapidly when recording continuously for a long period of time).
For those musicians out there, you'll love the metronome and built-in tuner along with the compression and limiter options if you plan to record a couple practices with your band (presets for guitars/vocals/etc!). For those filmmakers, you'll love the optional hot shoe mount for on-camera documentary work or foley or whatever you need it for. I personally love this thing, along with all of Zoom's products and still can't believe you get all of this for nearly $400.
We'll be using it for our RAWtalk podcast from now on, replacing our old 24-channel Zoom board. It will also be much easier to travel with for on-location interviews and podcasts; I can literally fit it in my pocket.
In the end, if you have a need to record audio this is a must have for your bag.