RAWtalk Episode #102 - The TRUE Reason I Went With Nikon Is Revealed
Download this weeks episode as an MP3.
I sat down with my very first photography mentor (Matt Ciao) to take a walk down memory lane. He does not hold back when he talks about how annoying I was when I was 15. We also talk about what was given to us by one of our teachers in college that goes in your wallet next to the condom.
But the big reveal came when Matt divulged the reason behind me deciding to purchase my very first Nikon SLR.
Was Stephens's sister's wedding photographer a bust or did he end up kicking ass? If you recall episode #100, Stephen's sister found out two weeks before her wedding that the photographer she hired would no longer be shooting her big day. Instead, he was sending someone else she had never met or seen their work.

What in the world did RODE send us this time around. Hint, it does not require power and can be yours for 50% OFF with code "ISHOOTRAW" http://store.rodemic.com/. I first thought I was going to hate what they sent me but it turns out that it was pretty cool.
There is not a lot better than giving surprise gifts to people. Stephen got to unwrap his very special gift live on the show, find out what it is.
Stephen hits us with a solid select of photo news stories. From Cannon pro lens price drops, to a photographer who has a 0.02% success rate on a project to how one guy barely saved his DJI Phantom from taking a swim in the lake.
All of this and more can be heard or seen on this weeks FroKnowsPhoto RAWtalk.
Oh yeah, we find out what and who DigiRichie is.
Here's all of Stephen's photo news stories in detail:
First up, Instagram's engineers released a complete rundown of how the technology and stabilization works in their new Hyperlapse app. They explain how it takes a still every six frames of video at 30fps. The engineers break down the algorithm of their stabilization which basically is a cropped-in center frame of the full shot that stabilizes the video which they call "adaptive zoom." If the video barely has any shake however, the crop factor is minimal. Check out this video on their blog which showcases how the crop works with the new frame marked out. You can also read all the technical specs over on their engineering blog, really neat stuff.
Canon has dropped their official prices on most of their L lenses, ranging from 5-33% off, with some even going for $1000 off MSRP. For example, the 24-70mm f4L IS is now going for $1000, which is $500 off it's initial price point. Another famous L lens, their 70-200 f2.8L IS II lens, dropped 8% with $200 being knocked off. The biggest price drops are their larger lenses from the 300mm 2.8L and above who have had up to $1000 shaved off. So now is the time to pick up some quality Canon glass! Check out the full list of lenses here. (via CR)
There's a new photo booth that will probably make it rounds at just about every wedding called the Lightomatic. However, this booth is a little different, as it lets friends and family light-paint their portraits. The light-tight booth gives people two minutes to lightpaint whatever their little hearts desire with colorful LEDs once they step inside, then it pops a flash to light the participants at the end of the exposure. It's not the cheapest to rent though with pricing starting at €3,800 or about $5000 USD. I feel bad for the photobooth attendant who will have to explain the process of lightpainting to every person that steps up… (via ISO 1200)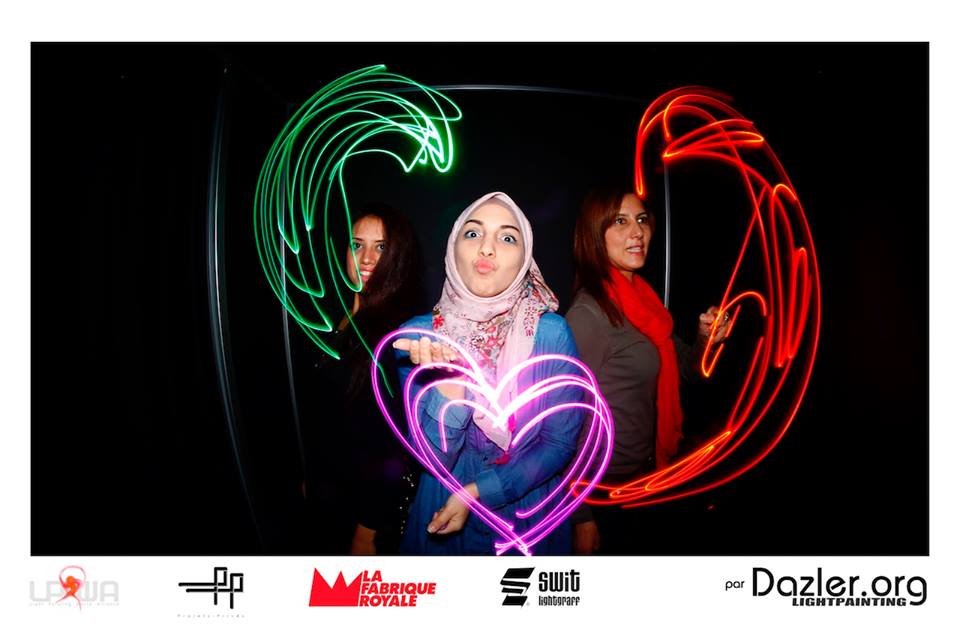 There's a new law currently in the works in the Philippines which will make photographing strangers without permission illegal, even if they simply appear in the background of your image. Called the "Protection against Personal Intrusion Act", House Bill 4807 states that "any person who willfully intrudes into the personal privacy of another, without the consent of that person and with the intent to gain or profit therefrom, shall be civilly liable to the offended party." There's no timeline as to when they vote on the bill but let's hope that this doesn't get passed, especially for you street photographers out there. (via BS)
Sony has announced the QX1 and QX30, two more new smartphone-mounted lens cameras, which are pretty much an upgrade to their initial QX100 and QX10 models. Now the QX1 is a lens mount that will take any e-mount lenses and sports a 20.1MP APS-C sensor, a BIONZ X processor, and even a pop-up flash. Oh, and it can shoot RAW. It'll cost $400 for the "body" only, and will basically turn your smartphone into a mirrorless camera. The QX30 has 20.4MP 1/2.3-inch sensor and 30x 25-750mm equivalent f/3.5-6.3 lens. It also shoots 10fps and will run you $350. Check out some promo images below. Is this practical or would you rather just carry around your smaller mirrorless camera?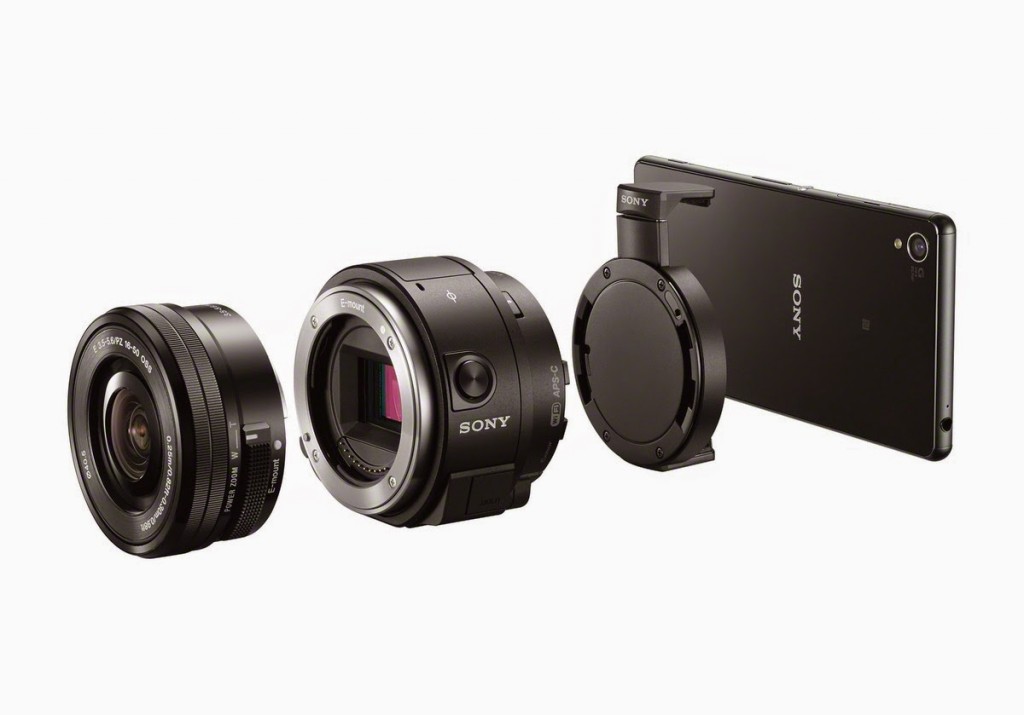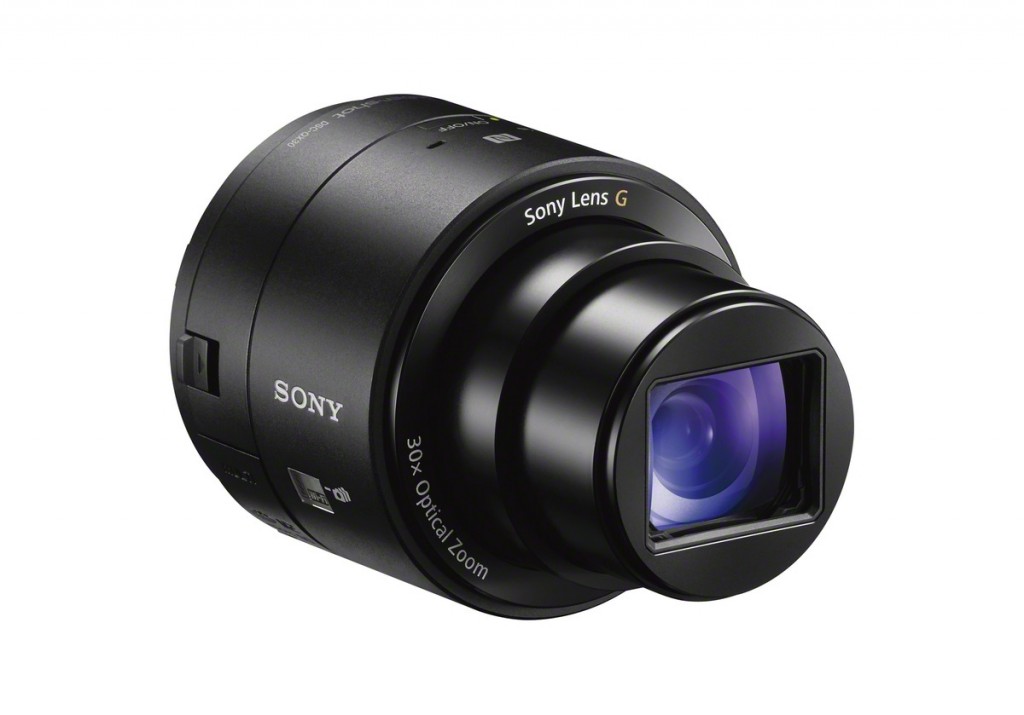 14-million historic photographs and images collected from over the past 500 years of books are making their way into the Flickr Commons courtesy of an organization called The Internet Archive–a digitalization project attempting to make imagery from the past 500 years available online. The organization is using special software designed by Kalev Leetaru and have already gone through over 600 million scanned library book pages, automatically pulling out, cataloging and tagging the imagery. The Internet Archive's archives hold about 16 petabytes of imagery — about 14 million images in all, which were published in books from 1500 to 1922 when copyright restrictions began to take effect — and 2.6 million of those are now on Flickr. I just wish there was a better way to tag and organize the scanned images on Flickr. (via BBC)
Meanwhile, a new web app that's similar to Tweetdeck for Twitter is now available for Instagram called PicDeck. The interface is extremely similar to Tweetdeck, where it basically lets you organize your Instagram feed into separate streams. You can create the columns based on certain users images or even hashtags. Currently, the only pitfall to this app is that you can't use multiple logins and create or schedule posts, I think this is Instagram limiting this though. They are already working on location-based columns and other specific features for the near future. Will you be using this? (via Mashable)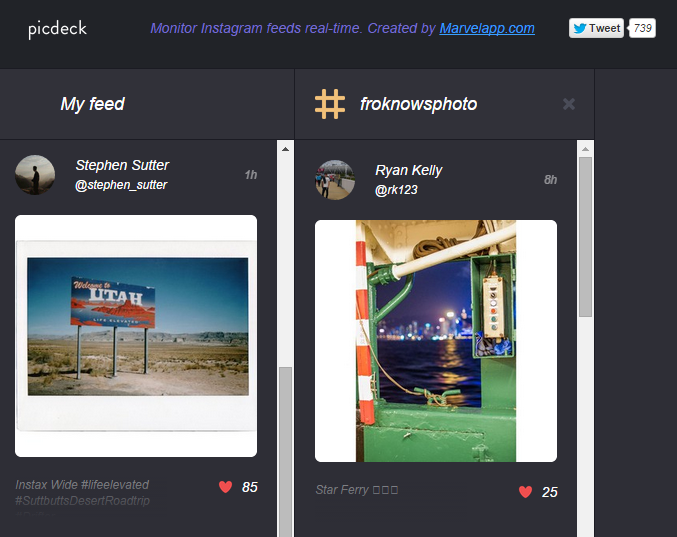 Some new fascinating photos of smoke from Thomas Herbrich are now online.It wasn't an easy task to complete either as it took the photographer three full months to complete the series with over 100,000 images taken, one dead camera and only 20 keepers in the end. He tells PetaPixel, "the rising of cigarette-smoke is actually so quick that conventional flash equipment is too slow, as is the photographer – only a few milliseconds pass between recognition of the subject and the taking of the shot, a length of time in which the smoke has already changed again. I therefore used a quick flash with a flash duration of 1/10000 sec. or faster – and took more than 100,000 digital photos in three months (which killed one camera). The "poor" photos were immediately separated out on the laptop and rejected. Only 20 or so of the photos actually made the shortlist." The cigarette smoke created some unique shots with one looking like a human head, some showing spiral symmetry, and much more. Now the real question is how much money he spent on cigarettes…Check out the full series here. (via PP)
Speaking of low light, researchers have found a way to capture pictures in almost complete darkness. The University of Glasgow and their team of scientists combined a number of existing techniques to capture the images, where we would see only as complete darkness. The process pairs photons together to gather information from an image, while using an algorithm of sorts to measure the data points from those photons and pull more information from less input. All in all, they were able to capture an image with less than 0.2 photons of light per pixel, which is pretty insane. Read all the science behind it over here. (via Gizmodo)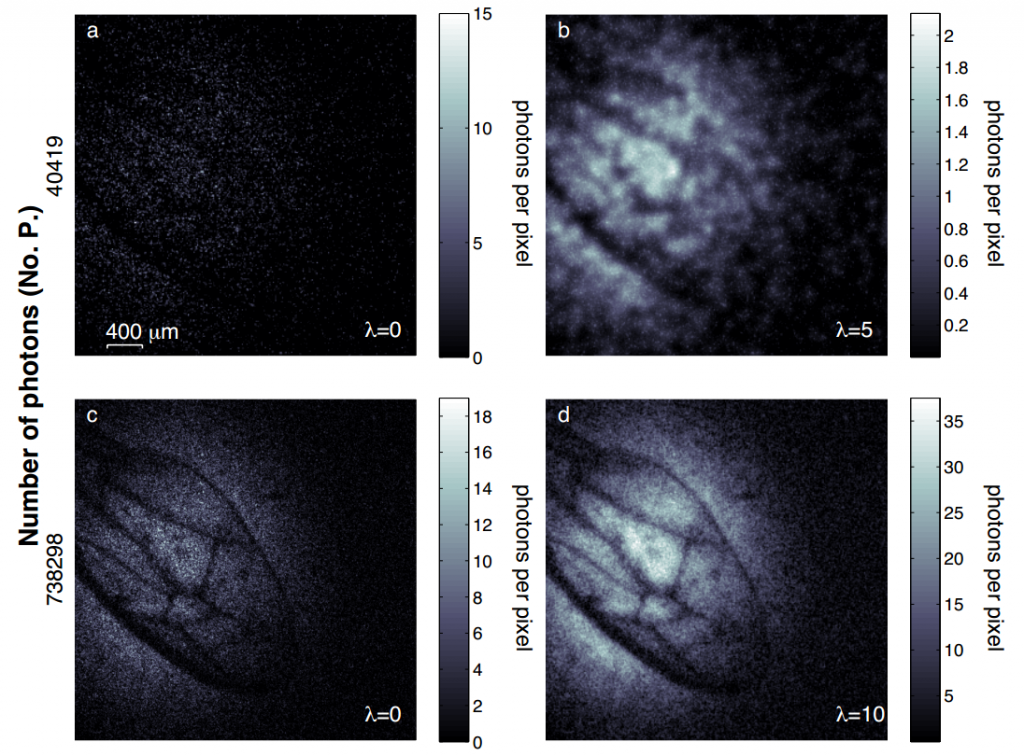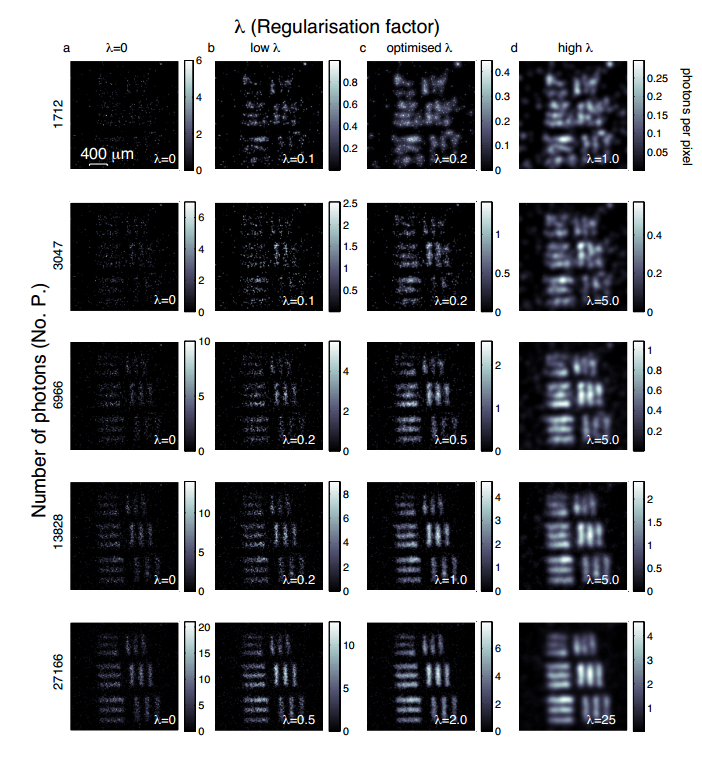 YouTube user Redphive showcases what it's like to save your quadcopter from falling in the water after its battery dies. He uploaded a video where he's seen flying his DJI Phantom 2 only for the second time, and it was over a lake. He was on minute 17 of flight time and wasn't paying attention to the battery indicator when suddenly the Phantom began to descend toward the water and he lost all control. He's seen in the video below darting in the lake, first trying to get a canoe but realized he didn't have enough time. He then runs in, clothes and all, barely making it in time to pull the Phantom from the air before it touched down in the water. So tip for you quadcopter owners, watch your battery indicator at all times! The question is, is it a prank/fake video? (via FS)
For all you digitechs, Western Digital is offering a new solution to backing up SD cards on the job, without a laptop. The hard drive company announced the My Passport Wireless which is a new wireless capable hard drive with a built-in SD card slot. It sports a WiFi hub that can connect 8 different devices at a time, and will also connect via a web dashboard from any browser. It'll stream 6 hours of continuous video too and up to 20 hours of standby time. It comes in three different capacities, 500gb, 1TB and 2TB from $130 to $220. It also comes with a USB 3 port if you'd rather connect it straight up to your pc. Does this interest you?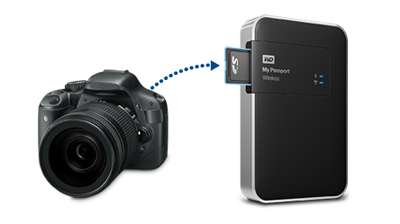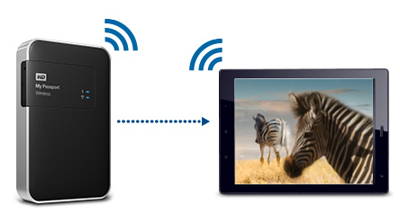 A couple of Tumblr users teamed up and created a new photoshopped series that turns your favorite Marvel superheroes into Hello Kitty decked-out Avengers. Sprinkled with pink diamonds and pink attire and complete with Hello Kitty logos, the superheroes are every little girls dream. They have Iron Man, Thor, Spider-man, Captain America and more rocking pink bows and all. Click the images below to check out the full series: (via LS)
That ultra rare 1200mm f5.6L Canon lens that MPB Photographic put up for sale a few weeks back is shown in action via a new behind the scenes video. The company brought it around London for a ton of sample shots. They even had some fun in it by stacking on teleconverters and cropped-sensor cameras, turning it into a 3840mm lens. The distance they shot at was more than 1/2 a mile away from most of their subjects as well with the images still being tack sharp and clear. Check out the video below and preview some of their sample images and comparison tests over on their blog. (via PP)
Another interesting photo series by photographer Anelia Loubser. Called "Alienation," the photos feature upside down close-up b&w portraits of people's eyes and foreheads, which in turn really mimic someone's face quite well. The series was inspired by a Wayne Dyer quote: "If you change the way you look at things, the things you look at change." Click the series' cover below to see the full set of photos: (via PJ)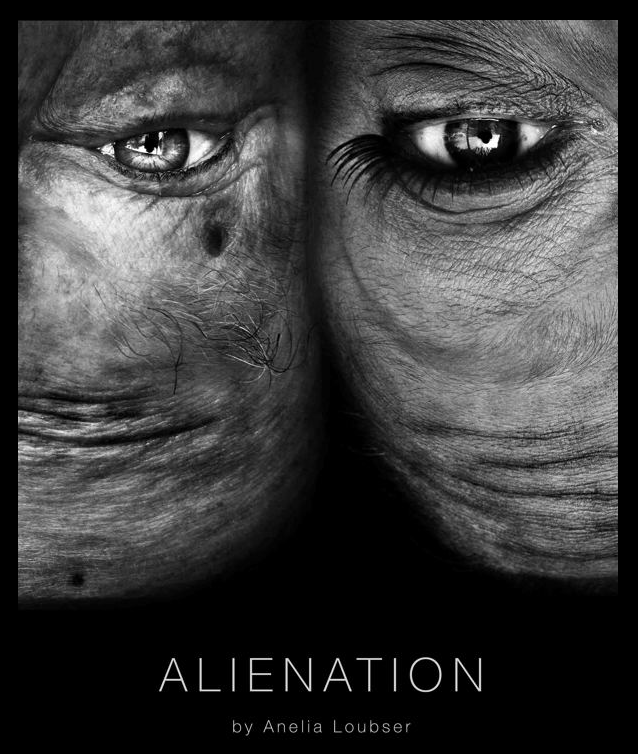 And finally, Zeiss has officially announced their new Loxia line of lenses for Sony's full frame e-mount cameras (ie. the a7 series). Product Manager Christophe Casenave says, "these lenses have been designed for photographers who enjoy shooting spontaneous scenes, but without giving away the work of composing the image to the camera." The lenses–the 35mm f2 comes in at $1300 and a new 50mm f2 at $950–will be available later this Fall. Get the full rundown and specs over on Zeiss' official blog.