RAWtalk Episode #105: What To Do When Your PHOTO GOES VIRAL, REAL Bleeping VIRAL
Download this week's RAWtalk as an MP3 Right Here.
I have never had a photo go "VIRAL" but this weeks guest Amanda Brewer who isn't a professional photographer now has that experience. As you know I am very careful to call things viral but when your photo becomes the most "liked" photo ever for GoPro's Photo Of The Day it earned that moniker. Tune in at 48 Minutes to hear Amanda explain how her photo went bonkers. On top of everything else by submitting an image to GoPro for photo of the day you are giving them usage rights to your image for EVER, my thoughts on the episode.
Stephen gets his photo news on with some stories about Leica, Android Apps, Drones being shot down and more.
Will you be joining us for Allens Nikon-A-Palooza on Saturday October 18th, I certainly hope so. We are doing a LIVE RAWtalk and Allen will be giving away a Nikon DSLR for FREE. The address is 4401 New Falls Road Levittown PA.
I have never heard the term 8 to 2'er but after a fro reading high school student sent in a question I know I don't like it. Find out what his question was and who I ended up yelling at.
For more information and all the photo stories please go to FroKnowsPhoto.com/rawtalk-105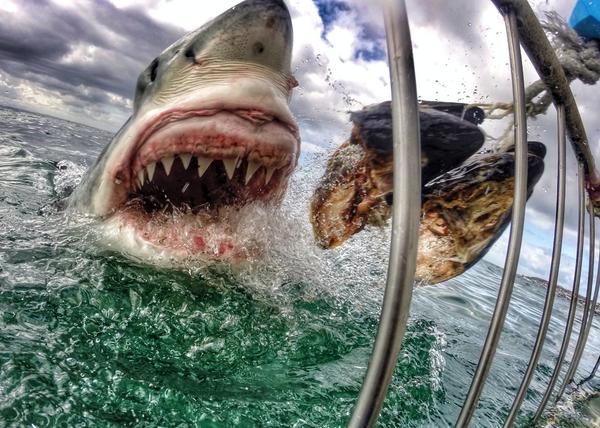 Photo By Amanda Brewer – Sharkservation
Here's all of Stephen's photo news stories in detail:
New App Helps You Compose You Shot
There's a new camera app for Android called Camera51 that tells you how to better compose your shot. Specifically, the app uses lines, shapes and subjects in the image to help you frame the picture by using Android's Phidias engine which is made up of a bunch of fancy algorithms. Basically, what it does is showcases a tiny phone icon on the screen, which you line up by moving your phone to that position, and then take the shot. It's currently a free app over in the Google Play store, sorry iPhone users (although an iOS version is said to be coming soon). Will you be downloading it?
Leica Pays Tribute to 35 Iconic Photos in Anniversary Video
Leica put up an inspirational video for their 100th anniversary ad which recreates 35 of the most iconic photos. The tribute video features shots that weren't taken with Leicas either, with the add asserting that they took the image BECAUSE of a Leica. Hmm, check it out below: (via LR)
Man Shoots Down Camera Drone with Shotgun
A camera drone was shot down in New Jersey this past week by a local resident with a shotgun. The drone was taking aerial shots of a nearby home that was being renovated. The pilot lost control of the drone after he heard the shots fired. He traced the shots back to 32-year-old Russel J. Percenti, where he found the shotgun allegedly used to shoot down the drone. He called police and they placed the man under arrest and charged him with possession of a weapon for an unlawful purpose and criminal mischief. No word on why he shot down the drone, but he was faced with a $2,500 bail. Check out the local news story on it below: (via DT)
Photographer Photographs 24 Sunsets in 8 Hours
A photographer named Simon Roberts photographed 24 sunsets in 8 hours by literally chasing the sun in an airplane. Flying with ex-NATO pilot Jonathan Nicol, the pair say they, "stayed in the same moment in time," by letting the Earth spin under them. The project, called "Chasing Horizons," was created for Citizen who have a new watch called the Eco-Drive Satellite Wave F100, which automatically switches to the correct time zone at the press of a button. So they tested it 24 times by doing this little stunt and photographed 24 sunsets to prove it. In the end, the photographer captured all the sunsets between 6:30PM and 7PM in that particular timezone, which was changed each hour. He then mashed all the sunsets into a gradient-like image which you can see below, showcasing all the time zones. There's a whole behind-the-scenes video about it, check it out: (via FC)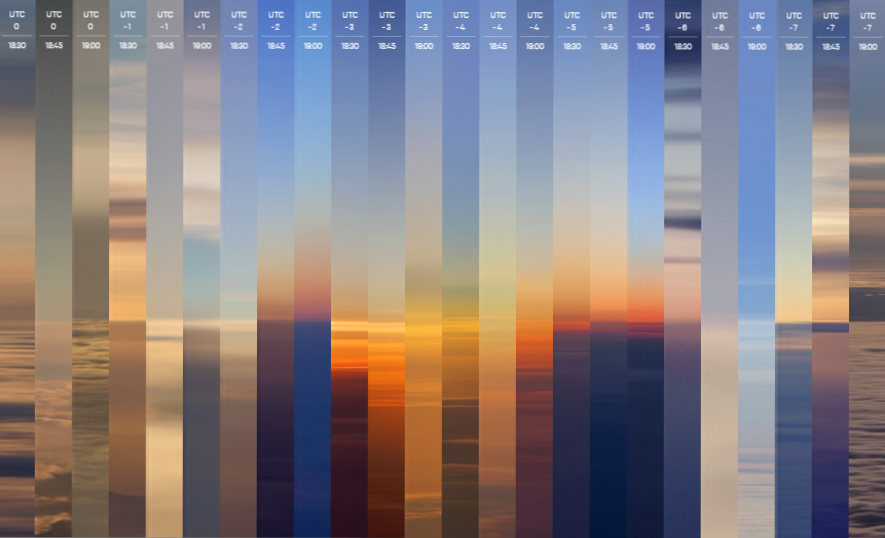 New Interactive App Helps You Find Clear Non-Light-Polluted Skies
After sunsets, we have nighttime of course. A new app called Dark Sky Finder helps you find the best spot to photograph in the least light polluted spots around the United States. The interactive website features an up-to-date radar-like map of the U.S. and all of its light pollution. Now if you do live in a big light polluted city, the map features nearby plot points of decent non-light polluted areas that you can shoot from, it even tells you if there's parking, bathroom, fees and more there. So it looks like New York City is the worst place as far as light pollution goes. Give it a try below: (via SS)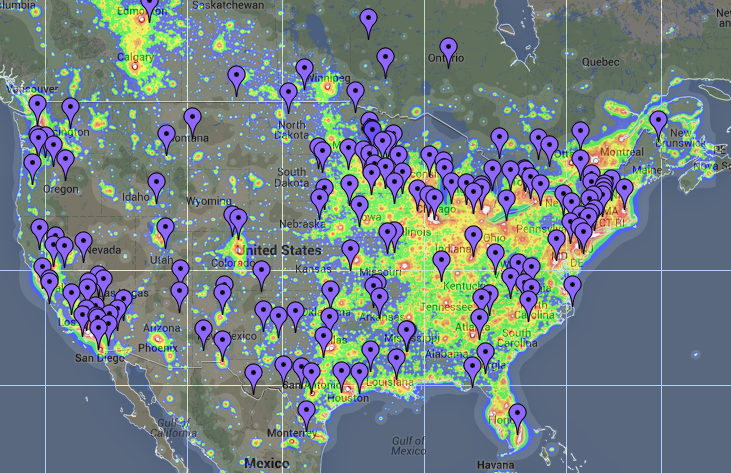 Introducing the LionCam
Wildlife photographer Steve Mandel created a lion proof camera housing that he calls the LionCam. Basically it's his version of photographer Will Burrard-Lucas's BeetleCam that he rewired, adding a new transmitter system and redid the outside casing. He can get closer than really any wildlife photographer can get, with a 5D Mark III and a GoPro attached, he has a whole behind-the-scenes video about his encounter with two lions along with all the images from it which you can view below: (via PP)
Researchers Design New Image Sensor with 12x More Color Sensitivity
Researchers at the Universities of Granada, Spain, and the Polytechnic University of Milan have designed a new image sensor that they says is 12 times more color sensitive than a traditional sensor. They used "Transverse Field Detector" technology to give it 36 individual color channels without filters, making it way more sensitive than the standard RGB sensors. Now the researchers say this won't benefit photographers as much as others, they say it'll be mainly used for, "medical imaging, remote sensing, satellite images, military and defense technology, industrial applications, robotic vision, assisted or automatic driving" and more. That would be nice if this actually made its way into cameras! (via IR)

New Affordable Camera Shoots Nearly 20,000 FPS
What's photo news each week without a Kickstarter campaign: A new camera that claims to shoot over 10,000 fps called the fps1000 is now up on the crowdfunding site. The very small C-mount camera is available in both monochrome and color versions, coming in silver, gold and platinum editions. The base model (silver edition) can capture between 850 and 16,500fps video at VGA resolution (640 x 480) and below, and features 16GB of on-board storage. The Gold model shoots 200 to 16,500fps starting at 720p, and features 32GB of storage. And the Platinum edition shoots 70 to 18,500fps starting at 2560×2048 resolution, with 32GB of on-board storage. The models also feature a MicroSD card slot for expandable memory and a touchscreen LCD display. Price wise, Silver is going for £350 ($563), Gold will sell for £650 ($1,045) and Platinum – £1,000 ($1,608). The Kickstarter already reached over double its goal of 20,000lbs, currently at 50,000lbs and it still has about three weeks to go. Will you be contributing? (via GG)
HTC's Answer to the GoPro, Introducing the RE
HTC unveiled their new action cam that they're calling the RE. The new cam looks just like an inhaler or pepperspray (designed for one hand use) and unlike GoPro's use of Heros for action cam footage, this is more for the normal person. It features two buttons, one on the front and back with a pair of indicator LED's. It takes stills, video and has a slow motion mode as well. Spec wise, it has a 16MP sensor, 145-degree f2.8 wide angle lens, shoots 1080P at 30fps or 720P at 120fps, only water resistant up to 1 meter for 30 minutes, and also has an instant-on feature. The new cam connects to your smartphone for a live viewfinder which can also double as external storage. This thing will go for $200 at the end of this month and comes in white, blue, orange and teal. Will this be GoPro's competitor? (via PP)
School Teacher Submits Amazing Image to GoPro, Goes Viral
Now on to GoPro's, a NJ school teacher named Amanda Brewer took an amazing photo of a great white shark with a GoPro Hero 3+ while volunteering for White Shark Africa, an animal conservation organization. The photo went "viral" this past week after GoPro used it for their "Photo of the Day" and it ended up being their most like photo ever. It then got picked up by Time and went on from their to various new agencies. Another story that showcases how powerful a single image can be, even if a photographer didn't take it!
GoPro Parody Montage Video: Reality vs. Fantasy
On the opposite end of things, a man named Mike Fry put together a funny video that puts the average GoPro Hero user's footage and compares it to the action packed fantasy world that GoPro always posts about. The video takes clips of extreme sports from various GoPro-promoted ads and mashes them up with his average day of filming his dog playing in water, playing golf, etc. So for those that have a GoPro and aren't diving with great white sharks, you're not alone… (via Reddit)