RAWtalk Episode #106: An interview with the first Photographer I ever looked up to, Bruce Bennett
Click Here to download RAWtalk Episode #106 as an MP3.
My first official photography class was in 1997 when I was in 10th grade. I recall a rack of photography magazines being near the teachers desk and one magazine always caught my attention. On the cover was this Einstein looking guy holding a really cool "white" lens standing on the ice in front of the net. The photographers name was Bruce Bennett and he has the destination of being the first photographer I ever looked up to. I consider him to the most recognizable photographer in NHL history.
There wasn't a week that went by where I read and re-read the article in "Unique Photo" magazine where Bruce talked about being a hockey photographer. From that point on I knew I wanted to be a Hockey Photographer and that Bruce was the one I wanted to emulate.
Well this week I had the honor and pleasure of interviewing Mr. Bruce Bennett. The interview takes place on the Philadelphia Flyers bench at the Wells Fargo Center before the opening night festivities. This interview ranks up there with one of my favorite to this point. Bruce and I share a love for photography and hockey and you will hear us tossing around random hockey knowledge and facts. The interview starts at 32:23
I want to CRITIQUE Your Squarespace Websites. That's right if you have a site built on Squarespace I want to critique it. Send an e mail to Jared at FroKnowsPhoto.com with the subject line "Critique My Squarespace". If you don't have one don't worry you can sign up for a 14 day FREE Trial right here. It turns out I can critique trial sites. Please be sure to send your trials before your 14 days is up with the subject line "Critique My Squarespace (TRIAL)". I will be giving priority to those sites since you have a limited time on your trial.
The type of critiques I will be doing will be via e mail. I wont be able to do videos for everyone's sites. I will be looking at the sites and giving you as detailed information as possible so please send them in.
Do you know what Kerplunk is? If you don't we start off the show with a quick game of Kerplunk. What other vintage games do you recall playing when you were a kid?
Stephen brings us all the photo news stories of the week that you just might find interesting. Stories include 2 million dollars worth of camera gear was stolen, a video time lapse with stacked video that will blow your mind, the donut selife is introduced and much much more. Be sure to check the site for all the photo news stories and more.
We take a quick look at a new photo book that was just released by Danny Clinch called, Danny Clinch. What a solid collection of images. If you love music or love candid images for that matter this book is going to give you a thrill. I am working on setting up an interview with Danny so if you can tweet at him and say you would like to see him on FroKnowsPhoto RAW talk that would be appreciated. @danny_clinch
We wrapped up the show with Gear of the week and the Wheel Of Fro!!!!
A big thank you goes out to Rode Microphone, Atomos, Allen's Camera, all the companies on the Wheel Of Fro and you guys.
If you are wondering what lights we used on location at the Wells Fargo Center, we used F and V Lighting.
Here's all of Stephen's photo news stories in detail:

Photographer Photographs the World's Largest Ship
There's a new photo series that popped up online of the world's largest ship being built in South Korea. Called the Maersk Triple E, this thing is considered the largest ship ever built, with apparently 20 of these being built for a combined $3.8 Billion. Photographer Alastair Philip Wiper wanted to get closer to what he calls a "monumental machine," so he convinced Wired Magazine to send him to South Korea to photograph the ships under construction. Wired agreed, and Wiper was given access to the shipyard and one of the finished ships. As he arrived to the shipyard, one of the ships was just completed, and he had full access for five hours inside it before it departed. Some fun facts about the ships too: it can carry 18,000 containers stacked 11 levels high. The engine room is a whopping five stories tall. There's even a small cinema and swimming pool for the crew! Check out the full set of images here.
Love Fall Colors? This Map Will Tell You When They're At Their Peak
It's Fall and everyone's favorite time to photograph landscapes. Well, there's a new interactive map of the U.S. that showcases where and when you can find the perfect Fall foliage. Simply called the 2014 Fall Foliage Map, it offers you a radar-like layout of the states, with red being at its peak for Fall colors to really pop and green being at its minimal change. The people over at SmokeyMountain.com created it, saying their in-house scientists "analyzed hundreds of factors" to properly predict what the foliage will look like across the U.S. from early September through the end of November. The map features a slider which changes and predicts the foliage as you move to a future date. It looks like the weeks of Oct. 25 – Nov. 8 is the peak of fall colors for most of the U.S. Will you be photographing these beautiful colors? (via PP)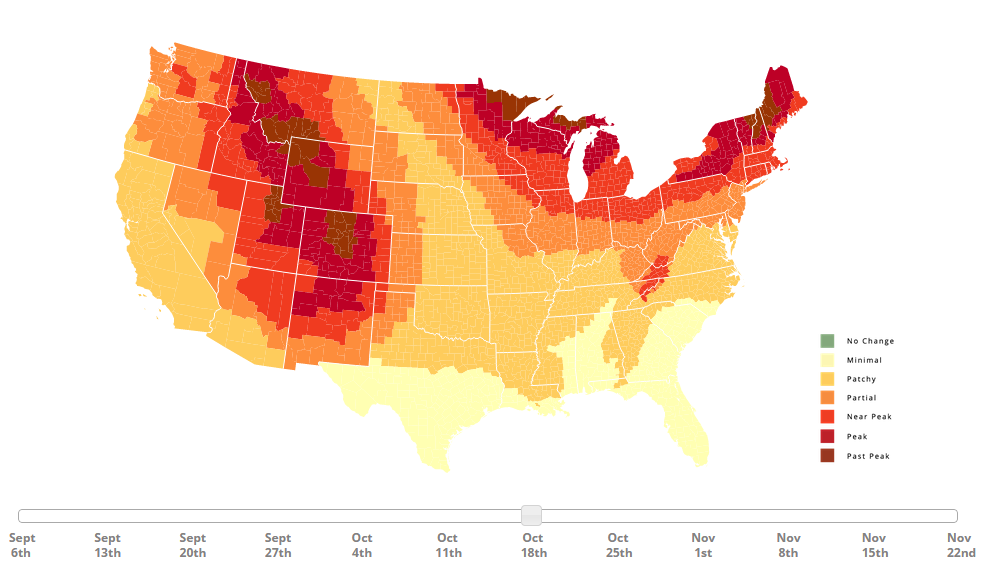 Introducing the "Donut Selfie"
There's a new fad in the selfie world called the "Donut Selfie." It's an interesting take on the video selfie that uses a panoramic video technique to create this seamless look in the mind of the taker across various locations. Basically you use the front facing camera of your phone and you "orbit" around your head, from left to right, capturing your face and the location around you. Karen X Cheng put together a helpful tutorial on how to pull it off and stitch it all together in a few Donut Selfie videos which you can view below. Do you think this is a unique idea? (via PP)
Nearly $2 Million Worth Of Equipment Stolen from 3 Photography Businesses
Nearly $2 Million worth of camera equipment was stolen from Black Magic Design, Mac House Productions and Core Microsystems in California last week, ouch. The thieves broke into the offices and basically grabbed the priciest gear they could find. Black Magic was the hardest hit of the three companies, having 350 cameras and computers stolen, worth a combined $1.5 Million. Mac House Productions luckily have the criminals on surveillance video and are offering $10,000 to anyone who can identify them. The thieves appear to know the industry well since they picked the most valuable items. Police say the items most likely already made their way onto the black market outside the U.S. Do you recognize the crooks? (via FS)
Photographer Say Goodbye To Her Best Friend via a Touching Portrait Shoot
Photographer Maria Sharp said goodbye to her 16-year-old dog named Chubby via a touching portrait shoot. She hired photographer Suzanne Price to take the photos and personally put together a timeline of pictures from when she first got the dog to his last final days. Sadly, the German Shepherd, Collie and Hound Dog mix passed away shortly after the photos were taken. Sharp says, "I know how important it is to preserve memories and time with loved ones, and this shouldn't just apply to humans." Such a true statement. See all the photos over on her blog here. (via Mashable)
Another Quadcopter Is Coming To Market: The PlexiDrone
Another new quadcopter is entering the camera drone game: introducing the PlexiDrone. It's a new type of copter that is extremely portable, with it being able to be disassembled and snapped back together in less than a minute. The quadcopter is the face of a new Indiegogo campaign by a company called DreamQii. Cameras can be attached to the drone via a snap fit attachment, and the landing gear also folds all the way up when in operation so there's nothing blocking your 360-degree shot. It won't carry a full DSLR, but it will work with smaller mirrorless and compact cameras, and GoPro's of course. Each of the propellers can be detached along with the landing gear. The company announced a hardshell backpack to go along with it called the PlexiPack which looks pretty rad. Regarding operation, it can be controlled via any Bluetooth-enabled smartphone, or you can fly it via standard RC by attaching a receiver. They also have something you could purchase separately called the PlexiHub which bridges the quadcopter to long range radio. It features GPS Follow Me technology, it's water resistant, and even has a function called Swarm where multiple drones can follow you, capturing the same scene from different angles. A contribution of $699 will pre-order the starter kit for you which includes a drone, a hub, a battery, and a charger. The bigger contributions get you stabilized kits, the hardshell backpack and more. It's already reached its goal too of $100,000. and is currently at $341,000 with about three weeks to go. Will you be purchasing one? (via PP)

Star Wars-Like Drone Race with…Camera Drones!
Speaking of drones, a group of camera drone pilots hosted a Star Wars-like drone race, and it's awesome! Taken part in France, the group behind the race, known collectively as the Airgonay Club, decided to switch things up in the photography community. The race, which was all caught on video, features all the drones with cameras, so you get your own first person point of view when watching. Most of the pilots used Oculus Rift-like goggles to control them too. Just don't do this in a National Park kids… (via Engadget)

This New Program Lets You Schedule Instagram Posts
Finally, a program that allows you to schedule Instagram posts! The fairly new website, appropriately titled Latergramme, lets you plan out and schedule your photos, from the web or your phone. It's free to use, with a premium option if you want multiple accounts, regram and search options, and 250 posts a month. The free version will give you 30 uploads a month and you can link two accounts. The free mobile app is currently only supported by iOS though. This is great for photographers who want to post a final image straight from the computer. Finally no more emailing the image, adding the borders and posting via the phone! (via FS)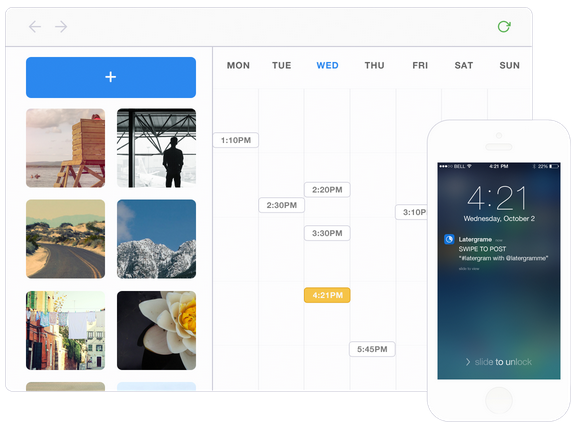 Bad Retouching Job or Cultural Preference?
The official portraits for the 2014 Miss World Philippines candidates have been getting negative feedback from the photography community for poor retouching. The portraits make the girls look like fake porcelain dolls, with the clarity lowered all the way. According to the Yahoo Philippines article that posted the images, they were taken by "renowned photographer Pancho Escaler." No word on whether or not he did the retouching himself, but I assume he approved them in the end. Some say it might be a cultural preference for the photos to look the way they do, others call bad post-processing. You can see all 26 images here, you be the judge…
California Passes New Bill Nearly Banning Camera Drones
California signed an act into law that will make it illegal and extremely expensive for anyone flying a camera drone. Mimicking an anti-paparazzi law, however on the public side (although it benefits celebrities the most), it's meant to stop basically peeping toms from invading someones privacy. Under the new law, anybody caught using a camera drone to take pictures of somebody "under circumstances in which [they] had a reasonable expectation of privacy," and where said picture could not have been taken without trespassing if the drone hadn't been used, will face serious penalties. According to the act, anyone caught doing this will be liable for up to three times the amount of any general and special damages, punitive damages and, if the invasion was done 'for commercial gain', any profit from that will have to be given to the person whose privacy was invaded. AND on top of all of that, you'll have to pay a civil fine of "not less than $5,000 and not more than $50,000"; wow. The author of the bill says, "As technology continues to advance and new robotic-like devices become more affordable for the general public, the possibility of an individual's privacy being invaded substantially increases. I applaud the governor for signing [the law] because it will ensure that our state's invasion of privacy statute remains relevant even as technology continues to evolve." What do you think about this? Take an in-depth look at the full bill here. (via AP)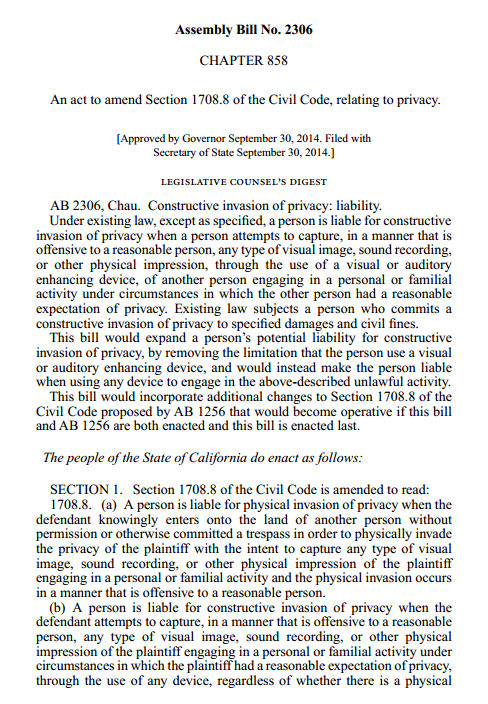 Photographer Unveils World's First "Layer Lapse" Video
And finally my favorite piece of news this week: a photographer named Julian Tryba created what he's calling the World's first "Layer Lapse" video. It's a timelapse video that shows different times of the days in different parts of each frame in a single video. Julian says, "Traditional time-lapses are constrained by the idea that there is a single universal clock. In the spirit of Einstein's relativity theory, layer-lapses assign distinct clocks to any number of objects or regions in a scene. Each of these clocks may start at any point in time, and tick at any rate. The result is a visual time dilation effect known as layer-lapse." The project, which was filmed in Boston, took 100 hours to shoot, which resulted in 150,000 stills, weighing in at 6TB worth of data. It took him 350 hours to edit the 2-minute video and he went through roughly 800 different rough drafts. Fun fact: each of the clips has an average of 35 different layers toggling in and out. To shoot it, he used a Canon 6D, 7D, 16-35mm, 24-205mm, and Tokina 11-16mm and various Kessler sliders. It's quite a beautiful film which you can view below: (via PP)