RAWtalk Episode #107 - LIVE From Allen's Nikon-A-Palooza
Click Here to download this weeks episode as an MP3.
We took RAWtalk Mobile this week to the parking lot and tent of Allen's Nikon-A-Palooza. This is the second year of the event and this year we had an even larger turn out than last year. We had people drive in from as far away as 10 hours and as close as 2 minutes. Nikon was there to show off any gear you wanted to play with as well as doing FREE sensor cleanings. Allen gave away a Nikon D7100, there were other prizes and really sweet in store offers.
But we all thought it would be great if we extended the special offers from the event for ONE DAY ONLY, Monday October 27th from 9:30am – 6pm EST you can get the deals listed below if you call 215-547-2841. You can get 20% OFF select Tripods and 20% OFF Camera Bags. Also online at AllensCamera.com you will get 5% OFF all used equipment. Remember this is US Only and will be live from 9:30am EST to 6pm. Please call the store for more details.
This was our first time filming a show outside and the sun definitely gave us some exposure issues so please excuse those if you see them.
Stephen took his photo news segment mobile to bring us the latest information on what is new in the world of Photo News.
We had some extra special guest stop by this week. There was Allen, DigiRichie, Pasqual, Stephen Sutter and my dad who took over a microphone for a little while and a lot more.
The show was wrapped up with a killer LIVE Flying Solo portion as well as the WHEEL OF FRO. You can not miss the wheel of FRO this week, you have to see where it lands.
A big thank you to Allen's Camera and Nikon for sponsoring the event. Rode Microphones for the Broadcasters and arms we use. Atomos for the Ninja we use when we are in the studio. And finally F and V lighting for supplying the lights for Mobile RAWtalk, LED Pannels.

Here's all of Stephen's photo news stories in detail:
Hidden Menu in Hyperlapse App Reveals Advanced Features
A hidden menu has been discovered in Instagram's new Hyperlapse app. By simply tapping on the screen four times with four fingers, you get access to an advanced menu which lets you tweak just about everything in your hyperlapse video. The one major tweak that users are loving is that you can switch from 720P to 1080P. Also, you can adjust the framerate from 24-30FPS, however I do wish they had a 60FPS option. There's a calibration mode as well along with the option to save the original unstabilized video automatically to your camera roll. Will you be making any tweaks? (via Gizmodo)
This Gaff Tape Dispenser Gun Will Save You Time On Set
This is a must have for every PA on set: introducing the GaffGun. It's basically a gaff tape dispenser tool that claims to lay down gaff tape 29x faster than doing it by hand. It's main function is to tape up those clutter wires in a fast motion so no one is tripping or pulling out cables on set. It's designed in a way so the cables automatically line up on the bottom where it has a cut out, which then lets you effortlessly stride across the floor in one swoop, taping up everything all at once versus doing it the good old fashioned way. The only issue? It costs $199…Overpriced much? Watch it in action below: (via DIYP)
Toyota Packs Every Camera Trick Into One Commercial
Toyota released a commercial which showcases their new 2014 Corolla "like you've never seen it before," by using 99 cameras and every camera trick there is. It includes everything from bullet time rigs, jibs, dollies, quadcopters (which drop parachutes with cameras on them), a weatherballoon cam, RC cars strapped with GoPros, to even a "turtlecam." All this is done in the one minute commercial which you can see below, along with a quick behind-the-scenes video that shows how they did it all. Pretty neat, right? (via PP)
New Short Film Features LED-lit Skiers
This is really cool, a new short film called "Afterglow" by Sweetgrass Productions features skiers decked out with light-up suits made out of 7,000 LEDs and was filmed at night–it's like something straight out of TRON. The video follows the skiers as they journey down a mountain, which was also lit up by eight 4000-watt lights and accented by smaller kicker lights. The other interesting tidbit about this film is that they used 9000 lbs of gear to shoot it, including the RED EPIC, that had to be flown in on FIVE separate planes during the downhill portions filmed in Alaska. It's quite a beautiful film that was extremely difficult to shoot, from both the skiers' perspective and the director's. Check it out below: (via Wired)
Nikon Showcases How Their Lenses Are Built
Nikon brings you behind the scenes of the technology featured in their Nikkor lenses. The 5-minute video showcases how their vibration reduction is able to provide 4.5 stops of stabilization along with how exactly their Silent Wave Motor works. The video also goes into detail about the quality of glass that's used, for example their fluorite lenses. Check out the BTS video below: (via ISO 1200)
Behind The Scenes at Fuji's Lens Factory
Moving on to the Fuji side of things, they also put out a behind-the-scenes film of how their Fujinon lenses are made. Showcasing their dust-free environment, the video takes you into their polishing room, revealing the full start-to-finish process of how they're made. It also demonstrates their mold pressing, coating, lens barrel processing, surface finishing, assembling, measuring, engraving and finally–packaging. Did you ever think this much went into making a lens? I guess that's why they're so damn expensive! (via FSL)
This New Ferrari Gets Covered in UV Paint for the Sake of Photography
Another colorful story, photographer Fabian Oefner was asked to capture the essence of the new Ferrari California T–so he did just that–by completely coating the luxury sports car with UV paint in a wind tunnel. He did this in an effort to try and "capture the emotion that speed and acceleration cause in the driver." Hmm…The project reminds me of like a light-painted car wash. There's video of the final ad below along with a behind-the-scenes look into the concept, the testing, and the overall final product. Also, check out the photos over on his Behance page. I kind of wish that paint was permanent… (via OC)
Delkin Announces "World's Most Rugged SD Card"
Delkin released what they're calling the "World's Most Rugged SD card," their new "BLACK" line. The new cards are waterproof, shockproof, dustproof, extreme temperature resistant and "virtually unbreakable." Their claim comes from the use of a proprietary injection mold technology and innovative materials that standard cards don't use. As far as specs go, they're not the fastest cards, with only being UHS-I certified and a transfer speed of up to 99 mb/s (which is still certainly fast, but not the fastest). Their marketing director says, "from the Arctic to the Sahara, and even through your washing machine, the unique design enables Delkin BLACK cards to perform through hazardous environments and remain totally usable without experiencing any data loss." They're so confident that the cards won't break that they have a new 48-hour "no questions asked" policy that basically states if there's any issue with the cards, simply call them and they'll replace it within 48 hours, no questions asked. They come in 32, 64 and 128GB capacities, and they're exclusive to camera stores and won't be sold online.
Canon Unveils "World's Longest" 4K Cine Lens
Canon announced the "World's Longest" 4K Cine lens, their new Cine-Servo 50-1000mm T5-8.9 Telephoto Zoom lens. It's designed specifically for their EOS C-series cameras, but it is available in both EF and PL mounts. 1000mm isn't as far as it can go either, it has a built in 1.5x magnifier which brings it to a whopping 1500mm if needed; wow. The lens is also capable of programming zoom and focus settings, so whether you're wanting a fast or slow rack focus, it can go from full-wide to full-telephoto as fast as 1.5 seconds or as slow as 180. The only caveat? The giant price tag. This thing weighs in at $78,000 and will be released in the first quarter of 2015. Will you be dropping a couple cars on this? (via PB)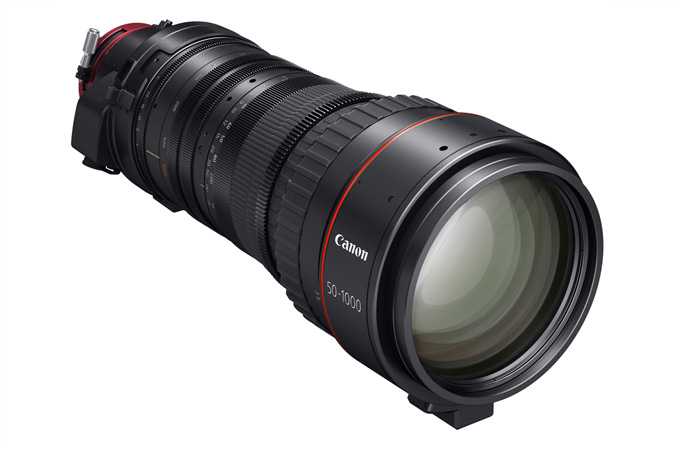 Adobe Releases Automated Aperture to Lightroom Migration Plugin
We chimed in on this before but now it's official: after releasing a microsite along with a step-by-step PDF, Adobe has now released a free Aperture to Lightroom automated migration plugin for Lightroom. Once installed, just click on File -> Plug-In Extras -> Import from Aperture Library (or iPhoto Library), select the location of your Aperture Library, select a folder you'd like to import into, and click Import. Both originals and altered versions of the photos in your library will be imported automatically, since Lightroom can't exactly emulate all of Aperture's various algorithms. Along with the photos, star ratings, keywords, GPS data, color labels, flags and more are also transferred over. There's step-by-step instructions on the download page of how to get this up and running. Check out Aperture Importer here to start transferring. (via PP)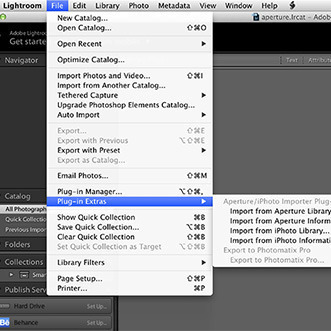 Apple Announces New 5K Retina iMac's
Apple unveiled their new MONSTER 5K Retina iMac's which they're calling the World's "highest resolution display." The new 27-inch display packs in 14.7 million pixel and measures 5120×2880 pixels, having 67% more pixels than a 4K monitor. The new all-in-one desktop's base model starts with a 3.5GHz Quad-Core i5, 1TB Fusion Drive, and a 2GB AMD Radeon R9 M290X GPU, which can be upgraded up to a 4.0GHz Quad-Core i7, a 3TB Fusion Drive (or up to 1TB SSD), and the 4GB M295X GPU. The base price for one of these bad boys is $2,499 which actually isn't bad for it being an Apple product. What do you think? Will this be your new editing station?