LIVE From my Hotel Room in Las Vegas: RAWtalk Episode #115
Click Here to download this weeks Episode.
Welcome to Episode #115 which so happens to be the very first one of 2015. The reason I went out to Vegas this time was for CES 2015 which is one of the largest tech shows in the world. I figured we are here we might as well set up a mobile RAWtalk and invite some readers. But the question became where would we film it? I thought it would be fun to invite a handful of readers to join us in our hotel room at the Excalibur.
I got an e mail from a reader asking me to promote is gofundme campaign because he just had all his gear stolen out of his car. I get these e mails all the time and asked two simple questions. One did you have insurance and two did use lens tag for your gear. The answers to both were not that they are always very careful with their gear. Look, gofundme is not a place for you to basically ask friends, family or strangers to act as your insurance plan. I feel bad for the person for having their gear stolen but they are partly to blame for not having insurance.
CES 2015 was packed with a couple hundred thousand people and Stephen and I braved the crowds to bring you guys what we think are the coolest and strangest items from the show. We give you our recap as well as our run in with Kazamm.
After Photo News I opened up the hotel room floor to the fro readers in attendance to ask Flying Solo questions.
A big thank you to Squarespace who allows for Mobile RAWtalks to actually happen. They foot the bill for the travel and other expenses that surround filming and production. Please help me by checking out Squarespace.com/fro and signing up for a FREE 14 day Trial of the service.
If you are a student and would like 50% OFF go to Squarespace.com/fro than Squarespace.com/students > find your school than use your .edu address to sign up.
Don't forget to subscribe across the board to be notified of NEW episodes. Please find me on Snapchart at FroKnowsPhoto

Here's all of Stephen's photo news stories in detail:
Hackers are reporting that a person's fingerprints can be copied from a simple photo that shows their hand! The hackers, known as the Chaos Computer Club, discussed the finding at a recent convention in Germany. During one of the talks, a hacker named Jan Krissler (AKA "Starbug") showed how he recovered the thumbprint of German Defense Minister Ursula von der Leyen using press photos found on the Internet. He did this by finding a bunch of photos of the Defense Minister, where he then used one image to get the initial base fingerprint, followed by using other images to fill in the rest of the fingerprint using different camera angles. The group warns that this could be a serious security risk in the near future. Ya think…. (via VB)
Cycling team Mash SF created their own line of what they're calling "purist" water bottles that look like old film canisters. The designs mimic classic film stocks including Kodachrome, Fuji Velvia, Ilford HP5 and Agfa Pro 200. The 22oz bottles cost $10 each from their online store. What do you think of this idea? (via PP)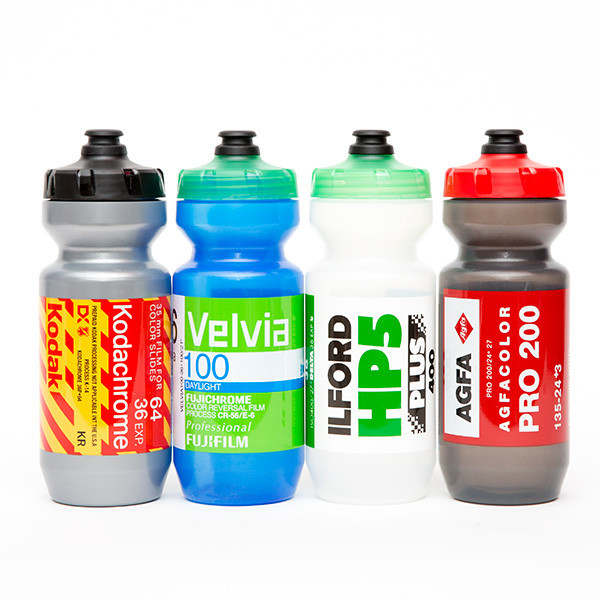 Kodak is jumping into the smartphone market by releasing a new smartphone under their own name. The classic camera brand introduced the first phone from the mobile lineup at CES this past week, called the IM5 (Instamatic 5), and will be releasing much more throughout the year including a 4G smartphone, a tablet, and a connected camera. The smartphones will be powered by Android and will capture, manage and share photos (like every other phone). Spec wise, it has a 5-inch HD screen, 5MP front facing camera and 13MP camera on the back. Inside is a 1.7GHz processor and storage of up to 32GB using a MicroSD card. Now we actually talked to them at CES and they said this phone is geared toward the 55 and older demographic. The phone has a very simplistic layout since that's the crowd they're going for. It features very few large buttons with big text on the homescreen. The phone will be available in Europe the 2nd quarter of this year starting at $249, no word on when it'll be out in the U.S. just yet. Do you think this was a good decision? (via Engadget)
Another new product from CES: Canon has announced their new Connect Station called the Connect Station CS100. The system is designed to store, view and share all of your digital photos and videos with a simple tap. The wireless hub has 1TB of internal storage with the option to add additional external harddrives for backup and restoring. Wi-Fi and NFC wireless technologies will let you import images and clips (in JPEG, RAW, MP4, MOV, and AVCHD formats) onto the device with a tap of a button if you have a compatible digital camera — newer Canon cameras and camcorders feature a dedicated NFC button for this type of data transfer. You'll be able to view your content instantly by connecting the station to a TV or monitor via an HDMI cable and navigating with a supplied Canon remote. You could also access the hub via your smartphone, tablet and any computer's browser. If you don't have a wireless compatible camera, you can simply insert an SD or CF card into the station or even connect it via USB to your camera. Also, if you have a wireless printer, it can connect and print instantly! The new device will be available this June starting at $300. Would you invest in one of these?
Fuji announced a new lens at CES—a 16-55mm f/2.8 lens. The official name, the XF 16-55mm F2.8 R LM WR, is the equivalent of a 24-84mm in full frame terms and has a constant 2.8 aperture across the zoom range. The autofocus speed is rated to be .06 seconds with a "whisper quiet" focusing system. It's dust proof and weather-resistant—it was designed specifically for photojournalists with 14 sealing points. The lens has a minimum focusing distance of less than a foot too. It'll be available next month and will cost $1200.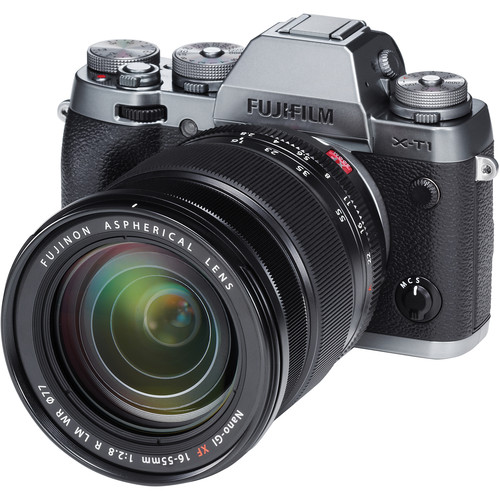 Another announcement this week: Nikon's new D5500, their first camera with a touchscreen. Spec wise, it's basically a refined D5300 with a vari-angle touchscreen. The touchscreen lets you touch to focus and offers a touchscreen shutter (and much more). The function touch also lets you access camera settings directly from the screen like ISO, Aperture, AF points, etc. Diving more into specs, it sports the same sensor as the D5300 with no OLPF. It has ISO ranging from 100-25,600 natively. One of the other big pitches is that it's the smallest and lightest DSLR they ever made (even lighter than the D3300!) The camera also has built in WiFi, shoots 5FPS, and has 39 AF points with 9 cross-type sensors. It'll be available next month in black or red and will cost $900 for the body only.
Nikon also unveiled two new lenses: the 55-200 f4-5.6 II and 300mm f4. The 300mm is the world's lightest 300mm full frame prime lens and is the second iteration of the lens. Compared to the previous version, the new lens is 1.5 lbs lighter and 30% shorter, nearly the same size of a 24-70mm lens. It also uses Phase Fresnel optical technology to reduce chromatic aberration along with size and weight. The built-in VR provides 4.5 stops of stabilization and also includes a VR Sport setting for panning. The 55-200 offers 3 stops of stabilization. Price wise, it'll cost you $2,000 for the 300mm and $350 for the 55-200mm, with both being available next month. Will you be upgrading?
Von Wong is at it again and put together another "tremendous" photo shoot, this time being at the Admont Abbey in Austria, one of the oldest monasteries and libraries in the World. He was given the opportunity to pull off the very first photo shoot inside, relating it to "entering Disney's Beauty and the Beast library." His team and him were given access after hours to pull off the shoot and they did just that. As usual, along with all his shoots, you can check out a behind-the-scenes video of the shoot along with the final images over on his blog. (via PP)
Nikon has officially acknowledged their D750 flare issue that everyone's been talking about and say they're looking for a fix. A note was posted to the company's website titled, "To users of the Nikon D750 digital SLR camera." The note reads, "We have received indications from some users that when photographing scenes in which a bright light source, such as the sun or high-intensity lighting, is at a certain position along the top border of the frame, flare with an unnatural shape may sometimes occur in images captured with the D750 digital SLR camera. We are currently looking into measures to address this issue. Further details will be announced as soon as they are determined." Now to make things worse, Nikon Rumors reports that several owners of the D750 have already gotten in touch with lawyers for a potential class action lawsuit against the giant camera company; ouch. Have you seen this issue in your camera? (via DPR)
Moving back to gear news announced this week at CES: Samsung announced a portable new 1TB SSD that's the size of a business card (their words, not mine!) and weighs nearly nothing. The new drive comes in 250, 500 and 1TB options with blazing fast 450 mb/s read and write speeds via USB 3.0. It also has built in 256-bit hardware encryption allowing you to password protect your files. The drive is shock-resistant as well so it's fairly rugged. Great option for the traveling photographer, but still a little pricey. It'll be out later this month starting at $179.99 for the 250GB model and $600 for the 1TB model. Too expensive?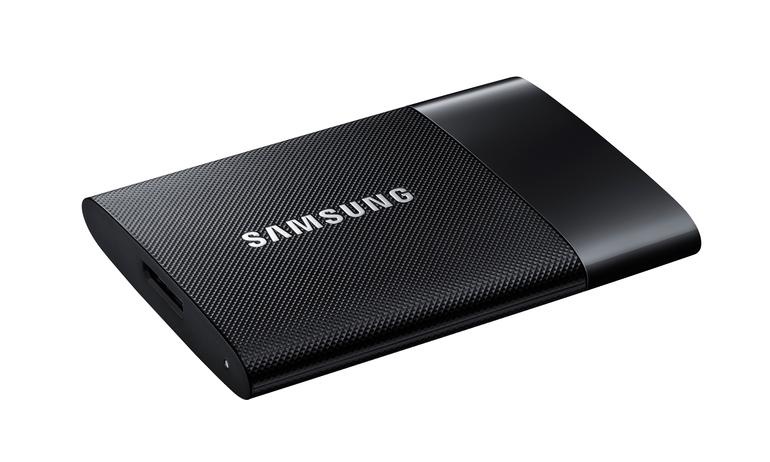 Next up, Seagate offers up some competition with what they're calling the World's thinnest external hard drive for on-the-go storage. Called the Seagate Seven, it's just 7mm thick and measures 3×4.5 inches (smaller than a smartphone). Inside it has a 5mm drive enclosed with a 500GB capacity and uses USB 3.0 for transfers. It has a stainless steel design which is both sleek and rugged. The new drive will be available later this month with a price tag of only $100. Not bad!
Next up in harddrive news, G-Tech finally is fighting back at Lacie in the rugged department with their new line of rugged harddrives that are shock and dust resistant along with water resistant. The new drives feature a blue outer bumper shell opposite of Lacie's classic orange look. They come in USB 3.0, SATA and Thunderbolt connection options. The new cases and harddrives are called the ev (Evolution Series) RaW and ATC (All Terrain Case) with the ATC case being the more advanced protection option. They'll be available later this month starting at $79.95, coming in 500GB and 1TB configurations.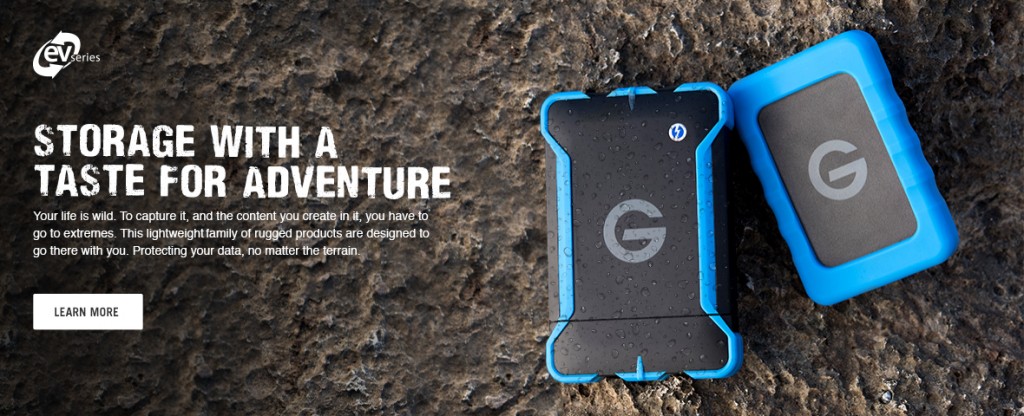 And finally, Lacie announced the Rugged Raid, a new drive that does just that, mirrors your data between two drives on the go. As all Lacie rugged drives go, it's water, dust and shock resistant—being able to be dropped five feet and still be OK and have one ton of pressure applied to it without the data inside being lost still blows my mind. Via USB 3.0 connection, it has transfers speeds of 240 mb/s. It has two 2TB harddrives inside that can either be used as raid or striped to be a single 4TB drive. The new drive will be available starting in the 2nd quarter of 2015 at a price tag of $450.
Yongnuo has been on a roll lately and has announced that they will unveil cheaper clones of Nikon lenses now. After releasing their perfect copy of the Canon f1.8 II and 1.4 lens (and a 35 f2 on the way too), it left many photographers wondering if they'll start to do the same on the Nikon side. No word on which Nikon lenses they plan to copy just yet, but most likely they'll follow the same path as the Canon side and start with the 50. (via PP)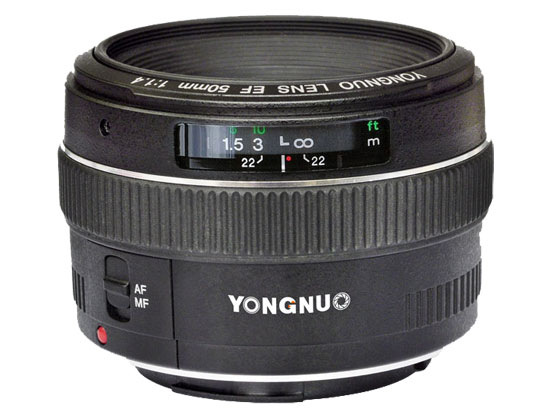 And the last story of the week, a photographer revealed a photo series which captures the crazy lifestyle of being a parent. Photographer Danielle Guenther's new series called "Best Case Scenario" attempts to showcase the chaotic lifestyle of being a parent to young children. After showing up to shoot a family portrait with small kids, the shoot spiraled out of control with the kids running around everywhere which gave her the idea for the new project. She shared one of the first images of her series online, later receiving requests from families who wanted their own "chaotic portraits" taken. Check out the full series over on her website, what do you think? (via SLRL)