Your Marketing, Branding and Business Questions CRUSHED: RAWtalk Episode #116
To download this weeks RAWtalk as an MP3 click here.
This week show takes us back into the LOFT for the second show of the year. I honestly never know what direction the show will go when we hit record but this week took a turn into Business territory that you will not want to miss.
Before I dive deeper into the show I want to thank RODE for being this weeks featured sponsor. They just released a new accessory for the SmartLav and + called the SC1. The SC1 is a 20 foot extension cable which will really come in handy when you need to stay behind the camera and monitor audio. Be sure to check out everything RODE right here.
We discussed the killer video Stephen whipped together from CES that left me wanting to watch even more. We outlined why I am going to Florida and where the next mobile RAWtalk is going to be on Tuesday January 20th.
If you are on SnapChat be sure to add me as a friend "FroKnowsPhoto".
Flying solo this week has to be one of the most candid discussions I have had to date about business, marketing and branding on a RAWtalk. I let you in on how I advertise on Facebook, what I target, how much I spend and the reasons for doing so. Generally I don't want the show to go almost two hours but the amount of solid questions this week lead us down that path. In all honesty you don't have to be a photographer to learn something about business, branding and marketing from this weeks Episode.
I spent a good amount of time discussing Audio and Video Blocks a service that I have been paying for for almost two years now. People have been wanting to know where do we get royalty FREE audio and video to use in our videos. The answer is simple we use Audio Blocks and Video Blocks. You can get a 7 day free trial by going here for Audio Blocks and Here for Video Blocks. Both services go for $79 a month but if you sign up for the FREE trial than cancel your subscription they will send you an e mail with an offer for $99 a year for either service. That's exactly what I did when I signed up.
Please be sure to Subscribe on YouTube, Like on Facebook, Follow on Instagram "JaredPolin" and keep on watching. Thank you again for all of your support.

Here's the CES Recap video that we spoke about during RAWtalk:
Here's all of Stephen's photo news stories in detail:
Flickr announced its top list for 2014, showcasing the top 25 photos of the year. The images selected were picked based on a number of "engagement and community" factors, including how many times they've been viewed and added as a favorite image. Flickr also pointed out the top cameras that were used to upload photos based on user EXIF data. The top brand is Canon with the Canon 7D topping the charts for DSLR cameras. Runners up for top brand include Apple, Nikon, Samsung and Sony, in that order. Compared to last year, Canon has increased 13% and Apple has surpassed Nikon. Runners up for DSLR cameras include the D7000, 60D, 5D Mark III and D3100. Top mirrorless camera is the Olympus E-M5 with the Sony A7 coming in 2nd place. Moving on to top smartphone–the iPhone 5 with the 4s coming in right behind. Fun fact: the Samsung Galaxy S3 is the only non-apple phone in the top 5 smartphones. (via PP)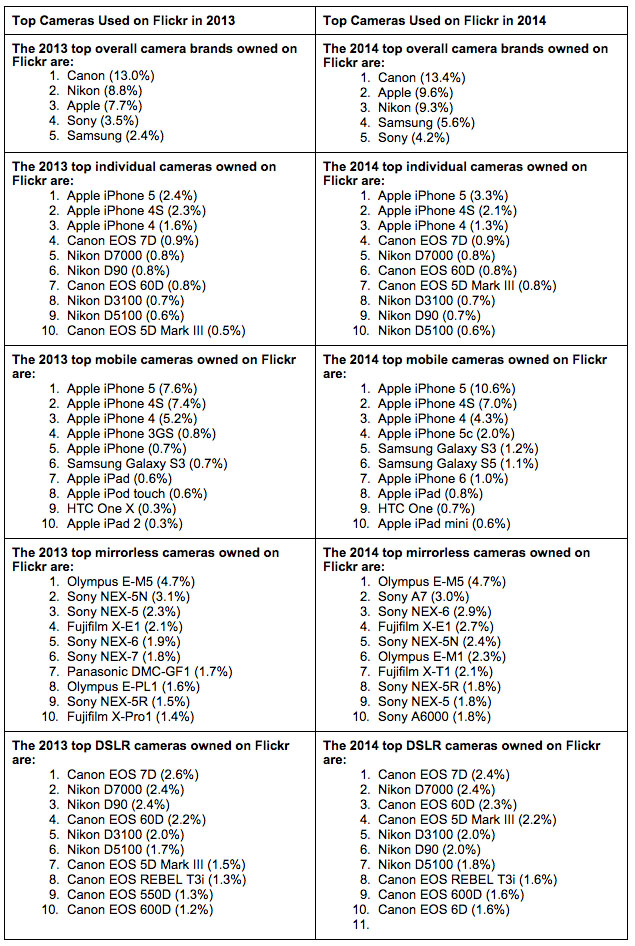 We hit on this last week a little, Nikon has silently recalled the D750 while it fixes it's flare issue. It won't even show up in Amazon.com search results and is listed as back-ordered on B&H and Adorama. Many camera stores say they'll have the camera back in their shop in "about a month." Now if you already own a D750, Nikon is offering free repairs and inspections. They'll be initiating the service at the end of this month with more details to come including instructions for requesting servicing. Have you seen this issue in your camera? (via DPR)
An interesting photo series featuring images of NYC at night taken from a helicopter is now online. Photographer Vincent Laforet captured the images out of the open door of the copter at 7500 feet. He shot the images for Men's Health Magazine using a Canon 1D X and Mamiya Leaf Credo 50MP at 3200/6400 ISO with a set of f/1.2-f/2.8 lenses. Check out the set of images here and a behind-the-scenes video of the shoot below: (via LS)
Apple has been granted a patent for a wearable camera this week, which in turn caused GoPro's stock to plumit 12%. The patent was filed back in 2012 and was titled "Digital camera system having remote control." The patent details an action camera system that can be mounted to things like helmets and masks. They also specifically mentioned weaknesses in GoPro's line of action cameras. It describes the item as being able to record video, audio and capture stills, just like every other action cam. We'll see if GoPro has some real competition in the near future… (via Reuters)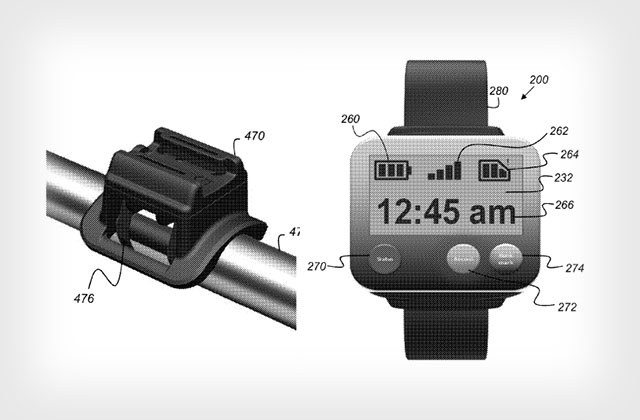 Speaking of GoPro, the action cam company will be updating its Hero 4 firmware, adding more photo and video features. Among the updates include a new timelapse mode that will take stills over a specified period of time and automatically create a timelapse video using the images. Also, a new burst mode will spread out 30 photos over a period of 6 seconds rather than in rapid succession. Auto rotation has been added, so if you wear you camera upside down on your head, it'll automatically capture the video right side up. The Black edition will have some video framerate additions, including 720P now at 240fps and 2.7K at 60fps; wow. The new firmware is expected to hit cameras the first half of 2015. (via Engadget)
Introducing the BelfieStick, a selfie stick that lets you take photos specifically of your ass, or back side as they like to call it. Belfie is a term coined by Kim Kardashian, noting that it's a "photograph of one's own bottom, especially one posted online." CTO Kevin Deegan tells Business Insider they came up with the idea for the product after seeing the trend emerging among their users. "We've noticed a huge spike in users taking butt selfies in recent months so the natural next step was for us to develop a device to assist our users in taking one." Here's how the product site describes the device: "With our bendable stick, you can position your back side without the need of a mirror and shoot the exact angle you are looking for. Bend in ways you never thought possible with our patent-pending design! Our unique design makes it easy to take pics of your bum in any angle. Never drop your phone again!" Cost wise, it comes in at $80 and will arrive later this year. Would you ever think about buying one of these? (via BI)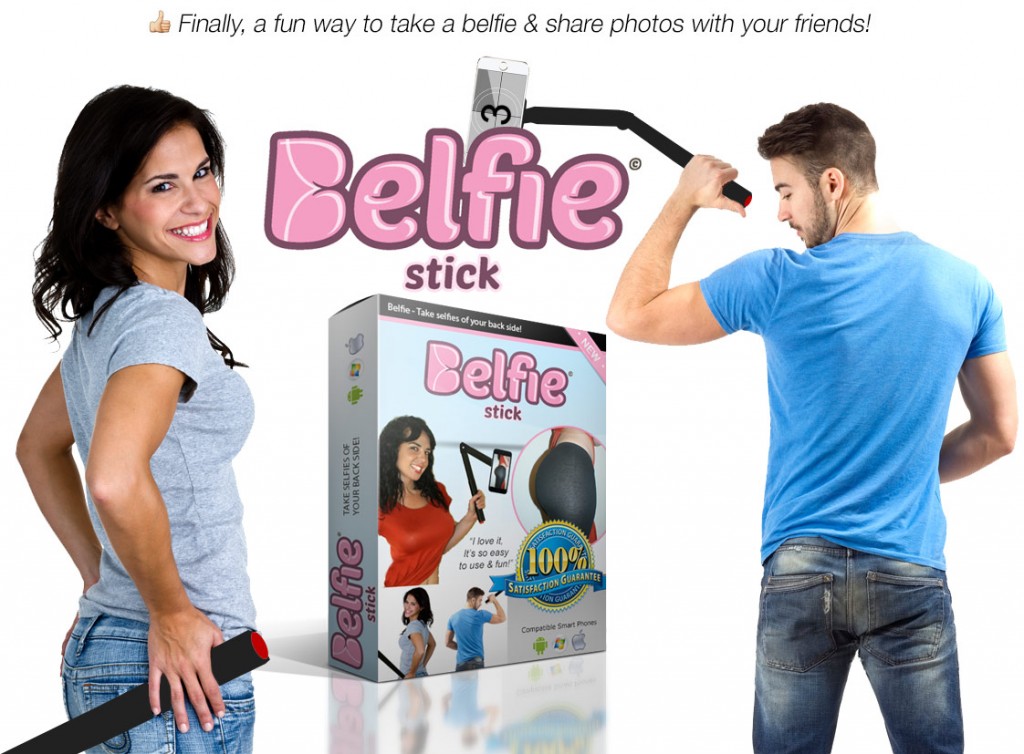 Canon may have leaked an upcoming DSLR in their new Connect Station ad campaign. The still-posted image on Canon Austria's Facebook page shows the backside of the DSLR next to the Connect Station which features a button layout that no current Canon DSLR supports. It seems like it will be a part of their semi-pro lineup since it features a top LCD screen too. It also has an articulating LCD screen on the back. The main difference in the turn dial, which looks like its been combined with the T5i and 70D's click wheel. Now this actually makes sense because at CES we specifically asked the Canon rep why there's a DSLR using the Connect Station in the ad when no current DSLR supports the built-in NFC option (which the actor is clearly covering the name of the camera in the video too), and the rep was clueless as to why they showed a DSLR. However, it makes sense if there's a new one coming down the pipeline very soon. What do you think it will be? Advanced rebel? 80D? (via PP)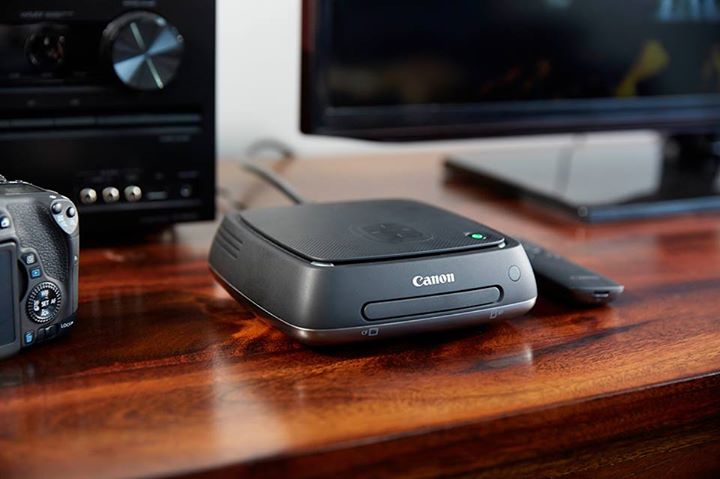 On the topic of NFC, Toshiba has announced the world's first SDHC card that has NFC built in. The technology allows you to see what's on a card without having to plug the card into a camera or card reader. Instead, you'll be able to "preview" the contents simply by bringing a smartphone close to the card. Currently, you will need an NFC-enabled Android smartphone to take advantage of the feature, and you'll also need to have the "Memory Card Preview" app installed. Once the app is installed, all you need to do is open the app and simply put it in close contact with the card and all the previews will appear. Not only that, it will also reveal how much free space the card has along with all the details of the card. The new cards will be available in capacities of 8, 16 and 32GB and will ship this February with the app coming the same time; no pricing just yet. (via PB)
Photographer Joshua Resnick is being sued by a model for nearly $500,000 after a photo that he took of her was misused and/or stolen. He's a stock photographer and she signed a model release form and all, granting him the right to sell the images through stock photo agencies. Well most of the images ended up on erotic book covers, escort ads, strip club ads, and much more, so clearly she wasn't happy about that. Now she thinks he directly sold the pictures to these people, but he says he simply sold her images through a stock agency with a terms of service that did not allow pornographic/defamatory use. The images were also posted by the model on her Facebook page, and eventually found on pirate sites that were giving away the images for free, so the images could have originated here as well, illegally. Here's more to the back story: the model was an experienced lingerie and implied nude model, appearing on a magazine cover in such apparel recently. He told her agent before the shoot that it would be used for stock photography. Before the shoot he told her how stock photography works as well, covering all his bases. The model was also paid, it wasnt a trade deal which most major news publications are stating. The photographer fears that this could issue a major precedent for future photography court cases. The photographer did set up a crowdfunding campaign to help pay for the copyright lawyer and court fees too, which has currently only raised $1657 out of the asking $50k at the time of writing this article. You can view the entire court document over below and make up your own opinion on who is right or wrong: (via PP)
The rare Nikon 1200-1700mm f5.6-8 lens has been spotted in the wild when it was used by a photojournalist to photograph a recent hostage situation in France. The lens is three feet long and weighs 36 lbs, costing around $60,000 when it was released back in 1993; ouch. Check it out in action below (oh and it was mounted on a Canon DSLR too!): (via PP)
On essaye de glaner des images comme on peut #CaCestDuZoom #Dammartin pic.twitter.com/uyAFTwTULT

— Maxime Goldbaum (@MaximeGoldbaum) January 9, 2015
Gary Fong has launched a new series of virtual interactive cameras on his website, which showcases how to use a particular camera, showing the ins-and-outs of the menu system (similar to our user guides except they're interactive and not free). Each virtual camera looks just like the back of the camera, with the ability to interact and scroll directly through the menu. If you want to know more about a particular item in a menu, you click on it and an instructional video pops up showcasing that item in action. Fong has a free preview online which you can play around with now for the Sony A6000, however the preview videos are limited to just 12 seconds. He says the virtual cameras will only be available on new cameras moving forward. So far, he has the Sony A6000 and A7 II up and ready and will have the Canon 7D Mark II and Nikon D7100 up in the near future. Each virtual tutorial is going for $13. What do you think of these?
A new "Ansel Adams Act" was introduced to Congress recently, aiming to "restore the First Amendment rights of photographers" by removing restrictions on taking photos in public places. Republican U.S. Representative Steve Stockman of Texas introduced the bill on Jan. 2, which breaks down how the US Government has been creating regulations that prohibit or restrict photography in places such as national parks and public spaces, and of subjects such as government buildings, police officers, and other government workers. The bill goes on and notes that even when the laws don't exist in certain situations, people have still been "instructed to prohibit photography from public spaces, and threatened photographers with arrest or seizure of photographic equipment." Stockman argues that this is a violation of "freedom of speech and of the press" against the principles of the First Amendment. "Still and motion photographs are speech," he says. "It is contrary to the public policy of the United States to prohibit or restrict photography in public spaces, whether for private, news media, or commercial use." I couldn't agree more. The bill notes that the answer is to make sure that photography in public spaces is not prohibited, that the government will not charge photographers to shoot on public land, and that photographic equipment cannot be seized or tampered with. The bill is currently with the Committee on Oversight and Government Reform where it's being held for consideration. Check out the whole thing below and let us know what you guys think about this! (via DIYP)
And finally, a leaked Nikon press release showcases a new program of advanced DSLR firmware updates. The new program will allow Nikon DSLR owners the ability to download "advanced firmware updates" that add "new functionality" to their cameras. The press release, titled "I AM Advancing", was leaked by none other than Nikon Rumors, with the release officially dated for Jan. 19. Photographers will be able to register for free with the program through a new website (that's currently just a blank page) to have access to advanced firmware updates for "up to 3 years." The press release states that "Each camera has the potential to advance further as innovation goes forward." As the company develops technologies, many of them "can be offered to [its] existing customers today." As part of the program, there will be new Update Manager software for Windows and Mac that consolidates current firmware update systems into one easy-to-use program for updating cameras. The program will be free to download, and features automatic camera detection, firmware download and management of camera updates. Six existing Nikon cameras will be supported in the beginning: the Nikon D750, D810, D800, D800E, D610 and D600. Each of the six cameras will also receive a "Metallic" Picture Control feature along with the new "Flat" picture control that currently the D810 only has. There will also be a new RAW Histogram that displays full screen histograms for all three color channels at the same time using live data from the camera's sensor. (via NR)