Scott Kelby UNLEASHED and Uncensored: RAWtalk 118
Click Here to download this weeks RAWtalk as an MP3.
TOC
00:00:15 – Intro
00:19:30 – Photo News
00:52:00 – Scott Kelby Interview
01:38:15 – Gear of the Week
01:42:04 – Wheel of Fro
Scott Kelby is not only one of the biggest names in online education but he has written over 60 books and sold millions of copies over the 15 years. As many of you know I was asked by Scott to come down and be on his show the GRID. While there I took the opportunity to sit down and conduct a very candid interview.
The interview took place in Scotts office which is part of a brand new facility that Kebly Media has just moved into. This was an unbelievable facility housing studio after studio of recording spaces as well as 91 employees.
When I conduct interviews I don't come up with questions based on what I think people may want to hear, I ask questions based off of what I am most interested in hearing. In the case of this interview with Scott I was most interested in where he started and how he built the business to such a place. There is one part of the interview where he talks about the "moment" that one decision that set the ball rolling to allow him to be sitting where he is right now. And i must tell you I had shivers go down my spine when he told the story.
You can hear and see the passion throughout this 40 minute interview. When we finished Scott told me the questions I was asking were not what he was expecting but in a good way. That is what I love to hear after an interview, that the questions were unique and brought out the best stories possible. Enjoy this interview and learn as much as you can from it. The interview starts at 52 min.

As always we have Photo News with Stephen along with fantastic discussions leading up to the interview above. Gear of the Week this week was the Sennheiser Lav Packs that were are testing out and probably replacing the Sony's that have served me well. Don't forget Wheel of FRO and all the companies who are on it, thank you.
This FREE Show is only possible because of the select few sponsors we choose to work with and who choose to work with us. Thank you to RODE, ATOMOS, Squarespace, AllensCamera.com, VideoBlocks and everyone around the Wheel Of FRO. Without them there the show would not look like it looks today. So please take a minute to check out what these sponsors have to offer and thank them for allowing us to create this show.
Here's me on the GRID:

Here's all of Stephen's photo news stories in detail:
Sports Illustrated Lays Off Remaining Photographers
Sports Illustrated has laid off all of its remaining staff photographers just days before the Super Bowl. The six remaining photographers, Al Tielemans, Robert Beck, Simon Bruty, Bill Frakes, David E. Klutho, and John W. McDonough, were all laid off due to "economic circumstances" along with "company restructuring." The magazine's Director of Photography, Brad Smith, tells News Photographer Magazine that they're still committed to photography however. The plan is to, "re-evaluate what's best for the magazine, not just financially but also content-wise." He adds, "our commitment to photography hasn't changed. We're still going to cover games, we're going to shoot portraits, we're going to cover Olympics, we'll be at the Final Four, we will be at championships, we'll be there." Smith also noted that while the six are no longer staff photographers, that does not prohibit them from continuing to shoot for the magazine if they so desire. According to a source at Time-Life, the layoffs will be effective in March, possibly on differing dates for specific photographers due to their individual agreements with the company. But because of this, the laid-off photographers will still be shooting the upcoming Super Bowl together for the magazine. Did you see this coming? (via NPPA)

Neil Leifer Uveils ESPN Photographer Documentary
On the topic of SI photographers, there's a new ESPN documentary called "Keepers of the Streak" that debuted last week, which focuses on the four photographers that photographed every Super Bowl: John Biever, Walter Iooss, Mickey Palmer and Tony Tomsic. Legendary sports photographer Neil Leifer put the doc together too. He says, "Nobody can appreciate more than I just how incredible this streak is. Making this film was truly a labor of love for me as I have known these photographers for at least 50 years and understand how difficult it is to have accomplished what they have done and continue to do." Richard Deitsch over at Sports Illustrated describes seeing the film: "The doc opens with a beautiful shot of all four men meeting at the 50-yard line of the Los Angeles Memorial Coliseum, site of the first Super Bowl on Jan. 15, 1967, and we quickly learn how each entered the business. (Biever's father, Vernon, the longtime team photographer of the Packers, got his son a sideline pass to shoot the first Super Bowl when John was just 15 years old.) Throughout the film, Leifer shows the quartet working at last year's Super Bowl in New Jersey, and it provides an honest look at sports photographers that we don't often see. We learn of the near-misses to the streak over the years, including Palmer checking himself out of the hospital following a heart attack prior to Super Bowl X to make the game." Check out the trailer for it below. Let's hope this will be On Demand soon! (via ESPN)
Atlanta's New Stadium Roof Will Mimic an Aperture
Speaking of shooting in stadiums, Atlanta's upcoming new stadium for the Falcons will have a retractable roof that mimics an 8-blade lens aperture. The new stadium that's estimated to cost $1.4 billion (!) will open and close like an aperture as well. Here's what the official site says about the roof: "eight unique roof petals can open in less than eight minutes, creating a 'camera lens-like' effect that exposes the inside of the facility to the open air on game and event days." See the 3D-rendering of what it's projected to look like below; neat right? (via DT)
Nikon Wants To Officially Fix Your D750
An update on the Nikon D750 flare issue–Nikon has issued an official service advisory, telling consumers to look for a black dot on the bottom of the camera. The camera company has posted a new webpage that lets you check to see if your camera has the issue by putting in your serial number. If your camera matches the effected serial numbers then they'll give you details on how you can get your camera repaired for free, and will also give you a free UPS shipping label. Once shipped to their service center, Nikon says they'll "inspect and service light-shielding components, and adjust AF sensor position, to resolve the occurrence of unnaturally shaped flare free of charge." If you recently bought the camera, your D750 may already be repaired. The simple way to check is by looking at the tripod socket on the bottom of the camera. if it has a black dot inside then it's already been fixed. Will you be sending your camera in? (via PP)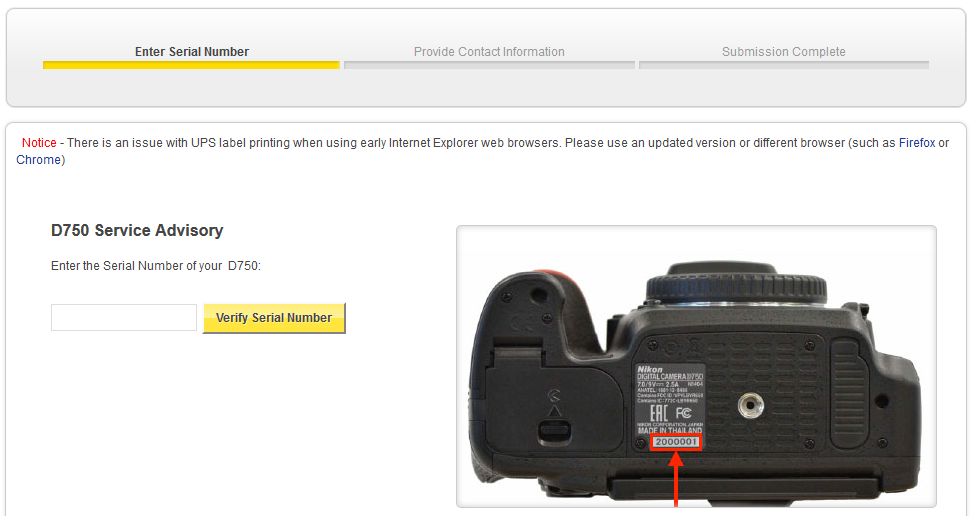 BBC Flies Drone Over Auschwitz
This week marks the 70th anniversary of the liberation of Auschwitz. To honor the occasion, the BBC flew a camera drone over the site(s) creating a haunting short video featuring the remaining buildings, the rubble of the crematorium, the dreadful train tracks, etc. Steven Spielberg spoke at the official memorial service in Poland on Monday night, which was attended by 100 survivors. Spielberg says to "remember and to never forget" what happened there. He went on to say, "it means preserving places like Auschwitz so people can always see for themselves how hateful ideologies can become tangible acts of murder." Spielberg added, "it means sharing and sustaining the testimonies of witnesses so that they can endure for teachers and students around the world their testimonies give to each survivor everlasting life and give to all of us everlasting value." Check out the chilling video below:
Lightroom 6 Will Only Support 64-Bit OS's
Adobe has announced that Lightroom 6 and all future versions of Lightroom will only be compatible with 64-bit operating systems/ They say they're currently hard at work with the next major release of the photo editing software. Adobe noted that "in order to leverage the latest operating system features and technologies," Lightroom 6 will require at least OS X 10.8 — Mountain Lion, a 64-bit OS — for Mac users or a 64-bit version of Windows 7, 8, or 8.1. They want to focus on more user-requested features that will need the latest operating systems to work. Photographers with 32-bit OS's will still be able to run Lightroom 5, but they won't be able to upgrade any further. Good or bad move?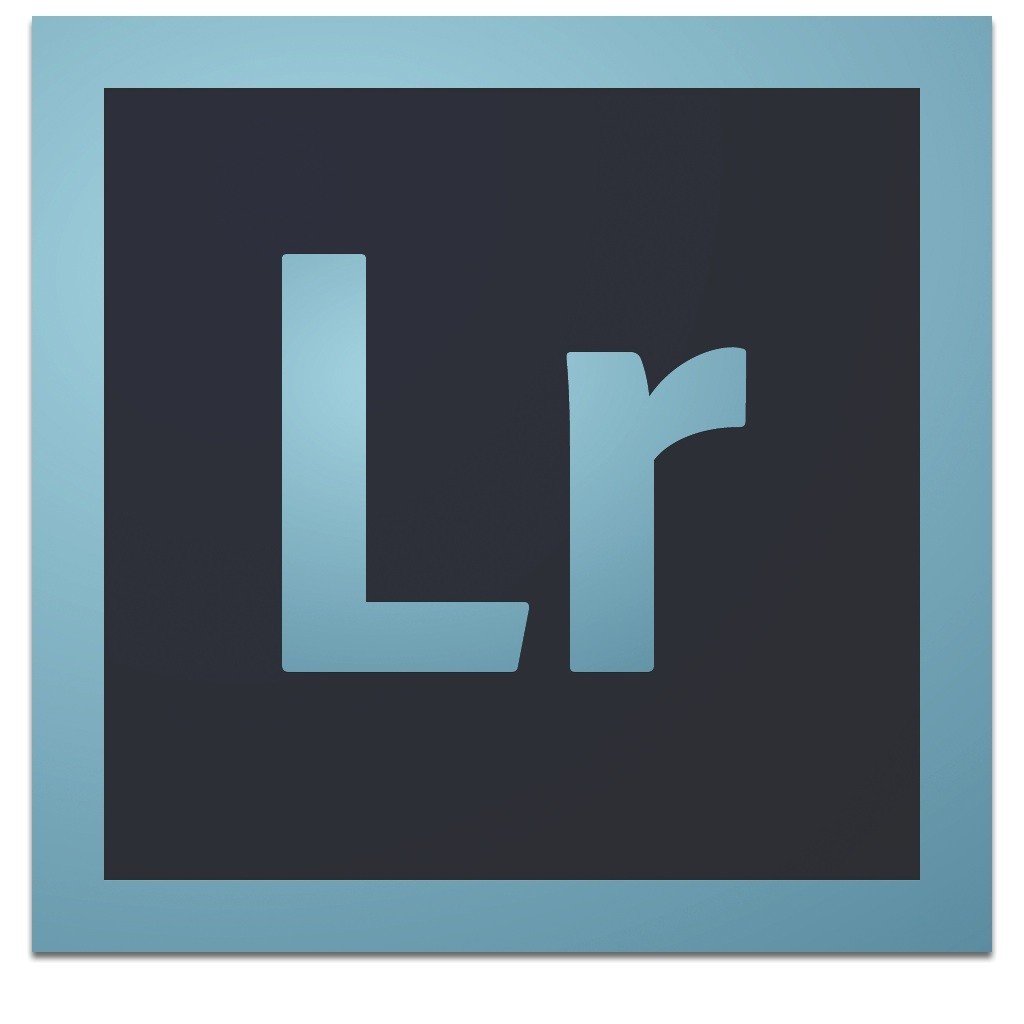 NHL & GoPro Team Up To Offer POV Hockey
The NHL and GoPro are teaming up to feature first-person action cam footage during hockey game broadcasts. By using GoPro's newly developed broadcast solution, a lightweight wireless transmitter, the NHL will be able to offer the first-person view during live games. It's still not clear whether or not the footage will be used in all broadcasts during the regular season however. GoPro says the "NHL and NHLPA have the technology and are free to use it as little as much as they want." However, they're not contractually obligated to. They posted a 3-minute teaser video of what it could be like and the footage is awesome. Check it out below:
Disabled Photographer Petitioning Canon To Make Left-Handed DSLR
We touched on this topic a few weeks back with a flying solo question: a disabled photographer is petitioning Canon to make a left-handed DSLR. Photographer Sylvia Cacciatore is behind the petition. She suffered from a brachial plexus injury during her birth that led to the complete paralysis of her right arm and a limb that never fully developed. She says, "some of the challenges I experience while using my camera are with the shutter and the settings buttons. The majority of the buttons are located on the right side of the camera and certain shots require quick pressing of certain buttons and dials. I am unable to do because I have to lower my camera and reach over to the other side to change settings, which has caused me to miss many photo opportunities. Holding the camera while taking a photo is awkward for me and many of my photos come out looking crooked." She wrote the company about her situation and describes their response as "appalling." She says they told her to consider the PowerShot line instead of DSLR's. She adds, "I was offended by this suggestion because their PowerShot line is a complete downgrade from the current camera I own and definitely not geared towards those who are looking to get into photography professionally." Her petition is on Change.org which now has over 2500 supporters behind it. Do you support this? (via PP)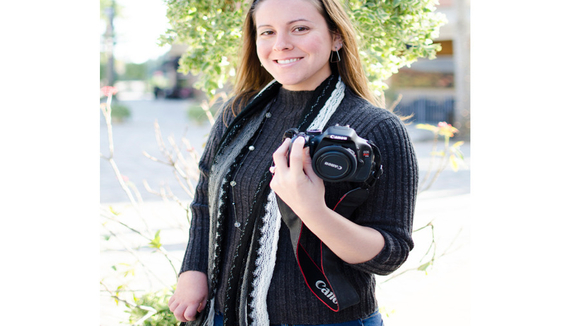 Photographer Sues Nike For Allegedly Ripping Off His Jordan "Jumpman" Shot
A photographer named Jacobus Rentmeester is suing Nike for allegedly ripping off his photo for their Jordan "Jumpman" logo. He filed a copyright lawsuit against Nike in response. He photographed Michael Jordan back in 1984 for Life Magazine, which features Jordan in his trademark jump. He says Nike then went on to pay him $150 later that year for temporary use of the image. That next year, Nike created an extremely similar photograph of Jordan leaping toward the hoop again however. He contacted the shoe brand shortly after, which they then ended up awarding him $15,000 in March of 1985 to use the photo for two consecutive years. Then in 1987, they launched the iconic "Jumpman" logo featuring a reverse silhouette of the image. The photographer says the branding usage violates his copyright and goes beyond the original agreement he had with the corporation. He is now suing the company and is seeking unspecified monetary damages for the unlawful use of his photo. Below you can see Rentmeester's original image followed by Nike's version. The question is, why is he suing 30 years later? (via TO)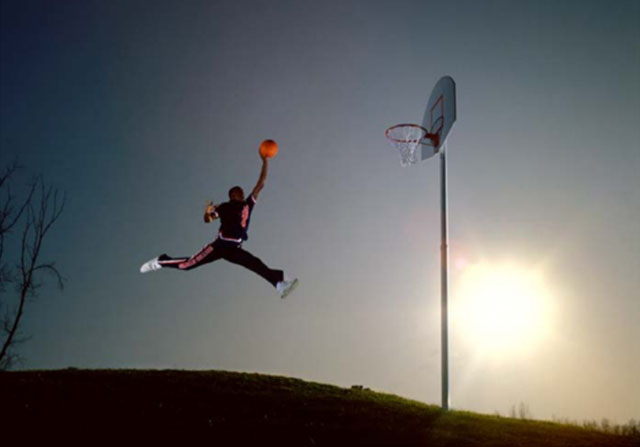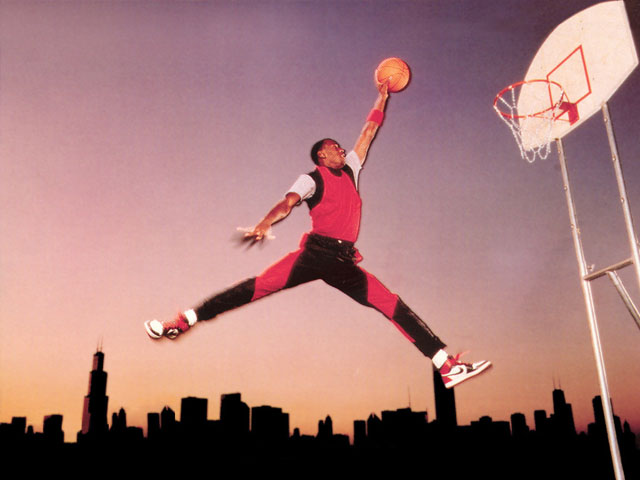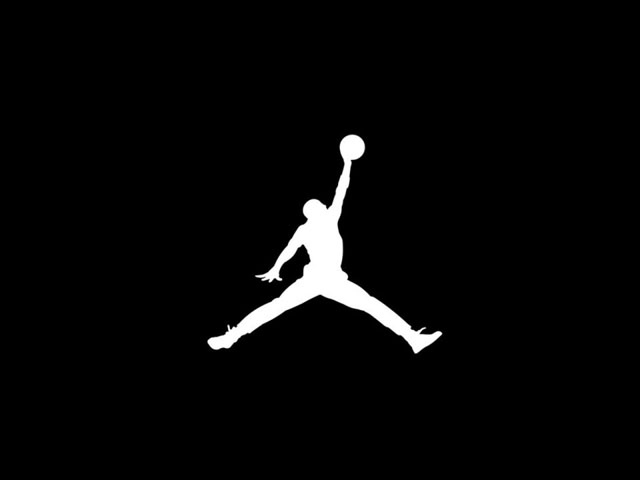 Behind The Scenes with Call Of Duty's "KillCam" Photographer
This is probably my favorite commercial ever: a new ad for Call of Duty: Advanced Warfare features the "cameraman" behind the game's "killcam"–the video that shows how you died after the fact. Actor Randal Higgins is the "killcamerman" who uses an arsenal of cameras, ranging from drones to GoPros, to DSLRs, to RC cars, etc. Watch below as he's riding a dirtbike with a GoPro cam, strapped to the bottom of a helicopter with a DSLR and telephoto lens, hiding in a Christmas tree with GoPros, running around with shoulder rigs–the ultimate photojournalist right here! (via FS)
Man Crashes Drone On White House Lawn, Ruins It For The Rest of Us
Another person ruining drones for the rest of us: a camera drone crashed into the White House lawn this past week. A supposed government employee was behind the crash, saying he was flying it recreationally, which caused a lock down of the White House. What's even worse though, is that the radar system that the white house uses to detect flying objects completely missed the drone. Apparently this was the case because a drone is a similar in size to a large bird, so it's not meant to detect something that small. Flying a drone is illegal in DC due to the sensitive nature of the airspace. However, the man has not been charged with a crime and remains anonymous. In response to this, DJI wants to make sure this type of incident never happens again so they're issuing a mandatory firmware update that will disable its camera drones in Washington DC's no-fly-zone. The new firmware will prevent Phantom 2 drones from flying anywhere inside a 15.5-mile radius of downtown Washington DC, however DJI's Inspire 1 and Spreadingwings series have not yet been restricted… (via NS)
Rare Single Edition Leica Lens On eBay
The ultra rare Leica R 600mm f/5 prototype lens has made its way on eBay with the heavy price of $230,000, and weighing in at 11 lbs. This is a single edition, being the only lens ever made for Leica's Apo-Telyt line, which never went into production. Photo company Photo Arsenal Worldwide is behind the sale. This same lens was auctioned for $70,000 back in 2013; quite a price jump… (via PP)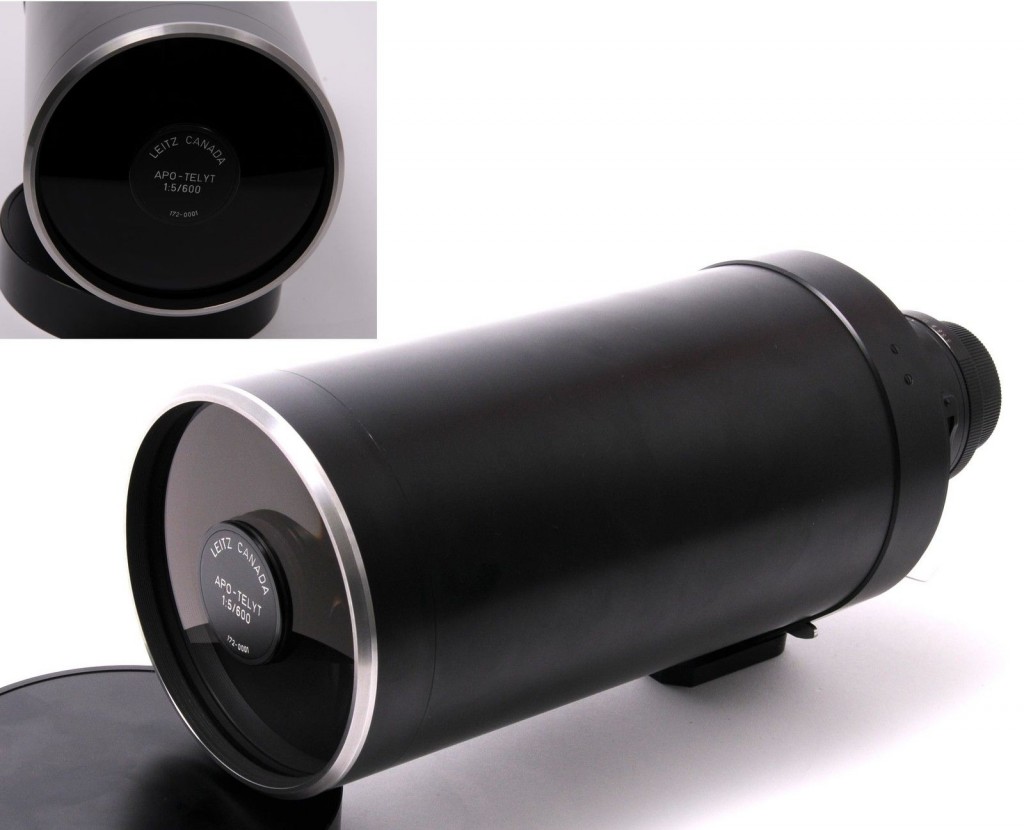 NPPA's New Study Says Professional Shots Look Better Than Amateur Photos
The NPPA conducted a study that compares public perception of professionally shot photos vs. amateur shot. The conclusion was that the public found the pro-shot images much more memorable (woah, no way!). The study involved 52 subjects and 200 photographs — 100 captured by a professional photographer and 100 amateur "crowdsourced" photos that were published by various news organizations. The order of the photos was random, and the images appeared next to their original captions. The study also concluded that the subjects were able to figure out whether a photo was professional or amateur 90% of the time. Professional photos were also twice as appealing for sharing online, attracted attention for longer, and constituted 100% of the 20 "most memorable" photos, as selected by the participants. The researcher behind the study says they also found that people value seeing faces, relationships, special access, quality captions, and good storytelling.