The RANT that had to be CUT: RAWtalk Episode #120
Click Here to download this weeks RAWtalk as an MP3.
The plan for this weeks show was to have on a special guest who ended up having to cancel last minute. Of course this tends to happen and is out of all our control when their child is running a fever, it's also totally understandable.
Alas the show must go on and it ended up being another fantastic show packed with great photo news, random discussion, DVDA and Flying Solo.
This weeks pluggy mc plugerson was brought to you by ATOMOS. The NEW Atomos Showgun has sliced its way into filmmakers bags and soon will land on my doorstep. If you are looking to record 4k video into something THIS IS THE DEVICE that does it. Not only can you record 4k from the Sony A7II but with pretty much all DSLRS you can record full 1080 up to 60 FPS. All I can say is we use the Atomos Ninja Blade as our main center angle recording device.

Everyone always asks how do you get longer recording than what the DSLRs allow us to do? The simple answer is get an ATOMOS. Thank you to Atomos for being supportive of our show for the last year+.
Please enjoy this weeks show and don't forget subscribe to the podcast on iTunes.
Here's all of Stephen's photo news stories in detail:
Nikon Announces First Full Frame Astrophotography DSLR: The D810A
Nikon has announced the World's first full frame DSLR for astrophotography, the D810A. The new version of the D810 features a modified infrared filter, which makes the camera 4x more sensitive to hydrogen alpha light at 656 nanometers in wavelength. This will let you "capture the brilliant red hues of diffuse nebulae and constellations in striking detail and fidelity." It also features a "Long Exposure Manual Mode" that offers new shutter speed increments of 4, 5, 8, 10, 15, 20, 30, 60, 120, 180, 240, 300, 600 and 900 seconds, which is 5 stops longer than the normal D810. Nikon warns that due to its modifications, the D810A is NOT recommended for general photography. The camera will start shipping in May for about $3,800 for the body only. Check out some sample images below in the meantime: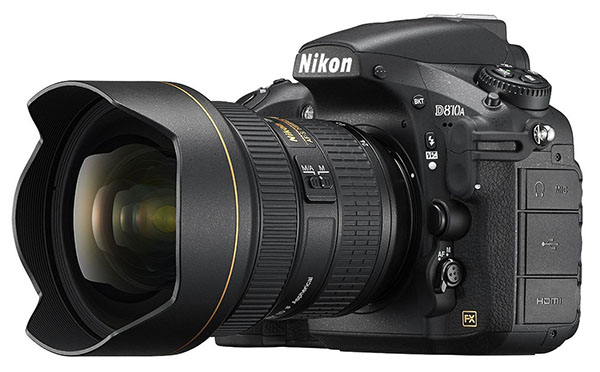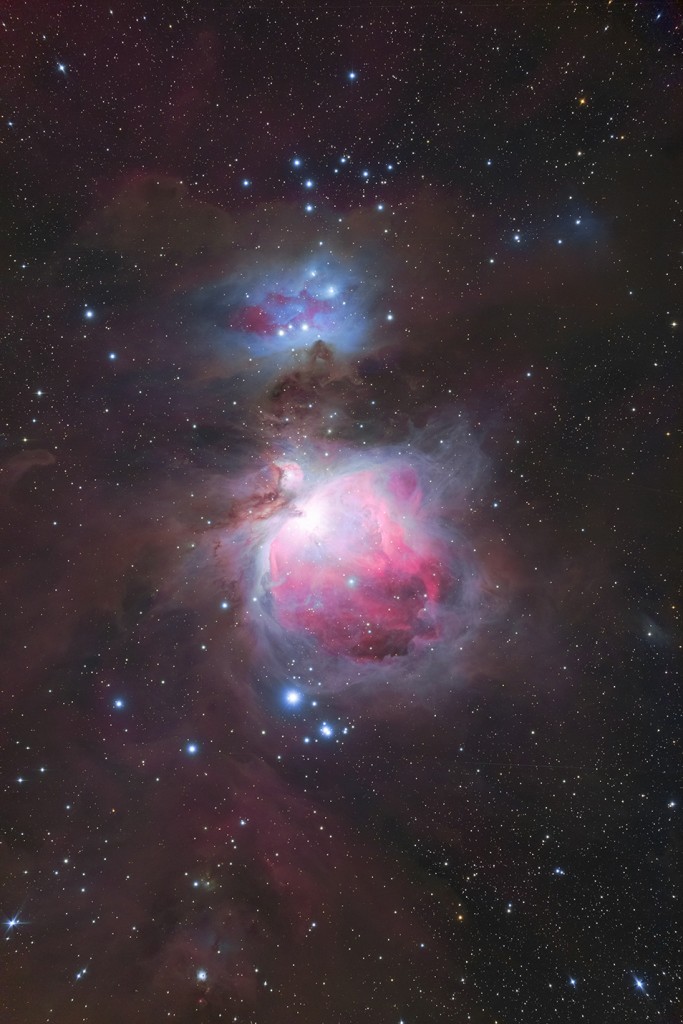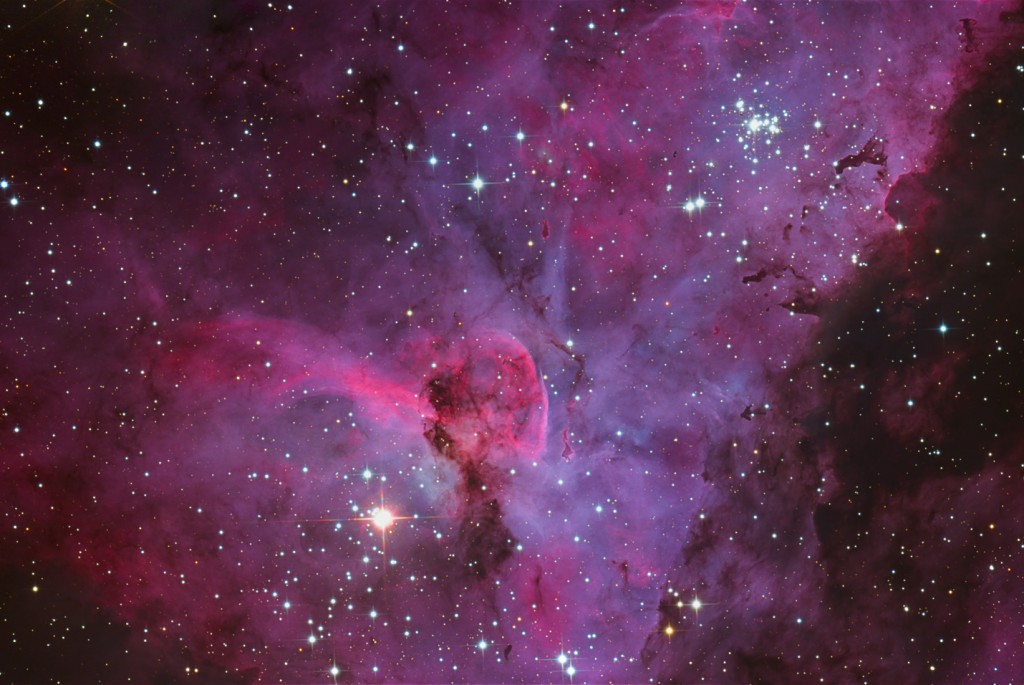 High Speed Cinebot Adds Movement To 1000 FPS Shoot
This is what happens when you combine a high speed camera and a Bolt High Speed Cinebot: awesome slow motion movement. This thing is basically a giant robotic arm that adds movement to incredibly high speed shots. Stiller Studios put together a behind-the-scenes video showcasing their shoot with the Cinebot and a Phantom Flex 4K camera, which features second long takes of the 1000 FPS shoots. The video features flames, smoke, champagne bottles, explosions, bow and arrows–the works! Check it out below: (via NFS)
This 3-Minute Music Video Took 5 Seconds To Shoot
Speaking of high speed shoots, recording artist Siska revealed a new music video for her song "Unconditional Rebel" that was shot in just five seconds with a 1000 FPS Phantom 4K. The footage was slowed down with the resulting video being about three minutes long, all done in one single take. The filmmaker describes it as the "shortest shoot ever." 80 extras are featured in the clip, stretched out across 80 meters in a field, with the camera being pointed out of a car window in front of them driving across a straightaway. Watch the unique video below: (via PP)
Introducing the 10K Timelapse
Moving on to bigger resolution vs. high speed, a 10K timelapse video has been unveiled. Photographer Joe Capra took an 80MP PhaseOne IQ180, which takes images with the resolution of 10328×7760 pixels, and created a timelapse video with it in Brazil. Since no one actually has a 10K monitor (yet), he scaled down the video to 1080P (only a 14% scale) but zooms in to 100% on the video to showcase the power of 10K. He says of the shoot: "I tried to keep the shots as close to raw as possible so you may see some dust spots, noise, and manual exposure changes I made while shooting. Each shot was very minimally processed and included curves, input sharpening, saturation adjustments." He adds, "You can literally get about 8-10 solid 1920×1080 shots out of a single shot. You can also get about 5-6 solid 4K shots out of a single shot." (via Gizmodo)
Apple Previews Replacement to iPhoto: Photos
Apple's new replacement for both Aperture and iPhoto finally got its first look this week. The new app, simply called Photos, will now have cloud integration across devices, allowing you access to all of your images while keeping the large original files on your computer hard drive and/or iCloud drive. The minimal design is clean and sleek like every other apple product. It has a decent amount of editing tools, which when using and editing an image will be applied to that image across all devices. These aren't Photoshop type tools though, more for quick and easy tweaks such as lighting, color, crop, filters, auto enhance, definition, noise, vignetting, levels, and white balance. However, there is an adjustment brush with the retouching tool, but it only allows you to change its size and not its intensity, so this is definitely more of a replacement for iPhoto and not a direct competitor of Lightroom like Aperture was. It features four main tabbed sections: Photos, Shared, Albums, and Projects, and will now have Moments, Collections and Years views for organization, just like your iPhone. Photos was released to developers last week, with a public beta version coming soon, and will be available to the general public as a free upgrade this Spring. For more of a preview, check out a video from The Verge of them actually using the upcoming app below:
Sigma Announces 24mm f1.4 Art Lens
Sigma announced their new 24mm f1.4 DG HSM Art lens this week. It has 15 elements in 11 groups, 9 rounded aperture blades, a 77mm filter thread, and a minimum focusing distance of 9.8 inches. The lens will be compatible with Sigma's USB dock, allowing photographers to update firmware and make calibrations to the lens from their own computer. Coming in at $849, the lens follows in the footsteps of their 35mm and 50mm 1.4 lenses. the full frame lens will be available in Nikon, Canon and Sigma mounts. What do you think?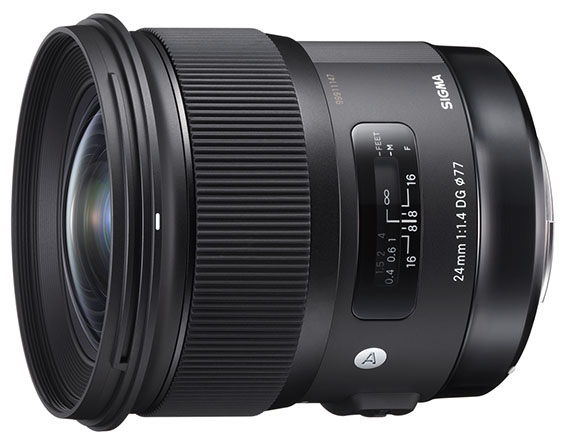 FAIL: Journalist Crashes Drone While Talking About Drone Safety On Live TV
This is embarrassing: tech journalist Dave Mosher of Popular Science recently went on Fox & Friends to talk about drone safety. He was showcasing the DJI Phantom 2 Vision + drone and flew it, crashing it in studio. He used this specific drone to refer to the same exact model drone that crashed on the White House lawn. The worse part? He crashed it right when he was talking about the dangers of flying a drone and even mentioning how an operator was killed by one a couple of years ago. Oh the irony… (via PB)
Fuji's New Lens That Doubles as a Lens Cap & Filter System
Fuji announced a new lens called the XM-FL which doubles as various filters and a lens cap. The new 24mm f8 pancake lens features three built-in filters than can be accessed by turning the dial on the side of the lens. The filters include "Protect" which is just a blank clear filter–to protect the lens, "Cross" which gives light sources a sparkly look, and "Soft" for dreamlike images, and then they have an actual solid filter which works as a built-in lens cover. The lens has a minimum focus distance of one meter and has no electronic communication with the camera so you can't use autofocus and lens EXIF data will not be stored. The lens is only available in Japan and will come in black or silver versions, weighing in around $100. Good or bad idea?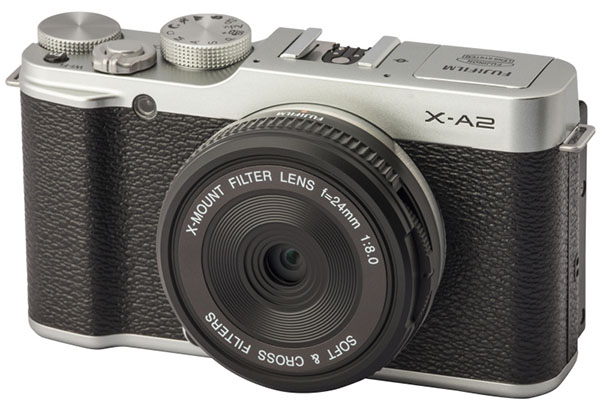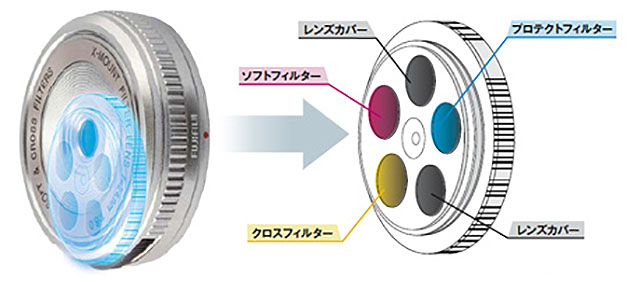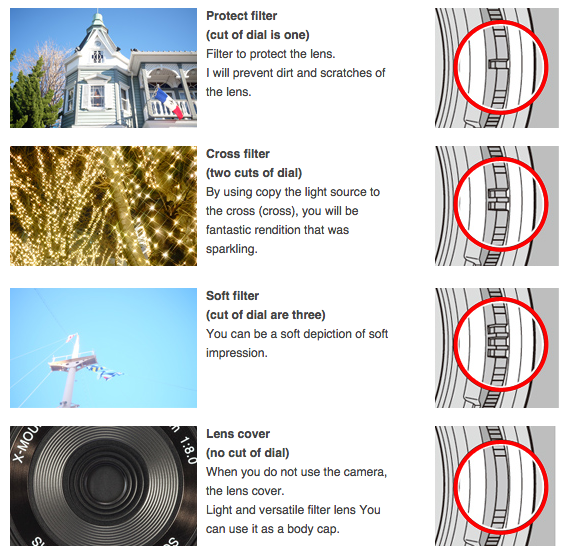 Nikon Teams Up With Atomos For the D750 Filmmaker's Kit
More gear news this week: Nikon is now offering the D750 Filmmaker's Kit. The DSLR bundle will feature the D750, along with three lenses, the 35, 50 and 85mm f1.8 prime lenses, two batteries, their ME-1 stereo mic, Tiffen 58mm and 67mm variable ND filters, an HDMI cable and the Atomos Ninja 2 along with the Ninja 2 accessories like the harddrive, batteries and chargers. The kit will start shipping sometime next week with a price tag of $3,997 which if bought all separately would cost you nearly $5K.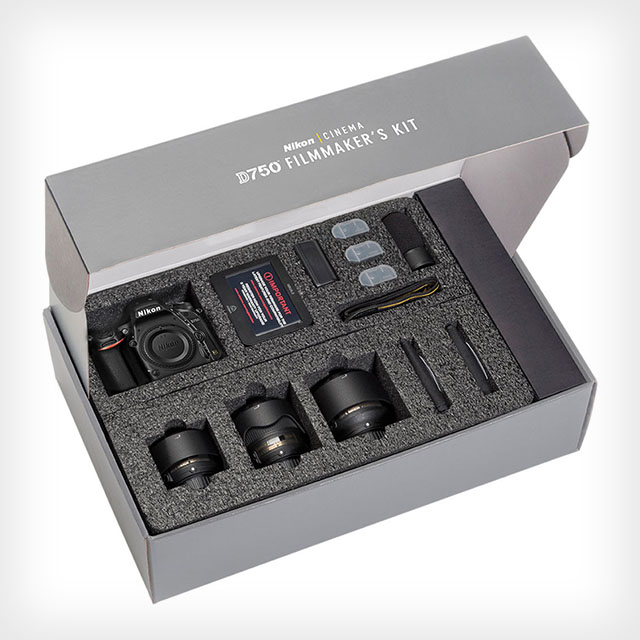 The Next Photoshop? Introducing Affinity Photo
A new program in direct competition to Photoshop has just been revealed called Affinity Photo, which the creators are calling "the fastest, smoothest, most precise, professional image editing software for Mac." The guys over at Serif made the software, who also make Affinity Designer and Publisher. They say Affinity Photo is designed to take full advantage of your computer in a way that Photoshop doesn't, which they say is built on 25-year-old architecture. Unlike doing several steps in Photoshop, Affinity Photo is built more for one-click fixes, like one-click frequency separation, live blend modes, in-painting (ie. Photoshop's Content Aware Fill) and a slew of retouching tools. Affinity Photo supports 16-bits per channel editing, a full history of reversible edits, ICC color profiling, LAB color, end-to-end CMYK, and Photoshop PSD and 64-bit plug-in support. The company released a preview video showcasing the tools in action which you can view below. The software is only available for Mac and is currently out as a free Beta. When the program officially launches, it will be available through App Store for $50 with no subscription charges and free updates for two years. A side note: Serif hopes to bring this software to Windows users as well, but there's no timeframe as to when that may happen. (via CBQ)
Olympus Announces the E-M5 II
Olympus announced the 2nd version of the E-M5, the OM-D E-M5 II. The micro four thirds camera sports a 16MP sensor that has a special high resolution shot feature that uses sensor shifting to capture 40MP images. This is achieved by capturing 8 images in sequence over one second at 16MP each, moving the sensor by half a pixel between each shot. However, in RAW+JPEG mode, the feature can save a 64MP RAW file in addition to the 40MP JPEG. Regular specs include an ISO range of 200-25,600, 5-axis stabilization with 5 stops of compensation, a 1/8000s mechanical shutter, a silent 1/16000 electronic shutter mode, an 81-point autofocus system, dust and splash-proof body, variable-angle 3-inch touchscreen, 2.36-million-dot electronic viewfinder with a 100% field of view, built in WiFi, 1080P video, microphone jack, focus peaking, and 10FPS continuous shooting in RAW. It'll be available later this month in black or silver at a price tag of $1,100. Will you be investing in one of these?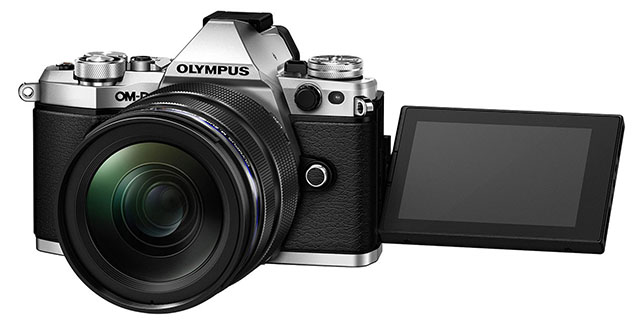 Olympus Turns Your Smartphone Into a Modular Camera with the Air
And finally, more on Olympus, they officially announced the Air, a 16MP sensor that works in conjunction with your smartphone, very similar to Sony's QX models, except they're micro four thirds sensors. The sensor will have a lens mount that will be compatible with any Olympus lens. It will communicate with your smartphone via the built-in WiFi and Bluetooth, turning your phone into a liveview screen. A number of Olympus apps will be released in order to provide an interface for using the Air. One app will feature on-screen controls that mimic the physical interface of standard cameras. Other apps may add things such as photo filters that are found in Olympus' other mirrorless cameras. The Air has 81 focus points, can shoot 10FPS, with a quiet electronic shutter providing a maximum shutter speed of 1/16000s. On the Air itself, there's a physical shutter release button on the side, a tripod mount on the bottom, Micro SD slot, and a wireless on/off switch on the back. The Air's API is also open source, allowing third party developers to create new apps for the system. So far, it'll only be available in Japan, with the price tag of around $289 (¥34,000). It'll also come bundled with an Olympus 14-42mm f/3.5-5.6 kit lens for $425 (¥49,800).