An interview with a Photographer who has more Sports Illustrated covers than me : RAWtalk 122
Download this weeks RAWtalk as an MP3 Right Here.
This week I sat down with former Sports Illustrated staff photographer Al Tielemans. I first met Al when I was 17 or 18 where we shot together in the dugout of Veteran stadium for a Phillies game. I invited Al in because he is one of the best sports photographers of our time and I know he would be able to shed some light on the industry for us all. If there is one thing I took out of this interview it's a statement that Al made about "practice". He mentioned during his off days form assignments he would go out and shoot to keep his skills tight. You can not become a better photographer if you don't get out there and shoot.
Do you want to win some of the $200,000 in prizes that RODE is giving away during its second MyRodeReel.com competition? That's right the contest is back and this time bigger than ever. In all honesty there is no reason not to at least try and enter this contrast. It is FREE to enter and you never know what will happen, maybe your video is the feather that tickles somebody's fancy. Be sure to check out MyRodeReel.com for contest rules.
Stephen hits us with photo news including a discussion about the just announced Nikon D7200. Don't miss why I have 46 Terabytes of hard drives on the table during this week's "gear of the week" segment.
To check out Al Tielemans' website, please click here.
Here's Todd's video of his improv performance with The Sardines that we spoke about:
*WARNING: If you're sensitive to explicit language, don't watch this:
Here's all of Stephen's photo news stories in detail:
Photoshop turns 25!
Adobe Photoshop turned 25-years-old this past week since version 1.0 launched. The first rendition of the software began shipping on Feb. 19, 1990. To celebrate, Adobe created a 1-minute animation by asking artists and photographers to contribute their working files with layers. They then animated those PSDs layer by layer into a mini music video soundtracked by "Dream On". Check it out below along with an interview that CBS did with Adobe's Creative Director Russell Brown and founder Thomas Knoll about the software's anniversary. Also, to see how far post-processing has evolved over the past 25 years, Terry White demoed the ORIGINAL version with an emulator, where he edits the first photo ever to be "Photoshopped" which is an image John Knoll took of his wife while vacationing in Bora Bora in Aug. of 1988–it's called "Jennifer in Paradise." The funny part is the toolbar is generally the same as it is now, not too many changes to the overall UI.
Photographer Gets Memory Card Returned From Stolen Camera After Public Outcry
Photographer Faith Massey got her memory card returned to her from her stolen camera. She made a public announcement stating that the photos were irreplaceable since there were images of the final moments in a baby's life on there, specifically shots for the charity organization Now I Law Me Down to Sleep, who offer remembrance photography to parents suffering the loss of a baby. She said, "If you happen to purchase this equipment or you stole it, please have a heart and just send the camera card back. Turn it in […] anonymously, no questions asked." She then went on the local Charlotte news channel WCNC to share her story. The memory card was then mailed to the station and returned anonymously, of course. Unfortunately, her insurance company won't cover the stolen gear since the equipment was taken from her car in her garage which wasn't "broken into." However, a group of mothers launched a crowdfunding campaign on GoFundMe for her in order to try and raise the $6,500 it will take to replace the stolen gear, which includes a Canon 6D, 50mm f/1.2, 85mm f/1.8, and 100mm f/2.8. The campaign has thankfully reached its goal since, with 11 more days to go at the time of writing this article. (via WCNC)
Atomos Implements Avid Codec Into Shogun
Atomos showcased their new Shogun at the BVE show in London this week, where they announced new features for the external recorder. Specifically, the big news is that they now implemented the Avid DNxHR codec for 4K recording, playback, and editing, which is a first for the 4K industry. It makes it now the only monitor recorder with recording options for Apple, Adobe and Avid. The new features will be available as a FREE firmware update for existing users. Will you be getting one?
Lytro Raises $50 Million, Cuts 1/4 Of Their Staff?
Lytro has announced that its raised $50 Million to further the development of their light-field technology, however they also revealed that they plan on cutting jobs and lightening their workforce; ouch. They plan on venturing into new territory with the camera, like video and virtual reality. CEO Jason Rosenthal tells Re/code, "We are going to have to make some cuts in some areas so we can staff up in some new ones. Fifty million dollars is a nice big number, but it is not unlimited. We had to make some pretty tough decisions." Details of the layoffs are still being finalized, but the company is expected to cut somewhere between 25 and 50 people from their 130 person workforce. The company isn't giving up on the photography market just yet though, with Rosenthal saying that additional features will come to the Illum via software updates this year and a third-generation, higher-resolution camera technology planned for release next year. (via RC)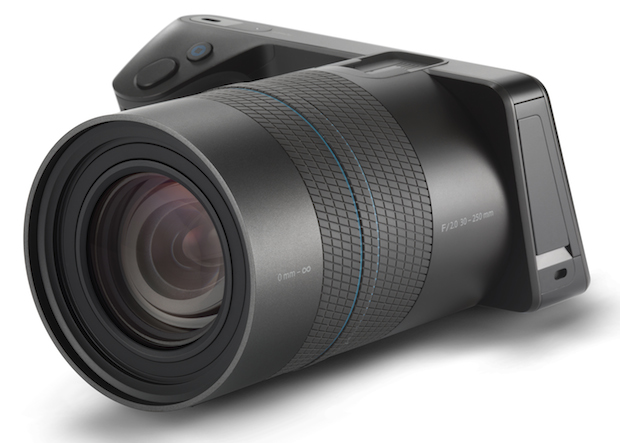 Photographer Blows Your Mind With Trippy Image Series
Woah. Photographer Erik Johansson revealed a series of optical illusions where he combines regular photographs and skews the perspective in creative ways. Some of the trippy images which you can view below include a highway where you can't tell if the image is upside down or right side up. He even has a behind-the-scenes video of how he captured and edited one of the images, which he calls "Closing Out". Very mindbending stuff here! (via PP)
Peter Lik Sold HOW MUCH Prints?!
According to the New York Times, photographer Peter Lik has sold nearly half a BILLION dollars worth of prints, which puts him up there as one of the richest photographers. You might recognize his name, since he's the one we spoke about a few weeks back that sold the most expensive print ever–his B&W shot that he called "Phantom", for $6.5 million. The Times says the photographer has sold over 100,000 photos for $440 Million. Last year, it was at an average rate of $1.6 million per week; insane. He fulfills this by owning a 100,000-square-foot factory in Vegas dedicated to just pumping out his prints. The Times also shed light on his Phantom sale, writing, "With his eye fixed on a record-setting sale, [Lik] printed a single copy of "Phantom." Then he alerted a handful of his most ardent collectors, one of whom, he said, agreed to the $6.5 million price. Before the deal was signed, Mr. Lik hired a public relations firm to make sure that the sale, and the record, were noticed" they added "Joshua Roth, the Los Angeles lawyer who represented the buyer, declined to name his client, though he emphasized that the client exists." We need to get this guy on RAWtalk!
Lightroom-Dedicated Keyboard Up On Kickstarter
A new product called SHORTCUT-S is a dedicated keyboard for Lightroom featuring 324 shortcut keys, hence the name. We brought this up last year when they introduced their Photoshop keyboard, but now they're launching keyboards for 13 new programs including Lightroom. Just like last year, they're launching this product via Kickstarter. You'll need a lot of real estate on your desk for this thing too as it measures 15.3×11.7 inches. The company behind the keyboard also announced one for Aperture but I'm sure that won't sell too good with Aperture's recent demise. The other keyboards include Premiere Pro, After Effects, Audition, Final Cut, and even one for Facebook (80 keys for different direct Facebook commands including Emoji's, adding friends, messaging, etc.) They also are now offering two universal keyboards that you can use with any program of your liking. Price wise, $129 will pre-order a keyboard of your choice which will be available in Sept. The campaign has another month to go with about $12,500 raised so far of its $50k goal at the time of writing this article. Will you be contributing? (via PP)
Konost: The NEW "True Digital" Rangefinder?
A new camera brand called Konost hopes to release the "World's first true digital rangefinder." Their goal is to offer a simple yet powerful digital camera. Leica already does this, however their cameras are digital bodies with mechanical rangefinder systems. By "true digital rangefinder," Konost means its not using mirrors and prisms but instead going for a digital rangefinder system powered by a secondary image sensor. The new brand is planning three different models for the Konost camera: a full frame sensor model, an APS-C sensor body, and a "Junior" model with a 1-inch sensor. The cameras will be 20MP, 12MP, and 10.8MP. Features for all three include an SD card slot, spot average metering, aperture priority and manual exposure, max shutter of 1/4000s, 100-6400 ISO, Leica M lens mount, optical viewfinders with electronic displays, and a hotshoe mount. and they will shoot RAW. However, the Junior model is more geared toward casual shooters: it can only shoot JPEG, has a plastic build, features a fixed 35mm f/2 lens, and only has auto ISO. No pricing just yet but they hope to get the first models out by early 2016. Check out the first preview video below, thoughts? (via PP)
This Is How HSN Tried To Sell The Canon T3i In 2012
This is awesome: Somebody dug up an infomercial about the Canon T3i from the Home Shopping Network and it's quite ridiculous. HSN was trying to sell the DSLR when it first came out in 2012. They get the facts and specs right but what they say about the camera is just outrageous and exaggerated. Here's a few direct quotes that Petapixel points out from the video:
-"It is [Canon's] flagship."
-"What you have going to work for you in this particular camera is going to be the 'Canon trinity': it's about the sensor, it's about the lens, and it's about the processor."
-"You don't have to be a professional to have professional results. What you need is a better camera. You need faster processing speed."
-"Nothing can do better than this. The reviewers, the experts, the gadget gurus, the magazines, the industry has labeled the Rebel by Canon as simply supreme. I mean, that's the word to describe it: it's 'supreme.'"
-"[The 75-300mm] is going to give you those professional-looking results."
-"It's a camera to have for a lifetime because you will have picture and video like you've never had before."
-"All that for just $949.99, or 5 easy FlexPay payments of $189.99."
The best part? They relate it to the camera that's filming the show which they pan too, which they refer to as a Canon camera as well. However, it's clearly a Sony camera with a Canon broadcast lens. FAIL.
Von Wong Climbs Rooftops For "Tremendous" Superhero Skyscraper Series
Benjamin Von Wong is at it again! He wanted to showcase the "fearlessness of superheroes without special effects" so he did just that and made a series featuring superheroes on the edge of skyscrapers. The series, called "the edge of certain death," features SmugMug employees dressed up as well known superheroes like Mystique, The Hulk, Wolverine, Harley Quinn. He notes that these WEREN'T professional stuntmen by any stretch. He scouted San Fran for rooftops and finally found the perfect one, which was a 40-story building spanning 1000 feet high. He got the shot by mounting a Nikon D800e with a 14-24mm lens boomed with the perspective of being over and in front of them. Von Wong fired the shots off wirelessly from his laptop. As usual, with all of his shoots, there's a behind-the-scenes video of the whole shoot which you can view below. I hope you're not afraid of heights… (via FS)
Photographer Creates Hilarious Superhero Series with Action Figures
Speaking of superheroes, photographer Edy Harjo posted a photo series featuring shots of Marvel and DC characters in unique situations. He used just ordinary action figures of the superheroes and a macro lens. The characters include Ironman, The Hulk, Thor, Spiderman, Batman, Wolverine, The Joker, and more. The images are pretty funny though with some including them on top of a table scared of a mouse, crowding around the corner trying to see a naked Black Widow, peeing on the side of a wall with everyone taking a look at Hulk's…thing. Check out the full series over on his Facebook page. (via SB)
Nikon Announces the D7200
And finally, the Nikon D7200 got announced this week. Spec wise, it features a 24.2MP DX sensor with no low pass filter, 100-25,600 native ISO, expandable up to 50,200 and 102,400 in B&W only. It sports 51 AF points, has built-in Wi-Fi and NFC, shoots 6fps or 7fps (in 1.3x crop mode only). It can film 60p video at 1080P only in 1.3x crop mode and also features zebra stripes. the D7200 also has exposure smoothing and auto ISO. For more, check out Jared's full preview video below and press release here. The new body will be available for $1,199.
Nikon Unveils First Wireless Microphone System
Nikon also announced their own wireless lav microphone system called the ME-W1. It has a 50-meter range and has a built-in 2-way communication jack so you can hear both the person monitoring the audio and the talent. This will go for $250.