To "post or not post" your Prices, that's the question: RAWtalk #128
Download this weeks show as an MP3 right here.
There is an ongoing debate wether or not you should post your wedding package and portrait pricing on your website. I have said it before I am not a big fan of making definitive statements but this is the one of the few times I will say I would not post my prices online.
Now I would consider putting a packages "starting" at price but not all of your prices. The way I look at it is I want people to contact me for the chance to "make the sale'. If they look at my prices and see that I am just out of their budget they may move on. Where as if I spoke to them on the phone I would have had a better chance of either giving them a discount or working something out.
Of course it's totally up to you to decide what you would like to do for your business. That's the great thing about what we do is there is no right or wrong way, you go with what feels right and works best for you.
As you guys know we have been using the Atomos Shogun for the last few weeks. This is the latest and greatest Atomos with its huge 7 inch touch screen and ability to record 4k footage. Of course you need to have a camera that does 4k but even if you don't have one yet you can take full advantage of the 1080 ability.

I personally want to thank Atomos for their continued support and want you guys to know that without sponsors like them footing the production costs we would not be able to bring you RAWtalk each and every week.
YouTube has started the process to possibly charge a monthly subscription fee to allow viewers to watch Ad free videos. Would you pay for this ability? If so how much?
Stephen hits us with a TON of photo news this week and I wrap up the show with "Flying Solo" and the "Wheel Of FRO".
00:00:01 – Show Intro
00:07:15 – Would you pay Youtube to have no ads?
00:10:20 – Why you shouldn't put your prices online?
00:15:37 – Photo News
00:58:40 – Flying Solo
01:42:50 – Wheel of Fro
Here's all of Stephen's photo news stories in detail:
Boot Up Linus on Your Canon DSLR
Well this should be interesting: you can now boot up Linux on your Canon DSLR thanks to the team over at Magic Lantern. They discovered how to get access to the bootloader so they decided to try and run a completely different operating system. Linux can theoretically work on all Magic Lantern-enabled cameras, but so far they've confirmed that it only boots on the 60D, T3i, 7D, 5D Mark II, and 5D Mark III. The team says this will be huge for developers. They'll be able to implement new features cleanly and access the camera's hardware directly, where before they were simply just tweaking the firmware. ML encourage the public to help them out since they're not too experienced in this area so they put the binary and source code up for download which you can find here. Who knows what this could bring to DSLRs… (via CW)
Joey L Debuts New Videos Series
Joel L debuted a new video series this week called "Dudes with Cameras". The new show is mainly documentary-style video with voice over commentation by Joey himself. The series offers a behind-the-scenes look into Joey's lifestyle and photoshoots around the world. The first episode is more of an introduction into his busy lifestyle. It's generally about shooting photos for National Geographic's show 'Life Below Zero' in a northern region of Alaska that's above the Arctic circle. In another episode, Joey documents how he created a portrait of actor Michael K. Williams. The final episode posted so far showcases how Joey and his crew traveled to Canada to do a shoot for Canon and its L Series lenses. Check them out below along with his website dedicated to the series!
World's First Ever Phantom 4K 1000FPS Drone Footage
The team at Brain Farm Cinema strapped a Phantom Flex 4K onto a drone for the world's first 1000fps 4K drone footage! Before making the video, Curt Morgan, Brain Farm's CEO, notes that this will either be "the most technical advanced drone camera flight of all time," or "the quarter-million-dollar crash," since the Flex4K sells for between $109,000 and $164,900 depending on the configuration. The phantom alone weighs 14 pounds without even a lens attached, with the total payload setup with lens and viewfinder being about 30 pounds, so they certainly needed a beefy drone to do the heavy lifting. They teamed up with Intuitive Aerial and used their Aerigon drone, which they still weren't initially sure if it would pick up something so heavy. The resulting video which you can view below is super slow motion footage of a truck driving through puddles. The team writes that "the world of options this technological combination will open up is about to break the ceiling of possibility in digital cinematic storytelling." I completely agree! (via Engadget)
DJI Announces Phantom 3
Speaking of drones, DJI revealed their latest consumer drone this week, the Phantom 3. The major update to the phantom is that it now offers 4K video. DJI split the drone into a series of two drones: the "Advanced" version which shoots 1080P at 60fps, and the "Professional" version which comes complete with a 4K camera capable of shooting 4K at 30fps. Both cameras shoot 12MP stills too, in both JPG and DNG RAW formats. The new distortion-free lens has a 94-degree field of view, opposed to the GoPro's distorted 170-degree FOV. The new camera has a 1/2.3-inch sensor that is more sensitive to light than previous Phantom cameras. The drone has a three-axis gimbal that provides pan and tilt-control, which looks to be similar if not the same as the Vision 2+. Unlike the Inspire 1, you can't remove the camera though. However, copying off its big brother, the Phantom 3 has a Visual Positioning system, which uses sensors to help the drone operate indoors without GPS. In the preview video which you can view below, they're actually flying it inside a church during a staged wedding (which is also the most impractical thing ever I might add). It has a dedicated home button on the controller now too with battery life being rated at about 23 minutes of flight time. With the new battery time, it does come with a brand new battery so you will have to toss those old batteries from the previous generations unfortunately. Also borrowed from the Inspire 1, it now has Lightbridge technology controls for showing the pilot what the drone sees in 720P from up to one mile away with "almost no latency." Users can even live stream to Youtube now via a separate app. It sports full manual controls as well including camera settings such as ISO, shutter speed, and exposure compensation, which can be controlled entirely through the DJI Pilot app and the interface of the Phantom 3's remote controls. The new app features a self-editing function for sharing professionally edited aerial videos instantly, and also does flight logging to help document flight stats. The new drone will be available this May, with the advanced version coming in at a grand and the professional version being $1,259. Will you be upgrading?
Nikon Unveils First Official Selfie Stick
Nikon has jumped on the selfie stick bandwagon and released their own official stick called the N-MP001. The standard looking selfie stick allows you to "conveniently and easily take 'Selfies' or self-portrait photos." At its smallest size, it's 7.28 inches tall and extends to 28.54 inches, or a little more than two feet. It'll supports cameras that weigh up to nearly a pound too. The bottom of the stick has a foam grip and a hand strap for comfort-ability. No remote triggering option built in however, like some of the more advance sticks. The N-MP001 is compatible with their full range of Coolpix cameras and will set you back $60.
New Colorado Bill Could Punish Police For Interfering with Photographers
A new Colorado bill would punish officers who interfere with photographers. This is nearly the opposite of what lawmakers have been trying to do in recent proposed bills. The state is considering several bills that would increase police oversight, and one of the bills–specifically House Bill 15-1290–punishes police officers who interfere with people who are lawfully using their cameras. The bill's official name is: "Concerning Prohibiting A Peace Officer From Interfering With A Person Lawfully Recording A Peace Officer-Involved Incident." It states that if a person is lawfully documenting a police officer and then has their camera taken or destroyed by an officer without a warrant, they are entitled to actual damages, $15,000, and attorney fees and costs. It goes on to state that even if a police officer intentionally interferes with a person's ABILITY to take photos, that person is entitled to damages, $15,000, and legal fees. Joe Salazar, who cosponsored the bill, says that "it came up as a result of the number of news reports we've been seeing about police officers telling people, 'Give me your camera,' or taking the data away, and that is unacceptable conduct." Read the full two page bill for yourself below, thoughts? (via PP)
A 512GB CF Card Holds How Much JPGs?!
A photographer showcased the insane amount of photos a 512GB Lexar Compact Flash card holds. Photographer Jared Polin (you might recognize him…) stuck his $900 Lexar CF card into his Nikon D4s and found out it could hold up to 347,000 jpg basic images or 13,800 full 16MP RAWS. The D4s is rated for 400,000 shutter actuations, so this could definitely be the only card you would ever have to put in your camera. Check out the video proof below:
GoPro Recovered After It Was Dropped 10,000 Feet
A GoPro was found in Sweden four years after it was dropped from a skydiver 10,000 feet in the air. The memory card was intact still, so the man who found it uploaded it to Youtube in hopes of finding the owner. The description read, "Are you the right skydiver?. Please let me know so we can return the camera and memory card." which quickly went viral. The owner was indeed found and got his GoPro and footage back. Check out the nauseating video below as the GoPro goes into a death spin for nearly two minutes until it finally hits the ground. (via PP)
Camera Still Works After Being Underwater for 3 Months
Another rugged camera was found after it was at the bottom of the Indian ocean for nearly three months! The Lumix GH4 was found stuck in between coral reef and rocks off the coast of the Maldives (an island country in Asia), about 61 feet underwater. It was found by John Ng, who is an underwater photographer part of the Scuba Monster team. He was surprised to see that the Nauticam housing around the camera was still sealed and that the camera was perfectly fine inside. Ng then contacted Nauticam China and used the serial number on the housing to find the owner, who was a Malaysian photographer who lost the camera to strong currents back in December of last year. Always nice to see a successful recovery story. (via DIYP)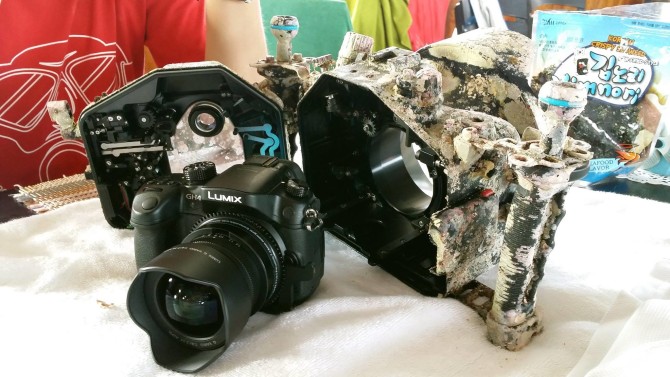 A Collection of Photos of Presidents Throwing Out The First Pitch
To celebrate the start of the baseball season, a collection of photos of presidents throwing the ceremonial first pitch is now online. President William Howard Taft started the tradition in the United States back in 1910, throwing a pitch in Washington DC on the opening day of the Washington Senators' season. Since Taft, every president minus Jimmy Carter has thrown out at least one Opening Day first pitch. Fun fact: the first color image from this series is from Reagan's pitch in 1988. Also, they threw the ball from the stands up until Reagan's term too, where he finally got on the mound. Very interesting to see how the photography has progressed over time. Check out the full series here. (via TW)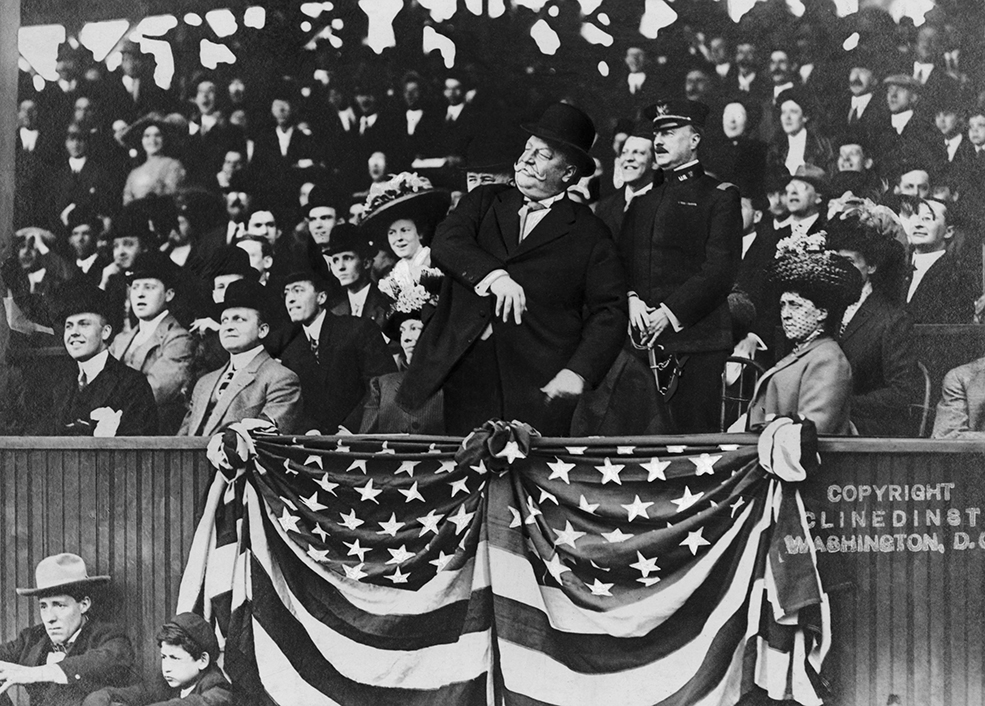 Canon Unveils New Compact Digital Camcorder: The XC10
Canon has unveiled a new hybrid camcorder that shoots both 4K and 12MP stills. Called the XC10, it's a tiny camera, weighing just 2.3 pounds and measuring just 5 inches all ways. Canon says this camera can easily be mounted on drones too. Along with the photo option, users also can extract still photos from video footage. A built-in function lets you pull 8MP photographs from 4K footage you recorded. Spec wise, it sports a DIGIC DV5 processor with a 1-inch CMOS sensor with 12 stops of dynamic range and an ISO range of 160 to 20,000. it has a 10x 8.9-89mm f/2.8-5.6 zoom lens with a 2x digital teleconverter and optical image stabilization (which is a 35mm-equivalent range of 24.1-241mm for still photos and 27.3-273mm for video.) It also has a tilting touchscreen LCD screen and a rotating hand grip for those low angles. Plus, it has 5-axis image stabilization during Full HD recording, an SLR-type shutter, microphone and headphone jacks, a built-in microphone, 5GHz and 2.4GHz networking, CFast and SD slots, a mechanical shutter for eliminating rolling-shutter effects, 3.8 fps for stills, it takes same battery as their pro DSLRs–the LP-E6, and it has a built-in ND filter. There's also a viewfinder attachment that allows you to shoot eye-level. It records in these Codecs: XF-AVC 4:2:2 Intra for 4K at 305 mb/s and XF-AVC Long GOP for 1080P at 50 mb/s. XF-AVC is canon's new codec based on the h.264 codec–high quality in a small size. The new camera is also compatible with the Atomos Shogun and can record 4K video with the camera's clean HDMI-out feature. It'll be available this June starting at $2,499, will you be purchasing one?
Canon Announces the C300 Mark II
Another new video camera from Canon: they have officially announced the C300 Mark II. This beast shoots 4K with an 8.85MP 35mm sensor. It has the ability to record 10-bit 4:2:2 4K (broadcast or cinematic resolutions) video internally at 410 mbps using their new XF-AVC Codec or 10/12-bit 4:4:4 files in 2K/Full HD. Framerate wise, it'll shoot 4K at 30P or up to 120P in 2K and 1080P resolutions. The Mark II has major improvements in dynamic range and advanced reductions in false color, moire and noise. It can now capture 15 stops of DR (used to be 12), has Dual DIGIC DV5 processors, Dual Pixel CMOS AF, ISO range from 100-102,400, supports 4-channel audio recording in 16 or 24 bit at 48 kHz, built-in ND filter now expandable up to 10 stops (up from 6), dual CFast card slots and a single SD card slot. It can simultaneously record 4K RAW to an external recorder as well like the Atomos Shogun . The new camera can also record 2K/Full HD proxy files to the SD card slot at the same time, which is huge for editing. The Mark II will be available in September for $16,000 in either EF or PL mount. What do you think?
Nikon Announces New DSLR Firmware
Nikon announced new firmware for select Nikon DSLR cameras including the D4S, D810 and D750. The new firmware will improve workflow for professional video applications by enhancing capability with third party external recording devices like the Atomos Shogun. The new firmware will allow the Shogun or Ninja-2 external recorders to recognize recording start/stop commands of the external recorder and can be synchronized with recording start/stop commands of the camera. Basically this means you can control your camera's start and stop functions from the external recorder. Demonstrations of the firmware will be available at both the Nikon (#C8818) and Atomos (#C8825) booths at NAB from Monday, April 13 through Thursday, April 16. The firmware will be available in late summer 2015 as a free download.
Nikon Announces D810 Filmmaker's Kit
Nikon is now also offering a Filmmaker's Kit for the D810 just like the D750 Filmmaker's Kit we talked about a few weeks back. The kit contains the camera, three NIKKOR lenses including the AF-S NIKKOR 35mm f/1.8G ED lens, the AF-S NIKKOR 85mm f/1.8G lens and the AF-S NIKKOR 50mm f/1.8G lens. The kit also contains two additional EN-EL15 batteries, an ME-1 Stereo Microphone, one Atomos Ninja-2 External Recorder, and Tiffen 67mm and 58mm Variable Neutral Density Filters (8-stops). No word on cost just yet.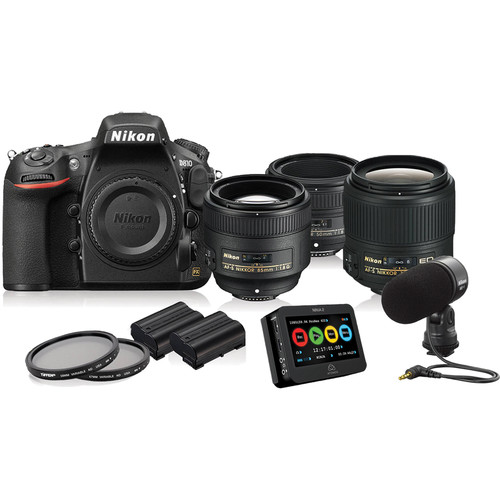 Snapseed Reveals Free 2.0 Update
Snapseed has been upgraded to the new 2.0 version. The Google photo editing software features new tools including Lens Blur, Tonal Contrast, Intelligent Perspective Transform, and Spot Healing. Users can now selectively apply filters and effects to parts of the image using the Brush tool. Also, it now allows non-destructive editing via Stacks which allows you to re-edit or undo any change (think of Photoshop's history panel). You can also copy edits from one image to another via their new bulk editor. Snapseed 2.0 is now available for iOS and Android as a free download.