Did I really give Stephen that as a gift? YUP: RAWtalk 131
Click Here to download this weeks RAWtalk as an MP3.
I want to start off and say we filmed this weeks RAWtalk on Thursday afternoon and it wasn't until Friday that we found out that Allen from Allen's Camera had passed away. I will be having a special segment dedicated to Allen on the next episode. To read what I wrote about Allen please click here.
Some of you know I ordered two apple watches for a project idea that I have been working on. The plan was to do my project and return the watches within the first 14 days. It turns out that I am really enjoying the watch so I decided to keep one. That left me the Apple Watch Sport to return or keep. I decided to gift it to Stephen for all his hard work over the last two years.
RODE RODE RODE RODE MyRodeReel.com competition is still in full effect and you have a chance to enter any of the 19 categories for your chance to win some of the $200,000 in prizes. There is even a category for movies captured entirely on a cell phone. So honestly you have nothing to lose, read up on the rules right here for your chance to WIN. http://bit.ly/1dGHzeU
I decided to strap GoPro Hero 4 to my hockey helmet when I played in a charity tournament this weekend. I must say the footage looks fantastic and I am looking forward to cutting it up for everyone to see. Stephen added a clip for you guys to watch during this weeks show.
As always we have Photo News with Stephen followed by another solid round of Flying Solo where you get to submit your questions to be answered on the show.
For those who don't know, NEW episodes of RAWtalk go live on Mondays.
00:00:16 – Show Intro
00:07:05 – GoPro Hero 4 Review
00:13:25 – Apple Watch Review
00:20:19 – Photo News
00:51:00 – Flying Solo
01:43:10 – Gear(s) of the Week
01:48:42 – Wheel of Fro

Here's all of Stephen's Photo News stories in detail:
RIP: American Photo Magazine
American Photo has officially stopped publishing its magazines as of this month. The magazine sent out their last issue with a note saying they're discontinuing publication effective with their last March/April issue. Current subscribers of the magazine will now receive an issue of Popular Photography. However, if the reader already subscribes to Pop Photo, they'll extend their subscription by the appropriate number of issues owed to them. Both magazine companies are owned by the same parent company, the Bonnier Corporation. They reported that American Photo had a total print circulation of 100,000, which is quite a number. The brand will now live on solely through their website, americanphotomag.com. Were you a subscriber? (via PP)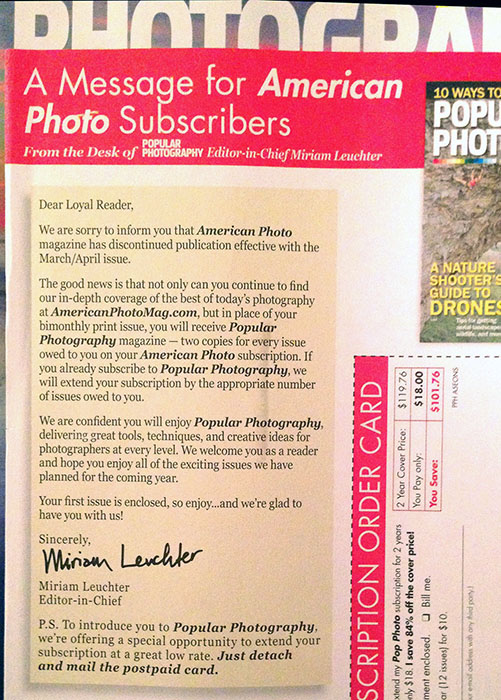 Photo by Bob Cooley
Introducing the Pentax K-3 II
Ricoh has announced their latest DSLR, the Pentax K-3 II/ Highlights for the new camera include pixel shifting, GPS, and star tracking. It's the first Pentax camera to feature Pixel Shift Resolution, which uses the shake reduction mechanism to capture four photos in quick succession with 1 pixel offsets. The images are then combined into a single high definition image. However the final image is still the same resolution — it's just better quality. It has reduced false color, and "improved overall quality" for non-moving subjects (think of shooting HDR). It has a GPS receiver, GPS log, and electronic compass. These help the camera record where you are, the direction your camera is pointing, altitude, and a time-stamp. The user could then use services like Google Earth to map out where they photographed from. There's also ASTROTRACER, a new feature that uses the camera's GPS and shake-reduction features to track stars and planets when you're photographing the night sky. Other specs include a 24.35MP APS-C CMOS sensor, 4.5 stop shake reduction, an adjustable anti-aliasing filter simulator, 3.2-inch LCD screen, 1080P video, dual SD card slots, a 27-point AF system with 25 cross-type points, ISO range of 100-51200, and 8.3fps continuous shooting. The K-3 II will be available later this month for $1,096.95.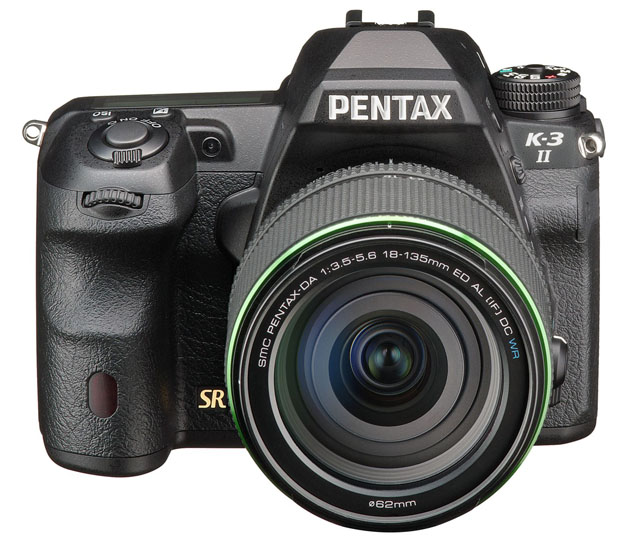 102-yr-old Woman Dancer Sees Old Footage of Herself for the 1st Time
A 102-year-old woman named Alice Barker was shown old footage and photos of herself when she was a chorus dancer during the Harlem renaissance in the 1930s and 40s. Mark Cantor is a collector of old "Soundies" (the original music videos) and had footage of her on Jazz-on-film.com. The video description reads, "Although she danced in numerous movies, commercials and TV shows, she had never seen any of them, and all of her photographs and memorabilia have been lost over the years." She danced at clubs such as The Apollo for legends like Frank Sinatra, Gene Kelly, and Bill Robinson. Her reaction in the video below is priceless as she smiles and reminisces on her past days. She says, "I used to often say to myself, I am being paid to do something that I enjoy doing and I would do it for free because it just felt so good doing it. Because that music you know, I get carried away in it." Watch the reveal below: (via Reddit)
Photographer Captures Jaguar Pouncing on Caiman
Photographer Justin Black captured a sequence of photos of a jaguar attacking a caiman in the wetlands of Brazil. He was actually leading a photo expedition when he came across the beginning of the hunt for the jaguar. The caiman was a solid 8 feet long and about 150 lbs too, but it was no match for the 290 lb jaguar as shown in the photos. The animal is actually known to local biologists as "Mick Jaguar" too. Watch below as the jaguar treats it like a big chew toy. The photographer notes that "after this experience of a lifetime, we had a new appreciation for each jaguar we were fortunate enough to see." Check out the footage below and Justin's photos over on Petapixel.
Instagram Adds Emoji Hashtag Support and Three New Filters
Instagram has added three new filters to their collection along with emoji hashtag support. The new filters are called Lark, Reyes and Juno. Instagram calls them "modern, subtle filters that brighten and enhance your photos in refined, beautiful ways." This is their second time releasing new filters in the past few months and they say they will continue to regularly release new filters for the community in the future. Users will now also be able to add, search for, and tap the emojis found in captions. They say over half of the photo captions written by users include emoji, so allowing emojis into the hashtag system makes sense. It also doubles as a universal language. The new update is available in both their Android and iOS app.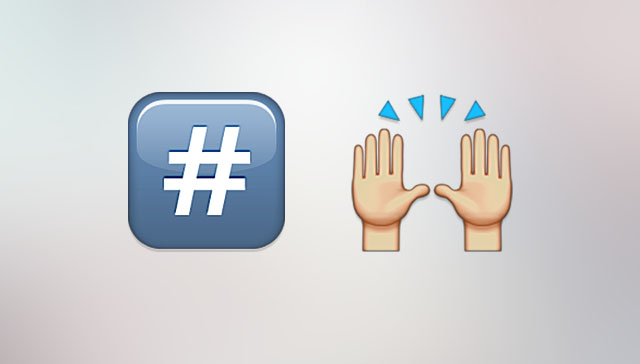 These Color Images Are Over a Century Old
Images captured by the autochrome process back in 1913 are now on display at the Media Museum in Bradford, UK. The photographs showcase the early days of color photography. Autochrome was one of the first color photo technologies, which used glass plates coated in potato starches to filter pictures with dye. The set was taken by an English Engineer named Mervyn O'Gorman, which features his daughter Christina in a vibrant red dress. The Drawn By Light exhibition runs until June 21. Crazy to think these were taken over a century ago… (via Mashable)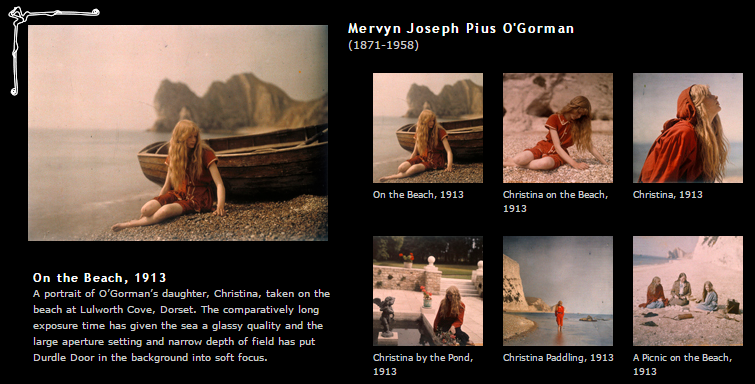 YouTube Star "Photoshops" Her Body In Realtime
YouTube star and personal trainer Cassey Ho has seen an increase in negative comments on her channel where people have been criticizing her appearance more and more. She decided to do something about it and came up with the idea of creating a video in which she Photoshops herself to create "the perfect body" based on what commenters want her to look like. She notes that "Photoshopping and body image – all of that – is such a big problem that a lot of girls deal with because magazine covers are Photoshopped, and even people on Instagram Photoshop their photos. You really don't know what's real and what's not anymore." The video literally shows her being Photoshopped in real time, ending with a note that reads, "What would you change?" Very powerful video. (via TIME)
Vong Wong's Light-Painted Fire Photos Taken With Smartphone
Benjamin Von Wong is at it again: He was called upon by Chinese telecom company Huawei to create the craziest photo he could think of with their new smartphone the P8. There were a couple rules that limited him though: it had to be done with the phone's new "Light Painting" feature, the model had to be surrounded by fire, and no Photoshop would be allowed in the process. The smartphone shoots long exposures using a stacking technique. Instead of one long exposure with the small sensor, which would be covered with noise, the phone continuously shoots photos over an indefinite amount of time and then stacks and blends the photos together to create a single "long exposure" photo. Von Wong notes that even "In the best of conditions, fire is one of the most challenging elements to capture. Not only is it dangerous, its luminosity varies with time." He adds, "Long exposures result in motion blur, and the high contrast between subject and flames typically means that an amazing camera with a large dynamic range is necessary." He posted a couple final images from the shoot which include one with a model and fire "angel wings" and the other with the model walking through "fire rain." Here's how he did it: he lit the pillars and backdrop of the scene to make it stand out, and then used a Broncolor flash boom overhead to light the model without motion blur. They actually feature Von Wong in the new commercial for the phone too, taking photos of the model with the new smartphone. Check it all out below and read more about it via Medium.com: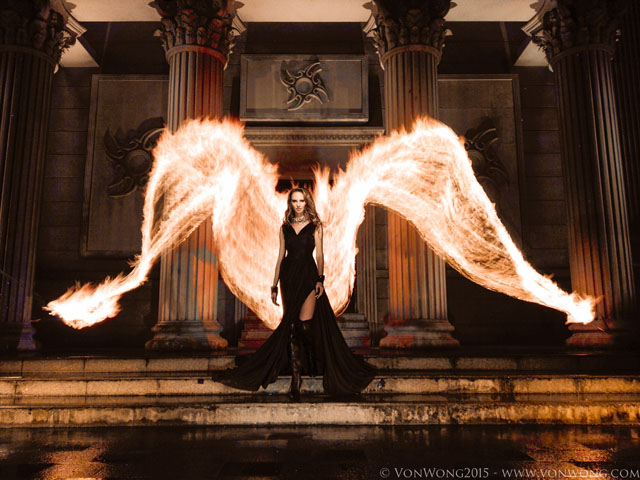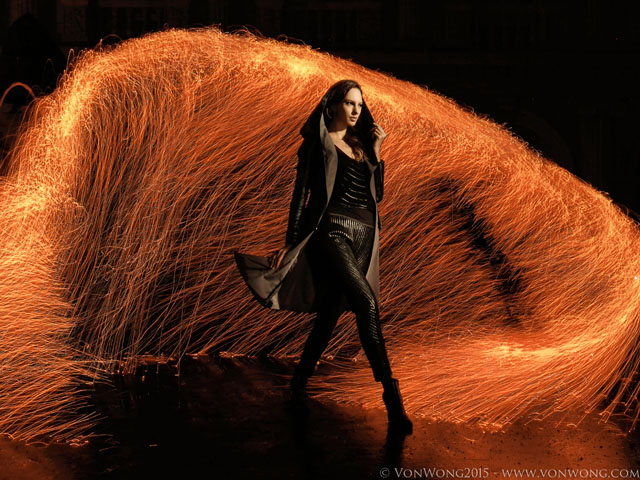 Photos by Von Wong
Would You Buy This HUGE 2540mm NASA Lens?
An old school HUGE NASA 2540mm f/8 mirror tele lens is up for sale on eBay. The lens is called the Jonel 100, and is being called "one of the biggest lenses ever," by the seller. Weighing 180 lbs, the lens features a Schmidt-Cassegrain telescope design that produces a 57x57mm image through the 8.5-inch opening on the rear end. The auction's description states that NASA used this lens to keep its eye on rockets such as the Saturn V, and that a similar lens was used to track and capture images of the Space Shuttle Challenger on the day it exploded during launch. It could be yours for one small payment of just $33,500 and $850 in shipping. The seller says that the original price paid for this lens was "a family home"–Are we talking a trailer or a mansion here? Big difference. The listing is still up if you're interested. (via PP)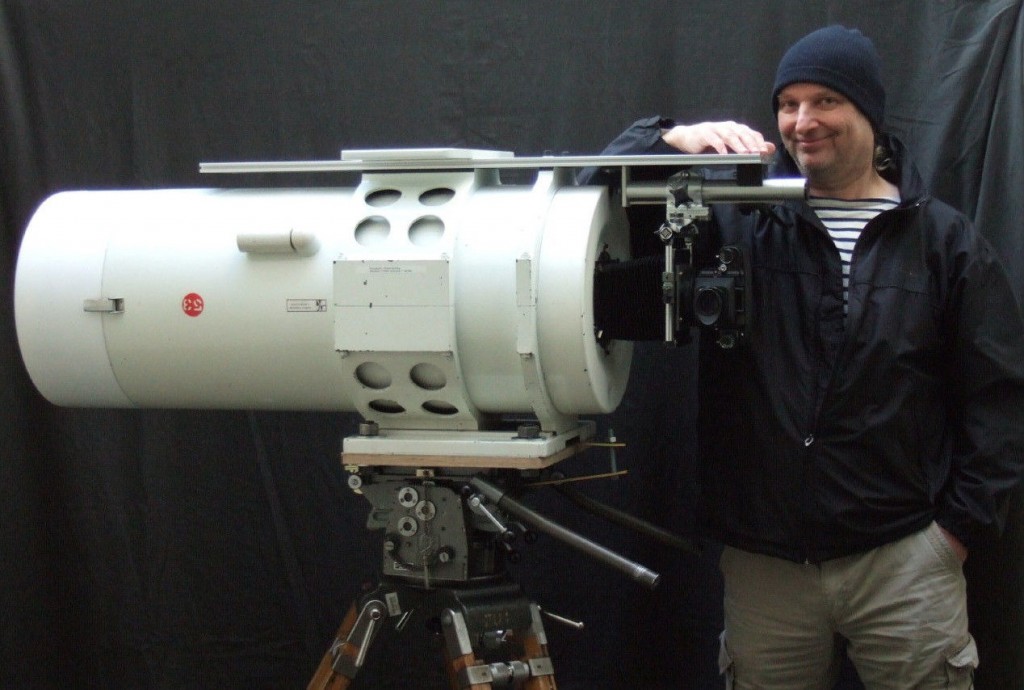 B&H Is Now Selling a Used Lens for $180,000
Speaking of giant insane lenses, B&H is now listing a used Canon 1200mm f/5.6L lens for sale for $180,000, with free shipping though. They got a little funny with their item description too:
"With an angle-of- view of about 2° on a full-frame 35 mm camera, calling this lens a 'tele' is like calling King Kong a monkey.

Built-to-order by Canon from 1993 to 2005, each lens was hand-crafted at the rate of about 2-per-year and a delivery time of about 18 months. Only a dozen-or-so were ever made. Who bought them? National Geographic magazine and Sports Illustrated are known to own a couple, the Feds probably have a few squirreled away somewhere, and a few well-heeled photo enthusiasts.

This particular lens is extremely clean inside and out. Included with this lens is a leather slip-on 'lens cap', the original fitted aluminum trunk case, a custom trunk case with wheels that holds the original trunk case, and a prodigious measure of ego satisfaction. Weighing in at over 36lbs and an overall length of 33 inches, a sturdy tripod and pan/tilt head is highly recommended.

Pack mule not included."
Would you ever consider buying a piece of equipment that's this expensive?!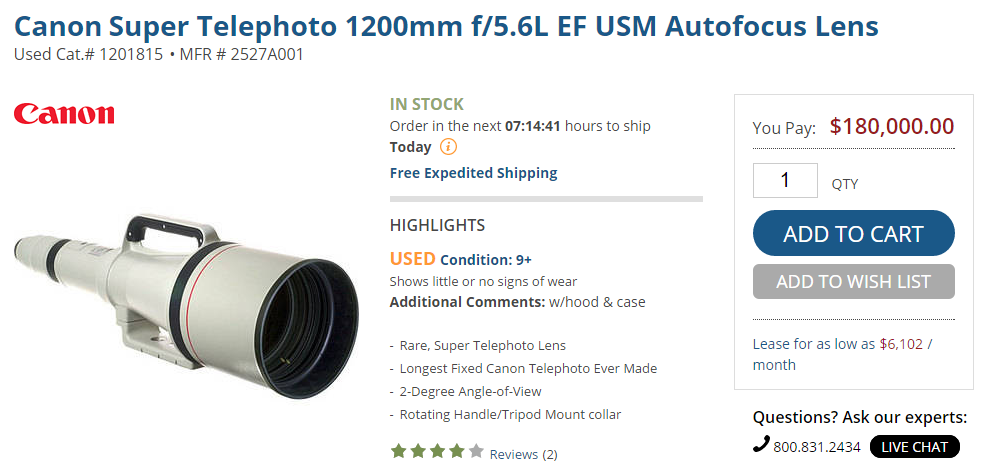 Photographer Loses Wedding Photos. Ordered To Pay Couple Nearly $9K
A court in Spain has ordered a photographer to pay €8,000 (~$8,800) to a newly-wed couple after the photographer lost their wedding photos. The photographer was hired to photograph the wedding of a couple named Charles and Charlotte in July 2012 in Spain, who both live in NY by the way. The two sides agreed upon a €1,100 fee for a digital album and two mini photo albums. After the wedding, the photographer deleted the photos by accident without making any backup of them; no mention of how they were lost. The couple then sued and a judge has ruled that the photographer pay the couple the €8,000. The cost was figured out by the price it cost for the couple to fly from New York to Spain again and for all the expenses involved in re-shooting pre-wedding photos at various landmarks around the city and basically simulate their wedding again. It also included interest that this money would have made since the event. In the ruling, the judge states that the photographer was negligent and caused the couple serious distress. Family photos are not an adequate replacement for the lost professional shots, and the photographer's actions failed to meet "the required level of prudence and caution" for what the jobs requires. Backups, backups, backups! I'm sure this unnamed photographer learned their lesson. (via ABC)
LensPacks Turn Your Lens Caps Into Velcro Attachments
A new Kickstarter called LensPacks turns your lens caps into velcro attachments for your camera bag. The LensPacks caps have velcro that is compatible with any bag that has velcro-friendly lining. For bags that don't, there are optional adhesive velcro sheets you can apply first. According to the campaign, not having to fumble with your rear lens cap will allow you to change lenses up to 60% faster. Instead of capping your lens before putting it into your bag, you simply insert your lens into your bag and twist it into its fixed LensPacks mount. Compatible mounts for the initial system include Canon EF, Nikon F, Sony E, and Micro Four Thirds. However they say other mounts are on the way. Price wise, it's going for $28 which includes two lens packs, or $42 which will get you 4. The campaign has already reached their $$9,869 CAD goal, and plan on an estimated delivery of December of 2015. They still have about three weeks to go too. Would you use LensPacks? (via PP)
This Is How Loud Camera Shutters Are At Baseball Games
And here's the video Jared referenced when talking about the photographers' shutter sounds at the empty Baltimore Orioles game last week. Listen to how loud those shutters are without any fans in the stadium! (via Reddit)