That's just GROSS, consider yourself WARNED: RAWtalk 133
Click Here to download this weeks RAWtalk as an MP3.
It's not often I am grossed out by a story but this one really left me scatting my head. Honestly the story and the photo's in my opinion are so gross that I can't talk about it anymore. To see the story I am taking about skip to 27:48. Consider yourself warned.
00:00:16 – Show Intro
00:16:14 – Photo News
00:27:48 – **** This is the GROSS STORY *****
00:54:34 – Flying Solo
01:40:11 – Gear of the Week
01:42:52 – Wheel of Fro

This weeks Episode is brought to you by the fine people at AudioBlocks and VideoBlocks. If you want to know where all the menstrual flow music came from this week you can find yours at AudioBlocks.com/go/fro . My team has been using both AudioBlocks and VideoBlocks for the past two years and we love it. Please give it a try if you have a need for royalty FREE audio or video and I know you will not be disappointed in the service.
Photo News got a little heated this week with stories ranging from the new Canon 50 1.8 to a wedding photographer calling out one of his brides then saying he was hacked to flowing blood photos. Give the Photo News a listen and enjoy.
I put out the request for "Situational" type of questions to be sent in to change up Flying Solo. I must say the situations that you guys brought up were fantastic and made for some highly entertaining and informative answers.
Don't forget that new RAWtalks come out every Monday and if you subscribe on iTunes you have the ability to auto download all new episodes so they are waiting for you.
Here's all of Stephen's photo news stories in detail:
New Software Algorithm Can Automatically Remove Window Reflections from Your Photos
A new type of software algorithm will automatically remove window reflections from your photos. Scientists at MIT have created the algorithm and say that the software is able to analyze an image and distinguish between reflected light and transmitted light. Here's how it works: reflections in windows are often seen as a pair of reflections that are slightly offset from one another due to double panes. In their tests, of 197 reflection photos found on Google and Flickr, 96 of them had suitable double reflections. The scientists then created an algorithm that trains a computer to distinguish between double reflection images and the actual scene being photographed. "The ideas here can progress into routine photography, if the algorithm is further robustified and becomes part of toolboxes used in digital photography," says their electrical engineering professor, Yoav Schechner of Israel's Technion. Check out the sample photo below where the computer automatically removed the reflection and an image where the computer isolated the reflection. I'm curious to see how this would work if say this was a Lightroom plugin. Then again, just use a polarizer next time… (via MITN)
Canon Announces New "Nifty Fifty": 50mm f/1.8 STM Lens
Canon has unveiled their new "nifty fifty"–the new 50mm f/1.8 STM lens. The new 50 has a metal mount rather than a cheaper plastic one like its predecessor, the 50 f/1.8 II. Spec wise, it has a "super spectra" lens coating, a minimum focusing distance of 0.35m (~1.15ft), a 7-blade aperture, a weight of 160g (compared to the II's 130g), and built-in STM technology for smoother and more silent focusing. It'll be available for $125 later this month, will you be upgrading? Now they just need to update their 50 f/1.4…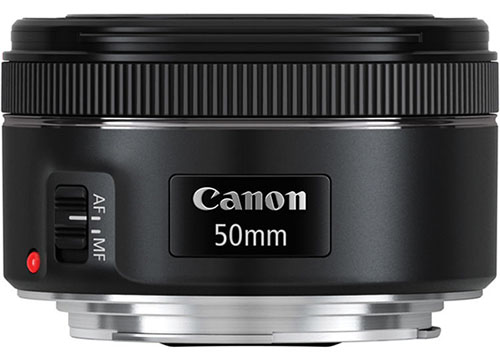 New Wyoming Law Prohibits Landscape Photographers of Taking Photos of Open Land
A new Wyoming law has landscape photographers worrying if they're aloud to take pictures or not of certain public areas. The new law was passed in March and prohibits collecting data about the environment to share with the government. It may not sound like it has anything to do with photography, however it's so broad in its wording that it could also infringe on photographers' rights to take pictures of certain landmarks. University of Denver law professor Justin Pidot breaks it down and says, "it makes it a crime to 'collect resource data' from any 'open land,' meaning any land outside of a city or town, whether it's federal, state, or privately owned. The statute defines the word collect as any method to 'preserve information in any form,' including taking a 'photograph' so long as the person gathering that information intends to submit it to a federal or state agency. In other words, if you discover an environmental disaster in Wyoming, even one that poses an imminent threat to public health, you're obliged, according to this law, to keep it to yourself." He goes on and even offers up an example of how this would affect photographers: "imagine visiting Yellowstone this summer. You wake up before dawn to take a picture of the sunrise over the mists emanating from Yellowstone hot springs. A thunderhead towers above the rising sun, and the picture turns out beautifully. You submit the photo to a contest sponsored by the National Weather Service. Under a statute signed into law by the Wyoming governor this spring, you have just committed a crime and could face up to one year in prison." He finished with, "anyone with a passing familiarity with our Constitution will recognize that the Wyoming law is unconstitutional." He's now calling for the U.S. Department of Justice to file a lawsuit to invalidate the new law. The entire law transcribed in text form can be read below if you want to dive into the fine details. What do you think? (via Slate)
Introducing the World's First Throw-And-Shoot Camera
Introducing the world's first throw-and-shoot camera called the Lily. The new drone lets anyone capture aerial photos and videos without any piloting needed. To use the Lily, the subject being photographed needs to wear a GPS-enabled tracking waterproof wrist device, similar to a watch. The Lily will then follow you up to 25mph and center the subject in the frame. The drone itself is also waterproof and floats so you can safely land it in water. Spec wise, it has a 12MP camera for stills, shoots 1080P at 60fps video, also 720P at 120fps for slow-motion. The battery will let you fly for up to 20 minutes as well. There's several different settings in terms of following you too: off to the side, in front of you, fly up mode where it flies above you, a general follow from behind mode, or even a loop mode that circles you. The Lily will be available in February of 2016 for $999. However, if you preorder now up until June 15, it'll cost you about half that for a price of $499. In the meantime, check out a preview video of it in action below. What do you think?
This Amazing Food Photograph Wasn't Manipulated in Photoshop
Dutch newspaper De Volkskrant hired Netherlands-based design studio Lernert & Sander to take a photo of various different foods for a special issue on food. The cool thing is that the photo isn't manipulated in post and includes 98 different foods cut into perfectly little 2.5cm cubes. They used fruits, veggies, meat, fish–basically every type of food to make this happen. Fans of the photo can also purchase the image as a limited edition 16×19 signed print from the Lernert & Sander website for €500 (~$790). Check out the image below and click it for the full-resolution version: another example of how not everything needs to be done in post. (via PP)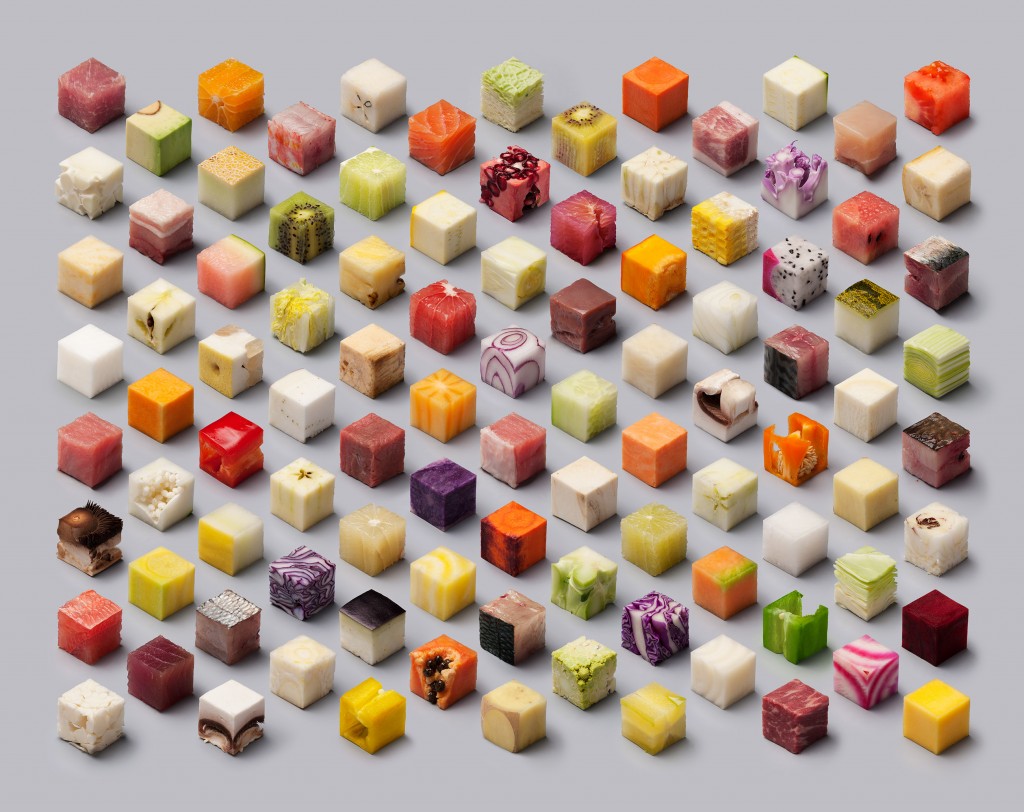 Artist Uses Her Own Menstrual Blood To Create Abstract Photographs
This next story is interesting to say the least: an artist used her menstrual blood to create a series of abstract photos. The series, called "Beauty in Blood," was done by Denver-based artist Jen Lewis. She came up with the idea after she switched to using a menstrual cup (an eco-friendly alternative to tampons). After she would discard the blood every month, she was surprised to discover how it formed swirling beautiful shapes, both abstract and figurative, in her toilet. In collaboration with her husband Rob, she would pour the discarded liquid as he photographed it with a macro lens. They shoot either by the toilet or in an aquarium set up in their kitchen and filled with varying quantities of salt and freshwater, so they would get different results each pour. Check out the images here, which I will say are pretty unique looking… (via FS)

Wedding Photographer Calls Client the "Ugliest Bride" on Social Media
Here's a big no-no in any industry, calling out your client on social media. A wedding photographer named Lee Maxwell Judd called a recent bride he photographed both a "Bridezilla" and the "ugliest bride" on his official Facebook page. He posted the image of the couple followed by a comment saying, "Ugliest bride I have ever photographed. Winged the whole time. Bridezilla #1?" He has since apologized. Judd claims that the message was a result of his Facebook page getting hacked. He also claims that the spotlight has gotten him booked through 2019. "For those that have joined in on the insults and trash talk I really pity you people. You embarrassed yourselves and have shown your true colours. I could have removed this page after the first comment but I chose to leave it up so others can see who you are and also have pity on you. Since the hack I have had a few hundred new likes. I am booked out till 2019 with wedding photography and all of my clients have paid 50% deposits. Most of my clients have messaged me with their support and encouragement. For those adding negative reviews, keep them coming. They only promote my business for the better." Over 200 reviews have also been left on his Facebook page, with negative reviews bringing his average rating down to 1.7 out of 5 stars; ouch. On the other side, the bride, Ashlea Howard, responded with her own testimonial of how she was treated: "the quality of the photos was unacceptable and he acted very unprofessional leading up to and especially after the event. The photos were sent on a USB with no note, business card or any form of packaging to the WRONG person. A random had all our photos. This was after many weeks of asking when we will have a sneak peak or a copy of what we paid for. Disgusting behavior in how he responded at every stage. Lying to me directly on the phone. He has been rude and unprofessional at every stage. Even asking if I wanted sexy/lingerie shots the day before my wedding, not asking in advance. It came across very creepy. Red flag! It is not a shock if he wasn't hacked because of how he treated us but of course it is possible and he will want to use this as an excuse! Hacked or not, he still admitted it." Publicity stunt? actual hack? Or just general mess-up on his part? (via TI)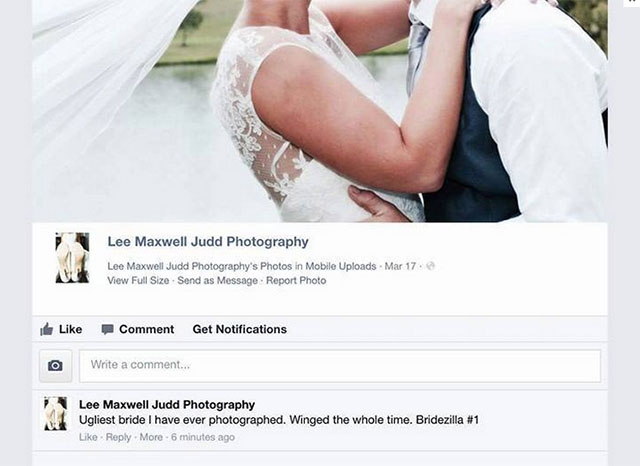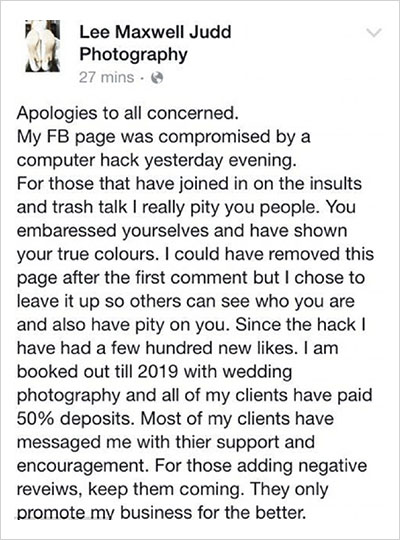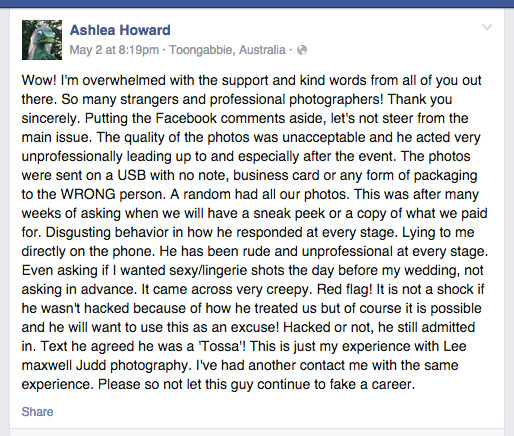 Wedding Photographer Delivers Final Album The Day of the Wedding
On the opposite end, wedding photographer James Day pulled off something quite impressive at a recent wedding, he delivered the final wedding album the day of the wedding. The bride is the identical twin sister of Day's wife, and the groom is also a successful wedding photographer in Australia. Day writes on his blog: "I knew I had to do something absolutely insane for [them]. I just had to go all out […] This is without doubt the biggest stunt I've ever pulled off. I did what everyone else told me would be impossible. I knew with the right team we could make it work." Here's how he pulled it off: a digital processing lab "just down the road" from the wedding helped edit the photos throughout the big day and Fujifilm provided a photo printer–the Fujifilm DX100–and all the paper and ink needed. The binding for the album from Photo Mounts & Albums Australia was already done, and all they did was insert the printed photos. The album itself was digitally put together using software called Pixellu SmartAlbums. They shot for over 16 hours and accumulated over 8,000 photos in the end. The album included everything during the day up to 9:30PM and they delivered the full album just two hours later at 11:30PM. They also gave them all of the digital files that night which totaled 1,149 images. Check out a 6-minute behind-the-scenes video that showcases the preparation and entire process leading up to the wedding and the final album. Kudos to him for pulling this off! (via FS)
Canon Officially Acknowledges T6-Series Sensor Issue
Canon has issued an official product advisory for their new line of T6 rebel cameras. The advisory states that in certain rebels, "white spots may exist on the optical layer which may result in the appearance of dark circular patterns on the captured image under certain shooting conditions." Canon says the spots are due to "irregularities on an optical layer located in front of the image sensor." Here's how to see if your Canon T6s or T6i has the issue: look at the first two digits of the camera's serial number. If the digits are "01" or "02", then your camera may have the issue. Users can confirm it by looking at your actual sensor with the mirror flipped up (or you can just send it to a Canon repair center). Canon has repaired the issue in recent batches of the T6 series however. You can check if yours has been fixed by looking at your battery door. If it contains a black dot, then your camera has already been repaired (similar to what Nikon did with the D750 issue). Canon is promising that it will be repairing affected units free of charge. They're currently working on a solution and will be announcing one very shortly. Does your camera have the issue?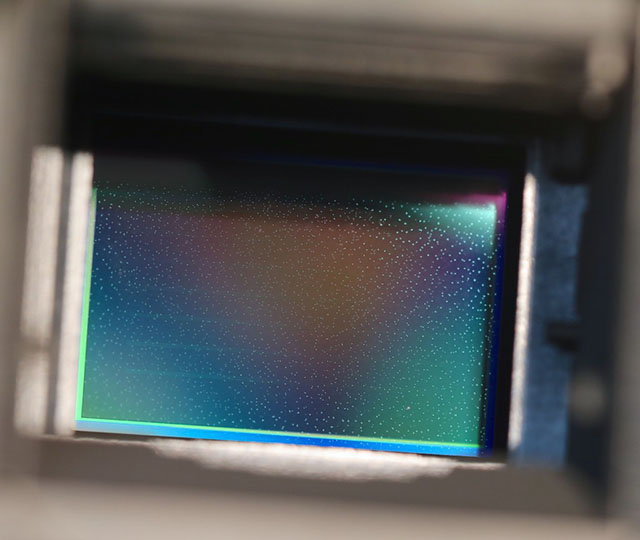 Photo by Roger Cicala/LensRentals

Flickr Unleashes Major Redesign
Flickr has officially revealed a major redesign of its service across all platforms and rolled out some powerful new features including viewing optimization, and better organizing and searching of photos and videos. They launched a new Uploadr application for users that want to upload directly from their desktops. The mobile app also has a new Auto-Uploadr that can help automatically upload your mobile shots to the service for storage and sharing. Users can now bulk download their photos from Flickr too, in the past you could only download images individually. They'll put your pictures into a zip file for you for download and the number of photos you can download is unlimited too, however you may need to download multiple zip files depending on how many photos you have. The new search page that Flickr has been testing is now live too. Users can now search for items, places, date, holiday, location, color, size, and even orientation. Flickr says the system is smarter now and will better understand what you're actually trying to find. They say, "Look for photos of the London Eye to find the giant Ferris wheel and you'll no longer find countless photos of eyes taken in London." The photo browsing system on both desktop and mobile now offer a new categorization feature too called "Magic View" that sorts your photos by category. It uses advanced image recognition technology to recognize attributes of your photos in order to help make navigating through them faster and easier. I can't keep up Flickr, so many updates as of late!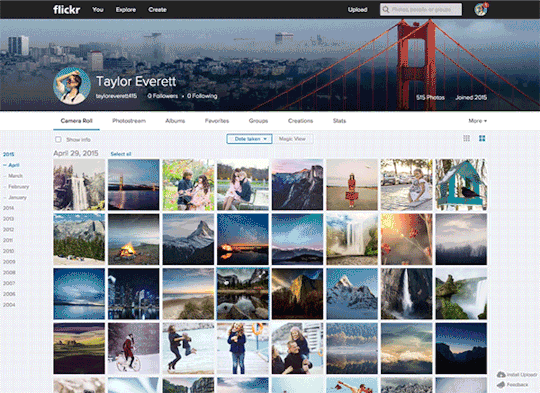 New Website Lets You Search Flickr Photos via EXIF Data
Adding on to Flickr's new update and search functions, a new website called Shutterdial lets you search through Flickr photos based on camera settings. Flickr's new search engine lets you pinpoint what type of photos you want to look at but it still lacks search by EXIF data. Shutterdial will do just that and let you search by camera settings including focal length, aperture and shutter speed. The site was created by photographer Tianhe Yang who says, "I can't help you with the memory-making part, but hope that Shutterdial will help enhance your technique and aid you in setting up the gear that best suits you and what you shoot." In terms of using the service, it's pretty straight forward. Users enter a general search term like "portraits" and specify what focal length, aperture and shutter speed you want. Pressing a "Make Me a Contact Sheet" button on the page will then take you to your search results. This could definitely be a good learning tool for beginners. (via IR)