How to Ruin a 94k Lens and much more: RAWtalk 134
Download this weeks show as an MP3 Right Here.
Let's start off with the title story from Photo News where a rugby player decided after scoring to take out a sharpie and sign the camera persons lens. If there was a filter on the lens than it wouldn't be such a big deal. Since there wasn't, that just might cost someone a lot of money. You can hear the full story at 09:51.

What would have saved that cameras lens would have been pretty much any filter from HOYA. And if it were the EVO filter by HOYA the sharpie would not have left a mark and would have been able to be wiped right off without any issue. We picked up a bunch of HOYA filters to take to the Grand Canyon. We have everything from ND to Polarizers and everything else in-between. To learn more about this weeks sponsor please click here http://bit.ly/1Sx6lOB
Photo news was extra packed this week with stories ranging from that sharpie one to new Apple Computer products to a freaking DOG mount from Nikon. Be sure to check out the full photo news stories and more starting at 09:21
Last weeks show brought us situational questions for "Flying Solo" and since they were so good I decided to try it one more time. Take a close listen as you might find yourself in the same situation as the people asking questions.
Don't miss gear of the week as well as the Wheel of FRO to see if you are the lucky person who got to spin it.
***PSA for next weeks show*** Next weeks show will be released at least a day late. As soon as it's ready we will have it up and LIVE for you all to enjoy. In the meantime go back and listen to some older episodes that you may have missed.
00:00:16 – Show Intro
00:02:24 – Grand Canyon Discussion
00:09:21 – Photo News
00:45:01 – Flying Solo
01:21:42 – Gear of the Week
01:25:40 – Wheel of Fro
Here's all of Stephen's photo news stories in detail:
Did This Rugby Player Destroy a $94,000 Camera Lens?
A professional rugby player wrote on a $94,000 broadcast camera lens with what appears to be a black Sharpie marker at a recent game. The player, Collins Injera, scored his 200th try in the World Seven Series, and in celebration, ran over to the cameraman and signed both a rugby ball for the fans and his camera lens. Watch the whole thing below, do you think there was some sort of filter (polarizer/UV) on there? (via ESPN)
Apple Announce Macbook Pro Upgrade, Drop Price for 5K iMac
Apple unveiled an upgrade to their 15-inch Macbook Pro. The laptop will now have Apple's new force touch trackpad, enhanced graphics for its retina display, another hour of battery life, and flash storage that's nearly 3x faster. The new Macbook Pro is now available starting at $1,999. Apple also dropped the price of their entry level 5K retina iMac to $1.999 which in turn dropped the maxed out iMac price to $2,299 from $2,499. More good news for you videographers and photographers on the go.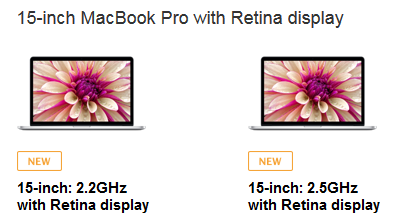 Microsoft Release Their Own Software-Based Hyperlapse App
The other big company in the industry, Microsoft, has released their own hyperlapse software for stable video called Microsoft Hyperlapse–how original…Here's how it works: users record video and import it into their hyperlapse program. Microsoft's special algorithm will help stabilize the footage, ignore the "long boring parts" and export a smooth edited hyperlapse. One of the group's researchers, Neel Joshi, says "rather than stitching together various pieces of frames, he created technology that looks for entire frames that have the most overlap with each other. Instead of just arbitrarily choosing every 10th frame, for example, the system might pick out the first, 12th, 18th and 29th frame." Users can specify a speed of 1x up to 32x and the exported video can be various resolutions and framerates. The software is available now for Android and Windows Phones (the still exist?!) along with desktop Windows users. This is very similar to what Instagram's Hyperlapse app offers, however Instagram's Hyperlapse uses hardware, accelerometers and gyroscopes to smooth out videos where Microsoft's platform uses software. Microsoft's version can be used on videos already taken too, while Instagram's has to record the hyperlapse video internally. Will you be trying this? (via PP)
Photographer Re-Shoots Historic Photos of NYC
A photographer named Jordan Liles traveled all around New York City to re-shoot scenes of some of the oldest surviving photographs of the iconic city. He started off by researching George Bradford Brainerd's work, a 19th-century photographer who shot 2,500 photos of New York in the form of glass plate negatives before he died in 1887. He decided he wanted to re-shoot the same scenes to showcase how New York has changed over the past 140 years. His main goal was to help spread the word about Brainerd's "mostly forgotten accomplishments." He says, "after seeing several articles around the web showing New York photographs comparing the 1960s to 2013, I asked myself: 'Instead of going back 50 years, what if we could compare today to the earliest surviving photos?'" He ended up completing the recreation of 28 of his photos, posting side-by-side before-and-after images that have the exact same composition. He did an entire behind-the-scenes project on the project too, posting a 6.5-minute short film (slideshow) and a 31-minute behind-the-scenes video of how he did it, which you can view below. It's very interesting to see how much the city has changed over the years… (via PP)
Photographer's Lens Causes Huge Crash at Top Italy Bike Race
A fan at Italy's top bike race, the Giro d'Italia ("Tour of Italy") caused a big crash this past week after letting his DSLR camera and lens hang too far past the barrier. Italian biker Daniele Colli rode into the telephoto lens, falling off his bike and causing a chain reaction of bike crashes. Colli ended up suffering a broken arm and race leader Alberto Contador was left with a dislocated shoulder. There's television replays that caught the moment of impact too which you can view below, showing the fan's lens hitting the biker's helmet. Colli later tweeted that the person who caused the crash should apologize to everyone for what happened. After looking at the footage, it appears that nearly every fan was over the barrier though, much farther than this particular photographer too… (via PM)
Tenba Releases "World's First Completely Collapsible Self-Stowing Camera Bag"
Tenba has released a new line of collapsible camera bags. The new Tenba Packlite bags are being called "the world's first completely collapsible, self-stowing camera bag." The main idea behind the Packlite is that photographers often take a ton of gear with them when they travel, but after arriving at their destination they need a smaller bag to carry around just a camera with a couple lenses. When collapsed, the bag virtually takes up no space and has no weight, but it can be expanded into a full bag in just a second. The bag itself takes up no room but to make it a complete bag, it does need to be paired with Tenba BYOB inserts. The bag features include a quick-access top zipper and a side mesh pocket for carrying accessories. The Packlite comes in four different variations. The smallest can carry a mirrorless camera kit and the largest can carry a pro DSLR body with a 70-20mm f/2.8 lens. Price wise, the bags will go from $20 for the smallest bag and $29 for the largest. However, the inserts range from $30-$60…Check out the full product video showcasing the new bag below; would you travel with this?
Nikon Creates Dog Camera Mount That's Triggered By Heart Rate
Nikon has created a dog camera mount that is triggered by heart rate. The company created the camera mount for their new "Heartography" project. The mount uses a built-in heart rate monitor to take photos of things that excite the dog (SQUIRREL!). Here's how it works: the mount system features two sides: the heart rate collar and the special camera case. The collar is worn around the dog's neck which monitor's its heart rate, and constantly sends the number to the camera case wirelessly via bluetooth. The camera case then displays the current heart rate on an OLED screen. Buttons next to the display will let you choose the baseline heart rate that triggers photos too. So whenever the heart rate hits its target baseline, a picture will be taken. Nikon tested the device on a dog named Grizzler, who they're calling a "PhoDOGrapher." The resulting pictures are of people's feet, other animals, and treats. No word on whether they plan on making this device available to the public just yet. Would you get one for your dog? (via NR)
Vintage BBQ Grill Made To Look Like Roll of Kodak Film
A recent eBay auction featured a vintage BBQ grill that was made to look like a roll of Kodak film. As far as its origin, according to the seller, this grill was a sampler promotional product created by a company called Echo Manufacturing Co. The grill is super small though, measuring just 16 inches tall with the round end being just 9 inches wide. The grill was sold by the eBay store edsvinylstore-collectibles for $150. American Pickers would be all over this thing! (via PP)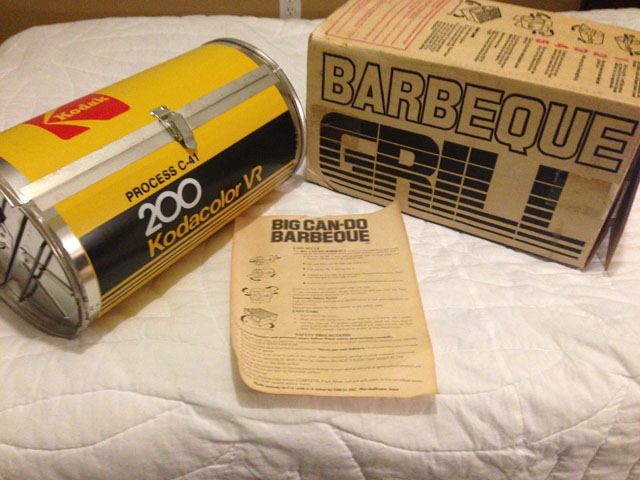 Family Recreates Classic Movies & TV Shows with DIY Photoshoots
Family photographers, Lily and Leon Mackie, recreated iconic movies and tv show scenes with common things found at home. The photos aren't manipulated really at all, minus your basic adjustment tweaks in Photoshop like brightness and contrast. Most of the heavylifting is done with their creative use of set design, camera angles and lighting. The couple says, "normally the sets take about 2-3 hours to build but some have taken twice that. We usually start them in the late afternoon/evening and take the photo at night when we have the most control over the lighting." They go on to talk about cost: "the budget is not a lot as we often reuse the same materials, furniture, and objects. Our only big purchases would be costumes, but even then they are usually purchased from thrift stores. A photo very rarely costs more than $30." The end results are super creative, ranging from Wayne's World recreations, to Breaking Bad, to Back to the Future, to Free Willy, to Napoleon Dynamite and much more. They have been nominated for a 2015 Webby award too, under the category "Things organized neatly," so feel free to vote for them here. Check out a couple of their images below and the rest via their website. (via PP)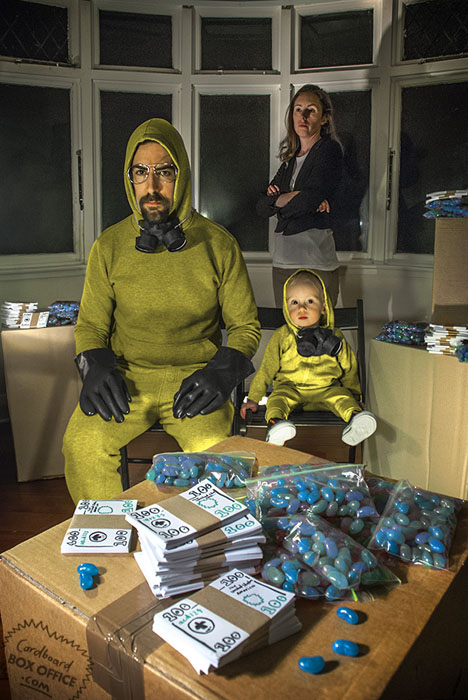 Photos via Carboard Box Office
Researchers Mine Web, Create Informative, Beautiful Time-Lapses
Scientists have created a new method to make timelapses with ordinary images found on the web. Researchers at Google and the University of Washington have figured out how to search the internet for photographs of the same thing, aligning them and arranging them in chronological order to create crowd-sourced mined timelapses like landmarks and cityscapes changing over time. Here's how they did it: they first gathered 86 MILLION photos from online and organized them into landmarks and popular viewpoints. They then sorted them by time-stamp and warped the images to match their views of the subject. And finally, they stabilized the sequence of images. In the end, the scientists discovered 10,728 different timelapses showing how different landmarks on Earth have changed over the years. There's some sample animated GIFs below that they produce, including the construction of a NYC building, a glacier melting in Norway, changing of the Vegas skyline and more. They say, "the scale and ubiquity of our mined time-lapses creates a new paradigm for visualizing global changes. As more photos become available online, mined time-lapses will visualize even longer time periods, showing more drastic changes." Check out their full published research paper here which gets all scientific if you want to know how exactly they pulled it off or watch the video below where they explain their process: (via TV)
Researchers Say Filtered Photos Are 21% More Likely to Be Viewed
Researchers say filtered photos are 21% more likely to be viewed online than their original unprocessed shot. Yahoo Labs did the study, which they wrote about in a new paper titled "Why We Filter Our Photos and How It Impacts Engagement." They analyzed 7.6 million images on Flickr and found that filters boost engagement. In addition to being 21% more effective, filtered photos are 45% more likely to be commented on as well. Here's a tip: they say warmer filters that increase contrast and correct exposure boost engagement the most, while cooler filters are generally less engaging. Do you agree? They go on and say that casual shooters generally use filters that drastically transform their images with bold effects, while professional photographers use filters for mild corrections, adjustments, and effects. HASHTAG #NOFILTER (via PP)

PSA Warns People About the Dangers of Using Selfie Sticks
A new PSA regarding the dangers of using selfie sticks is now online and it's actually from Pizza Hut. The parody video warns that "egotastic specimens of visual self obsession are in danger" due to the use of selfie sticks. The PSA warns that "by moving the camera away from the central subject of the selfie, selfie sticks create the illusion that other objects, places and even people exist. The curiosity generated by this new point of view leads our self focused friends out into a much wider world, and that…leads to disaster." They warn that selfie sticks are growing in size, doubling and tripling in length, which is "very dangerous." The parody video ends with: "if you know someone who is gracious enough to share themselves with the world…wide web, over and over and over again, share this video with them. After all, what would we do without your daily outfit updates, complete with duckface lips taken in your bathroom mirror." Check it out below in all of its glory: (via PP)
Beer Brand Asks Wedding Photographer for Photo Usage For National TV Campaign Over Facebook
Wedding photographer Nikki MayDay Guardascione warns photographers to be careful when a big brand asks to use your image. She posted a photo of a bride surrounded by groomsman pounding down Miller Lite beer cans on her Facebook page. Miller Lite came across the image and sent a message asking to share it. The message implied that they would be sharing it on their social media outlets in exchange for promotion. She said she would allow it if they linked back to her social media accounts. Well, she then asked for details and the followup message notified Nikki that it would be used in advertisements on TV. Now herself being a former photo editor for AOL and NBC news, she knows how it should work–compensation wise. She says she isn't happy with how they worded the initial request. She says, "Miller Lite is being very misleading in their pursuit to photographers to use their photographs for free in a major television ad campaign, not even for credit, but for 'pride'." Moral of the story, you could be agreeing to a lot more than you think… (via PP)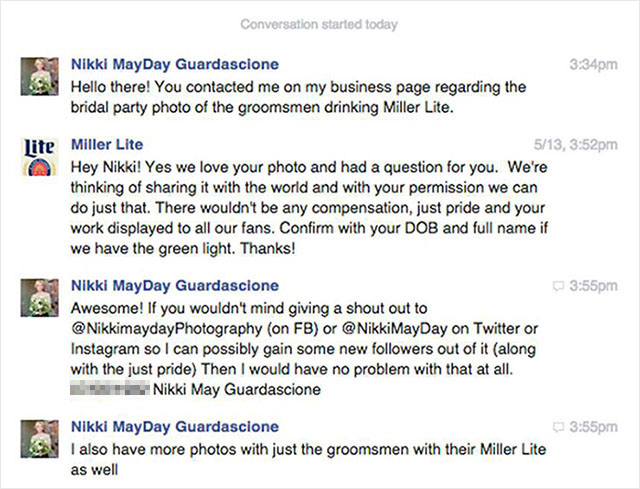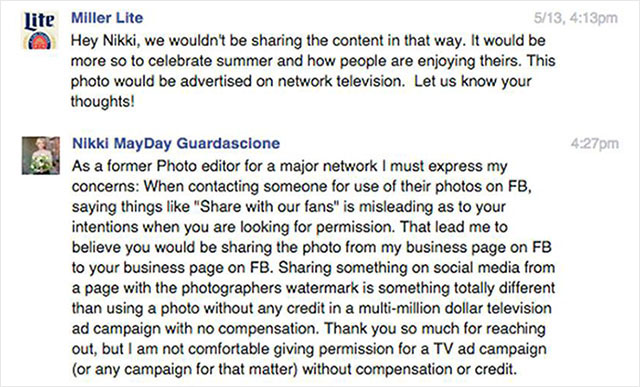 Always Read the Fine Print When Giving Photo Usage
A very similar incident occurred with a user on Instagram. Photographer Tom German had a comment by Samsung UK on one of his photos taken with the Samsung Galaxy S3. They asked is they could use it to show what their products look like and to reply #yes to agree to their terms. Here's where it gets fishy, the link to the terms says you're guaranteeing that you have rights to the photo and permission from all people seen in it. If Samsung runs into ANY copyright or model release legal issues, YOU'RE agreeing to take the hit versus Samsung. On top of that, you're giving Samsung permission to use the photo for free, for any and EVERY purpose. You may or may not be credited, and Samsung can even transform the image which you don't have the right to give the final yes to. Also, they can transfer that license to anyone else if they want to. That's a lot to agree to with a simple "#yes". (via PP)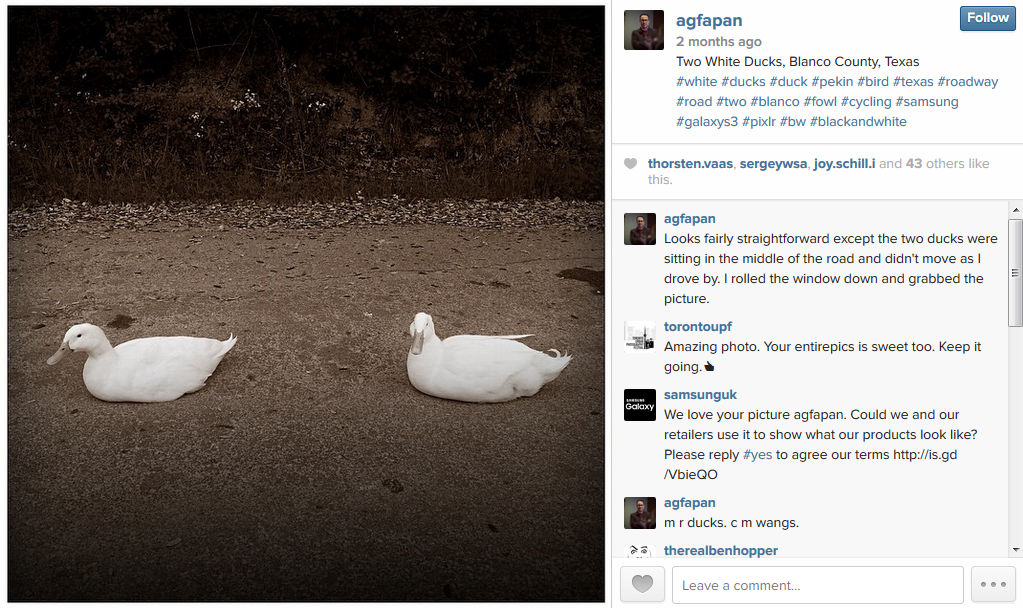 Photo via Tom German