Is Wedding Photography a DEAD business? Cliff Mautner Interview: RAWtalk 136
Click Here to download this weeks episode as an MP3.
I had the chance to have arguably one of the best Wedding Photographers in the world Cliff Mautner into the loft for a little sit-down discussion. Cliff does not hold back on his thoughts on the current state of wedding photography or anything else for that matter.
But what I love about the interview is it's no BS. It's honest, it's to the point and it's filled with solid gold nuggets of information that you can cash and take to the bank. Don't let our discussion dissuade you from going after weddings. Let it be a guide to help you navigate the sometimes turbulent waters of wedding photography and not let you get sunk.

Heed the warnings, take them to heart, learn from them and you will find your way to the other side. http://www.cmphotography.com/
PLUG TIME: This weeks sponsor is RODE Microphone, we absolutely love our Rode Broadcasters which CRUSHED I mean CRUSHED it while out at the Grand Canyon. Do you remember the MyRodeReel.com competition where you could enter to WIN over $200,000 in prizes? Well all the submissions are in and it's your turn to VOTE and check out all the submissions RIGHT EHRE http://www.rode.com/myrodereel
Stephen loaded up on Photo News this week, gear of the week brought us a bag from MindShift Gear and we SPUN the Wheel of FRO twice. The winners are Mike Hall (RODE mic) and Kaleb Autman (Fro Guides)
Thank you for your continued support and don't forget to subscribe to the podcast on iTunes so you can get notified of as soon as new episodes go LIVE on Monday's.
00:00:16 – Show Intro
00:04:28 – Grand Canyon Recap
00:10:16 – Photo News
00:36:20 – Cliff Mautner Interview
01:15:41 – Gear of the Week
01:18:23 – Wheel of Fro
Next Box Office Hit: "The Drone"
A new parody horror movie trailer featuring a drone is now online, simply called "The Drone." The drone, which is a DJI Phantom 2, plays the cliche possessed evil creature that you see in so many horror movies these days. Filmmaker Jordan Rubin, who recently directed the horror comedy Zombeavers, is behind the fake film trailer. Watch below as it kills the dog, flies without its battery, paints blood messages on the wall and much more. Hilarious! (via DIYP)
VIDEO: Enrique Iglesias vs The Drone
Moving on to a real life drone horror story, singer Enrique Iglesias was injured by a drone at a recent concert of his. He was performing in Tijuana, Mexico at a 12,000 capacity venue when a drone flew over him and he attempted to grab the camera to change its point of view to him and the crowd and the copter nicked his hand, going out of control and slicing his hand up. Luckily, it looks like he held on to it for another second to look for a safe place to toss it, quickly throwing it into the hopefully emptied pit right after. His team ended up treating his hand on the side of the stage immediately after the incident. He was advised to cut the show short but he kept performing with a bloodied wrapped up hand for another half hour. There was actually so much blood that he ended up having blood all over his chest as he pounded the microphone on it. He was later rushed to a specialist in LA where he was treated. The drone being used was owned and operated by his crew too, not some random fan. His publicist says it's a planned part of the show where he grabs the drone out of mid-air and turns it to face the crowd. Watch fan-shot video of the incident below; ouch: (via CNN)
Steve McCurry's Assistant Arrested For $600K 'Afghan Girl' Art Theft
Steve McCurry's assistant has been arrested in connection with stealing prints, books and various items from his studio. The total amount in theft equals a whopping $654,358! The case, called the "'Afghan Girl' Art Theft," states that 32-year-old Bree DeStephano "casually abused her position of trust to make some easy money, without a thought to the damage to Mr. McCurry." DeStephano was McCurry's manager of fine art print sales. She's accused of stealing 50 limited edition photo prints worth $628,000 between May 2012 and November 2013. She would have them shipped from his Long Island city studio to his other studio she worked at. The photos were then allegedly sold without McCurry's authorization in which she supposedly pocketed the money. She's also accused of stealing 233 books, valued at $23,196, and sold under "various aliases" on different websites. Bail is currently set for her at $250,000. (via NPPA)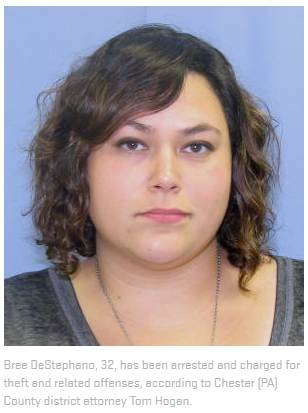 SuicideGirls Fire Back at Richard Prince for Stealing Instagram Photo
Speaking of stolen work, a victim to Richard Prince's latest overpriced sales has stepped forward and responded by selling the same art work for a much cheaper price. Missy Suicide, co-founder of SuicideGirls, is now selling one of the photos that he stole from their Instagram feed and sold for $90,000, for just $90. Missy says, "everyone has been asking me what I thought about famous controversial artist Richard Prince taking a series of SuicideGirls Instagram posts and printing them out and selling them at a recent gallery show at the Gagosian Gallery of Beverly Hills for $90,000 a piece. My first thought was I don't know anyone who can spend $90,000 on anything other than a house." She adds, "as to the copyright issue? If I had a nickel for every time someone used our images without our permission in a commercial endeavor I'd be able to spend $90,000 on art." She ends with, "do we have Mr. Prince's permission to sell these prints? We have the same permission from him that he had from us. […] I hope you love them. Beautiful Art, 99.9% off the original price." The new print is the same size, same materials–everything, 67×55-inch inkjet print on canvas. The description on their sales pages reads, "Richard Prince sold our Instagram picture in a Beverly Hills gallery for $90,000. We thought that was a bit much so we are selling the same print for $90." Prince responded via Twitter with, "much better idea. I started off selling my 'family' tweets for $18 at Karma not to long ago. Missy Suicide is smart." The print is now available at the SuicideGirls' online store, and all profits from the sales will be donated to the Electronic Frontier Foundation. Will you be buying one? (via PP)
A photo posted by SuicideGirls 💋 (@suicidegirls) on
Introducing the Official 11-Year Timelapse of One World Trade Center Being Built
With One World Trade Center opening its doors to the public for the first time this month, the official 11-year timelapse of the iconic building being built has been released. EarthCam posted the 2-minuite timelapse of the construction, which started in October of 2004 and ended this past Memorial Day. All of the photos and the original "megapixel construction camera" from the timelapse have since been donated to the National September 11th Memorial Museum. EarthCam CEO & Founder Brian Cury says, "I hope it serves as a way to recognize that for the ten years of construction, there was constant progress made to rebuild these important 16 acres of America." (via PP)
GoPro Adds an LCD Screen to Their Entry-Level GoPro
GoPro has officially added the new HERO+ LCD edition to their Hero action camera lineup. The new camera now sports an LCD screen. Previously, only the Silver edition only had this function. Similar to the entry level HERO, the HERO+ LCD is integrated into its waterproof housing. However, it has gotten a bump in resolution: it now shoots 8 MP stills vs the original 5 MP and does 1080P at 60fps where it only did 720P at 60fps before. It now has built in WiFi and Bluetooth connectivity similar to its big brothers. Also, it now supports 64GB MicroSD cards, where the original only supported up to 32GB. It'll be available this week in the U.S. and July 12 internationally for $299.99. Will you be upgrading?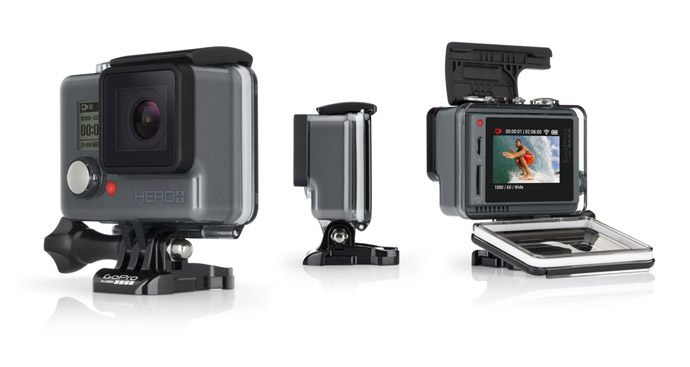 GoPro + Google Team Up & "Jump" Into Virtual Reality
On the topic of GoPro, Google has teamed up with the action cam company and announced Jump, their first "jump" into virtual reality. The new 360-degree virtual reality platform will use raw video footage to assemble a 3D virtual reality space. To make this work, they partnered with GoPro, who has made the first Jump compatible camera, which they're calling the 360 Camera Array. The new camera setup will link together 16 GoPro Hero 4 cameras in a circular formation (which adds up to about $8K). It'll features camera syncing, frame-level synchronization, multi-camera control and long battery life. It'll let you then capture a 360-degree POV, which you can then bring into the Jump assembler to create your stereoscopic virtual reality video. They say the final video will be ultra high resolution too, being the equivalent to FIVE 4K TVs playing at once; wow. No word on pricing on the camera just yet, but the software will be launching this Summer. The Jump videos will also be viewable on YouTube later this Summer. (via Engadget)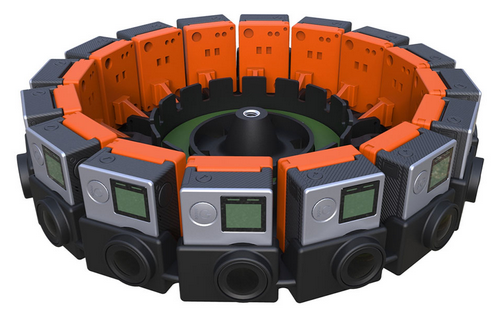 This Telescope is Made Up of 10 Canon Lenses, Worth Over $100K
The University of Toronto showcased their astronomical telescope that features a TON of big glass. Instead of using a single lens, the telescope–called the Dragonfly Telephoto Array–features 10 Canon 400mm f2.8L IS II lenses that add up to about $100,000! The telescope was initially created back in 2013, but started off with only three lenses. More have been added since which improves its ability to detect faint details around distant galaxies. It is designed for ultra-low surface brightness astronomy at visible wavelengths. According to the university, the Dragonfly can actually see things that the "largest, most advanced" telescopes can't thanks to the nano-coatings found on the optical glass, which helps to reduce scattered light that get in the way of details. The use of multiple lenses also help overcome unwanted light interference since the images from each lens can be compared with the others. They say it's 10x more efficient that its rival telescopes too. If you're interested, check out their research papers and more scientific details about it over on their official website. I wish I had one of these bad boys… (via PP)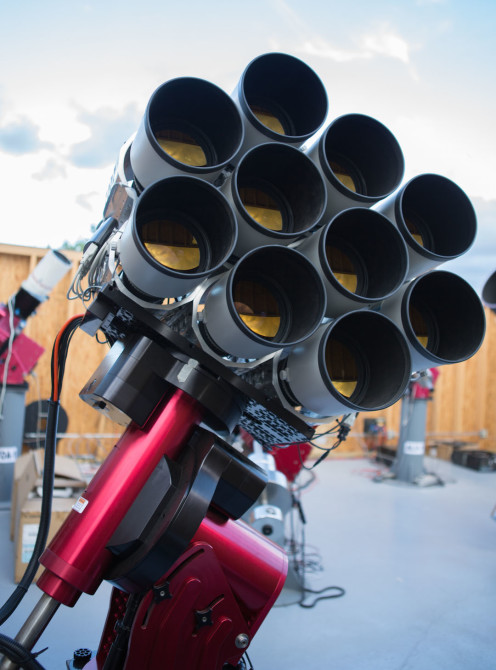 Google Offering Free Unlimited Photo Storage with New "Photos" Service
Google is now offering free and unlimited storage with its new Photos service. Completely separate from Google+, they say it's "a single, private place to keep a lifetime of memories, and access them from any device." Photos will let you store unlimited, "high quality" images and videos for free. Down to the details, that's up to 16 MP photos and 1080P videos. Google will store higher-resolution files as well, but they'll count toward your Google account's 15GB of free storage, so it won't be truly "unlimited." They do say they "store compressed versions of the photos and videos in beautiful, print-quality resolution." Also they say, "your stored video will look close to the original." Compression is obviously involved, so it may not be the best option for photographers. The new platform also has built-in organization too: everything you upload is automatically organized for you with groups and labels. It also has an auto enhance feature which I'm sure most of us photogs won't use. Plus, it has something called an Assistant view, which helps you easily create collages, animations, movies and more. Meanwhile, there's a built-in auto upload feature for mobile devices for automatic backup. And we can't forget about your standard sharing options too, so you can tweet and Facebook your images as well as link out to albums and individual pictures. Google Photos is now available on iOS and Android along with their desktop platform.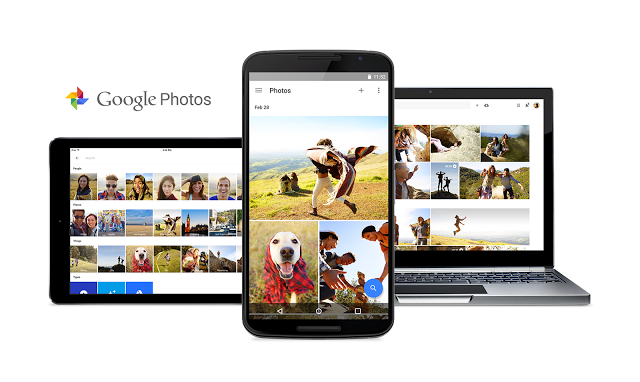 Adobe Adding "Dehaze" Slider to Lightroom
Adobe is adding a new "Dehaze" tool to Lightroom in the near future. The tool will help you reduce or remove haze from an image and recover color, detail and contrast. The new slider defaults at "0" so you can also use it to add or increase the haze of an image, not just remove it. Check out a quick preview video of the tool in action by Terry White below. No word on when it will come to Lightroom CC, all they say is "very soon." (via PP)
GoPro Confirms They're Making Their Own Drone
More GoPro news: it's official, the action cam company's founder and CEO Nick Woodman, announced this past week that GoPro is building its own quadcopter, and that the drone is set to launch in the first half of 2016. The drone will be in direct competition to DJI and other drone companies as Woodman emphasizes that they're a "consumer focused company." He goes on and says, "the quad is in some ways the ultimate GoPro accessory." He notes that drones are core enough to their business for it to make sense to go out and build their own. No word on pricing or exact availability yet, but it is finally official! Welcome to the drone world, GoPro! (via The Verge)
Here's Nick Woodman of @GoPro announcing the company is making a quadcopter. #CodeCon pic.twitter.com/YK1YDvktP6

— Re/code (@Recode) May 28, 2015