SONY is making major MOVES: RAWtalk 137
This was a big week for Photo News with most of it centered around SONY announcing some new cameras that are sure to shake up the photo industry. What SONY has done is spent the last decade or so carving out their niche. I get asked all the time why I don't like "mirror less" cameras. I don't dislike them I just don't think they are there yet. Do you notice what is going on with the new Sony A7, the grip has gotten larger, the buttons have shifted and it's taking on a large feel. What you're going to see is the best of both worlds come together in the next 10 years.
ATOMOS ATOMOS ATOMOS, this weeks sponsor is Atomos and they were featuring the "Action Pack". Check out more information about it right here. http://atomos.com/ . We use the Atomos each week when we are in the studio. It allows us to take just about any DSLR and via HDMI get a clean signal out allowing for recordings longer than what a normal DSLR will give you. You have to check them out if you haven't done so yet.

This week we brought something new out for the show and it's also our gear of the week. We used the Redrock Micro "One Man Crew" director. You have to check this thing out if you are a one man band looking to add some motion into your videos. http://store.redrockmicro.com/OneManCrew.html
We had a few weeks off from Flying Solo so this week we brought it back to answer your questions followed by the Wheel Of FRO.
Don't forget to check out all the photo news and more over at FroKnowsPhoto.com/rawtalk-137
Show Intro: 00:00:16
Photo News: 00:06:30
Gear of the Week: 00:37:27
Flying Solo: 00:40:02
Wheel of Fro: 01:11:35
Here's all of Stephen's photo news stories in detail:
Apple OS X El Capitan to Improve Rendering Time in Adobe CC Apps
Apple had their annual WWDC conference this past week and announced the successor to Yosemite, which will be OS X El Capitan, version 10.11. The update will be focused on performance and user experience. With the upgrade comes faster rendering of graphics with Apple's new Metal framework which they say will be 40x more efficient than OpenGL, reducing CPU load and improving battery life. Apple says, "Metal provides the lowest-overhead access to the GPU, enabling you to maximize the graphics and compute potential of your apps on iOS and OS X. With a streamlined API, precompiled shaders, and support for efficient multi-threading, Metal can take your game or app to the next level of performance and capability." Adobe says they will be adopting Metal into all of their OS X apps, which in turn will make each app much faster. For example, they did tests with After Effects which showed an 8x improvement in rendering speed. No word on whether it will benefit photographers that much, however with Lightroom CC now utilizing the GPU more, there's sure to be a speed bump in that department. El Capitan is currently available to developers and will see an official release to the public this Fall.
This Leica Sniper-Styled Prototype Camera Gun Is Up For Auction
A rare Leica camera rifle prototype is now up for auction. The sniper-style camera gun is up for sale at this year's WestLicht photography auction for a starting price of €150,000 and is expected to hit €350,000 (~around $394,000). It's currently set at €220,000 with 2 bids already placed. The camera is in perfect working order in its original condition too. The photo gun comes with its own carrying case which comes complete with a mirror housing, a bayonet mount viewfinder, a camera body, two lenses with hoods, and a special red lens case. As far as the camera's background goes, this particular rifle camera was originally delivered to Ernst Leitz New York sometime between 1937 and 1939. It was then purchased and owned by a man named Mr. Pojol, who lived in Venezuela from 1937 through 1989. The best part? The shutter is where the gun trigger would be–how sweet! (via LR)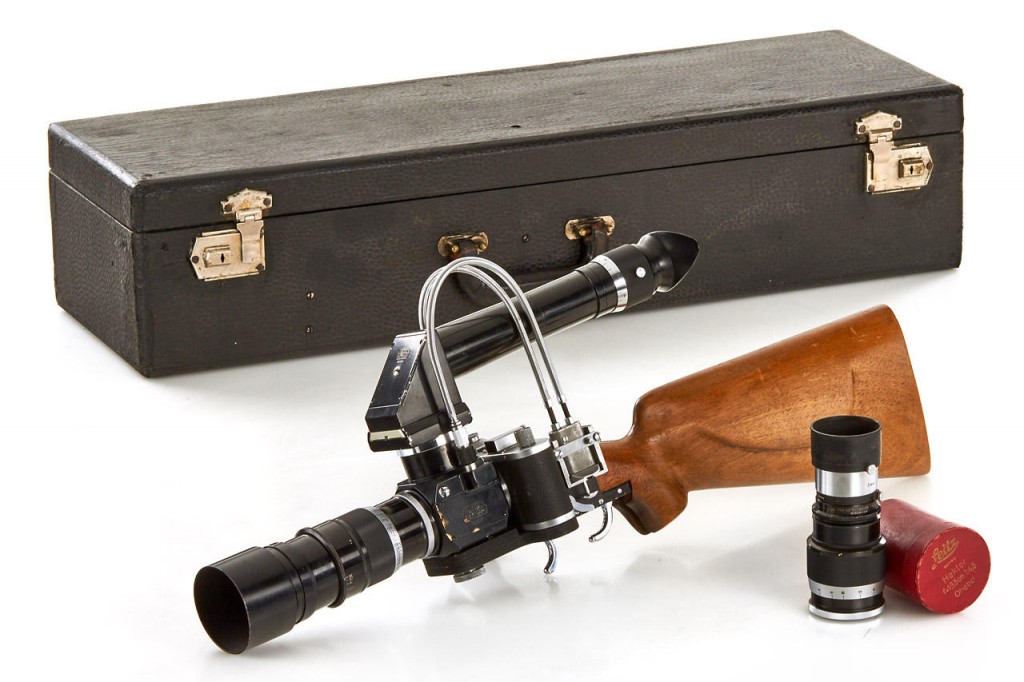 Introducing the Brand New Leica Q
Speaking of Leica, they announced a new camera line with their brand new Leica Q (Type 116). The 24 megapixel full-frame compact camera brings "iconic Leica features" to a new type of body. Spec wise, it has a native ISO range of 100 to 50,000, can shoot 10fps at full resolution DNG raw, full HD video at 60fps, has a mechanical shutter that fires up to 1/2,000s shutter speeds, with an electronic shutter option giving it shutter speeds of up to 1/16,000s. It also has built-in WiFi, live view, focus peaking, super fast autofocus–they say the Q has the fastest AF performance of all full-frame compacts currently–SD card slot, an aluminum top frame with a magnesium alloy body–the overall design is based on their iconic M Series. It comes with an image stabilized Summilux 28mm f/1.7 ASPH lens (which has a 17cm minimum focusing distance and macro mode). It also sports a 3-inch touchscreen LCD and a 3.68MP electronic view finder. What's special with this EVF is that it can frame lines for 35mm and 50mm shots using the "digital frame selector" feature. The Q can also save the 35mm or 50mm images as JPEGs while still saving a RAW copy of the entire 28mm shot. It's also the highest resolution EVF when compared to all other mirrorless cameras. It is available now for $4,250 and it comes with a FREE copy of Lightroom 6. Check out sample images from the camera over on their website. What do you think about the new Leica Q?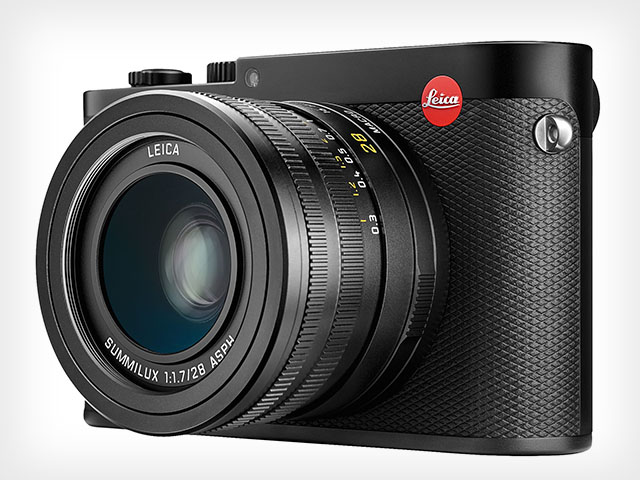 Sony's New a7R II Can Shoot 4K Internally
On the other side of mirrorless, we now have the brand new Sony a7R II–the worlds first back-illuminated full frame sensor camera. This thing's a beast: the back-illuminated sensor shoots 42.4MP images at a top ISO of 102,400. More specs include a BIONZ X Image Processor, a 40% faster autofocus response time compared to its successor. It can achieve this because of its 399 phase detection AF points and 25 contrast points. Sony says the backside illumination allows the camera to have both high resolution and high speed/sensitivity, instead of having to choose one or the other. It has a silent shooting mode, a Weather-Resistant magnesium alloy build, and both WiFi and NFC connectivity. It's also much faster at writing files, being 3.5x faster than the a7R, and has the same 5-axis body image stabilization found in the a7 II. It shoots 5fps, lacks a low-pass filter, given the R in the name. It has a shutter that reduces vibration by 50% and has a lifespan of 500,000 shots. Video wise, it can now shoot 4K in camera in multiple formats including Super 35mm and full frame. It has professional video workflow features too including Picture Profile, S-Log2 Gamma and S-Gamut, 120fps high frame rate movie shooting in 720P, time code, clean HDMI output and more. It'll be available this August with a starting price of $3,200. Check out sample footage of the internal 4K video below: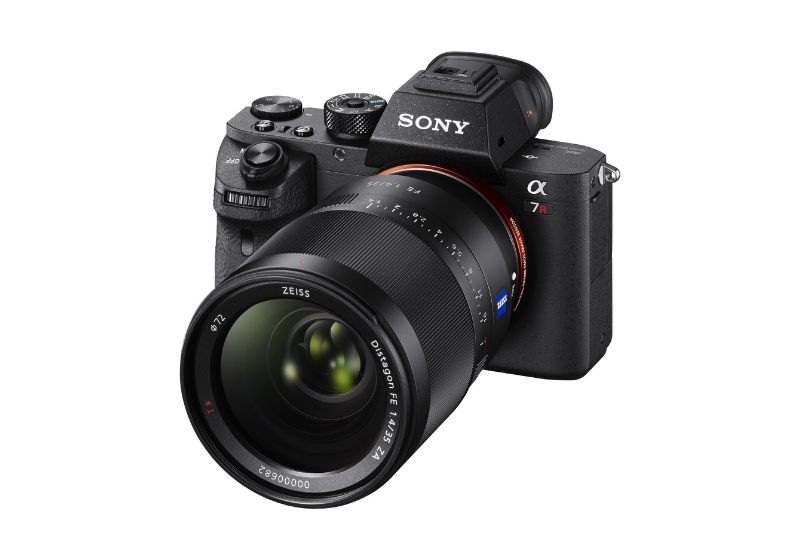 Sony Upgrades their Compact Camera Line with RX 100 IV + RX 10 II
In addition to the a7R II, Sony also added more cameras to their RX lineup: the RX100 IV and the RX10 II. Sony says both cameras sport "the world's first 1.0 type stacked Exmor RS CMOS sensor with advanced signal processing and an attached DRAM memory chip," which allow for 5x faster image readout and other high-performance photo and video capabilities. They both also offer 40x super slow motion video capture. Users can now choose frame rates of 960fps (at 1280×800) (which 2 seconds at 960fps takes 80 seconds to play back at 24fps!), 480fps (at 720P), and 240 fps (at 1080p). Both cameras can shoot 4K as well. They both have incredibly fast still shooting modes too with a 16fps burst mode on the RX 100 IV and 14fps with the RX 10 II. The RX100 IV and RX10 II will be available starting in July for $1,000 and $1,300. Will you be getting one of them?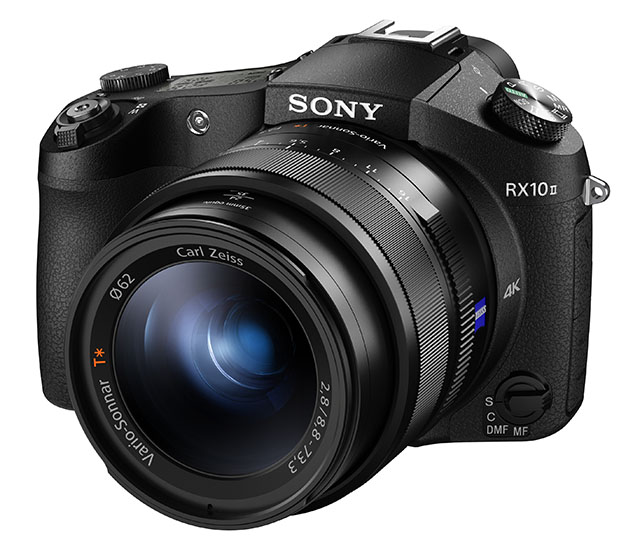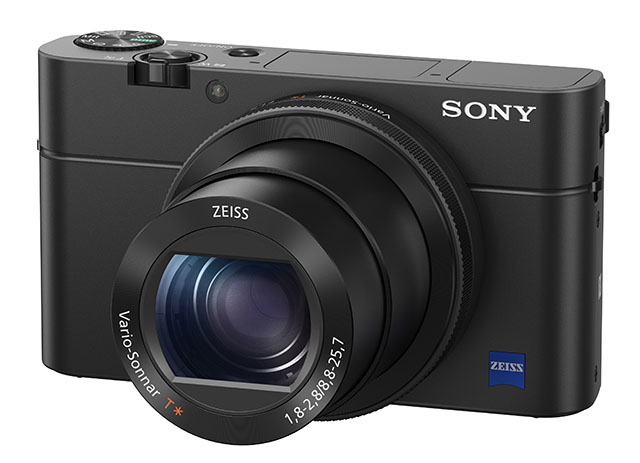 This Fly Was Found Inside a Weather-Sealed Lens
Well this is extremely unusual, Roger Cicala over at LensRentals found a fly INSIDE a weather-sealed lens. It wasn't easy to get out either, he notes that the fly was so deep inside that it took FOUR hours of work to get it out. The lens that his associate dismantled was a Canon 24-105 f4 IS. He says, "being in the middle of the lens with lots of glass elements on either side, it was much more difficult to photograph than it was to see visually." He adds that, "weather sealing isn't ever true sealing. There is no lens made for cameras that doesn't have openings that air, dust, and other things can flow through." He wraps up his article with, "the takeaway message, though, is in the picture you can't see here. We took dozens of images with the lens before taking the fly out. We shot stopped down, we shot at all parts of the zoom range. We focused close, we focused far. And in no image could we find the slightest hint that there was a fly in the lens. And you guys worry about a dust particle or two!" He notes that they also found a spider, complete with a web, inside a lens once! Check out some of the macro photos they shot of the fly here; crazy: (via PP)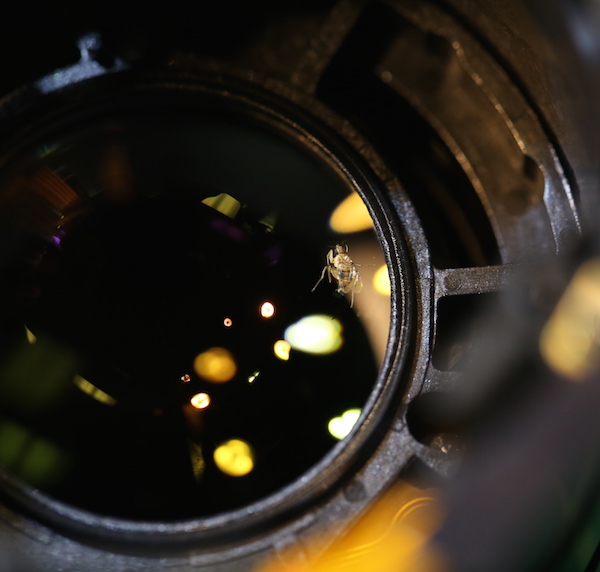 Photo: Darryl Bolin / LensRentals
This New Browser-Based Film Emulator is FREE
There's a new browser-based film emulator that's FREE by Software developer Jonas Wagner. The web app lets you give any photo the look of a specific film stock. Everything is done within your browser too, so you're not actually uploading your photo to Wagner's server. Here's how it works: you choose your photo, pick from the huge list of various film stocks, and then adjust brightness, contrast, vibrance, grain, color temperature, vignetting and more with the built-in sliders. Then if you like what you've edited, you simply click the download option at the top of the screen which saves the edited photo onto your computer. It also gives you advanced controls like adjusting your JPEG quality. The only thing I wish it has is a realtime preview as your adjusting sliders, and an undo button. You can read up about the details of how the site came about via Wagner's blog. What do you think of it? (via PP)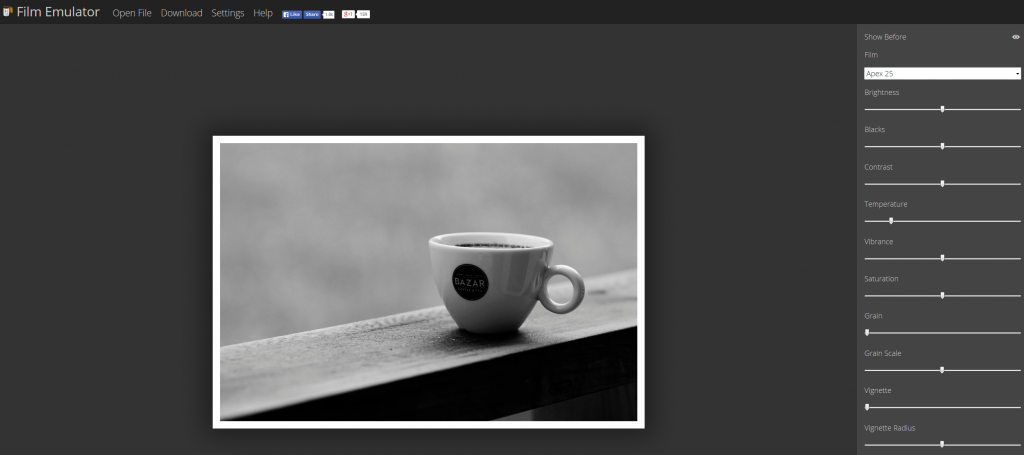 YouTube Now Hosts 8K Video
YouTube now officially hosts 8K video–or 4320P (never thought I'd write that…). Users report that the supported playback of the insanely huge resolution videos plays well in Chrome, but struggles in other browsers. One of the first 8K videos, titled Ghost Towns, is now available for viewing below if your GPU can handle it. YouTube is certainly ahead of the game as there's only a very select few cameras that can even record 8K and TVs and monitors that can truly display it… (via 9to5G)
Kate Middleton Took Her Own Royal Baby Portraits
Rather than hire a photographer, Kate Middleton–a photography enthusiast herself–shot her own royal baby pictures. The royal couple released a set of four portraits showing off their youngsters, 2-year-old Prince George and his new sister, Princess Charlotte. According to The Telegraph, the photos were captured using a Canon 5D Mark II. The photo editor at the Telegraph notes that Kate used a fairly wide aperture for a shallow depth of field, and that the lighting for the portraits is "technically excellent." Kate actually studied photography as part of her art history degree from St. Andrews University too so she's not necessarily a n00b. Check out the photos here, how'd she do? (via TT)
Drones Are Out, Remote Control Submarines Are In
Not only are cameras remotely controlled in the air these days, they're now in the water too. Introducing the Seawolf, a remote control submarine that's designed to carry a small camera for underwater photos and videos. The submarine was created by company TTRobotix. It's a 17 lb, 70cm-long sub that can dive down to eight meters and live stream video for POV piloting. The built-in battery will allow it to stay underwater for up to 50 minutes. The 5-blade propellers allow the sub to travel at a speed of 1.8 knots (~2 mph). It features a mounting plate on the front that can fit a GoPro (which is their "recommended camera") so don't expect to mount your DSLR in this thing. It'll be available this August and will come in salt and fresh water versions for $999. The upgraded version comes with an 8-inch TFT LCD screen with LED backlight for the remote too. The standard version just uses your smartphone to monitor similar to a DJI drone. Check out a preview video of it in action below: (via CNET)
Tric is the World's First "Professional" Flash Trigger for iPhone
Welcome Tric, the world's first "professional" flash trigger for iPhones. The Kickstarted Tric system includes a physical unit that you connect to a speedlight or strobe via the hot shoe mount or PC terminal. It's paired with a camera app that tells the unit to trigger the flash every time you press the phone's shutter. It syncs the flash via Bluetooth which Tric says is synced perfectly. Tric says, "it took quite some time to figure out how iPhone camera is capturing its images, and calculate the various transmission time spent in protocol layers." The limitation, however, is that the shutter speed is limited to 1/30 second, which Tric says, "is the fastest we can achieve with current iPhones." It is also X-sync only and not TTL, so you will have to manually adjust your flash's output power. It's iPhone only too, with no plans to launch an Android version. They say, "yes, these limitations mean that Tric is not for everyone. But we are confident that those who are serious about using iPhone for photography, and enjoy their own lighting arrangement will love Tric." The Kickstarter's goal of $28,114 is still a ways away to getting funded with only about $3,500 pledged so far at the time of writing this article and about three weeks to go. A pledge of $75 will get you the Tric unit which will ship in December if it reaches its goal. Are you an "iPhone Photographer?" (via DPR)
This Website Identifies The Bird Species In Your Photograph
A new website called Merlin Bird Photo ID can identify the species of the bird in a photo. The site is currently capable of recognizing about 400 of the most commonly encountered birds in the United States and Canada. In terms of accuracy, the service is currently able to suggest the correct bird species in the top 3 results about 90% of the time, and it will only get better as more and more people use the service. Here's how it works, you upload the photo, draw a box around the bird and click on the bill, eye and tail. The Merlin system can then generate its best guesses in just seconds. Once the developers of the site feel confident that it is 100% accurate, they plan to launch the technology in their smartphone app. Are you a bird photographer? You should definitely look into this site! (via Engadget)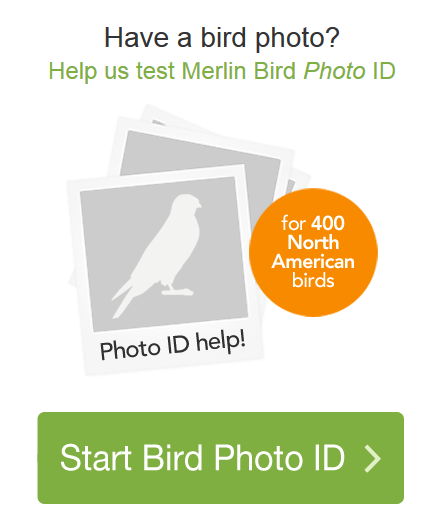 Joey L Documents Trip to Kurdistan Region with Guerrilla Fighters
Photographer Joey L traveled to the Kurdistan region of Iraq and Syria (BY HIMSELF) back in March for a personal project which he documented via a pair of GoPros and his medium-format camera. He was stationed with the Kurdish guerrilla groups who have been fighting in the Syrian civil war to protect both their people and land. He says, "I set out to uncover the truth, or at least to better understand the nuances behind the headlines." He adds that "Portrait photography has a strange way of humanizing even the most distant of situations, and that was my goal with this project." Joey captured the whole project with GoPros and put together an entire behind-the-scenes 30-minute documentary called "Guerrilla Fighters of Kurdistan". He took portraits along the way which are posted here on his blog along with a lengthy detailed post of his crazy trip. Check out the doc below, what a story!