Something Gets Filled: RAWtalk 139
It's generally not easy coming up with titles for RAWtalk Episodes and this week was no exception. So here's what we had, a seat got filled, I RANTED slightly, we had no main plug, we flew solo and we had a cool gear of the week. If you can pull a title out of all of that please let m know.
Photo news this week was filled to the brim once again. If you missed my Rant on the Taylor Swift photo contract you will be filled in this week. Flying solo brought out some great questions as usual so I hope you find some nuggets in my answers.
Thank you guys again for your continued support of each weeks episodes. We could not do it without you.
LEXAR is the official card of FroKnowsPhoto RAWtalk.
00:00:16 – Show Start
00:07:20 – Photo News
00:44:55 – Taylor Swift Photo Rant
00:58:15 – Flying Solo
01:31:54 – Gear Of The Week
01:39:40 – Wheel Of Fro
Here is the 360 camera view. You must be on Chrome on a desktop to make it work with the 360-degree control.
Introducing the World's Widest 1:1 Macro Lens
A new lens called the Venus Laowa is now the world's widest 1:1 macro lens. The lens is a 15mm f/4 macro lens–the "first 1:1 macro lens with a 110 degree angle of view." The len's minimum focus distance is 0.47cm, so you'll be nearly touching the subjects your photographing with it. Venus says, "photographers can focus very close to the subject and let the foreground dominate in the photo but at the same time, have the background telling viewers about where and how the subject lives," (ie. a spider in the grass, a cat in the city, a frog on a tree). Also, on the back of the lens is a shift mechanism that allows adjustments of 6mm, allowing photographers to correct distortion for landscape and architecture photography. Spec wise, it has a 77mm filter thread, a metal body, and a 14-blade aperture. It'll be available next month in Canon EF, Nikon F, Sony A, Sony FE, and Pentax K mounts for $479. Check out some sample images here and sample video taken with it below. Will you be getting one?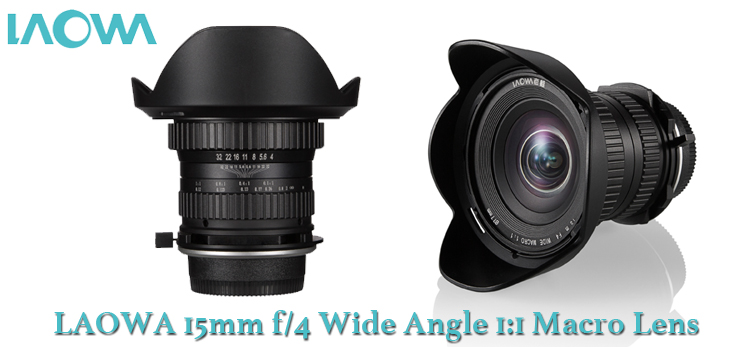 Ultra-Rare Vincent Van Gogh Photograph Up For Auction
A group photo featuring Vincent Van Gogh in it is considered to be the first ever photo of him after he became an artist, and went up for auction this past week. The photograph, which measures just 8.8×11.9cm, dates back to 1887 and features Van Gogh at a round table with five other people. The image was discovered by two individuals who had purchased it at an estate sale. It was then brought to French photo expert Serge Plantureux's attention. He and several of his photo expert friends began investigating the photo, which was mounted on a piece of black cardboard. Things they looked into included the photograph's creation process, the identity of every man seen in the shot, the time and place of the photo, and the photographer behind the shot. According to the auction listing, the photo is by Jules Antoine and was initially estimated to sell for around $136,000 to 170,000. However, the auction did not meet its reserve price of $136K though, since some experts are disputing the fact that its Van Gogh. Although negotiations have been taking place with a collector in Manhattan apparently. The photo was sent to the Van Gogh museum in Amsterdam for their opinion. The museum's photograph expert was clear: it cannot be the painter because it simply does not look like him. Also, Van Gogh hated photography as a medium and refused to be photographed, hence why there's no photos really of him. As a side note, the only confirmed photographs of Van Gogh show the painter as a child, plus one of him as an adult sitting and shot from behind. Do you think it's him? (via Phogotraphy)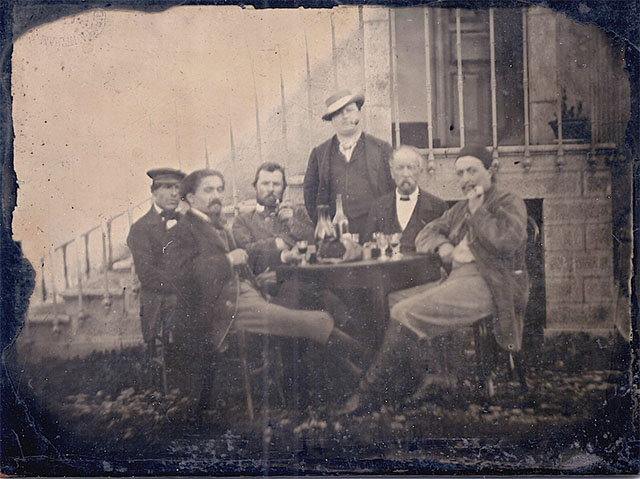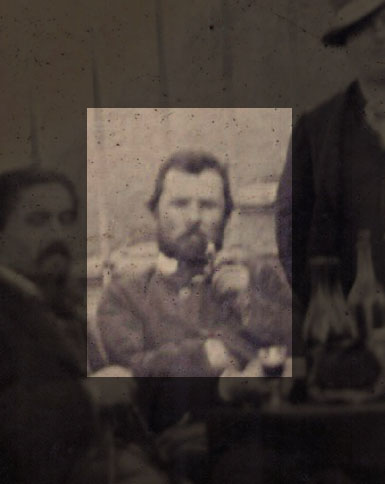 DxO Introduces iOS Camera Module That is "On Par With Full Frame DSLRs"
DxO Labs unveiled a camera specifically for smartphone photography called the DxO One. The pocket-sized camera is 20.2MP that attaches to your iOS device via a lightning connector. Spec wise, this thing is only about 2.5 inches tall and weighs just 3.8oz. It has a 1-inch CMOS BSI sensor–the same sensor as the Nikon 1 mirrorless cameras. It has a 32mm-equivalant f/1.8 lens. It also has a tiltable body that can swivel in each direction 60-degrees once connected. The new camera has different capture modes including Auto, Sports, Portrait, Landscape, Night, Program, Aperture Priority, Speed Priority, Manual, and Selfie. The shutter speed can range from 15s to 1/8000s with an ISO range of 100-51,200. It can shoot video: 1080P at 30fps or 720P at 120fps for those slow motion fans. It has Contrast-Detect AF with Face Detection and can capture both RAW DNG + JPG, or their own format called SuperRaw, which can be saved on the built-in MicroSD card slot, and also send to the iOS camera roll. SuperRAW captures four RAW frames in rapid succession and then merges them together for a better-quality image. However, it's in the .dxo format and can only be edited in DxO editing applications, so don't think about editing these in Adobe Lightroom. It also has a dedicated iOS app where the user can control all the settings of the camera including full manual controls. It also has a built-in lithium-ion battery that gets you about 200 shots per charge. A micro-USB port allows you to connect the ONE to a computer for dumping photos and also serves as the charging port for the internal battery too. DxOMark did its standard test on the DxO ONE sensor too, and the camera got a score of 70, which they say is "on par with full frame DSLRs and dramatically higher than any smartphone." However, if shot in SuperRAW, it scores an 85! The ONE is compatible with pretty much any iOS device with a lightning connector running iOS 8 or later, including the iPhone 6 Plus, 6, 5s, 5c, 5, iPad Air 2, Air, mini 3, 2, or iPad (4th generation). The ONE will start shipping this September for $599. Sample images can be found here via Petapixel. Will you be getting ONE?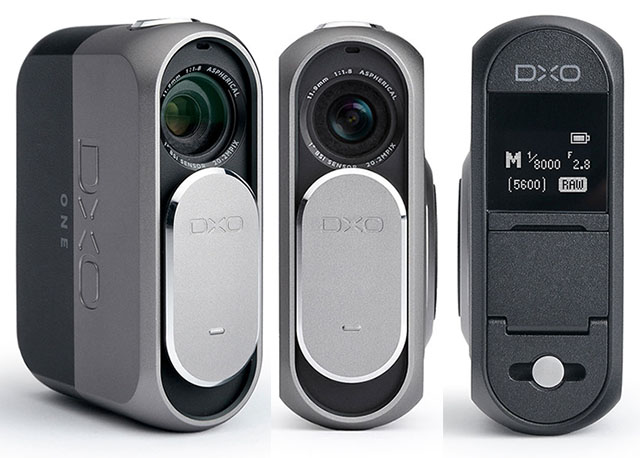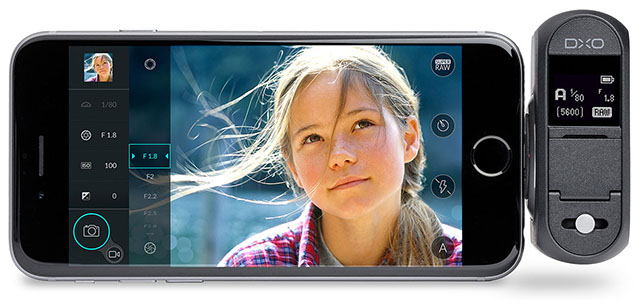 Samsung's New Safety Truck Brings a Giant "Live View" Screen to Semi-Trailers
Samsung is helping to make roads safer with their new "Safety Truck." The semi-trailer truck features a front camera and a huge rear "live view" display that showcases what the front camera is seeing to the drivers behind the truck. This allows drivers to know when it's safe to pass the truck. The front camera is wireless and the back display is a four screen outdoor-ready display. It also has a "night vision" mode for driving in the dark. Samsung tested prototypes in Argentina, a country with hundreds of one-lane roads, but they're not officially being used on the road just yet. In the promotional video they released for the truck, they say an average of one person in Argentina dies every hour to a traffic accident, and many of those deaths are caused by reckless passing on the country's roads. The company is now working with governments to do more tests of the system and get official clearance for public roads. Is it distracting though? I think I would be paying more attention to the live view then the actual road. (via DIYP)
Art Director Creates New Scenes with Separate Photos
This is neat, art director Stephen McMennamy has a new project called #combophoto which takes two separate photos, simply placing them side by side to create fun new scenes, no Photoshop necessary. Many of the images he shot with an iPhone and he occasionally uses a drone for aerial photos. He says, "It's really just from looking around and seeing what things are out in the world [that] might make for an interesting fit or what would make for a nice contrast once combined. As far as process, it's just a matter of me hunting things down and aiming for the cleanest shot possible." You can see most of his work on his Instagram page here. Anyone can participate in the project too, by just using the hashtag #combophoto. Very creative! (via Colossal)
Freedom of Panorama Law in Trouble in Europe
The Freedom of taking photos in public places is under attack in Europe where they're attempting to prohibit the taking of photos or videos of public places without prior authorization. Until now, in most countries in Europe you were safe to take and publish photographs that are taken from public ground – this is called Freedom of Panorama. According to Wikipedia, the textbook definition of Freedom of Panorama is a provision in the copyright laws of various jurisdictions that permits taking photographs or video footage, or creating other images (such as paintings), of buildings and sometimes sculptures and other art which are permanently located in a public place, without infringing any copyright that may otherwise subsist in such works, and to publish such images. On June 16, 2015, the Legal Affairs Committee of the European Parliament added an amendment to a copyright reform report that states the following: "Considers that the commercial use of photographs, video footage or other images of works which are permanently located in physical public places should always be subject to prior authorization from the authors or any proxy acting for them." The full European Parliament will reportedly be voting on the reform on July 9, and if passed, this law would unify the Freedom of Panorama laws across Europe in a way that restricts the rights of photographers shooting in public. So instead of being able to photograph, publish, and sell images that include copyrighted buildings and sculptures, photographers would be forced to seek permission from each copyright holder (and possibly pay usage fees as well). Also, instead of bringing the Freedom of Panorama to the few countries that don't know such law yet, it would take it away from all those who do. Photographers can help to preserve the Freedom of Panorama in Europe by contacting Members of the European Parliament and voicing their opinions or sign the online petition here which currently has over 45,000 supporters. Do you think this is fair? Below is a map showcasing what countries already practice the law: (via PP)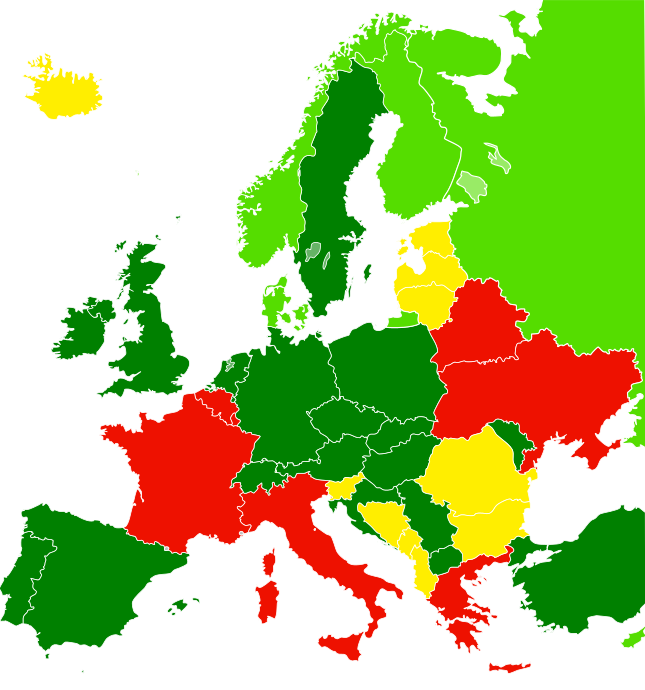 Say Hello to The World's First Hybrid Camera Drone Tank
Introducing the world's first quadcopter drone camera tank called the B-Unstoppable. The hybrid drone is currently the face of a new Kickstarter, which combines both the qualities of a tank, having caterpillar tracks that allow it to move on rough terrains, and the qualities of a drone, being able to fly–basically a flying tank. The tension of the treds can be changed too via two flexing mechanical arms. If the object is too high to drive over, you can always fly over it. Now the battery life isn't the best though with only 9 minutes of flight time or 18 minutes of driving time with a 900 mAh battery pack. A 2.4 GHz transmitter is included which allows you to switch easily back and forth between tank and quadcopter mode. It weighs just 3oz so it's crazy light and it's pretty small in general. There are two options for cameras: The first is an HD DVR camera that can record video at 720P to an internal MicroSD card. The second is a lower image quality FPV camera setup that includes a CCD 720P camera, 5.8 GHz receiver, 5.8 GHz transmitter, and USB AV-in adapter. It has front and back lights too, that allows for night flying as well as indicating low battery level. Price wise, it's not bad at all–it'll cost you $86 for a B-Unstoppable unit with transmitter and charger. Or, you can get a camera setup like the HD DVR Camera model for $124. And finally at $140, you can pick up the unit with an FPV camera system for real time transmissions. Currently, its raised $45,000 at the time of writing this article with its overall goal being $77,061. It still has about 2.5 weeks to go too. B is planning to begin production of their drones by this September with a shipping date of October. This thing is clearly a toy though and not exactly meant for production–the camera quality is not up to par at all with other drones. It also doesn't say anything about whether or not it takes stills. But, I really want one just to mess around with! (via PP)
Family Threatened After Posting Photo on Train Tracks
A family in Wisconsin is facing scrutiny after posting photos from a recent family photo shoot that features them on train tracks. The images feature the dad, Mike Daly, dressed up as Batman and the son, Finn Daly, as Robin with them rescuing the mom, Roxanne Daly, who's tied to train tracks, AKA the "damsel in distress." The photoshoot was a Father's Day gift since the dad loves Batman and was captured by photographer Eric Thiele. The photos went viral quickly after being posted online. CBS 58 reports that many people were angered by them though — so much so that they directed personal attacks at the family, posting their home address online and threatening to visit at night. According to Wisconsin law, only railroad workers or an authorized reporter can walk along or on train tracks. The family says they were never aware of how dangerous the idea was, and that they're not planning to do any more photoshoots on train tracks. I think that's a good idea…  CBS 58
Sigma's New 24-35 f/2 Zoom Lens is 3 Primes in 1
Sigma announced another Art lens, the 24-35mm f/2 DG HSM lens, which they're saying is like 3 prime lenses in 1 zoom. The company says it is the "world's first large-aperture full-frame wide-angle zoom lens offering f/2 brightness throughout the zoom range." Spec wise, the lens features an 82mm filter thread, features 18 elements in 13 groups, has a minimum focusing distance of 11 inches, weighs 33.2oz and has an inner focusing system that eliminates front lens rotation. Sigma says its goal was to offer the quality and convenience of three of the most commonly used prime lenses in one zoom lens. It "allows photographers to carry one lens to do the work of […] a 24mm, 28mm and 35mm — with f/2 brightness and top optical performance." It'll be available in Canon EF, Nikon F, and Sigma SA mounts, with pricing and availability not yet announced. Will you be ditching your wide primes for this bad boy?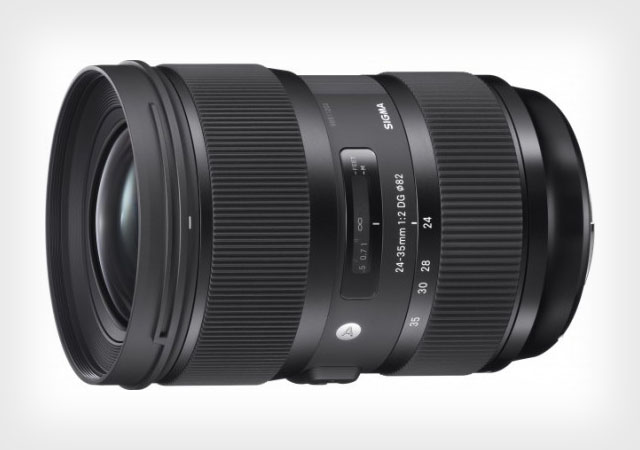 A One-Stop-Shop Keyboard Cheat Sheet for Adobe Lightroom & Photoshop
The design team over at setupablogtoday have created an end-all-be-all keyboard shortcut cheat sheet for both Photoshop and Lightroom that's massive. The best part is that it has shortcuts for each module for Lightroom and has both Mac AND PC shortcuts so it doesn't matter what platform you're using. Head to their website to download both as a high-res PDF. Plus, they're also offering a one-stop shop cheat sheet for 7 of the most popular adobe CC apps featuring the most important shortcuts, however it's a HUGE PDF. These would be great to print and hang on the wall for any N00b that uses shortcuts. (via Reddit)
Lightroom Keyboard Shortcuts Cheat Sheet
Setupablogtoday Photoshop Cheat Sheet Fin
Adobe Releases 2015 Creative Cloud Update
Speaking of Adobe, they've released the 2015 Creative Cloud update. As far as the benefits photographers receive: there's now the Dehaze option in Lightroom which we spoke about a few weeks back. This tool adds or removes foggy haze from an image. There are now black and white sliders in Lightroom CC too, which give you more control over the brightest and darkest part of an image when making local adjustments using the graduated filter, radial filter, and adjustment brush. In Photoshop they've added a more realistic blur option. Also, the Healing Brush, Spot Healing Brush, and Patch tools have now been enhanced with the Adobe Mercury Graphics Engine, which make the tools much faster. They now have Content Aware Fill for panoramas too so you can fill in those not-so-perfectly stitched panoramas. Check out the entire changelog here for Photoshop CC. And remember, these features are not available in the standalone version of Lightroom or Photoshop!
Photographer Calls Taylor Swift a Hypocrite For Calling Out Apple Music Streaming Service
Taylor Swift recently ranted against Apple for treating artists unfairly, giving reasons for refusing to allow her new album '1989′ to be included on their forthcoming Apple Music streaming service. Well, photographer Jason Sheldon fired back, accusing her of being a hypocrite by accusing Apple of treating artists unfairly while herself handing out lengthy contracts for concert photographers to sign. He says, "this is the echoed sentiment of every professional photographer. Some are afraid to speak up for fear of being blacklisted by management and PR companies who seek to control the public perception of their talent… For every artist that is in a secure enough financial and influential position to stand up against the likes of Apple without having to worry that Apple will publicly block your ability to earn a living from their iTunes market place, there are hundreds of professional concert photographers who don't enjoy that security — they don't have the voice you do, and they don't have the public favor that you have when it comes to demanding fair rights for their work, and they have a much higher risk of being prevented from working in future, not just at your shows, but any show which is connected by the same promoter, venue, PR, or management company." He goes on and shows a photo contract from her management company, Firefly Entertainment. He notes that, "if you take points 2 and 3 in that contract (which is provided to photographers who need to agree to those terms before they are allowed to do their job in photographing you for editorial outlets), it appears to be a complete rights grab, and demands that you are granted free and unlimited use of our work, worldwide, in perpetuity. You say in your letter to Apple that "Three months is a long time to go unpaid". But you seem happy to restrict us to being paid once, and never being able to earn from our work ever again, while granting you the rights to exploit our work for your benefit for all eternity. How are you any different to Apple? If you don't like being exploited, that's great — make a huge statement about it, and you'll have my support. But how about making sure you're not guilty of the very same tactic before you have a pop at someone else? Photographers need to earn a living as well. Like Apple, you can afford to pay for photographs so please stop forcing us to hand them over to you while you prevent us from publishing them more than once, ever." He ends it with, "With all due respect to you too Taylor, you can do the right thing and change your photo policy. Photographers don't ask for your music for free. Please don't ask us to provide you with your marketing material for free." The contract he showcased was a little outdated too, where the updated contract for her latest 1989 world tour is even worse and states that photographers can have their gear destroyed on the spot. In section 5 of the contract, it states that "If you fail to fully comply with this Authorization, authorized agents of FEI, the Artist or the Related Entities may confiscate and/or destroy the technology or devices that contain the master files of the Photographs and other images, including, but not limited to, cell phones and memory cards, and the Photographs and any other images." A spokesperson from Taylor Swift's camp has responded to Jason's letter saying, "The standard photography agreement has been misrepresented in that it clearly states that any photographer shooting The 1989 World Tour has the opportunity for further use of said photographs with management's approval." They add that, "Another distinct misrepresentation is the claim that the copyright of the photographs will be with anyone other than the photographer — this agreement does not transfer copyright away from the photographer." Now to make it clear, Sheldon never claimed that the management company was trying to take his copyright. He took issue with the company having "the perpetual, worldwide right to use (and to authorize others to us) any or all of the photographs for any non-commercial purpose, including but not limited to publicity and promotion." He then responded to their response, noting that, "As a creative artist, I champion the rights of all other artists to receive an equitable 'something for something' exchange, just as Taylor was claiming in her open letter to Apple. In our society, the most beneficial something to receive is hard currency, which is a concept nearly everyone can relate to… However, in the creative arts, there is an increasing tendency to seek 'nothing for something' exchanges – where you are expected to apply your skill, time, efforts etc. for the benefit of a third party and, in return, receive an intangible – and sometimes non-existent benefit. Taylor Swift's contract from 2011 included clauses that were not equitable. They leaned toward a 'nothing for something' exchange, where the photographer could only license images a single time in one named publication, never use them again, and she would be allowed to use them for non commercial (i.e.: publicity) use for all eternity, without having to compensate the photographer, thus unfairly favouring the interests of Taylor Swift to the detriment of the photographer." What do you think about this whole issue? (via PP)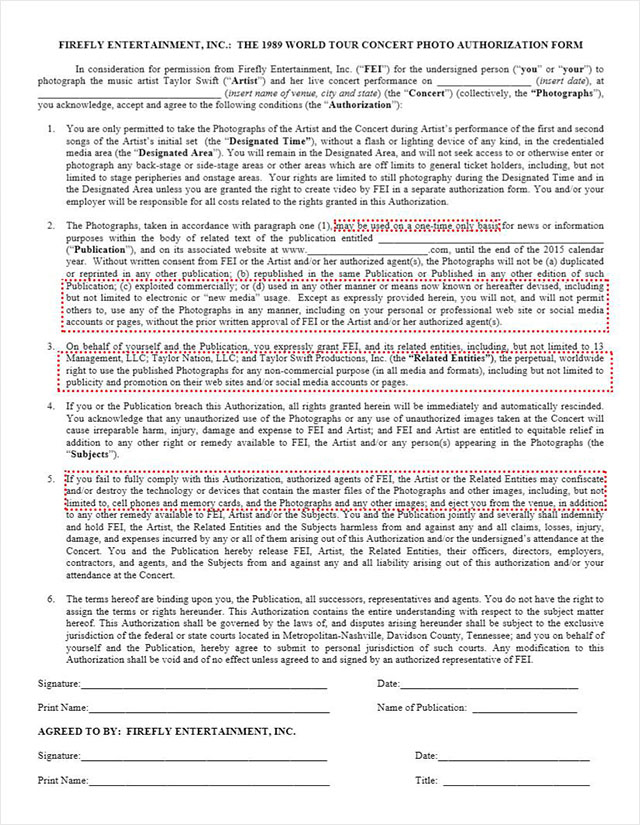 AP Releases Photo of Gun Pointed at Ted Cruz's Head
The Associated Press released an image of presidential candidate Ted Cruz, where a gun image on a poster in the background appears to be pointing at his head. AP photographer Charlie Neibergall took the image and his photo editor chose to release that specific one. AP media relations director Paul Colford responded to accusations of bias by saying that there wasn't any evil intent behind the photos. He says, "Presidential candidate Ted Cruz was shown in a series of 14 photos taken by an Associated Press photographer at a 'Celebrate the 2nd Amendment' event Saturday afternoon, held at a shooting range in Johnston, Iowa. Five of the photos published by AP included images of guns seen on a wall in the background so that it appeared a pistol was pointed at Sen. Cruz's head." He ends with, "The images were not intended to portray Sen. Cruz in a negative light." What do you think? Was this done on purpose by the photographer? (via PP)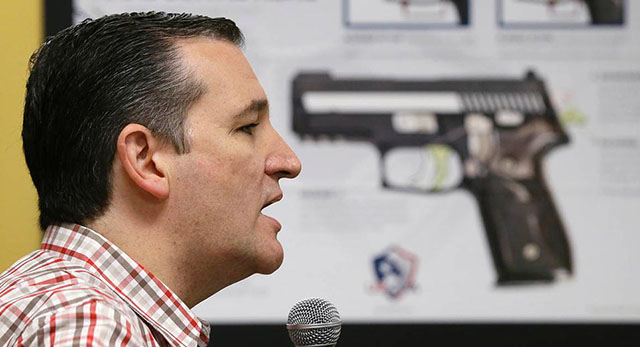 Photo via Charlie Neibergall / AP
Zookeepers Mimic Chris Pratt's Famous 'Jurassic World' Pose
Zookeepers are recreating Chris Pratt's iconic pose in Jurassic World at various zoos around the country. The initial image from the film show Pratt taming three rapters with his hands out. The parody images posted on Instagram with the hashtag #JurassicZoo show zookeepers doing the same but with their animals, like walruses, camels, zebras, rhinos, and more. Pratt later tweeted that the trend is "absolutely awesome." Check out my favorite below and view more here. (via PP)
@JurassicPark @JurassicQuotes @prattprattpratt Nailed it ? #JurassicWorld pic.twitter.com/28aTKwFXOH

— Jason Smyth (@slayer1551) June 7, 2015
This NHL Gigapan is Insane
And finally, here's the NHL Gigapan image that Jared spoke about on the podcast. Neat, right? (Click to view in full)