Turning down $100k to chase a dream: RAWtalk 140 LIVE from VideoBlocks HQ

Joel Holland Interview excerpt.

We made the 2:45 min trip down south to Reston Virginia to do a LIVE Mobile RAWtalk from the VideoBlocks HQ. Not only did we pack the house but I got to sit down with the founder and CEO of VideoBlocks Joel Holland. If you want to know how one person with an idea can go from living in his parents basement to selling a million DVD's over the internet check out 33:14. Sitting down with Joel and hearing his story about turning down a six figure job out of college to try and turn and idea into a business was awe-inspiring. This interview should light a fire under everybody's ass out there. If you want something go after it.
This weeks Episode is brought to you by VideoBlocks.com. As you can tell we were LIVE at their HQ and Joel gave a fantastic interview. I really don't need to sell you on VideoBlocks, it sells itself once you give it a try. To try it out click here.
Photo News brings us stories from all around the photo world including the one I created #RespectPhotographers. I called out the LIVE Nation CEO for the companies practice of not paying house photographers and asking for all their rights. We cover that and much more during this weeks Photo News.
As we like to do with all Mobile RAWtalks we do a LIVE Flying Solo where I A'ed a bunch of Q's. These are always fun because I never know what anyone will ask and I have to be on my toes. Finally we brought with us a min Wheel Of FRO to give it a spin and it landed on….. check out 1:48:42 of the show to see where it stopped.
A huge thank you to everyone who came out to the mobile RAWtalk and to VideoBlocks for hosting the show. Joel, thank you for crushing the interview with some amazing and motivational stories.
00:00:16 – Show Intro
00:06:24 – Photo News
00:25:25 – Live Nation Story
00:33:14 – Videoblocks CEO & Founder Interview
01:12:28 – "Live" Flying Solo
01:48:42 – Wheel of Fro
Lexar is the official card of RAWtalk.
Here's all of Stephen's photo news stories in detail:
Canon Warning Users To Watch Out For Fake 600EX-RT Flash Units
 Canon is warning photographers to watch out for fake 600EX-RT flash units that are being sold online. The counterfeit flashes look nearly identical to Canon's, but Canon warns that since they weren't verified by their safety measures or manufactured by them, that the flashes could catch on fire or start smoking during use. To see if your flash unit is the real deal or fake, users can test the radio transmission wireless shooting function (AKA off camera flash), since the feature isn't available in the fake flash units. Another way to tell is by looking at the locking mechanism. On the counterfeit flash, the lever doesn't wrap fully around the hot shoe. Another way to tell is by looking at the custom function setting on the LCD screen which has less information on it than the legit Canon flash. Check out some sample images comparing the locking lever and custom function screen below. Do you have the real deal? (via TDP)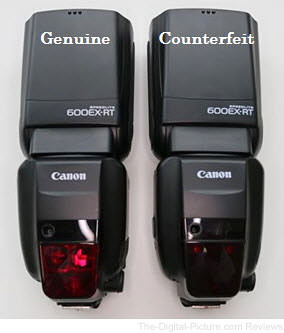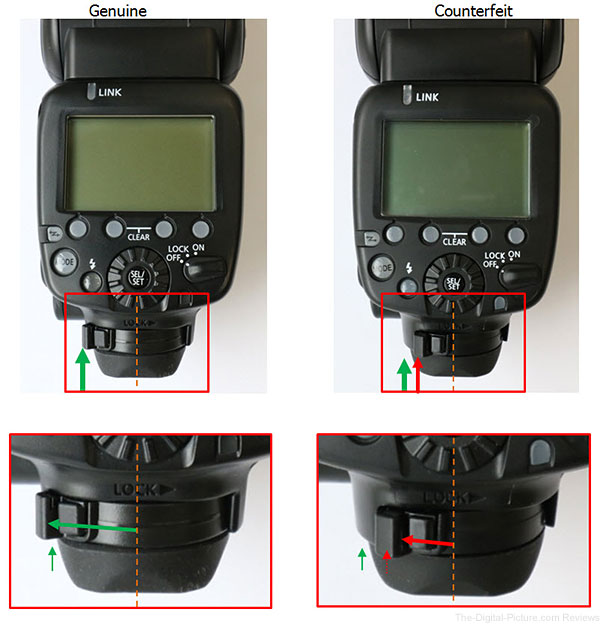 How The New Windows 10 Logo Was Photographed
Creative Director Bradley G. Munkowitz brings you behind the scenes of the making of the default wallpaper for Windows 10 in a new video. The video showcases how they had a glass pane cut to form the iconic Windows logo, which they then used a projector to beam various different colors of light through it, which was then photographed. In addition to light, they combined smoke, haze, lasers and camera mapping to build the logo out of light. Windows 10 is set to ship with the new wallpaper on July 29. Does it look more like a CGI image in the end though? (via SG)
Disney Officially Bans Selfie Sticks From Theme Parks

Selfie sticks have officially been banned from Disney theme parks. On June 30, both Disney World and Disneyland applied bans on selfie sticks. and not just the U.S. parks either, Bans were also implemented at their parks in Paris and Hong Kong too. Disney World spokeswoman Kim Prunty says, "we strive to provide a great experience for the entire family, and unfortunately selfie-sticks have become a growing safety concern for both our guests and cast." Prior to this ban, selfie sticks were allowed into the park, but not allowed on rides. A number of rides had big "no selfie-sticks" signs displayed for guests waiting in line however. (via OS)
Photo via Marc Smith
Wedding Photographer Receives Cancellation Request After Showing Support For Gay Marriage, Has Epic Response

A photographer received a cancellation request from a wedding client after changing their Facebook profile photo with the "celebrate pride" rainbow overlay. As most of you know, gay marriage is finally allowed nationwide, and those that support it have been changing their Facebook profile pictures with the rainbow overlay. Well, Brentwood Photography wanted to show their support and added the colorful overlay to their logo. One of their wedding clients weren't happy and messaged them, requesting their retainer back. They said, "Greeting Brentwood. We would just like to inform you that we will NOT be using your services for our wedding. My fiance and I support traditional marriage between a man and a woman and don't want our money going to place that supports otherwise. Secondly I would like to inquire about how we can get our retainer back from you. Thank you." Now Brentwood responded with their own clever message, saying, "wow, I'm not really sure what to say here. I would say this disappoints me, but I actually find this to be a good thing because our company now would not like to work with you as well. It's not that because you have a different view from us, but it's because, since you don't like and support gay marriage, no one else should be able to have it. That's like me not liking broccoli, and demanding that everyone else in the world should not have broccoli either!" They went on to say, "now as far as your retainer goes, I hope you'll read the first article in the contract you signed stating that this retainer is nonrefundable. But don't worry, I'm not going to keep it! Because of this conversation, I have decided to donate your $1500 to GLAD (Gay & Lesbian Advocates & Defenders), a group created to help and support gay rights. So let me be the first to say thank your very much for your donation and support for this great cause! I couldn't have done it without your money." BOOM! Drop the mic! The full conversation can be seen below. Brentwood Photography has since deleted their Facebook page.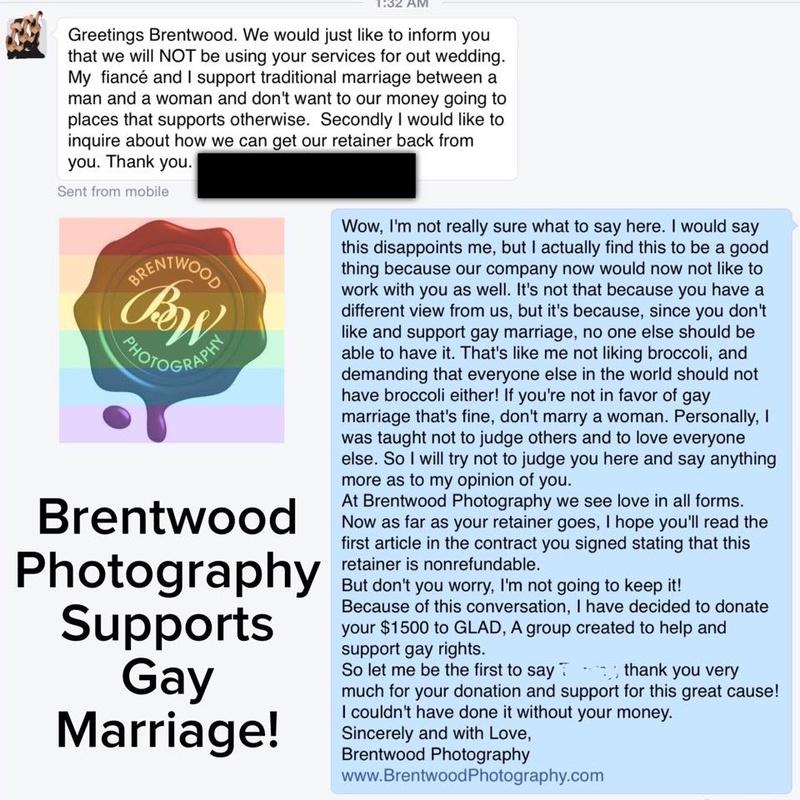 Photographer Slips While Photographing Wedding, Captures Priceless Reactions of Wedding Party
Speaking of weddings, a wedding photographer slipped but still kept shooting on the way down, capturing some classic reactions from the wedding party. Almost exactly last year, Chase Richardson was photographing a wedding when he slipped on a puddle. As he was falling, his finger was still on the shutter, recording everyone's expressions as they watched him fall. He says, "it had been raining all morning so I ended up photographing the wedding party under this covered slab of concrete basically. There were puddles everywhere, and when I took a step back to get ready for the photo I just… slipped and fell. Pretty embarrassing." The fall broke the camera lens and cut his finger open, but he did get an interesting photo out of it which you can view below. The image just went viral this month after Jimmy Fallon ended up featuring the photo on a recent episode where he talks about wedding fails. (via PP)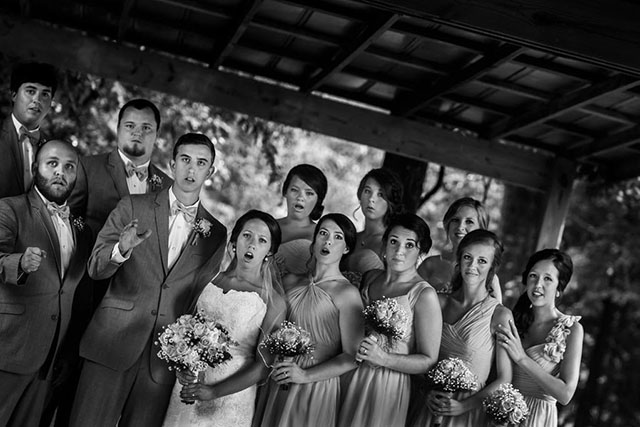 Photo via Chase Richardson
New Website Aims At Telling You If Your Photo Contains Nudity
A new website called IsItNude can tell you if your photo contains nudity or not. California-based algorithm company, Algorithmia, designed the custom code for a client, but have since opened up the site to the public. The company's Chief Technical Officer, Kenny Daniel, explained that a customer wanted to run a website with the intent of it being "kid-friendly". The company then set out to design the needed algorithm. He went on to explain the process saying, "one of our engineers took some algorithms off the shelf, things like image detection, skin color detection, and then put them together." It doesn't work for B+W images however, but it will work on paintings and anything else mimicking the human body in color. After uploading, it gives either a "G" or "PG" rating for non-nude images, or an "R" rating for images that contain nudity. Algorithmia will be using the data it collects from the site to improve the existing algorithm too, but they note that they will NOT retain any of your photographs. It wouldn't be a bad idea though if sites like Flickr had this built into their uploader, separating nude photos or putting a safe section of the site together for kids. What else could come of this software? (via Wired)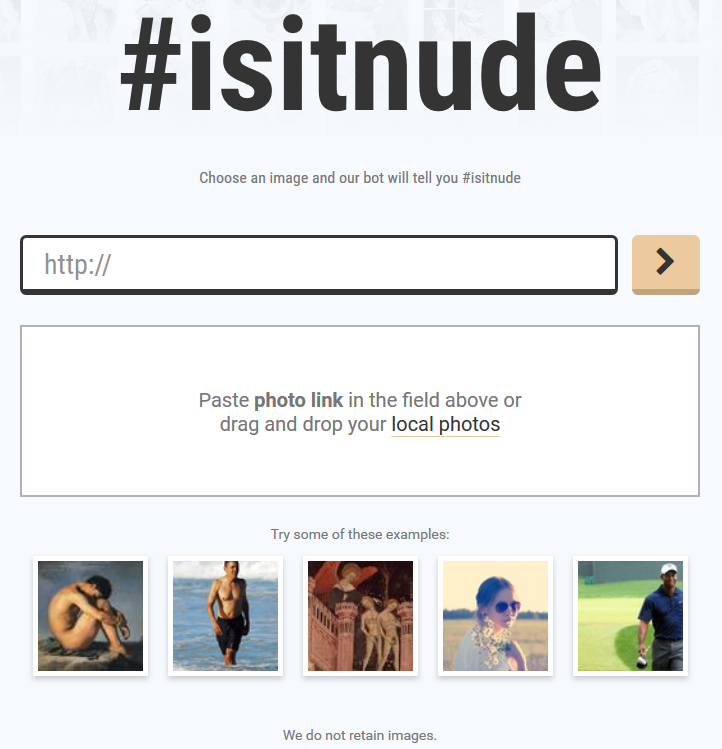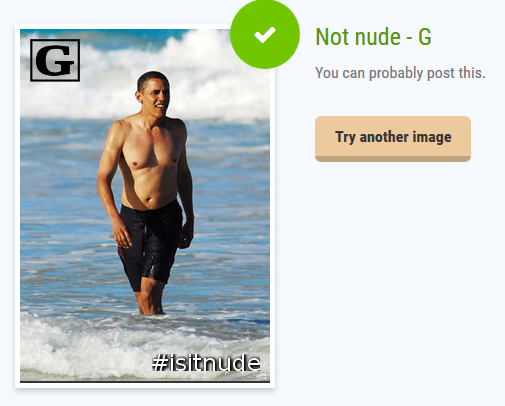 Instagram Updates Explore & Search Tab
Instagram has updated their Explore and Search tab in their mobile app. The Explore tab now features trending topics as they happen in real-time with both trending hashtags and geotagged locations. They also now feature curated collections which are handpicked by Instagram: there are interesting accounts and topics at the top of the page for people to now "explore". The search function has been revamped too and can now search for places, allowing people to search a location and see what people are posting from there in real-time. Users can also specify if they would like to just search for people or hashtags too. The update is now available for both Android and iOS. However, Instagram says the update is only for U.S. users currently, and will be rolled out internationally in the near future.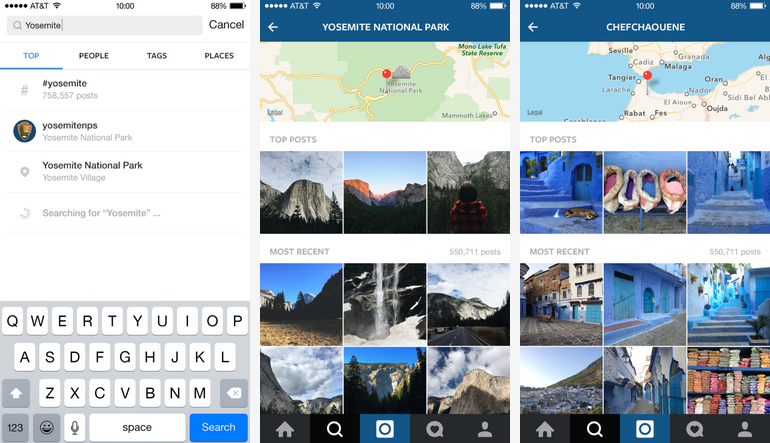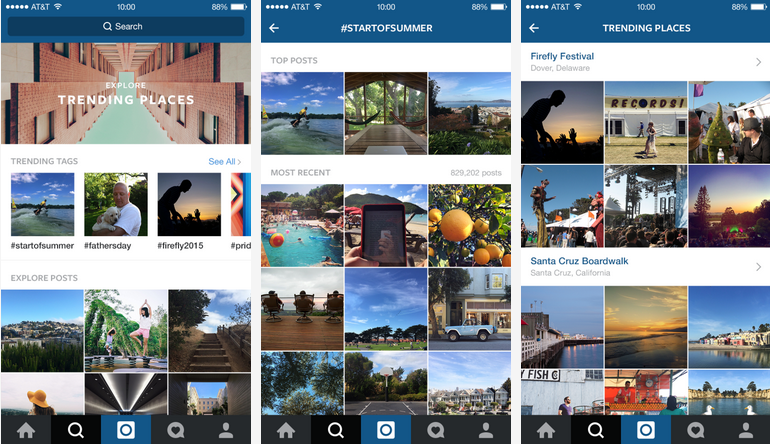 This Photo Earns New Title of Most-Liked Instagram Image EVER
On the topic of Instagram, a new photo now earns the title as the most-liked Instagram image EVER. And…it's Kendall Jenner's "heart hair" photograph, which shows her laying on the ground with her hair shaped as little hearts around her head. The photo ranked up 2.8 million likes in just five weeks. And the previous holder? Her half-sister, Kim Kardashian, with her photo of her and Kanye kissing at their wedding, which got them 2.4 million likes. This one at least is fairly creative…(via PP)
Photographer's Open Letter Changes Live Nation's "Work for Free" Policy
And finally, a photographer's open letter to the CEO of live nation got them to change their "work for free" in-house photographer policy. His name? Jared Polin. Check out the videos below for the full story!