RAWtalk Episode #052 The DSLR is DEAD!!!
Right Click Here and hit save as to download this weeks RAWtalk as an MP3.
The death of the DSLR is here and if you believe that you believe the new Iphone 5s is the camera of the future. We take a look at camera features in the newly announced Iphone 5s.
Did you hear what one of the apple execs said about DSLRs and the future of photography? IF you haven't be sure to listen to this weeks episode to hear what he said and what I think about it.
We discuss my recent weekend in Boston for the FrotoWALK and Boot Camp as well as dive right into all the photos new for the week.
Please join us Saturday September 21st at Allens Camera for Allen's Nikon-A-Palooza where you have a chance to win thousands of dollars in prizes as well as get your work critiqued by me.
Enjoy
This weeks RAWtalk is brought to you by Squarespace.com. I personally made the switch to Squarespace for my photography web site because it's simple to use, affordable and reliable. Use CODE FRO9 at any time in September to get 20% off your service. Click Here to get a FREE 14 day trial.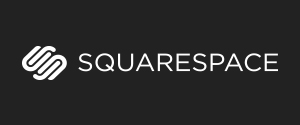 This is really cool, a new software was recently demonstrated that extracts 3D objects from regular 2d photos. To make it possible, the company behind it uses a "3 sweep" method to extract the object, basically just outlining the object and the software does the rest. It seems like it's not perfect yet but this is a revolutionary piece of software in the making. Check out the preview video below, which has some trouble extracting more complex objects, skewing or warping the axis of an object, but it's dead on most of the time. This has some serious potential in the long-run, it could eventually be used to duplicate items via 3D printers. One day… (via PP)
Apple unveiled a new iPhone camera via their newly announced iPhone 5s. The new camera has more resolution, boosted up from the previous 5MP to 8MP. It has a 15% larger sensor with bigger pixels, 1.5 micron pixels to be exact. It also sports a wider aperture lens at f2.2, which supposedly is a 33% increase in light sensitivity. The new iPhone comes complete with a new dual flash as well that uses a special "true tone" white and amber LED to adjust color temperature. Some more specs include auto image stabilization, which combines multiple photos taken at once to create the sharpest possible image. It shoots at 10fps at its highest burst mode, which will suggest the best picture in the end. There were also some upgrades to its video feature. It can now shoot 120fps at 720p via a new SloMo app. If you'd like more info and detailed specs, head over to Apple's website and check out the product video below. The new iPhone is available Sept. 20 in 16GB, 32GB and 64GB versions, starting at $199. Will you be picking up one?
Olympus announced their new flagship micro four thirds DSLR, the OM-D E-M1. It features some really nice specs includIng a 16.3MP sensor with a TruePic VII image processor. The new body accepts every lens Olympus has ever made which is always a plus for that Grandpa of yours that wants to still use his old-school lenses. It shoots at a fast 10fps at up to 1/8000th second shutter speed. ISO sensitivity ranges from 100-25,600. It also has 5-axis image stabilization with full 1080P video capabilities. The OM-D E-M1 starts at $1399 for the body only. Check out a product photo below: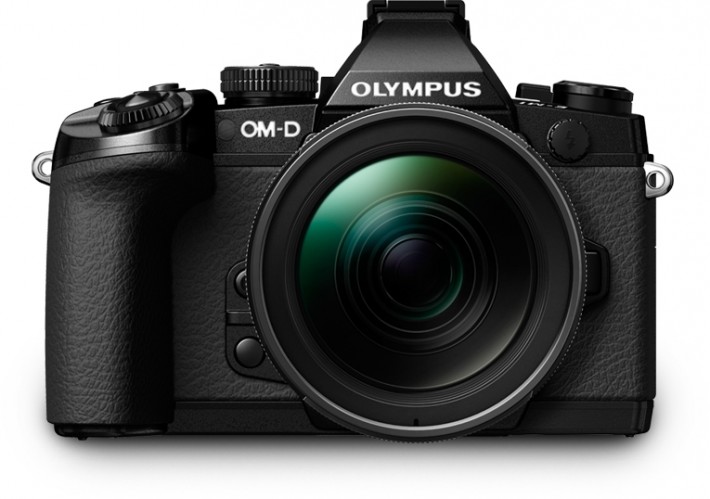 The latest behind-the-scenes photoshoot video features the lovely Kate Upton and her recent shoot with the one-and-only Annie Leibovitz for Vanity Fair's 100th anniversary October issue. It showcases what goes on in a commercial photo shoot, everything from hair, makeup, art design and more. Check it out below in all of its glory:
Caught on camera: a video of a wedding photographer's camera bag (pelican case to be specific) with $6000 worth of gear in it being stolen was posted online this week. It shows a GoPro angle of the ceremony, with the thief roaming around in the background for a few minutes prior to the theft. He checks to see if it's all clear and steals the pricey case around the 5-minute mark. Luckily no memories were lost since only lenses were taken. Unfortunately, the culprit was already gone once they realized the gear was missing so he's still out there on the run. Learn a lesson here and always have an assistant or someone watching your gear at all times during weddings, this could have been tragic for the bride and groom. (via SLR Lounge)
Speaking of getting married, a really interesting horror-themed engagement shoot popped up online which was recreated as a comic strip. Wedding photography group ElevenPhoto did the shoot, which comes complete with comic bubbles and all. This isn't for everyone but still a cool, unique concept. Possibly something worth looking into and presenting to a client; I wouldn't personally recommend the horror flick idea though…Check out the full strip below by clicking on the image: (via PP)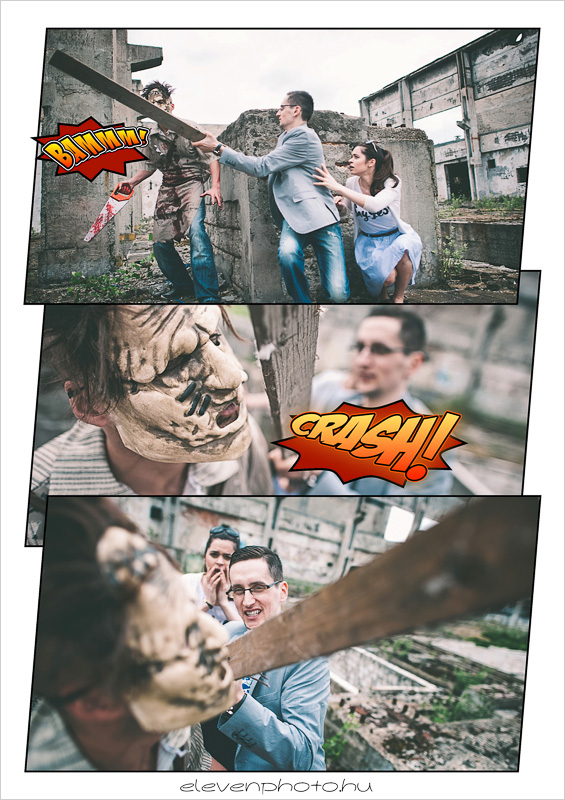 Kodak has officially emerged from chapter 11 bankruptcy which they declared almost two years ago. Has it really been that long? The "new" Kodak is a company focused entirely on business imaging solutions. CEO Antonio Perez broke it down and says they'll focus on "packaging, graphic communications and functional printing," all three based on Kodak's commercial printing technology. (via Engadget)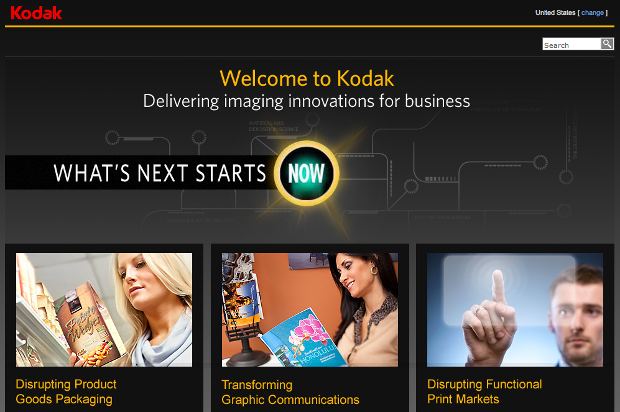 Going way back again with this one: early photographs taken during the end of child labor in the U.S. have been added to the Library of Congress. The collection was mostly taken by photographer Lewis Hine who the National Child Labor Committee hired back in 1908 to showcase what was going on in the factories. Hine called it detective work, since he had to be discreet and sneaky when photographing the youngsters. He would gain access into the workplace by assuming a new persona each time, which ranged from bible salesman to postcard salesman to an industrial photographer making a record of factory machinery. If they denied him access, he just waited outside for the kids to simply enter and exit. Check out the set below by clicking on the image; he photos showcase kids aging from 5-15 working in these terrible factories and fields where they're even shown smoking cigarettes and cigars. (via MF)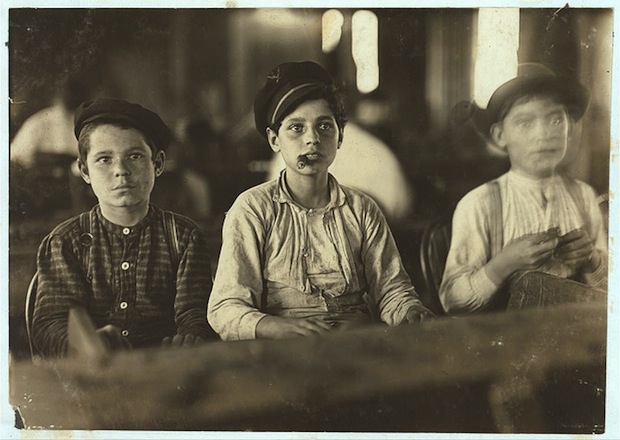 And finally, some big news this week: Adobe announced a new Photoshop Photography Program, revealing that you can now rent Photoshop and Lightroom 5 for just $9.99 a month. Included in the package, you'll also get 20GB of cloud storage along with a Behance membership. However, you need to own a copy of CS3 or higher to qualify for the new pricing. For those that jumped on the subscription-only model at $20 a month earlier this year–don't fret–Adobe will be automatically switching you over to the new rate, again, as long as you had CS3 or higher. Head on over to the Adobe blog for the fine print, will you be signing up?