The Holiday Buying Guide for Photographers: RAWtalk Episode #063
Right Click Here and hit save as to download this weeks RAWtalk
As the holidays roll around we decided this week to dive into some gifts that we consider safe to purchase for photographers. Purchasing gifts for photographers is not easy. One because photography is expensive and two because you really don't know what someone needs or wants. So Stephen brought in a few items that may make your photographer friends crack a smile.
This was the first week we had a contestant for the Wheel of FRO spinning!!!! The first contestant who was selected off of twitter was "Troy Heckler" and you will have to tune in to see what prize he will be walking away with.
If you watch the video portion of the podcast we have to say OOOOPPPPPS and apologize. The reason we have to apologize is the main angle on me somehow shifted out of focus meaning we will not be cutting to that angle at all. This is a good warning to anyone filming out there to double or triple check your angles before and during recording to make sure everything is tack sharp. But shit happens, you learn form it, move on and try not to make the same mistake again. I hope you understand and keep coming back for me.
Lucky for us we tested out a new angle using the Atomos Ninja 2 which allows us to use the D800 and 14;24 2.8 to give us a much better looking wide-angle.
Enjoy this weeks episode and don't forget to @FroKnowsPhoto with #WheelOfFRO on twitter or Facebook.
Check out all of Stephen's photo news stories in this week's RAWtalk below:
New Zealand-based photographer, Chris McLennan, took some amazing photographs of lions up close and personal without even being behind the camera. McLennan put together a Nikon D800E with an 18-35mm lens and an Aquatech sound blimp and attached it to a remote control buggy to take the once-in-a-lifetime shots, dubbing it "Car-L." He used the soundblimp for protection, which ended up being "lion-proof" as you'll see in the video below. Check out the remarkable footage along with the pictures below. I wonder if he was shooting RAW… (via Reddit)
Yet another cool Kickstarter campaign popped up last week called Foldio, which is being called the World's first foldable portable studio for smartphones. The rig comes complete with a compact foldable studio that you can bring nearly anywhere, featuring a really cool LED-strip for lighting. The setup even has exchangable background color sheets for those that wish to color cordinate with their products on the fly. It looks like it's a breeze to put together too with simple magnetic clips on the end, snapping together with ease. Want one? With a pledge of $34, you'll get the general Foldio set (was $27 for the early birds). They're asking for $10,000 but are already up to a whopping $66,000 with another month still to go. Will you be pitching in? Check out the promo video below:
Photographer Jens Lennartsson is the king of self promotion with this stunt. The photographer created 400 action figures of himself that he's calling "GI Jens" which he sent out as promotional materials. How did he do it? He took several various-angled photos of himself and made a clay figurine which he used as a prototype and general mold. He then went on to even create his own custom box that looks pretty legit too. Oh, and the best part is that the figurine is even holding a camera too. Here's what Lennartsson has to say about it via his blog:
"Well, first of all: why the hell not!? Many photographers spend a lot of cash to design the perfect portfolio, print it and send to the people they want to work for. Just to have it disappear among hundreds of similar mailings. If you've ever been in touch with an art director, art buyer or owner of an ad agency, you'll know that they have a zillion things to do and as many people to meet. Unless you make an epic impression, you'll be forgotten. I needed more than a paper folder to stand out."
Check out the full process of creating the action figure over on Lennartsson's blog here where he outlines step-by-step how one can do the same thing. So awesome. (via ISO 1200)
These are incredible. A Bangkok-based photographer named Visarute Angkatavanich released a set of amazing images of…his pet fish. Yup, the fish are Siamese fighting fish which pretty much look like mini-dragons (side note: I want one). They're relly amazing though, which were all shot using a Nikon D800 with a 105mm f2.8 macro lens with a couple of off-camera strobes that were placed over the tank. Check a couple out by heading over to his 500px account where the fish basically look like they're floating in mid-air. The gallery also includes goldfish, guppies, the works, really cool stuff. What do you think? (via TIC)
This is neat, filmmaker Thomas Jullien created a short film timelapse video made up solely of 852 Instragram photos all from different users. This had to take him forever, he literally has frame after frame looking like they were all taken together by a single person. A must see for sure, take a look for yourself below: (via PP)
An update on the one-of-a-kind Leica M camera that was designed by Apple's own Jonathan Ive and fellow designer Mark Newson. It went for double the amount that they originally predicated at auction, ending up selling for $1.8 million! A lot for a camera, eh? Thankfully, all proceeds–which they raised $26.2 million in total that day–went to RED to help the global fight towards aids.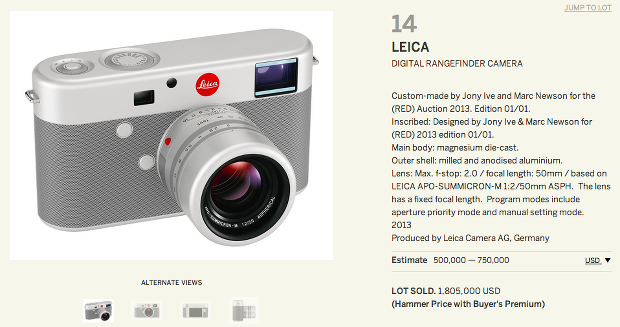 And finally, another interesting perspective set of photos hit the web. Photographers Kurt and Edwige Moses made a photo series called "un petit monde" which translates to "a small world" and that's exactly what they shot. The duo used miniature figurines and traveled across the country in their rv, setting the figurines up in with various interesting backdrops. Some look realistic, some don't. You can see the entire set of photos over on their website here. One thing I wish they did was got closer to the ground, getting on the figurines level. Still, very neat to check out which features a parody of the moon landing, a silhouette of a surfer at the beach (one of my personal favorites), a man fishing on the lake and much more. What do you think? Very creative… (via PJJ)