He is ONLY 24 and is on ESPN!!!! RAWtalk Episode #065
Right Click Here and hit save as to download this weeks episode as an MP3.
Dave Leno at the age of 24 has attained success that has eluded people twice his age. He has called sporting events for ESPN, the Big 10 Network and countless other outlets. He is great on camera for the televised games and superb with his calls on radio.
You may be wondering why would I have a sports caster on RAWtalk? The reason is you can learn a lot from how Dave has been able to attain the success he has. You will hear how he got his first jobs, what jobs he does for free and how he continues to build his portfolio.
This is one of those interviews that I think you will take a ton from if you sit back and give it a shot.
Before my interview with Dave, Stephen and I hit up the weeks photo news and topics. Right before we recorded news came down that Instagram had a major update. We both think this update is pretty interesting though we have yet to use it to it's fullest extent yet.
Enjoy this weeks show.
Check out all of Stephen's photo news for this week: Scratch that, I filled in for the Photo News Preview this week and I want Stephens Job!!!
Kicking off this week's photo news recap: There's a new low light champ in the industry and it might surprise you what camera owns the title. The Nikon Df, the retro DSLR, actually outperformed the D4 in DxOMark's low-light ISO categor — and not by a little — but a whopping 300 or so points. Besides low-light, the sensor was nearly identical to the D4. Overall, the Nikon Df is the 11th best sensor with a respectable score of 89 points with the D800 still owning the number one spot. (via NR)
Here's DxOMark's conclusion about the retro camera followed by their comparison chart:
"Nikon certainly threw a curve ball with the Df. On the one hand it has the first-rate sensor of the D4 in a much more compact and lighter weight body, but the choice of retro controls appears to be a step backwards.

They make sense with older manual focus lenses, with their manual aperture rings, providing they can be focused accurately but models like the F100 and F6 are proven over those earlier models when used with autofocus lenses, and that includes the current G-series (which lack aperture rings).

As it stands, Nikon may find the Df sidelined by both the D800, and the D600, which is a pity as the sensor is a superb performer in low light."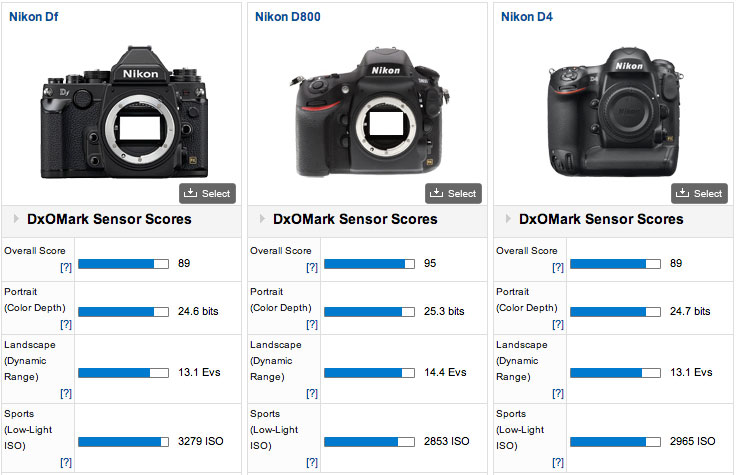 Something we need for RAWtalk: A new DIY adapter called "the Ribcage" by Back-Bone allows GoPro cameras to use interchangeable lenses. Finally! The custom adapter works as new housing for the Hero3 and Hero3+, basically gutting it with new skin. Once the new housing is fit, the apapter can mount any "C" format 16mm camera lens (similar to those used in the old Bolex film cameras). However, a simple work around for those that only own quality new-age glass is getting an adapter which will let you mount any Canon/Nikon/etc lens on. The new kit also includes an IR cut filter which is removeable, giving you the ability to shoot infrared. The company is currently taking pre-orders for delivery early next year, and they're giving buyers two options to choose from: you can either buy the Ribcage as a DIY kit that will work with your existing GoPro for $200, or as a pre-assembled package with a brand new Hero3+ inside for $800. Definitely a worthwhile investment in my opinion. Check out th promo video below where they explain it better than me along with an instructional installation video: (via DT)
Next up, photographer Robert Cornelius is being recognized as taking the world's first-ever selfie. Yup, there's a self portrait of him staring into a mirror, that was shot all the way back in 1839. It was taken just months after Louis Daugerre revealed his Daguerrotype process. Cornelius apparently just took the lens cover off and ran in front of the camera, patiently standing still for several minutes for the exposure to end. Check it out below; the portrait is now being housed in the Library of Congress. (via LAEM)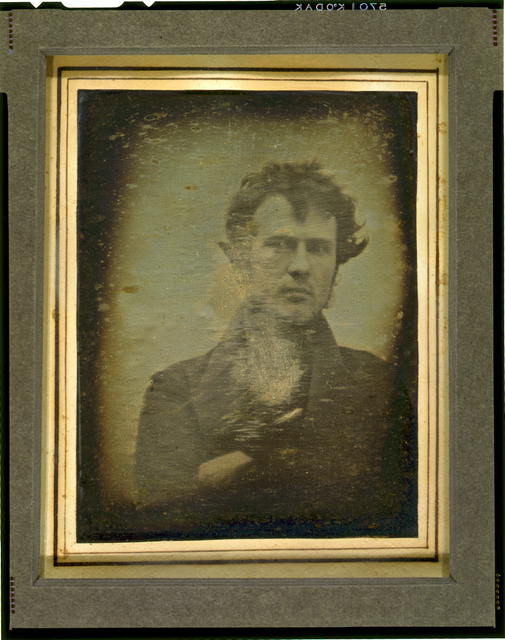 Meanwhile, a new Kickstarter campaign for a product called Phlite helps transform your gear that's laying around into a camera-themed desk, table or floor lamp in seconds. The new light is portable which attaches to your camera via its hotshoe or you can simply place it on top of your lightstand or tripod using their patent pending quick fit clip. Phlite plans to offer free downloadable patterns in the near future too, which you will be able to add to the lamp shade for a more custom look. Phlite comes in two sizes: small and large — the small works better for cameras while the large works better as a floor lamp attached to your favorite tripod. Here's the scary part, the price runs between $65 – $80, depending on which model you choose. The kickstarts campaign already raised $12,000 USD at the time of writing this article with about three weeks still to go. The brand hopes to raise about $35,000. Do you think they're asking for too much? (via PP)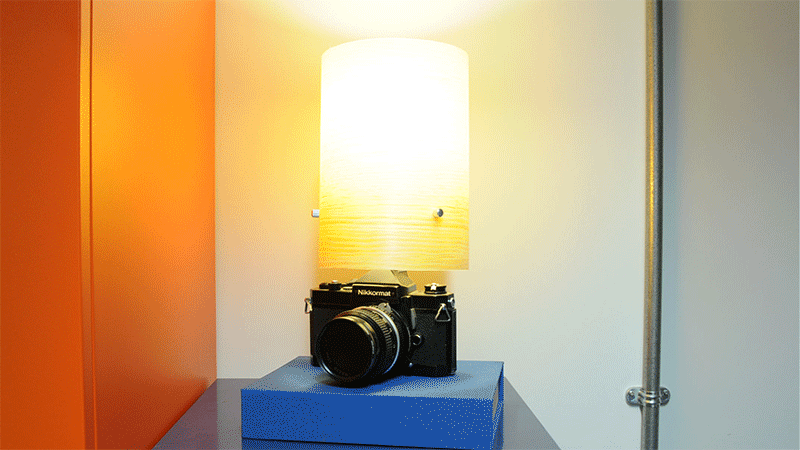 Speaking of Kickstarter, yet another photography related campaign kicked off this week. A new iPhone case called Lighstrap is now being pitched which basically doubles as a ring flash for your smartphone. The Lightstrap case works by sensing and mimicking the phone's flash, so when the phone flash goes off, so does the Lighstrap case, only Lightstrap does it with ten times the power. Using the two buttons on the case, you can pick from seven different brightness levels and six different color temperature settings until you've got the flash dialed in just right. The Lightstrap even runs off its own battery too (promises 500+ flashes per charge) so no need to worry about draining your phone. Lightstrap will run you $97 (or $87 or the earlybird contributors). The campaign is already up to $67,000 at the time writing this article and they're asking for $245,000 with another three weeks to go. Check out a promotional video for the product below and head to their Kickstarter page for before-and-after shots using the Lightstrap. Will you be contributing? (via TPB)
A quick update for those who didn't get their hands on Adobe's Photography Photoshop Bundle for $9.99 a month. Well, good news, they're now extending it to the end of this year! You now have until Dec. 31. You better jump on this deal ASAP! Head here to Adobe's official blog for more details.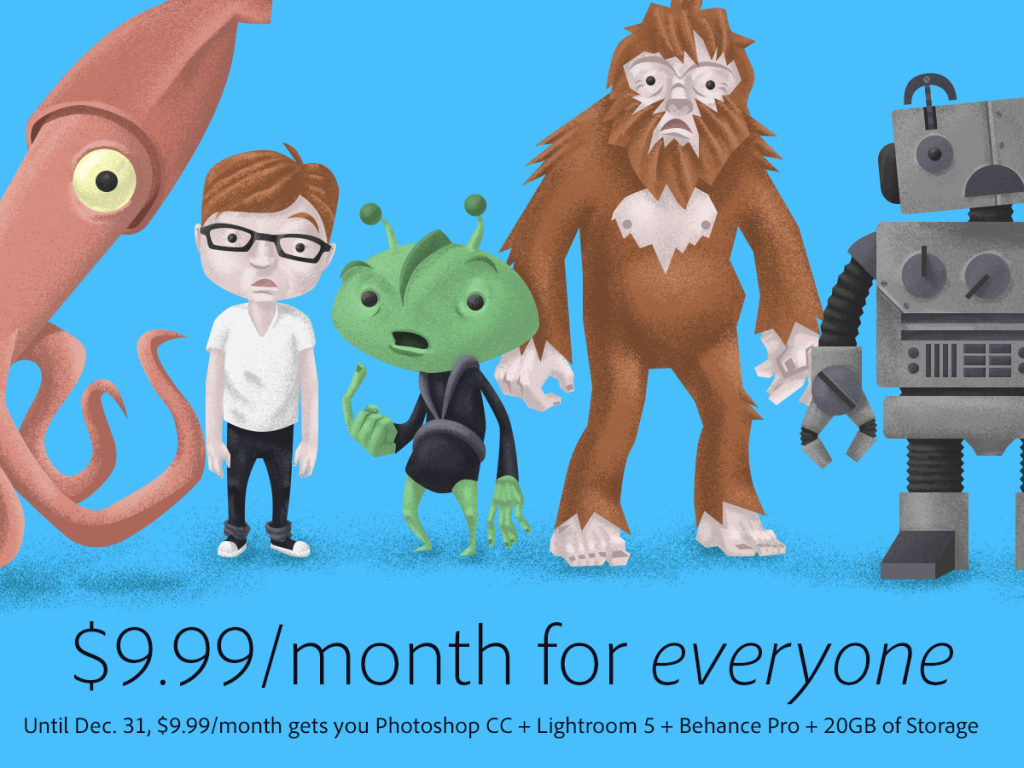 Lenstag released an official app for both iOS and Android devices. Users can now add gear and take a picture of an item's serial number in just one take. You can also check serial numbers against the stolen gear database it created and even transfer items to other users if you sell your gear. Gear get stolen? No problem! You can report items as stolen in the app immediately and best of all, it's free! Such a great idea…
This is interesting, a new psychological study finds you can have a good photographic record of an event or a good memory, but not both. Dr. Linda Henkel of Fairfield University in Connecticut conducted the study, in which participants toured a campus art museum. Some were assigned to take photos while others were asked to simply remember what they saw. Subjects were tested on their memories of the museum a day later. Those who took photos scored lower at correctly identifying items from the museum, and recalled fewer details vs those who didn't take pictures. Here's a quote from Dr. Henkel to The Telegraph regarding the test: "Research has suggested that the sheer volume and lack of organization of digital photos for personal memories discourages many people from accessing and reminiscing about them, In order to remember, we have to access and interact with the photos, rather than just amass them." (via TT)
Another quick update, this time for Twitter users. The 140-character app is now hitting at Snapchat after a new update was sent out to the masses that now allows users to send photos via direct messages. Be careful what you send though, you don't want that nude selfie tweeted out to all of your followers by accident…
And finally, similar to Twitter, Instagram is also taking a stab at "direct messages" with their new app update that incorporates what they're calling "Instagram Direct." Yup, check out the intro video below along with a how-to instructional video after the jump. Will you be saying goodbye to Snapchat now?