The Color Run Debacle, Who's to Blame: RAWtalk Episode #073
Right Click Here and hit SAVE AS to download this weeks RAWtalk as an MP3.
Over the past few days there has been a developing story involving a young photographer and the Color Run. The photographer Max claims that the color run used one of his images in an advertisement without compensating him. He asked for $100,000 and the color run decided to sue him. Stephen and I don't jump to conclusions and try to look at all the facts that we have. At the time of this recording the outcome was still up in the air. By the time this goes live word has come down that the Color Run and Max have come to an agreement. We start discussing this a little after 39 min.
Before we went off on a long discussion about the Color Run we had a tremendous amount of Photo News from Stephen that really was interesting. We also discussed the first three days of the filming of the new FroKnowsPhoto Guide to DSLR Video.
I decided it would be a good idea to have 30 flying solo questions this week that ended up taking us close to the two hour mark once again, sorry Stephen.
Please be sure to subscribe to the Podcast on iTunes, Sticher or anywhere else you download podcasts from. You will be the first to have access to the new episodes as soon as they go live.
I want to thank this weeks sponsor ATOMOS for all of their support. Check out the Atomos Ninja 2 and see if it is the right fit for your video needs. We use the Ninja 2 each week on RAWtalk to give us almost unlimited video recording from a DSLR.
And now for all of Stephen's photo news stories:
Here is the Color Run discussion from this weeks episode on it's own.
And now for the great Color Run debate: I figured instead of rehashing the EXTREMELY long story, I would just supply you with a link of where we got the information from so you can read it in detail via FStoppers here. I did happen to find a video of his Dad ranting about his son's side of the story which no website seemed to have posted so I put it below for you to check out. What are your thoughts on this whole controversy?
A brand new Lightroom plugin called Lightroom Analytics analyzes the metadata in your photo libraries for certain trends and visualizes them for you. It collects various data–more basic than advanced like ISO, aperture, shutter speed settings, etc–and puts it all into pie charts and bar graphs showcasing how often you're at that certain setting. It even gets extremely specific and shows you data on a particular lens. It also showcases Lightroom adjustments and how often you use them like saturation, color temperature, exposure, highlights, etc. The results are then exported into a standard CSV spreadsheet, but if you don't have a spreadsheet app, then don't fret–the new plugin also supplies a viewer of their own. Why is this useful? This will let you improve your settings, editing and it's just something cool to check out. Follow the instructions here to get started! (via PP)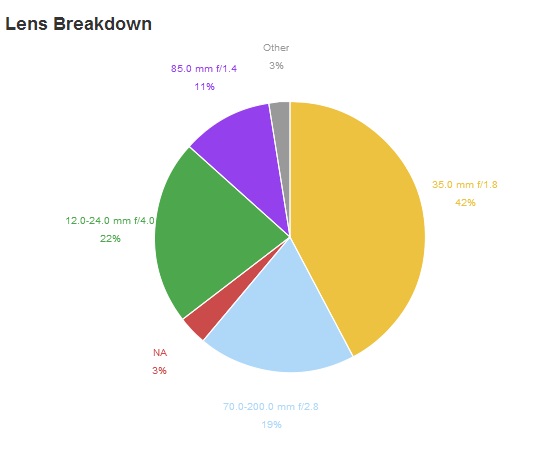 Sports Illustrated has replaced their normal supermodel on the cover of this year's swimsuit edition with…Barbie. The photographer, Walter Iooss, even released a parody like behind-the-scenes video showcasing how he did the shoot. The funny part is how he reacted to the plastic model, saying how she is the perfect model to work with: "she doesn't blink, she doesn't move, she knows how to work the light." He added, "when she strikes a pose, she holds it forever." Check it out below: (via ISO 1200)
Update: It turns out I was wrong about Barbie being on the actual 50th Anniversary issue of 'Sports Illustrated: Swimsuit Edition'. Well, she is, but only on a limited run that was solely used in promotion for Mattel, who partnered with the magazine. A limited run of only about 1,000 Barbie issues were handed out at a toy fair in Manhattan. Because of this, people believed it to be the real cover, myself included, especially since SI released the parody video featuring Barbie which you can view below. There are indeed real models on this year's issue, being Nina Agdal, Lily Aldridge and Chrissy Teigen.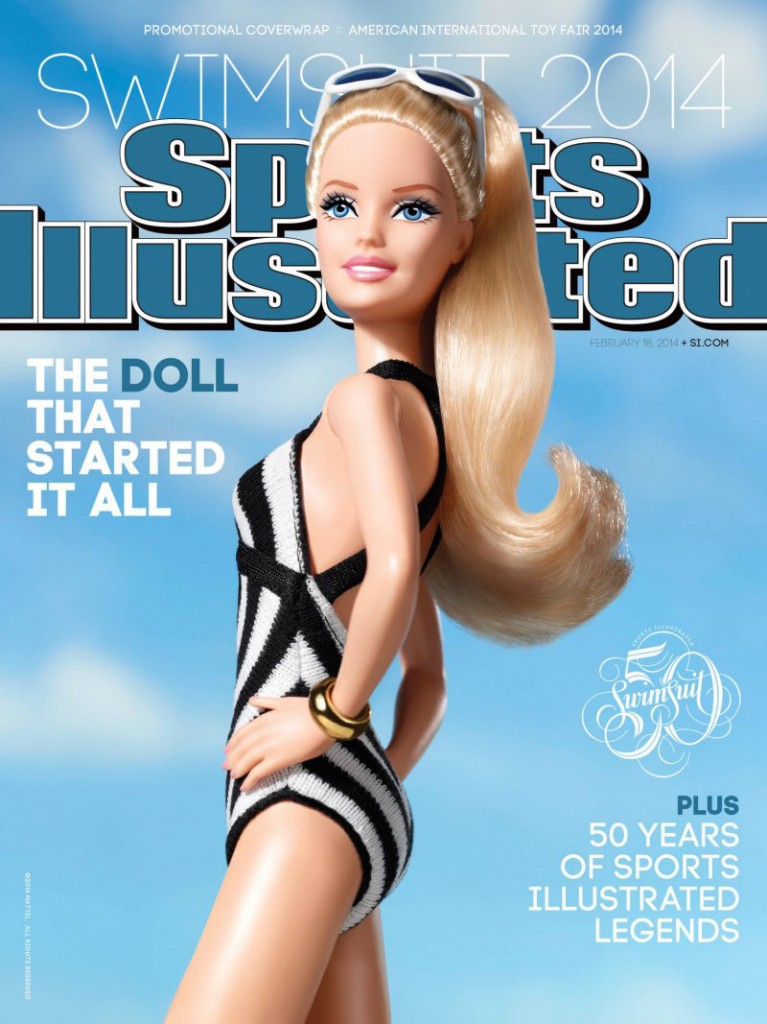 Image courtesy of Sports Illustrated
Facebook is encouraging brides to not have one or two professional wedding photographers, but rather 100 friends and family members snapping pics all around the venue while they get married. The social media giant posted a video which features a montage of images shot from multiple attendees. However, the shots featured clearly were taken with decent equipment and probably an experienced photographer since there were flashes that were bounced from the ceiling, very shallow DOF shots and more. Now there were also a couple terrible shots thrown in to offset the pro-looking photos (blurry, direct flash, out of focus) but still…One wedding photographer fired back with a parody video of what it would actually look like if you relied on your friends and family's photos, and it looks just terrible, but it's definitely realistic. In the end, get a pro-photographer for your wedding… (via FS)
This is really cool, Sigma brings you inside their lens factory in Aizu, Japan in a new behind-the-scenes video. The film is very cinematic first of all, and really shows how precise they are at making lenses. This isn't the first video they released about the factory either, it's more like a sequel to the original behind-the-scenes lens factory video that they unveiled at Photokina back in 2012. Here's what they have to say about it:
"Our products are somehow imbued with the essence of our homeland, blessed as it is with clean air and water, and focused, hard-working people. To pursue optimal quality, the vast majority of Sigma's manufacturing right down to molds and parts — is carried out under an integrated self-manufacturing production system, within the company."
This is the type of stuff I personally like to see from companies–where my money is really going to when I purchase an expensive product. Everything from the craftsmanship and human touch to fine-tuned machines are featured in the video below: (via X3)
A pair of Russian photographers sneaked up the World's second tallest building which is still under construction, the Shanghai Tower, to take some breathtaking photos. They even released a whole POV GoPro-shot video which features their journey to get to the top. Remember, there's no elevators since it's still under construction so this took them forever, about two hours in the end to climb the 120-story building. The crazy part is that when they got to the top, they then walked up a crane to the tallest point of the structure (which is 2,133 feet high!) with no ropes or safety equipment. These are must-see photos which you can view here, the only part that was unfortunate is that it seemed to be quite a gloomy, foggy day. (via LS)
Speaking of GoPro, the company looks to be going public, they filed for a confidential IPO this week. The IPO is expected to raise the value of the brand well into the billions! They're just waiting on the SEC to finalize the review. Will you be jumping in on this opportunity?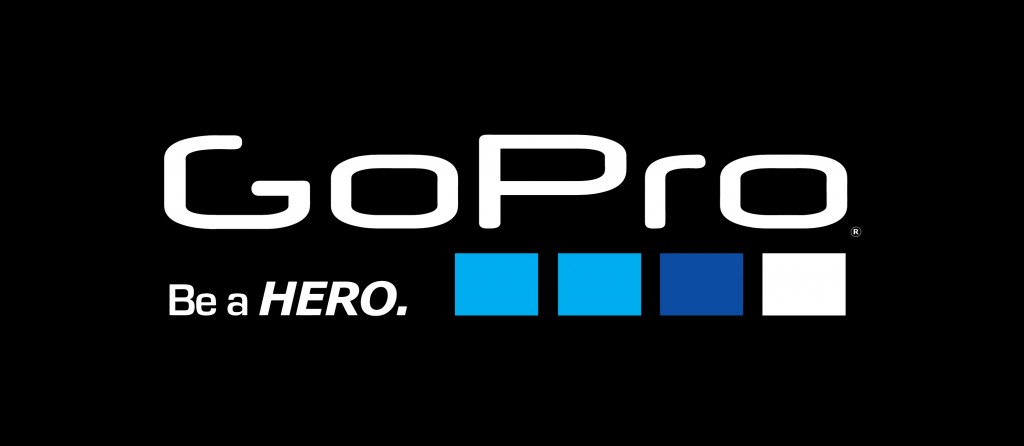 Panasonic has officially revealed the long-rumored GH4 which is a micro-four thirds mirrorless camera that shoots 4k video. It'll shoot 4k video at 24fps with a 100mbps data rate which is insane for a camera this small. It also sports an all new 16-megapixel CMOS Micro Four Thirds sensor, a quad-core CPU, an ISO range of 200-25,600, shoots at 12fps, and has SDXC UHS Class 3 compatibility. They also announced a new interface unit for the camera as a separate add-on which is the solution to a professional audio/video workflow. It features two XLR inputs, phantom power, HDMI out, timecode in, an audio level display, and much more. No official price tag just yet but it's rumored to be under $2,000 which is great. There's sample video footage now online too which you can view below. What do you think? Will this be a gamechanger?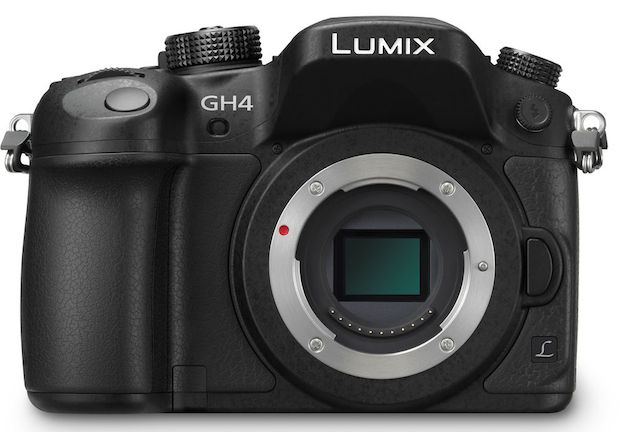 What's a week of photo news without a new Kickstarter campaign?! This time around, a new keyboard called "the Shortcut-S" is featured in a new Kickstarter campaign which is a huge 319-key keyboard that is designed to work specifically with Photoshop. It features 299 pre-determined keys in combination with 20 customizable ones. They're main selling point is that it's a one-hand operation–you can keep one hand on the mouse and only have one on the keyboard for a quick workflow. They transformed 4-key strokes into a single key–Adam Lerner will sure love this! Apparently they're in the works to develop even more program-specific keyboards too for software like Lightroom, Final Cut, Premiere Pro and much more. The only thing from making this a reality is the massive goal they have set. They've only raised about $22,000 at the time of of writing this article with a goal of $185,280. With a donation of $89, the first 507 early birds will get the keyboard (if it reaches its goal) and once that runs out, you'll need to donate $99 to snag one yourself. They still have about six more weeks to go…Will you be contributing?
A fairly new website called InMyBag.net showcases just that–what's in a photographer's bag. It's a free website that lets you feature all your gear in a simple post. Here's what they say about contributing: "Submissions are open to anyone with an enthusiasm for photography, professional or amateur, and we have categories for DSLR, Lighting, Mirrorless, Film, Video, Leica, Vintage, GoPro, Phone based photography and those with minimalist kit." This will be great for both self-promotion and bragging rights of course, since it is featured on the main feed of the website (Tumblr style). The only thing I would be worried about is posting my gear and having some thief look up my information and attempt to steal it. So some word of advice–disable your metadata when exporting the photo and turn your geo-tagging off!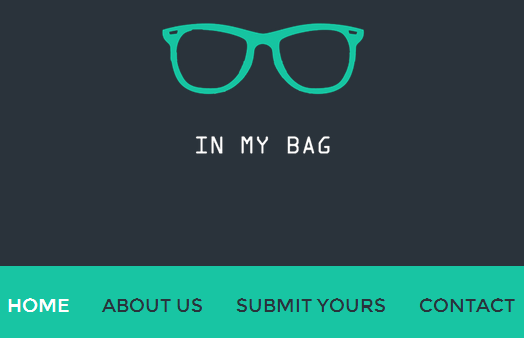 We THINK this is real, at least according to PetaPixel it is: a wedding photographer posted a Craigslist add asking to buy wedding photos to use on his official website:
The post says: "I'm a new wedding photographer and I'm looking to purchase the copyright to some good wedding photography to add on my website. I already shot a few weddings but I want to add some more images to my website. Do not email me if you can't prove the images are yours or if I can't use the images on my site. I will not add my logo to the images but I also won't accept any logos on the images, they must be clean and well shot. I'm willing to spend anywhere form $75-$150 if you can offer a good amount of images and they're nice. Thanks!"
This is just ridiculous. Would you even think about doing something like this to promote YOUR brand? Check out a screenshot below: (via PP)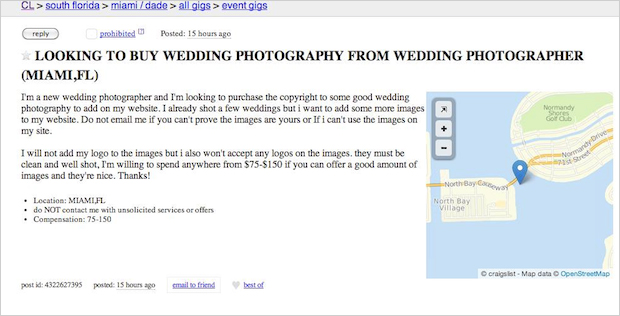 A really amazing TV spot recreates six iconic images in one continous shot. The UK directing duo US and advertising agency Grey teamed up to pay tribute to the epic images. Here's what they have to say about the commercial:
"This is all about those iconic cultural images that we pin to our walls and stick in our minds. We all have our favourites. Heisenberg, Kraftwerk, and Banksy's kissing coppers all featured in early scripts, but we wanted to take a snapshot of what's making the headlines in 2014. Daft Punk winning big at the Grammy's, The final series of Mad Men, and Tarantino are all over the media right now. These people and their work have left an indelible mark and we'll probably still be talking about them in ten, twenty maybe even a hundred years time. The TV spot is a respectful nod to it all."
And to prove that it was all done in a single shot, they even released a behind-the-scenes video of how they did it; some really neat stuff! It's something you really have to just see to understand so check it out below. I wonder how many takes it took them to get it perfect… (via FS)