The Wheel of FRO Stopped on WHAT???: RAWtalk Photography Episode #077
Right Click Here and hit save as to download this weeks RAWtalk Episode.
Photo News Preview

We have been spinning the Wheel of FRO for a few months now and we have yet to see this happen. You are going to have to see and hear our reaction when you see the outcome of this weeks SPIN.
As always we set out to keep the RAWtalk to a manageable length and than I somehow end up going off on a tangent before we even get the show rolling. This week was no different, I riffed on the new D4s, I yelled and sang and I interrupted the Stephens
But what I can tell you is this was one of the most fun RAWtalk's we have done.
I hope you enjoy the show and check out both the Audio and Video.
Regarding Stephen's cancer run that he is participating in next week for his friend that passed away to colon cancer last week, all the details including if you want to contribute can be found here: http://events.getyourrearingear.com/goto/RunForGina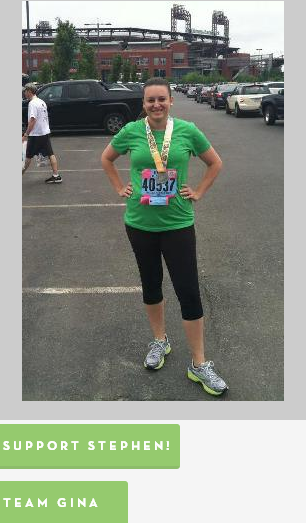 Here's all of Stephen's photo news stories for this week:
Cameraman Goes Skiing in New Red Bull Ad
Red Bull Media House released some incredible behind-the-scenes video of how they shot a recent Red Bull ski spot at Copper Mountain, Colorado with Team USA slopestyle skier Nick Goepper. Instead of having a drone copter follow alongside the pro skier, they actually had the cameraman on skis following him with a MoVI stabilization system. The fantastic footage was shot with a slow-motion Phantom Miro attached to a MoVI M10 rig. The crazy part is that the cameraman was going about 50 mph through the air for about 70 feet or so, landing pretty hard too, yet still ended up with really stable and usable video. He wasn't doing it all though, the camera was controlled by a remote at the top of the jump by a second cameraman. Check out the final commercial below followed by the behind-the-scenes video: (via FS)
Nikon Introduces Behind-The-Scenes Video Series
Nikon introduced a brand new video series called "Nikon Behind The Scenes". The series is dedicated to showcasing and highlighting the skills that intermediate level photographers need to take their photography to the next level. The first video is now online featuring a photoshoot with Joe McNally where he talks about the fundamentals of natural light and flash photography. More videos will be out every couple of weeks which will feature content from Corey Rich as well as Tamara Lackey and will cover subjects ranging from posing, shooting landscapes, gear and much more. Check out the first video below:
Instagram Photographer Raises $15K in a Single Day
Brooklyn-based photographer, Daniel Arnold, made over $15,000 selling prints on Instagram in a SINGLE day. With him not having enough money to pay for his next month's rent, he took to Instagram and told his followers (which he had about 26,000 at the time) that they could order a 4×6 print of any photo they want for $150 "for one day only." Here's what his caption said about selling the prints:
"Hello, I just turned 34 this second. For one day only I am selling 4×6 prints of whatever you want from my Instagram archive for $150 each. I swear I will never sell anything this cheap again. If you're interested, send a screenshot of the photo(s) of your choice to arnoldaniel@gmail.com (one d) and I will send a paypal invoice, followed by a signed print. Easy peasy. Happy my birthday. I love you"
Now that's 100 orders that it took to make that kind of money; insane. (via Forbes)
 Instagram Reveals Marketing Tips
Speaking of marketing on Instagram, they released a new video featuring tips on marketing with the mobile app along with a new blog post breaking down recent successful campaigns like Ben & Jerry's. The tips include:
1. Be true to your brand
2. Share experiences
3. Find beauty everywhere
4. Inspire action
5. Know your audience
Head over to their blog where they break it down much further.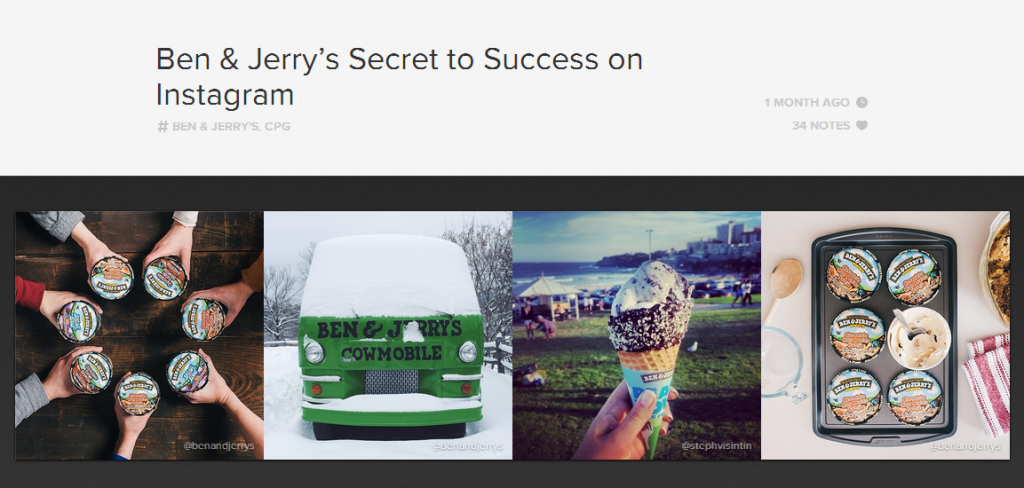 Zenfolio Supporting RAW File Storage
Zenfolio implemented RAW file storage into their site. Users now have the option to store RAW, DNG, NEF, PSD and other source files alongside their images. It's available to all account levels beyond Basic. Unlimited, Premium and Premium Business accounts come with 2GB of RAW storage free with a maximum size per individual file limit of two gigabytes. How much will it cost? $0.085 per gig a month so 100 gigs of RAW storage will cost you $8.50/month. Head over to their site where they break it down in full.
Getty Introduces Embed Feature
This news hit as we were wrapping up RAWtalk last week but it's still important to bring up: Getty made a huge announcement, introducing an embed feature. It will create an "easy, legal and free" way for people to share the agency's images for non-commercial use. They came to this action in hopes in fight online infringement, we'll see how that does…The images are unwatermarked but will still cast the agency's logo below the photo along with proper credit to the photographer. There's also Twitter and Tumblr share buttons for those that are too lazy to copy the HTML code. Head to their official site here for details.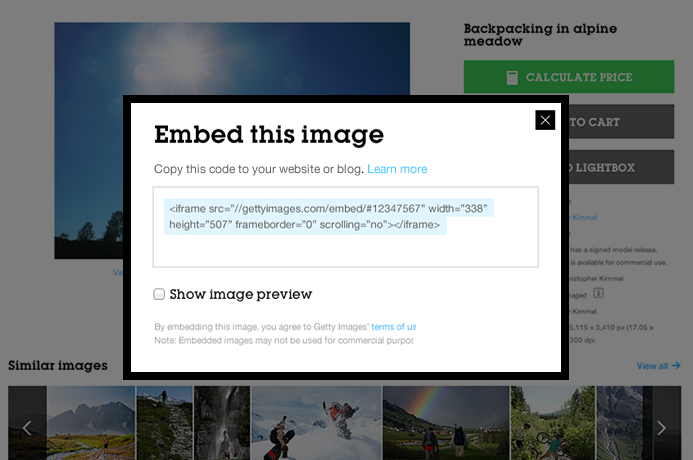 Flickr And Getty To End License Agreement?
Moving forward, according to an email forwarded from a Petapixel reader, Getty has ended their relationship with Flickr to license their images. No word on why and no official announcement has been made just yet, but the "license this photo on Getty Images" option will soon come to an end. Let's hope the re-up this deal in the near future! (via PP)
TIME Reveals 360-Degree Photo From Top of Freedom Tower
TIME Magazine teamed up with Gigapan and created a 360-degree panorama from the top of the Freedom Tower. They released a behind-the-scenes video which showcases the testing and trouble they ran into to get the shot. In order to get the photo, TIME had to negotiate with the Port Authority of New York and New Jersey to gain access to the spire, design a rig that would work well in the conditions found at that height (with 25 mph winds!), and then actually go about building and testing the rig before they had their chance to get the panorama right. The final image consists of 567 pictures taken with a Canon 5D Mark II and a 100mm lens over the course of five hours on Sept. 28, 2013. Check it out below and view the final images here; simply amazing. (via TIME)
Copters Ruled Not Illegal In New Court Case
A judge of the National Transportation Safety Board (the NTSB) ruled that the FAA has no authority to regulate copters, striking down a 6-year-old band on commercial drones. The ruling was a result of a case about a swiss drone operator who was being sued for $10k from the FAA for flying a drone around the University of Virginia for a commercial he was shooting for the college. Apparently the FAA thought commercial drone flight had been illegal since 2007; however, according to the court papers, they never actually created an enforceable rule. All they did was issue a policy statement. So commercial drone flight is now legal again, for now… (via VICE)
NASA Unveils Set of Stunning Images for Cosmos Re-make
The NASA Goddard Photo and Video Flickr account uploaded a set of 43 stunning images of the universe. They released the images prior to the premiere of the global TV series re-make of Cosmos. They're full-res images complete with the story behind each photo in the Flickr description (remember, you can print them!). Now, every week at 9pm EST on Sunday, their Twitter accounts, @NASAGoddard and @NASAGoddardPix, will live tweet pictures of the universe during the show. Click here to check out the whole photo set. (via PP)
Subaru Goes Miniature in New Commercial
Subaru released an awesome commercial featuring a 3D printed RC model of a Subaru WRX STI versus 30,000 stick bombs on a miniature track. The cool part is that it was shot with 25 Go Pro's (for the bullet time effect) along with various high-end and slow-mo cameras. The shoot took a full three days to complete; I can't image how long it took to create the stick bombs over and over again for each take… (via DIYP)
Target's Ridiculous Photoshop Fail
Target had a Photoshop fail this week after their website featured a terrible photoshopped model for their "Xhilaration Junior's Midkini 2-Piece Swimsuit". The model was literally missing chunks out of her bottom and her body type was not symmetrical at all. To my eyes, it looks like somebody extremely untrained in Photoshop did this, and probably not even in Photoshop, maybe more like MS Paint or something…The ad has since been taken down but check out screenshots below: (via TEA)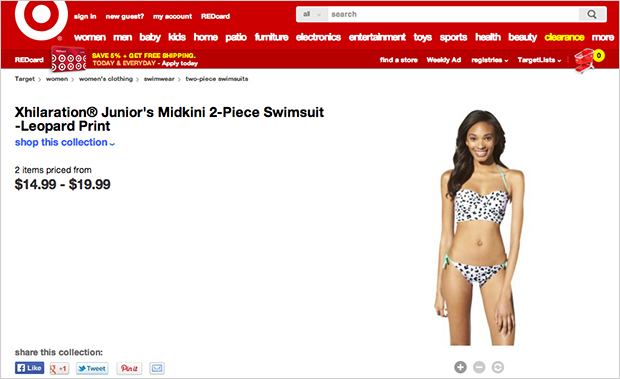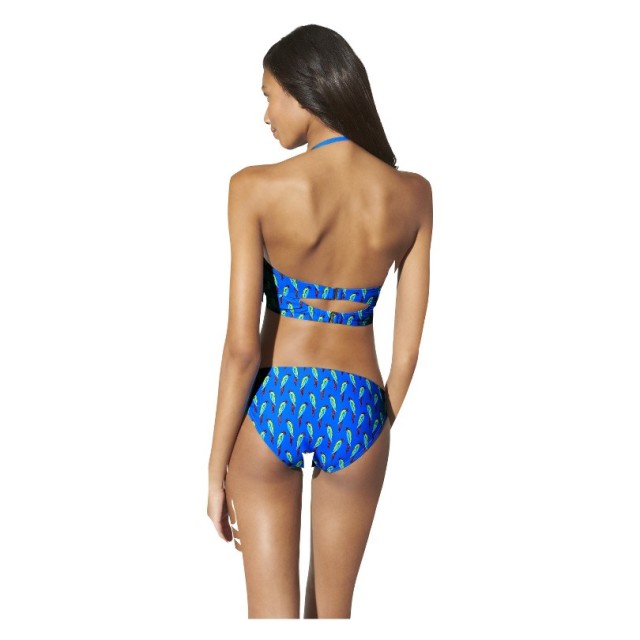 Introducing The Most Dramatic Photoshop Transformation EVER!
And finally, while we're on the topic of Photoshop, CollegeHumor released an anti-Photoshop parody video where they touch up a model and turned her into a slice of PIZZA. It's possibly the most dramatic Photoshop tranformation I've ever seen. Ha, check it out below; hilarious.