What's In The Box??? RAWtalk Photography Episode #081
Right Click here and hit save as to download this weeks RAWtalk as an MP3.
Photo NEWS PREVIEW <========> BEST PREVIEW EVER!!!!
Oh how I want to tell you what's in the box right now. But if I did that it would spoil all the fun of listening to RAWtalk. This week there are two surpasses in store that both so happened to be waiting for the Stephens in the Elevator. The one for Eckert is just because but the one for Sutter is a belated birthday present since hipsters don't celebrate birthdays.
There was some major gear introductions last week because of the NAB show in Vegas. Atoms struck with two very cool NEW devices, one of which will capture 4K from the NEW SONY A7s which sounds like a beast. We also can't forget DJI releasing the Phantom 2 Vision+ with a three way gimbal head. These three times get a few extra minutes this week.
I can't forget to tell you that this week I received three Nikon D610's thanks to NIKON to record our three main camera angles for RAWtalk. We honestly didn't test them out, we simply set them up and hoped for the best.
I may have to warn you know that there is just a small singing section, not to much but just a little.
Stephen hits us with the weeks Photo News Stories and I go into some discussion about Trey Ratcliff putting up 500 full res images for people to do anything but sell them.
All of this and more on this weeks RAWtalk Episode #081.
I want to thank Atomos, RODE, Allen's Camera, Squarespace and you for making this show what it has become.
If you are interested in the chair I got Stephen from Herman Miller please click here.
Here's all of Stephen's photo news stories in detail:
Nikon Releases Inspiration D4s Short Film
First up, Nikon released their new D4s promotional film shot by Corey Rich called 'Dedicated' along with a 14-minute behind-the-scenes video showcasing the making of the film. It features photographers Dave Black, Robert Beck and George Karbus each telling their story and what photography means to them. If you need inspiration or a photo pick-me-up then this should do the trick.
Photoshopped Dogs Getting A New Home
Dog lovers need to check this out: photographer Sarolta Bán released a photo series simply called "Help Dogs with Images" where she took average pictures of dogs from shelters and photoshopped them into epic and mythical backgrounds and scenarios. The best part is that once one of the dogs is adopted, she sends a print of the final image to the new owners of her subject as a thank you. She says "There is a [low chance] for shelter animals to get adopted because they get little visibility. That's why it's a really great idea that everybody can be a hero with a single iPhone if they take a picture of a shelter dog, and upload it to the Internet." Now until June 30, she's accepting user-submitted photographs of abandoned animals who need a home in which she'll photoshop as part of the project. Click the image below to check out the full series: (via HP)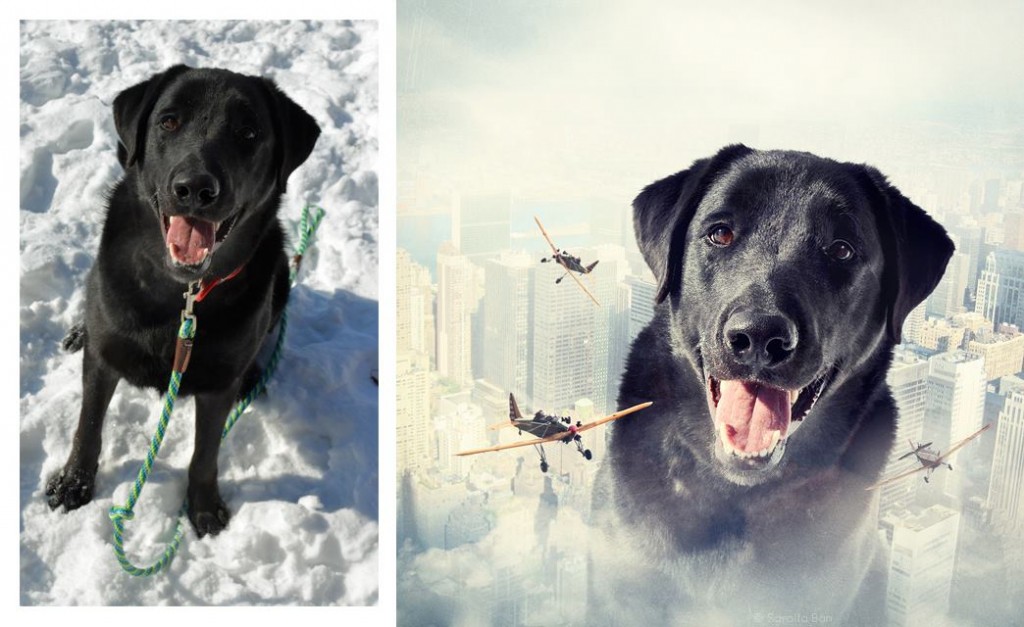 Photo courtesy of Sarolta Bán
Want to Photograph a Rare "Blood Moon"?
On the morning of April 15 around 2AM EST, a rare "blood moon" total eclipse will take place which will be the first of four lunar eclipses to happen over the next two years. Now, this will only be viewable from North America and if you miss this one you'll have another chance in about six months. Will you be photographing this? (via USA Today)
The Story Behind the Most Viewed Image Ever
A new video showcasing the story behind the World's most viewed photo is now online. After announcing that they will no longer be supporting Windows XP anymore, Microsoft released a video about their classic "Bliss" wallpaper which came stock with every Windows XP pc back in the day. The video is a behind-the-scenes mini-documentary with the photographer who took the image, Charles O'Rear. Watch him open up about how he took the photo below; interesting stuff! (via PP)
Introducing Lightroom Mobile
Some really big news this week, Adobe has officially released their iPad version of Lightroom, simply called Lightroom Mobile. One caveat though, the app is only available to users with a Creative Cloud subscription though. Lightroom Mobile integrates seamlessly with the full version of Lightroom 5.4 for PCs and Macs. Users can login with their Adobe ID to access the content stored in their desktop version of Lightroom via Smart Previews of the content from the desktop app. the files can also be downloaded to allow for offline editing for those without an internet connection. Lightroom Mobile offers much of the same functionality as the desktop version like your basic edit functions including cropping, sharpening, color adjustments, etc. All changes made in Lightroom Mobile sync to Lightroom on the desktop, complete with history states as well which is certainly a plus. Now photos edited in Lightroom Mobile can be saved to your iPad's camera roll, or shared via social networking sites. Images taken on the iPad can be imported directly into the app. The app also includes slideshow capabilities which is convenient for clients. I'ts available as a free download for the iPad in the App store. Compatibility for now is limited to iPad 2 and above running iOS 7. It will be coming to the iPhone soon too (with an Android version in the works). Will you be using it?
Same-Sex Wedding Photography Legal Case Is D.O.A.
The legal case involving a same-sex couple and the photography studio that refused to shoot their wedding back in 2006 reached its conclusion last week when the Supreme Court refused to hear the case so basically its D.O.A. Some background information on the story in case you're unfamiliar: the dispute began in 2006 when photographers Elaine and Jonathan Huguenin told same-sex couple Vanessa Willock and Misti Collinsworth that they only covered "traditional weddings." Now Willock and Collinsworth found another photographer, but they filed a complaint against Elaine Photography with the New Mexico Human Rights Commission, claiming that the studio's policy violated the state's anti-discrimination law. What's your take on this? (via USA Today)
Dying Father Gets to Walk His Daughter Down The Aisle Thanks to a Photographer
This next story is a little older since it broke the day we recorded last RAWtalk but I wanted to still bring it up. Photographer Lindsey Villatoro of Lovesong Photography gave a daughter the surprise of a lifetime when she put together a pretend wedding ceremony where her dying father got the chance to walk her down the aisle. The photographer met the Zetz family since she spends her free time working with charities and cancer organizations, offering photo shoots. Now, Jim Zetz, the father, is a 62-year-old patient who was diagnosed with stage 4 pancreatic cancer, scheduled a shoot with the photographer who then found out about their daughter Josie's birthday which was the following week, so she offered to do something for her as well. When she got home she posted the story to her website to see if she could raise some money or gifts for Josie's 11th birthday since this could be the last birthday she gets to spend with her father…She then got the idea of doing a surprise wedding so the father can walk his daughter down the aisle. In just 72 hours, Villatoro raised over $2,000 in birthday presents from her own clients, so she could get a wedding dress from L.A. Fashion Week, catering, flowers, tux, hair, makeup and more all donated by her local vendors. Villatoro didn't even meet Josie until the day of the wedding, who says it was "the best day of her life." The photographer then put together a touching video slideshow of highlights from the full day which is called "Walk me down the Aisle Daddy" which you can view below. Villatoro says her goal in shoots like this is "to preserve that person. Most people focus on the death and not the beauty of that person, who they were and the memories that they leave." Amazing. (via HP)
How The Photo Community is Helping a 4-Year-Old with a Terminal Disease
A similar story of the photo community coming together for a good cause: a 4-year-old girl named Eliza O-Neill has been diagnosed with the very rare and terminal Sanfilippo syndrome which is going to deteriorate her body and brain functionality within the next few years. Photographers and photo companies teamed up to help her family raise funds to find a cure for the terrible disease. With the help of BorrowLenses, DL Cade, Guillermo Castellanos and SmugMug, photographer Benjamin Von Wong flew to South Carolina and filmed a video about Eliza in hopes of spreading her story. He stayed with the family for nine days, learning their story, interviewing them, watching Eliza play and released a short introduction video which you can view below. So far they've raised over $268,000 via their GoFundMe campaign at the time of writing this article. Let's see if we can help them reach their goal of $1 million… (via FS)
Sony Announces D4s Competitor, the A7s
Moving forward to some gear news: Sony has announced the A7s, the new full frame mirrorless camera which boasts some insane ISO capabilities–that's what the "s" stands for actually, sensitivity as in ISO sensitivity. As far as some of the worth noting specs go, it shoots 8-bit 4:2:2 4K footage, but only when it's hooked up to an external recorder via HDMI like an Atomos. It also shoots 1080P up to 60p, 120fps at 720p with the 50 mb/s XAVC S format (standard DSLRs film at 20-30 mb/s). It sports a 12.2 megapixel sensor, the larger pixels are also said to provide better dynamic range, gradation and color fidelity. The crazy ISO range from 50-409,600. Now no price announced just yet but its expceted to start shipping this Summer. Will you be picking one up?
DJI Announces The Phantom 2 Vision+
DJI has announced an upgrade to the Phantom 2 Vision quadcopter with the new Phantom 2 Vision+. The upgrade features a 3-axis gimble (compared to the single axis gimble on the Vision 2). They also doubled the WiFi reach, which is now 2,000 feet, 50% increase in top flight speed which is about 50-feet per second now and you can now tilt 90 degrees with the camera; wow. DJI is also integrating a GPS system into the Phantom 2+, allowing users to create automated flight paths and/or keep it hovering in the same position even if it has to cope with winds of up to 25MPH while it does it. Plus, DJI released a firmware update for all Phantom copters. The update will allow pilots of the devices to avoid flying in restricted airspace, be it user-generated or federally mandated, which is great. This new version costs an extra $100 than the Phantom 2 Vision, coming in at $1300. I need to get my hands on one of these things…
Atomos Announces New External Recorders
And finally for new gear news, Atomos announced a few new products at NAB including the Shogun, a new 4k 7-inch recorder. It is the World's first 12G SDI & 4K HDMI monitor recorder and deck and features a 1080p SuperAtom IPS 7″ touchscreen, it even supports the newly announced Sony A7s so you can do the 4K video output. it'll be available for shipping at the end of Q3 in 2014 for under $2000. They also announced the Ninja Star, the lightest and smallest recorder to date, so small that this thing will fit on a DJI quadcopter as shown in the preview image below–looks to be a little bigger than a GoPro at 3.5″ wide and 2.3″ tall. This will cost $295 and take Cfast cards (no CF cards unfortunately) and will start shipping in late May. This would make a great addition to the new DJI drone…