The BEST Trip I Ever Had + Ziv Koren Interview: RAWtalk Photography #086
Right Click Here and hit save as to download this weeks RAWtalk as an MP3.
Table Of Contents
Intro: 0:08
Photo News: 11:50
Israel Discussion: 38:28
Ziv Koren Interview: 1:14:00
Gear of the Week + Wheel Of Fro: 2:06:00
My trip to Israel was the best trip I have ever had and I don't mean drugs. After spending eight days in Israel where I ate some amazing food, met some amazing people and saw some amazing places I wanted to share my experiences with you.
First things first this was a FREE trip, I did not have to pay a thing. The organization called Vibe Israel brings bloggers from around the world in different topics to help discover and talk about Israel. I am in no way obligated to say or do anything I do not want to do. You guys know I only talk about things I truly believe in anyway. Their goal is to show people that Israel is more than just WAR and what you see on tv which is generally conflicts. Now this is something that I know because I have been there before but so many people don't know that Israel is more than just religious jewish people. Stephen and I discuss the entire trip on this weeks show.
While I was in Israel I met Photojournalist Ziv Koren who has put himself in harms way when photographing the Israeli conflicts. His work is extremely powerful, it's sometimes hard to find words since his images are so strong. Ziv is a Canon Ambassador which means he helps test out new gear before most people even know it's real. But beyond everything else he is one hell of a person. I truly enjoyed getting to sit with him and spend time at his office talking photography. Thee is nothing I enjoy more than talking shop with like minded people.
Stephen get's us caught up on the photo new stories from the past few weeks before we jump into the interview and wheel of fro.
I want to thank Atomos for sending us out Blade back so we could use it this week. Man oh man the screen on that thing is amazing. What a major difference from the one we were using before. Thank you to RODE Microphones, AllensCamera.com and everyone who hooks us up with prizes on the Wheel Of Fro.
Enjoy this weeks show, you can find all the photo news stories at FroKnowsPhoto.com/rawtalk-86

Here is my talk at Google
Here's all of Stephen's photo news stories in detail:

Nikon Announces New 400mm Lens & Teleconverter
Nikon unveiled their new AF-S 400mm f2.8E FL ED VR lens. The downfall to an excellent lens like this is that it'll cost you $12,000, about $3K more than its predecessor; ouch. The camera brand also announced a standalone AF-S TC-14E III 1.4x teleconverter that would pair nicely with the giant lens with a pricetag of $500. Both new items will start shipping in August. Will you be buying or renting this lens?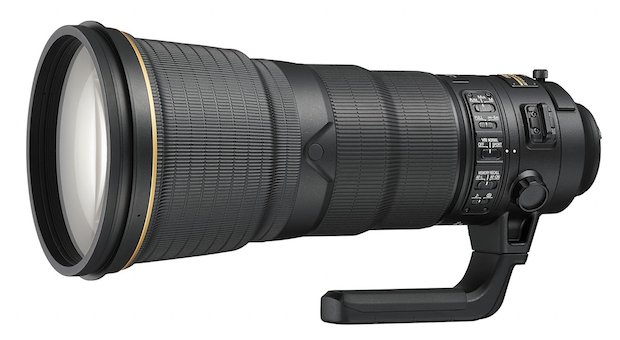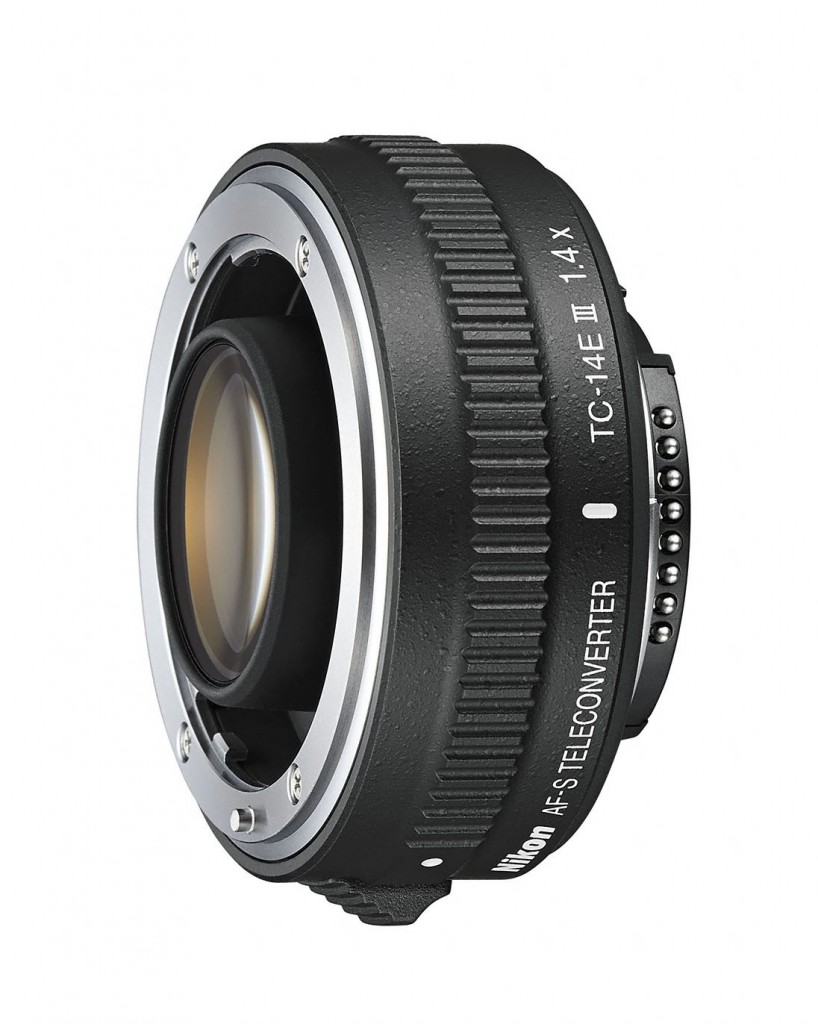 Canon Unveils IS Version of 16-35mm Lens
Along with Nikon's lens announcement, Canon also revealed a few new lenses. They announced the EF 16-35mm f4L IS USM lens with the IS giving you about 4-stops of shake reduction. It'll cost $1200, roughly about $500 cheaper than the non-stabilized f2.8 version. They also unveiled the EF-S 10-18mm f4-5.6 for those cropped sensor shooters which will cost you only $300. Meanwhile, as a side note, the white Rebel ST1 camera is now available in the U.S. for about $750. All three new products will hit shelves this June. I might have to get my hand on the 16-35 lens for video…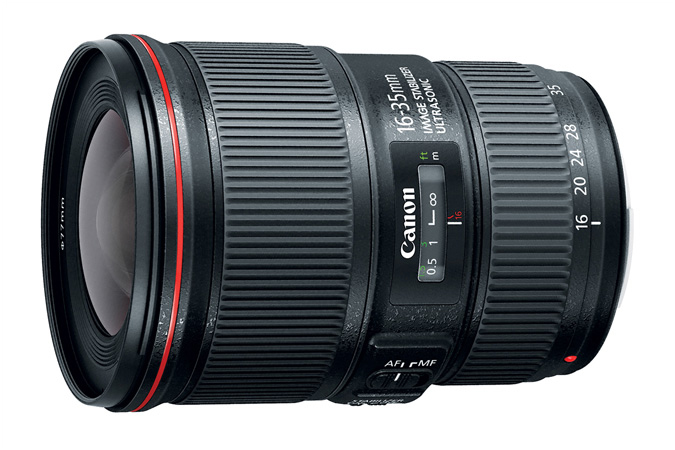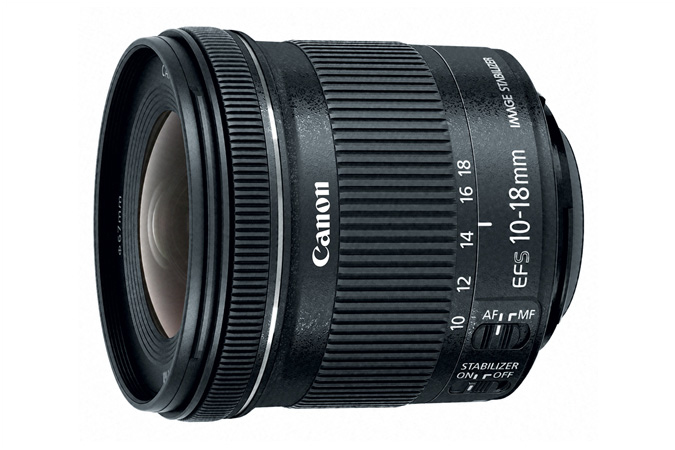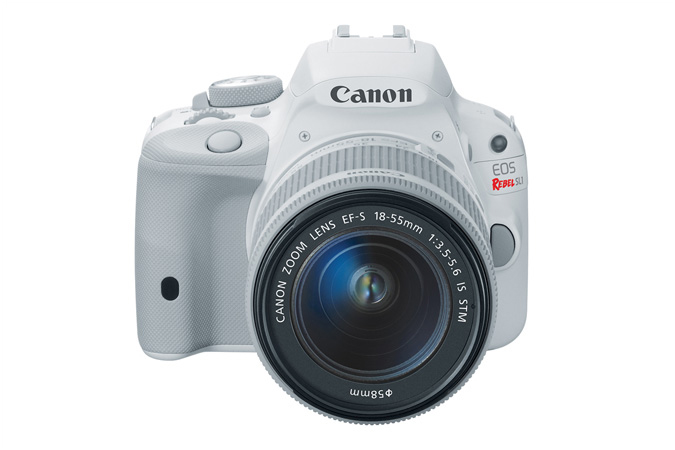 Nikon Updates the D800's Firmware
Even more gear news: Nikon released a firmware update for the D800 and D800E. The 1.1 update corrects various issues including:
More custom settings added
Support for CF cards greater than 128GB
Memory card light issue fixed
For the full list of fixes along with the download links, head over to the update page via Nikon Rumors. Was this a worthy update?
Photojournalist Killed In Central African Republic
Moving on to some tragic news relating to photography, a 26-year-old French photojournalist named Camille Lepage, has been killed while covering the conflicts over in Bangui, Central African Republic. According to the AP, her body was found by French peacekeepers in a car that was driven by Christian militia fighters. The French Presidency has released a statement saying that, "All means necessary will be used to shed light on to the circumstances of this murder and to find her killers." The U.N. Security Council as well as the Committee to Protect Journalists also called for an immediate investigation into her death; RIP. This was her last public update via her Instagram account:
The Editing Shortcut Web App Photographers Have Been Waiting For
This is really neat, a new interactive web app called the 'Application Shortcut Mapper' showcases what shortcuts are possible via Adobe Photoshop, Lightroom and Blender. Instead of your standard keyboard overlay skin that is outdated after a year, the website displays a keyboard which interacts in real-time with your own keyboard, so when you push down a certain key like CTRL, it shows the various different shortcuts used in conjunction with that specific key. It works with both Mac and PC systems and even lets you choose which module you'll be in since the shortcuts are different in say both the develop and print module in Lightroom. Head here to try it out for yourself. Now if only someone made an upgradable LED physical skin that worked in combination with this website…Anyone? (via PP)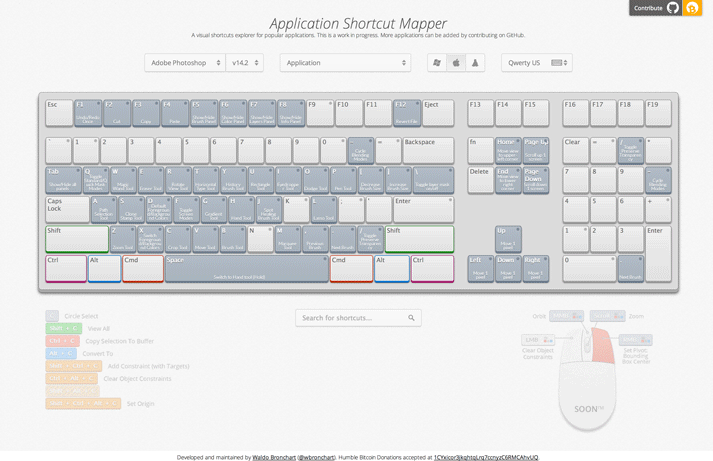 GIF courtesy of PetaPixel
Andy Warhol's "Lost" Amiga Images
An update on that Andy Warhol story that we told you about a few weeks ago, the mini-documentary about the recovery process of the lost 41 images that Warhol made with the Amiga software and stored on a floppy disk back in the 80's is now live. The film interviews members of the team who recovered the images who explain the whole process behind the recovery and how exactly they did it. They pretty much retrofitted these computers and decoded the extinct file format to display the images that were previously unviewable. The video entitled "Part 2 — Trapped: Andy Warhol's Amiga Experiments," comes in at almost 20-minutes which you can view below:
Photographer Leave 100's of Pinhole Cameras Around Berlin For 100-Yr-Old Exposures
Photographer Jonathon Keats has hidden 100's of pinhole cameras around Berlin that will take 100-year-long exposures. If all goes as planned, the images will be shown off in 2114 in an exhibit that Summer (which we all won't be around to see). The cameras are based on traditional pinhole cameras, since Keats says anything complicated is liable to break at some point. The placement of the cameras will be crowdsourced, basically anyone who showed up on May 16 and paid €10 got a camera to take home and place somewhere–they were told to keep the location secret until old age. Who knows if this project will actually succceed. If we all live to be in our 100's then I guess we'll find out… (via PP)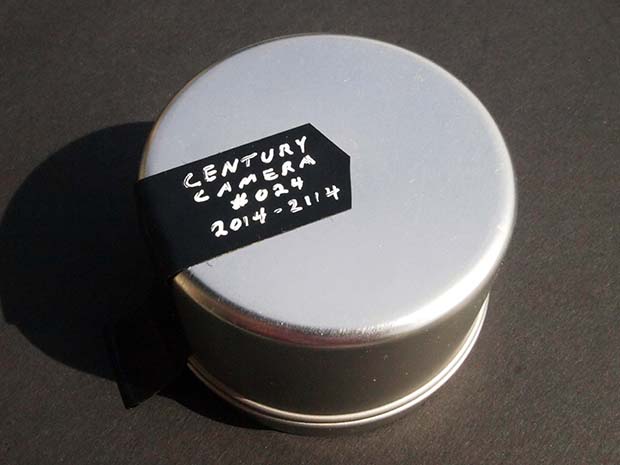 What Happens To a Nikon D4 When It Gets Left In a Storm
A Lebanese photographer named Alexy Joffre Frangieh–the guy who actually custom paints Nikon cameras–found out what happened to a Nikon D4 in harsh weather after he left his $6,000 camera out in a heavy storm for over 16 hours. Here's how it happened: he was initially set up for a timelapse in a closed park that's 120 miles from his home. The weather appeared to be fine and only called for light showers so he drove back home only to come back the next day to find out the area was poured on. He also had a Nikon D3s set up as well which got drenched. However, both cameras were still shooting timelapse photos when he found them but the gear was covered with water, even leaking into the casing. The crazy part is that after some thorough cleaning and dehumidifying, the gear works just like new. I wonder if he ended up getting anything out of the timelapse photos or if the water on the lenses made them unusable…Click the photo below to check out the full set of images of the soaked cameras via PetaPixel: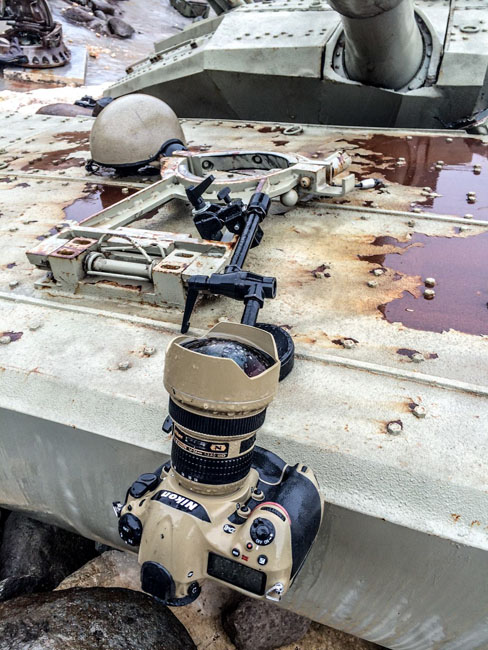 Photo courtesy of Alexy Joffre Frangieh
Kai Wong Shows You How To "Look Like a Pro"
DigitalRev put together a funny parody video showcasing how to "look like a professional photographer." The video mimics an 80's jazzercise video where host Kai Wong reveals a couple of tips including the clothing to wear, how you should use a giant camera with a lens hood and even unveils the "pro" poses including "the Mr. Bean", "the blue steel" and "the Spider-Man". Watch below for a good laugh:
What Our Future Holds: Animals Taking Selfies
Yet another fun story, a Brazilian stock photo agency called Diomedia created a new ad campaign that showcases animals taking selfies. The ad was used to debut a new National Geographic collection and they wanted to share the news in a way that would relate to today's audience. The hilarious images feature a bear taking a bathroom selfie, a panda bear taking a selfie against an elevator mirror, my favorite being the gopher holding up the phone that's as tall as him and taking a selfie and many more. The caption on the images reads, "There are lots of terrible animal pictures out there. National Geographic Collection. The best of nature images are here." Check out the ad below along with a behind-the-scenes video of how the images were made and while you're at it, head to their Instagram account where they posted more images that didn't make the final cut. (via Fubiz)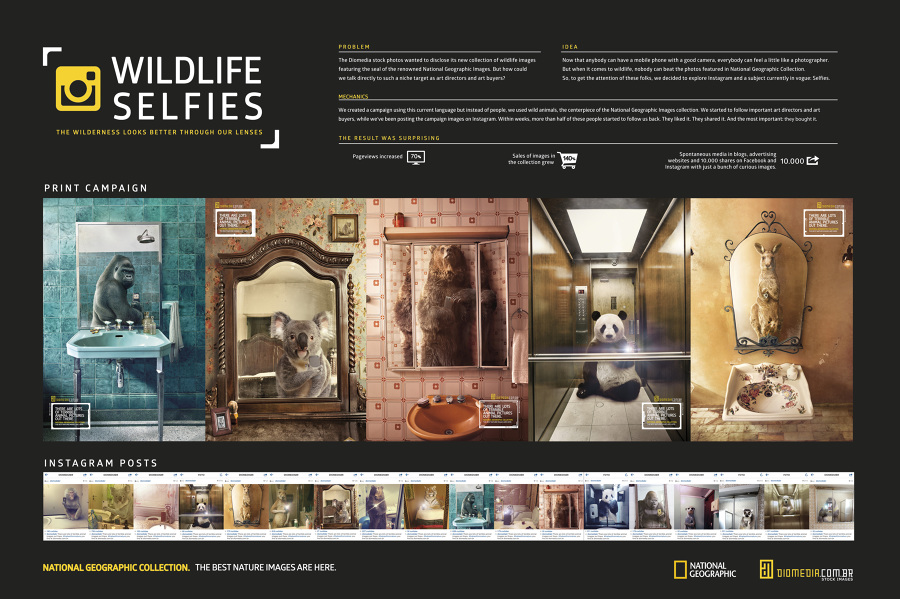 Tamara Lackey Shows How To Get an Authentic Smile
Nikon released another video from their behind-the-scenes series, once again featuring Tamara Lackey. This time around, the photographer shows how to capture an authentic smile. Peep the really quick video below, where she explains the difference between a fake smile and a real laugh. What are some techniques you use to capture a legit smile?
Drone Nearly Collides With an Airplane
This is scary stuff: a drone and an airliner almost collided mid-air in Florida recently. According to FAA administrator Jim Williams, this past March a drone nearly hit a US Airways jet, coming close enough to concern the pilot about potential damage to the plane. The drone was said to be violating rules by flying at an altitude of 2,300 feet, when the legal limit is 400 feet (I didn't know that, where are these laws posted?). The FAA has planned to put into effect rules for commercial drones this coming November, but according to Engadget, it could be years till the rules are actually implemented.
Introducing a New Drone: The Parrot Bebop
And speaking of drones, a company called Parrot announced a new drone called the Bebop. It features a 14MP sensor, a fisheye lens, and is WiFi-enabled. The neat feature is the interesting remote control which is called the Skycontroller that is also Oculus Rift-enabled. It can extend the range of the drone to about 1.2 miles as well. The downfall? The flight time is limited to only 12 minutes…No pricing or availability listed just yet. Does this interest you?