The Business Of Photography: RAWtalk Episode #090
Right Click Here and hit save as to download this weeks RAWtalk as an MP3.
Photography can be many things, it can be fun, it can be an obsession, it can be a release from the world and it can be a business. Chances are if you are following my Podcast and website you are looking to become a better photographer and in many cases make money with your photography.
The business of photography is not easy. So many people think that being a full time photographer is the most glamours job in the world. Il be the first to tell you there is nothing better than to get paid to take photos. On the flip side I don't spend as much time as I would like actually shooting. Business, branding and marketing is where my time as a photographer gets spent.
With all of that said, I asked you guys to ask me business related questions so I can try and shed some light on the business side of photography.
I answered more questions than I have on any other podcast. I also wanted to make very clear that there are no secrets to being successful. Not everyone will succeed at being a full time photographer but there is no reason why you can't make good money at being one.
All I can say is keep on shooting and fighting. If you want something bust your ass for it. Work harder then you have ever worked before. Be smart, take calculated risks but don't over step before it's time.
A BIG THANK YOU goes out to Atomos who is releasing very soon the Ninja Star which is a $299 tool that may just change how we all record video.

AdoramaPIX gave me a special code to share with you guys for 40% OFF of 10×10 Photo Books until the end of the month. Use code "pxjafrobk"
I will be going on CreativeLive from July 10-12 and you are invited to join me LIVE for FREE on those three days. You can get more information and RSVP right here.
Here's all of Stephen's photo news stories in detail:
Camera Lost for 2 Years Underwater Reunited with Wedding Couple
Yet another lost-and-found camera story: A waterproof point-and-shoot camera that washed ashore finally found its proper owners after being lost for TWO years! The camera, a Canon Powershot D10 was lost on a couple's honeymoon. The memory card featured several photos from their wedding along with their honeymoon, clearly very important photos. A woman named Marian Rogers found it back in 2012 and went to the news to find it's rightful owners. Well, that's exactly what happened, the news story stirred up interest and ended up reuniting the camera with the newlyweds. All the photos were still intact and safely delivered to the then-newlyweds. (via MyFox8)
RUMOR: Canon 7D Mark II Coming At The Send of Summer?
More rumors on the Canon 7D Mark II: The APS-C camera is rumored to be announced in August. Reports are coming in that the original 7D will no longer be available from dealers starting in July, so rumor sites are speculating that it will arrive the following month. It's been rumored that they will be showing off the camera at Photokina in September too. Most new products presented there are originally announced in August, so this rumor is looking pretty valid at this point, then again this body has been rumored to be coming out for the past year… (via CR)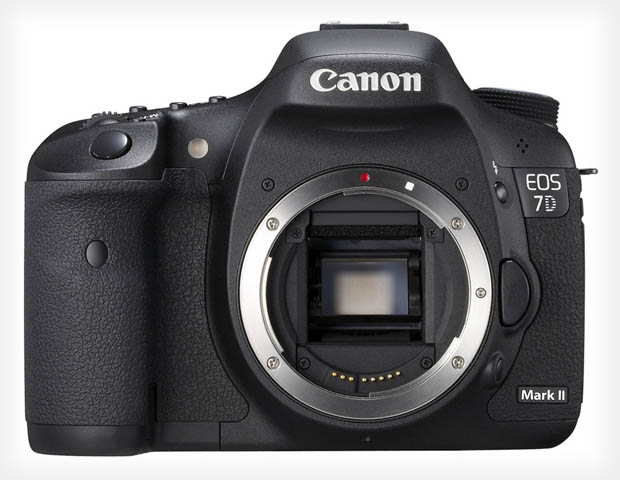 Sunday Times Pays Tribute To Photojournalism
Probably my favorite story this week: Britain's Sunday Times Magazine paid tribute to photojournalists in a new video showcasing some of the most iconic and powerful photos from the last century. The video is a part of an on-going promotional project that the Sunday Times put together to help tell the World why photojournalism is so important in a time where so many newspapers are laying photographers off. Check out the inspirational film below:
Ride a Roller Coaster via the "Little Planet" Effect
Photographer Ignacio Ferrando rigged six GoPros and brought them on a roller coaster, creating a 360-degree "little planet"-like effect. I will say it's pretty nauseating to watch but certainly a really cool perspective. This technique is getting more and more popular in the past year, GoPro should just start selling an accessory or custom rig for this type of setup. What do you guys think? (via SLRL)
Breathtaking Iceland Photographs Taken with Infrared
A new set of beautiful images from Iceland captured via infrared are now online. The series–called Blue Iceland and Iceland: one set having a blue tint, the other being black and white–was taken by photographer Andy Lee. Lee used a converted DSLR to take all the photos and he is planning to return to Iceland for even more photos in the near future. Head here to view all the photos from his trip. (via PP)
Re-visit Paris 70 Years Later with "Then-and-Now" Photos
There's a new then-and-now photo series featuring past and present photos of Paris for the 70th anniversary of the Liberation of Paris. Photographer Julien Knez placed the physical vintage photographs in their current surroundings, retracing the entire city's history. Knez ended up matching 50 photographs with their surroundings, which I'm sure took several days if not weeks to complete. Click the header image below to view the complete set: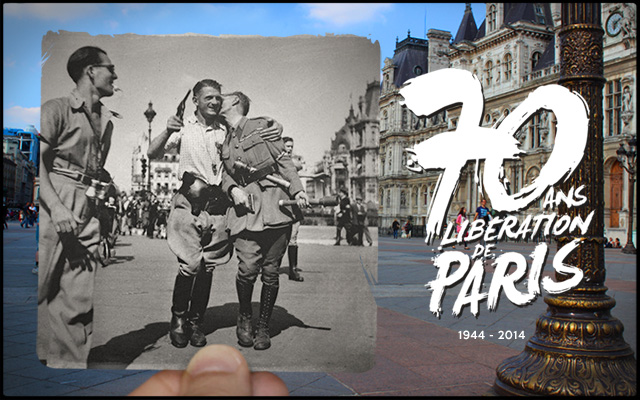 Photo courtesy of Julien Knez
Woman Assaults  Drone Pilot, The Whole Thing Caught on Camera
A woman named Andrea Mears attacked a photographer for flying a drone over a beach (public property). The incident took place last month at Hammonasset Beach in Madison, Connecticut. It all happened after she was upset that he was taking pictures of people on the beach claiming he was a "pervert." She ended up calling the police on him while he was packing up his gear. The crazy part is that she then began to assault him for no reason at all. She ends up ripping his shirt all while hitting him over and over. He then put her in a hold so she couldn't do any more damage. The best part is that the photographer caught it all on video. It gets even better: when the police arrived, the woman tried telling the cops that he assaulted her. He showed them the video and they ended up flipping the charges and arrested her for assault in the third degree and breach of peace in the second degree. She's scheduled to appear in court this week on June 19. Watch the entire incident unfold below and read the court filing and even check out what the photog has to say about it over at RC Groups. Karma is a bitch… (via PINAC)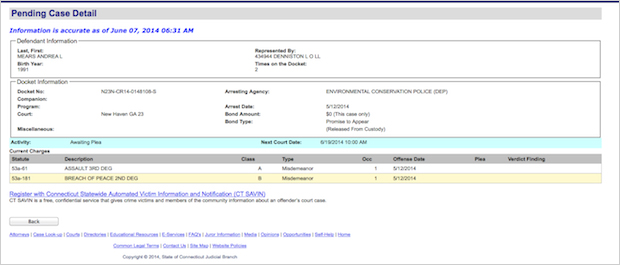 Sample Footage of Apple's New iOS8 Timelapse Feature
Sample footage of iOS8's new timelapse feature has hit the web. Not surprisingly, it looks like any standard timelapse video, just nice to know you don't have to lug around your DSLR and intervalometer everywhere now (even though there are several camera apps that already utilize this feature). Check it out below: (via 9to5Mac)
D-Day Vets Photographed Where They Once Fought
This is really powerful: photographer Robin Savage posted a new photo series called 'The Last of the Liberators' which showcases D-Day British veterans photographed at locations where they originally fought in Normandy. Now the 70th anniversary of D-Day just passed, but these vets were photographed during the 68th and 69th anniversaries of D-Day. However, the photos were recently published in a new photo book just last week for the 70th anniversary. There's also behind-the-scenes video of the photoshoots to go along with the photos which you can view below. Some really amazing images, the look on the faces tell the whole story alone… (via PP)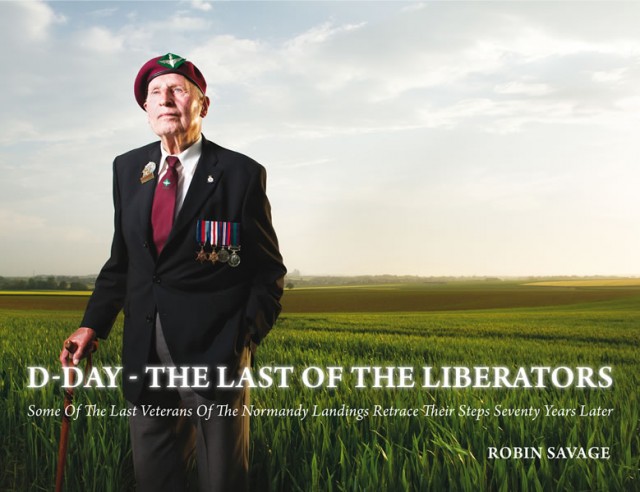 Photographer Mixes Tintype Camera and Street Photography Together
A photographer named Jonathan Keys went out on the streets to take portraits, but switched things up and used a 130-year-old wooden camera and a 100-year-old lens. He only takes about six photos a day because of the intense process for wet plate photography, but they sure are worth the effort. The resulting images look as if they were taken in the late 19th century. The odd part is how he's using it for street photography, something that's typically fast-paced. Keys says it takes about 15 minutes for each picture, from prepping the plate to exposing it to developing it. Head over to his Flickr page to check out the full set. Would you ever consider doing something like this? (via MMM)
Canon Teaches You How To Properly Clean Your Camera
Canon released a new video tutorial showcasing the proper methods for cleaning your gear. Pretty standard stuff in my opinion, featuring how to clean the lens with a lenscloth and air blower to cleaning the body to even cleaning the sensor. If you're new to the photography game, this is a must-see video:
Wedding Photographer Uses Wildfire as Wedding Formals Backdrop
A wedding photographer named Josh Newton created some incredible wedding photos after having newlyweds pose with a wildfire as the backdrop. The wedding actually had to be evacuated since the wildfires were so close to the ceremony. However, before the couple left, the photographer got some once-in-a-lifetime shots. Some say the wildfires weren't a good choice and some think they're breathtaking–what do you think? Head over to his blog to check out the complete set. (via PP)
Photographer Denied Access Into Theme Park for Wearing I Shoot Raw Shirt
Oh and we made the list this week with Jared's Six Flags rant!