RAWtalk 092: Sometimes the BEST questions are the hardest to answer
Click Here to download this weeks episode as a MP3.
I often put the call out for "Flying Solo" questions and generally a large portion of them have something to do with camera gear. Those questions do have place but I think the hard hitting questions tend to be the best ones. Sometimes the best questions are the hardest to answer. Questions that make me think or challenge something are the ones that bring out the best answers. Asking vague questions like "when do I know it's time to go pro" are not exactly hard hitting. Whereas the more pointed questions have a better chance of getting answered. I am sure you are curious as to what those questions would sound like. You won't have to wait to long as I made sure to select some of the harder hitting questions this week.
Please keep the questions coming when I put out the call, your questions are helping not just me but other readers who probably are thinking the same thing. Just remember that I probably won't be answering the questions related to "what lens should I buy" or "how do I make money". But if you think it out and it's hard hitting and to the point, there is a better chance it will get answered.
Stephen came to the table this week with a fully loaded arsenal of photo related stories. We showcased the NEW DJI Phantom 2+ as our gear of the week. And we unveiled the NEW Wheel Of Fro graphics that a FRO reader was kind enough to send designs over for.
There was also a little side step question that related to "What makes a good business card". Sam Green was here and showcased his "Plastic" business card that he picked up at http://www.plasticprinters.com/ which I am in the process of testing out as we speak.
I want to thank RODE for the microphones and arms that we use each and every week. I also want to thank www.Atomos.com for their continued support and finally AllensCamera.com for being there since day one. Don't forget to ask for the FroPrice when you give Allens a call.
Thank you guys and enjoy the show!!!
Here's all of Stephen's photo news stories in detail:
Nikon has officially announced the D800 successor–the D810. Specs on the new body include an ALL-NEW 36.3 MP full-frame sensor. No optical low-pass filter just like the D800E. The ISO range is now 64-12800 (expandable to 32-51,600). The new DSLR shoots at 5fps full-frame and 7fps in DX mode. The D810 can shoot Raw "Small" which is a plus for those that don't want the huge files. It sports an Expeed 4 image-processing engine with improved AF including Group Area AF mode taken from the D4s. Video can be shot up to 1080p at 60fps (no 4K unfortunately). There is a new Kevlar/carbon fiber composite shutter that reduces lag and shutter noise. Meanwhile, Nikon says they improved the grip and "optimal layout of operations controls." They also added a "Flat" Picture Control setting for capturing as much highlight information as possible for better color grading in post. Check out the full press release and Jared's first impressions here while we wait for the new camera to be available on July 17 for $3299.95. Will you be upgrading?
Speaking of new products, Rode has announced the SmartLav+, an upgraded version to their original portable SmartLav. The new mic features an updated microphone capsule to improve sensitivity and lower self-noise (27dBA). They also added a Kevlar reinforced cable so users cannot damage the microphone under normal conditions. It's available now for $79–another great product to just have in the bag at all times!
A photographer named Jonathan Eade was hit by an Amtrak train in Missouri and killed during a recent photoshoot. Police say the train came around a blind curve and couldn't stop in time, striking the photographer. The traffic below, under the bridge where they man was struck, apparently covered up the train noise. The engineer behind the controls was cleared of any wrong-doing as well, he says he sounded all the warning devices, attempted to stop the train, and even put the train in full emergency mode, but the photographer still didn't respond. He says it could take up to a mile to stop the a train of that size. There were also several 'No Trespassing' signs that the photographer ignored on the bridge, that was really only wide enough for a train to pass through. Sad news and another reason to be aware of your surroundings when photographing. (via SLR Lounge)
There's a new iOS app called Golden Hour that does just that, notifies you when the best time of day to shoot is. When launched, the app displays the time of day when the sun will rise and set on that particular day. Users can also enable push notifications so the app notifies you moments before the golden hour is about to begin. The best part? It is free in the app store so go check it out!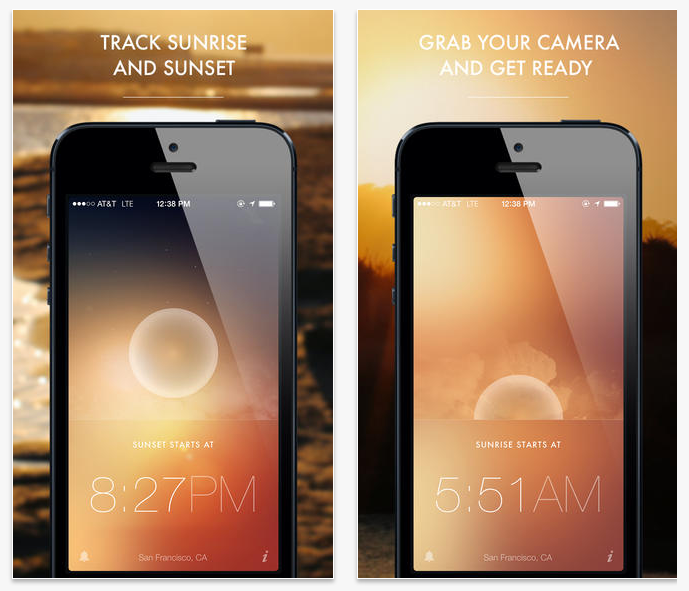 There's a new night sky panoramic timelapse video that was shot in 360-degrees and has a similar "little planet" effect going on. Photographer Vincent Brady created a custom rig for four DSLRs that were all equipped with fisheye lenses and set to 1-2 minute exposures. He set them all to continuous and took as many pictures as he could until the batteries died which resulted in the final video that can be seen below and read up about how he did it over on his blog. It's quite a very trippy video actually, similar to a cinemagraph where the sky is moving but the ground is static. (via PP)
The National Park Services has told the Associated Press that it will soon ban the use of drones in all 401 parks across America. Yup, the Park Services director, Jonathan Jarvis, says the threatening and harrassment of wildlife is their main concern here, he also notes the safety of rock climbers and visitors. However, according to the AP report, parks can continue to grant permits for drone flights for research, search and rescue, and firefighting purposes; commercial operators and filmmakers can also apply for a permit to operate a drone so don't worry, it looks like you'll still be able to shoot your next short film in a park…
On the opposite side of things, the University of South Florida will be letting students check out drones–DJI Phantoms to be specific–from the campus library. The staff believes it will be an educational experience for students that range in studying everything from engineering to architecture to photography. The school says each student that wants to check it out will be "trained and supervised" before being allowed to check one of the flying cameras out. I'm glad this school is using today's technology to the fullest unlike most universities around the country. (via ABCAN)
There's a new comical photo series called 'IN EXTREMIS' (bodies with no regret) that recreates the exact moment people fall. The series, which is showcased on Instagram, is being run by photographer Sandro Giordoan. He got the idea after he was in a bike accident last year and remained holding onto an object in his hand while he fell which resulted in losing 30% function in his hands; ouch. The series features people clutching onto whatever they were holding after they take a devastating fall. The photographer says, "we live in a time where we risk material things becoming more important than our own lives, and this is really worrying." All the models are face down, legs in the air–the works. Check out some of the best ones out below and view the full series via his Instagram: (via LS)
Flickr has revamped their photo pages once again. The most notable difference being the layout in the photo information area, which has been moved back under the photograph versus next to it. Users are also reporting a big speed update in general. It's nice to see that Yahoo is constantly evolving the photo website. (via Reddit)

What's photo news without another new Kickstarter campaign? Yup, there's a new campaign that brings a photography-related game to light called Paparazzi. The 8-bit game is centered around two players, the photographer and the celebrity. the goal is for the celebrity to avoid the photographer's camera (it reminds me of Duck Hunt but with people). The photographer gets an emulated viewfinder and a bird's-eye-view of the environment which the celebrity then runs around attempting to get away from the Paparazzo. The game has already hit almost half its goal of $5000 at the time of writing this article and still has about a week left. For a $10 pledge, you can get a digital copy of Paparazzi when it comes out, or if you want a more customized experience, you can drop $250 for your own celebrity character. (via LS)
Meanwhile, there's a new stunning 4K timelapse video that takes you across America in five minutes. Photographer Joel Schat took the footage as he traveled across the states. The video features mostly landscapes like national parks but is still a must-see. Check it out below: (via PP)
And finally. pop rock band Paramore is holding a new contest on their current 'Monumentour' where fans can purchase disposable cameras at each show (limited to 15) in hopes of finding a "golden ticket" inside that will grant them access to the photo pit for the first few songs. I personally got a chance to photograph the band at last week's gig in Camden, NJ where the press photographers had to shoot the LAST three songs so the fans could shoot the three. I appreciate the band not mixing all of us up in the pit all at once!