You've Just Been TinTyped: RAWtalk Photography Episode #093
Click Here to download this weeks RAWtalk as an MP3.
Please see the table of contents below to jump to a certain portion of RAWtalk.
00:07 Intro, 10:07 Photo News, 36:09 Giles Clement Interview, 1:15:03 Gear Of The Week, 1:17:43 Wheel Of Fro
What goes into capturing images like it was 1850 all over again? I'll tell you, a whole lot of knowledge, caustic chemicals and a lot of practice.
I had photographer Giles Clement in to the loft this week to talk about his love affair with tintype photography. How he got into it, how he learned what he has learned and his thoughts on the future of the medium. Yes, I asked if it is being ruined by the easy access to everything that is needed to make tintype images.
Giles knows his stuff and I asked him to stick around for a 5 Min Portrait using one of his 8×10 view cameras. That video was a lot of fun to make and I can not wait to share it with you. If you would like to contact Giles for his services you can contact him on his Squarespace site http://www.gilesclement.com/ .
This week was loaded with a ton of Photo News stories that Mr. Stephen Eckert brought to life. There were some interruptions, some singing and a whole lot of fun.
Don't forget I will be heading to Seattle to be on CreativeLIVE to teach a class on Low Light Photography starting Thursday July 10th until July 12th. This is a FREE class as long as you tune in to the live broadcast. While in Seattle we will be attempting our very first Mobile RAWtalk with a LIVE studio audience. I hope you will be able to join my class.
I want to thank AllensCamera.com for their continued support, RODE Microphones for the killer audio gear we use, Atomos for our digital recorders and you.
Here's all of Stephen's photo news stories in detail:
Apple Kills Off Aperture
Apple has officially killed off Aperture 3. The company says "with the introduction of the new Photos app and iCloud Photo Library, enabling you to safely store all of your photos in iCloud and access them from anywhere, there will be no new development of Aperture. When Photos for OS X ships next year, users will be able to migrate their existing Aperture libraries to Photos for OS." However, Apple has said it it working with Adobe to help users transition their libraries from Aperture to Lightroom for Mac. Does this decision effect you and your editing? (via Loop)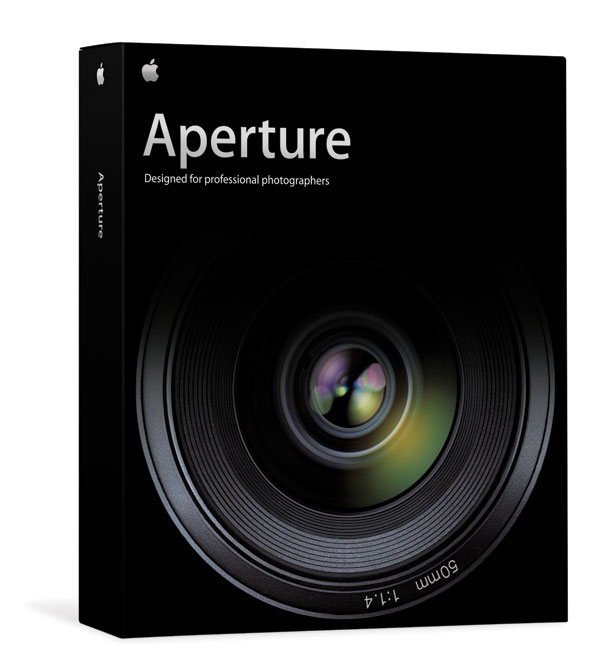 Ansel Adams View Camera Up For Auction
Ansel Adams' Arca Swiss 4×5 camera has hit the auction block. The current bid for the camera at the time of writing this article is $5,250 with the reserve not yet met. The description lists the low estimate to be $150,000 and the high estimate to be $300,000, clearly still a ways to go. However, it's very likely that it hits around that price point since the condition is listed as "excellent." The camera is still fully functional: the bellows appear to be light tight, the lenses stop down and the shutters are still working. In terms of how the camera came about, in the later years of Adams' life, he handed the camera off to his full time assistant Liliane DeCock. After DeCock passed away in 2013, the camera was willed off to her son, who kept it safely in storage until now. This is also thought to be the first Ansel Adams view camera that has ever been sold or available to the public. Click here to head on over to the auction and get your bid on. (via TPB)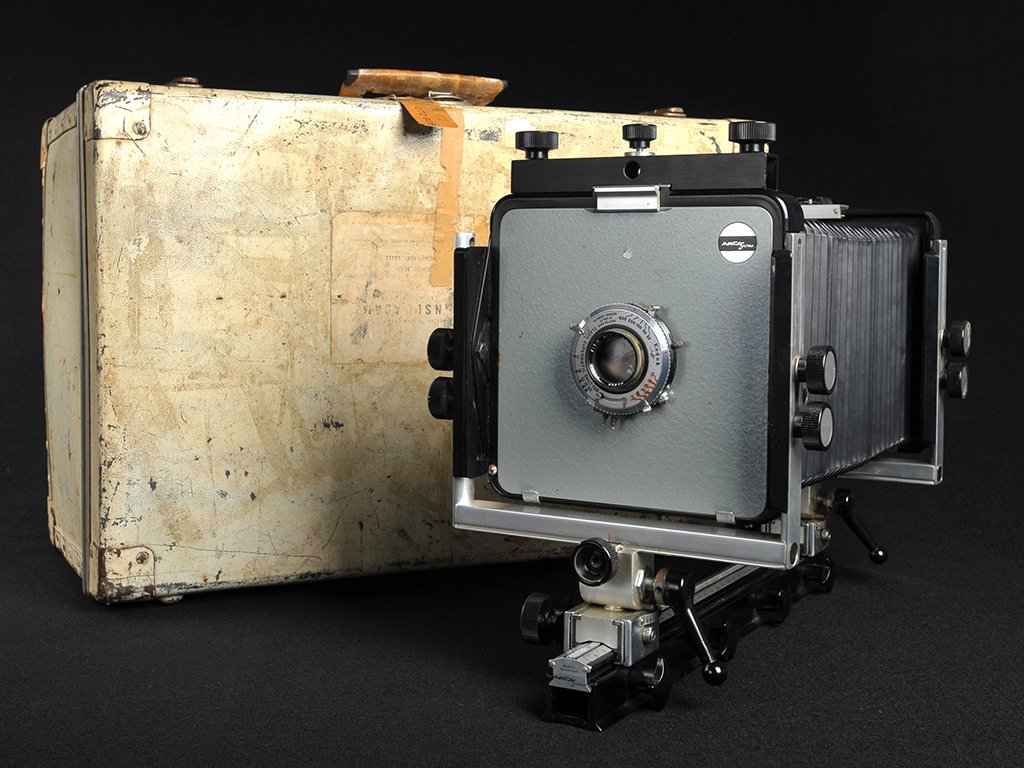 Photo courtesy of Proxibid
Android Implementing RAW Support In New OS
Android introduced their 5th mobile operating system called Android L. The new OS now supports RAW, specifically DNG support. Future Android phones will capture RAW images just as they do JPG today. Android will also implement full manual controls built into the new OS, from exposure time to tone maps / curves to everything in between. Android L will officially be available this Fall and is currently already available to developers. Is this the future of photography? (via TR)
Canon & Microsoft Team Up
Speaking of smartphone photography, Canon and Microsoft signed a new patent agreement, where both parties can gain licenses to each other's patents. There's not much detail to what exactly the patent agreement entails but Microsoft says it includes "certain digital imaging and mobile consumer products." Microsoft recently bought Nokia so many believe they will put Canon tech in Nokia phones, while others are saying Canon will make it's own smartphone powered by Windows Phone OS rather than Android. Hmm, what do you think?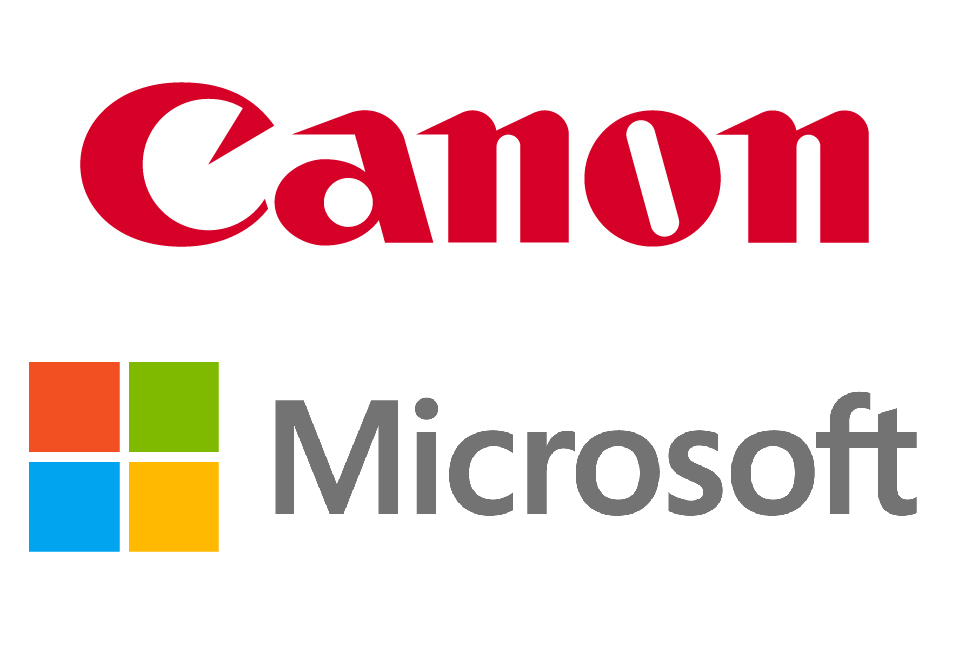 Need a Camera Made From Crystal?
If you want a fancy way to showcase your camera without actually leaving it on a shelf, Fotodiox has created crystal cameras available in the shape of either a Nikon D90 or Canon 7D. The replicas are 2/3rds the size of the actual camera, made from premium grand K9 crystal. As far as price goes, they're selling for $90 each which is certainly reasonable. Will you be buying one? (via PP)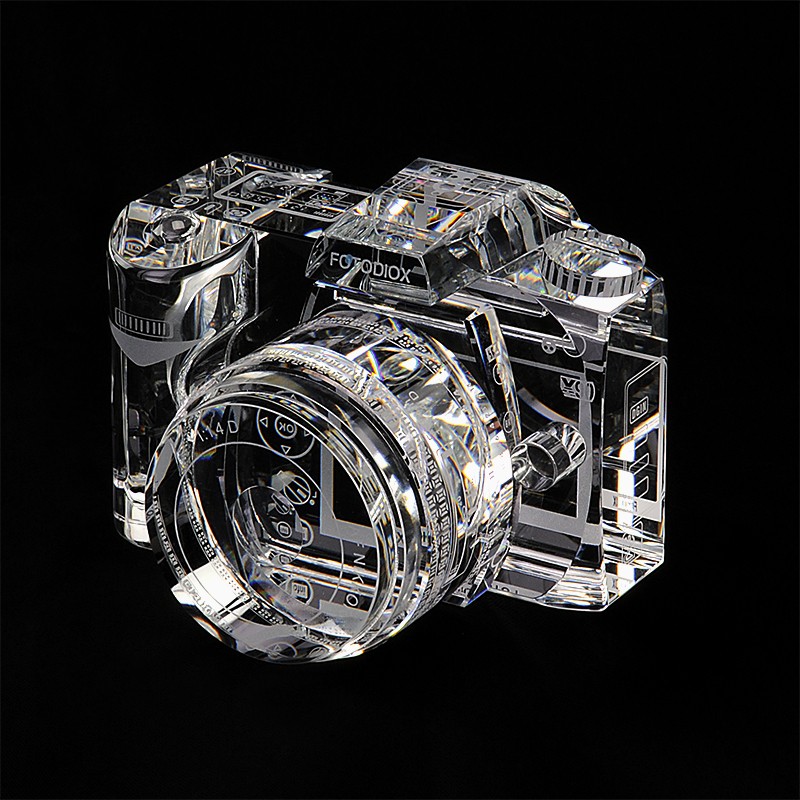 27 Countries' Perspective of a Beautiful Woman
Journalist Esther Honig did an interesting Photoshop experiment she's calling "Before & After". She took to freelance website Fiverr to find Photoshop professionals from around the globe. 27 artists from 27 different countries replied to her ad, and each of them got one photograph and the same basic instructions: "make me look beautiful." The outcome was 27 different countries' perspective of what makes a woman beautiful in that specific region. As Honig writes on her website, "Photoshop allows us to achieve our unobtainable standards of beauty, but when we compare those standards on a global scale, achieving the ideal remains all the more illusive." Click here to head on over to the project's website and see them all for yourself: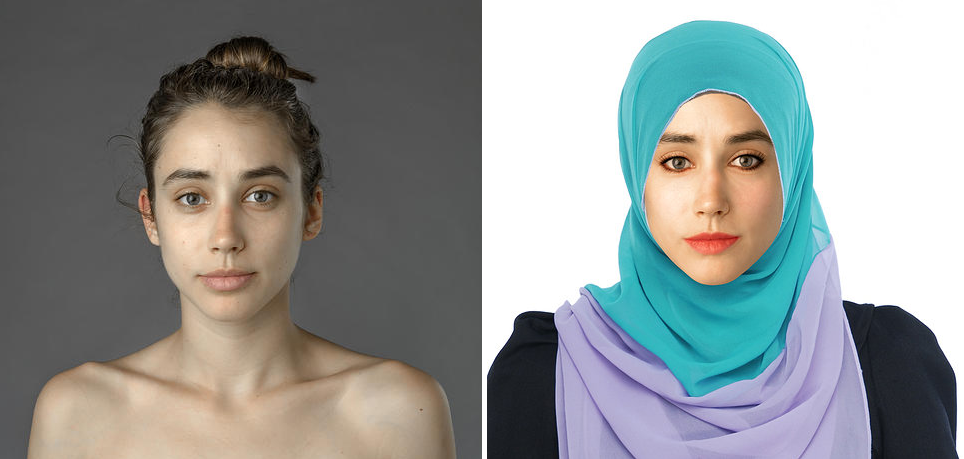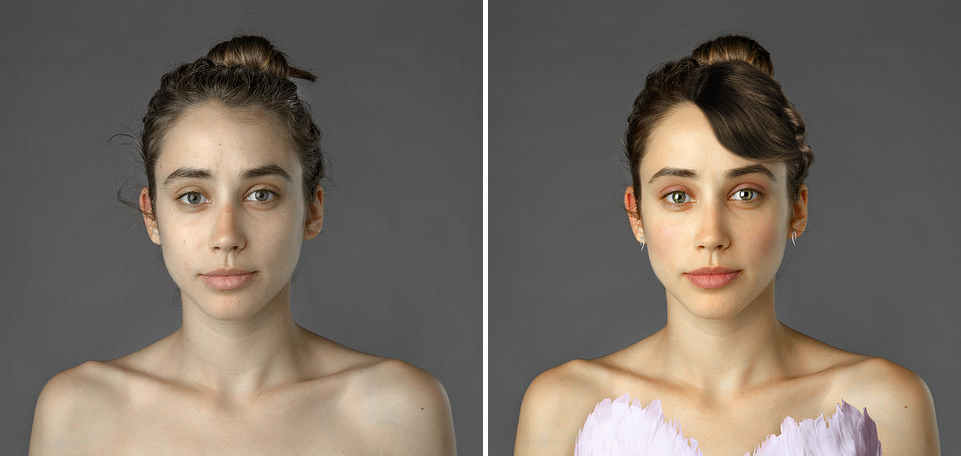 Photos courtesy of Esther Honig
Underwater Photoshoot with Ben Von Wong, Part II
Benjamin Von Wong released part two of his recent underwater photoshoot. The second edition brings you behind the scenes of how the whole thing came together. He explains how he originally went to Bali for a family vacation, ended up getting his divers certificate and open water license, met up with free divers who were the models, got in touch with a designer for the dresses and voila (sound a lot easier than it really was). Check out how he did it all below and head on over to his blog for some before-and-after photos from the shoot.
New "Then And Now" Photo Series Switches Things Up
There's another new "then and now" photo series up where they place a picture in front of another picture from a different time period, however this time around they placed current day photos in front of giant vintage photos of the same location. Called 'Now & Then: Seeing the Future from the Past', photographer Samantha Decker wanted to try the then & now series out but not do the same exact thing everyone else was doing. She held up her hand for the shots, with most of the old photos being in black and white and the now pictures being in color. Decker says, "my hand is meant to be in the scene from the past, therefore I tinted or colored it for each photo to match the scene. Before creating the scenes, I photographed my hand against a white background (to make it easier to mask), and gathered public domain photos from WikiMedia Commons that were similar to photos I already had." Click the image below to view the entire series: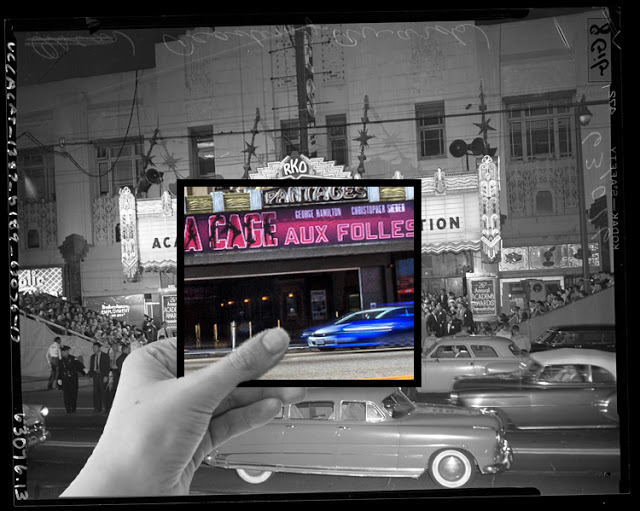 Photo courtesy of Samantha Decker
Photos of Hitler Practicing His Speeches Surface Online
On the subject of historic photos, Downtown Camera shared a set of images from Adolf Hitler's personal photographer Heinrich Hoffman which showcases the Nazi leader's body language as he practiced his speeches. The resulting images almost look comedic or photoshopped as Hitler makes these odd gestures which you can view here followed by a sample below.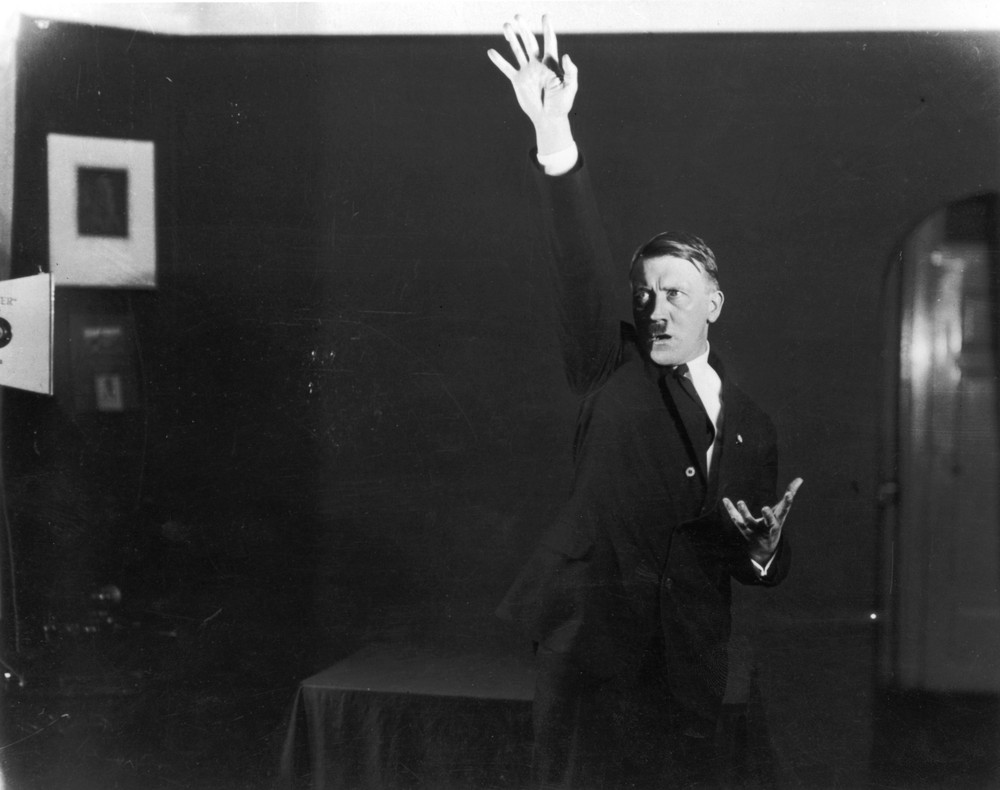 Martín De Pasquale's Amazing Self Portrait Series
Flash forward to 2014, a photographer and digital artist named Martín De Pasquale created some remarkable photos via a new self portrait series. The series features him with a lawn mower on his face shaving his beard, peeling a banana with half his face peeling off too, eating an apple with pieces of his body bitten off, etc. He even went as far as making a behind-the-scenes video revealing how he created the images via multiple composites in Photoshop (which he is EXTREMELY good at). View all the pictures over at his Behance profile and check out the video below: (via PC)