RAWtalk #096: This Is For All The Hobbyists, a 2+ HOUR Show
Click Here to download this weeks episode as an MP3.
We have to start off with a BIG HAPPY BIRTHDAY to Stephen Eckert who's birthday was on Thursday.
There is a large portion of you guys out there who consider yourself a "Hobbyists". There is absolutely nothing wrong with being a hobbyist who loves photography and may or may not be looking to make some money with their photos.
Before the show I put out the call for hobbyists to ask me all the questions on their mind. The response was insane with over 350 questions coming over night. Many of them were very basic and others though basic were pinpointed at a specific topic which is great.
There were so many fantastic questions this week that I know will help a lot of you out there. I knew this RAWtalk was going to go overtime but I wanted to make sure I answered as many questions as possible.
So sit back, learn and enjoy this 2+ Hour edition of FroKnowsPhoto RAWtalk.
To get your FREE "See The World" card and Bag Tag please go to http://info.plasticprinters.com/fro and fill out the form. Remember this is US only and to the first 1000 people.
SAN FRAN MOBILE RAWTALK and TICKET INFO. You can find all the information needed for this mobile RAWtalk RIGHT HERE. Space is limited so please pick up your FREE ticket asap.
Thank you to Rode Microhone, AllensCamera, Atomos, Squarespace and everyone on the Wheel of FRO!!!
Here's all of Stephen's photo news in detail:
Mini-Documentary Shot on the Nikon D810
There is a brand new short film that was shot entirely on the Nikon D810 called 'Every Moment Counts'. The production company, Cinescapes Collective, was contacted by NPS Canada to showcase the new Nikon body, using everything from an octocopter to a Movi to a pocket jib to even a Kessler Cinedrive–only the best tools to make the perfect cinematic film. They have a whole behind-the-scenes video explaining the process of the shoot too, from their use of the new flat picture style setting to backing up the footage to even shooting clean HDMI out. Check it all out below and head over to their blog to view a comparison video showing the before-and-after color grading process as well. (via FS)
Lomography Introduces New Film Type Cine200
Lomography released a new type of film called Cine200 tungsten film. The rolls are basically re-wounded pre-treated Kodak cinema film, but their main pitch is that it can be developed through the standard C-41 process, so you'll be able to go to any store that's still developing film and get it processed. Now, the film is limited to only 4,000 rolls, with each roll going for $10 each. Will you be getting a roll or two? I bet Sutter will… (via JCH)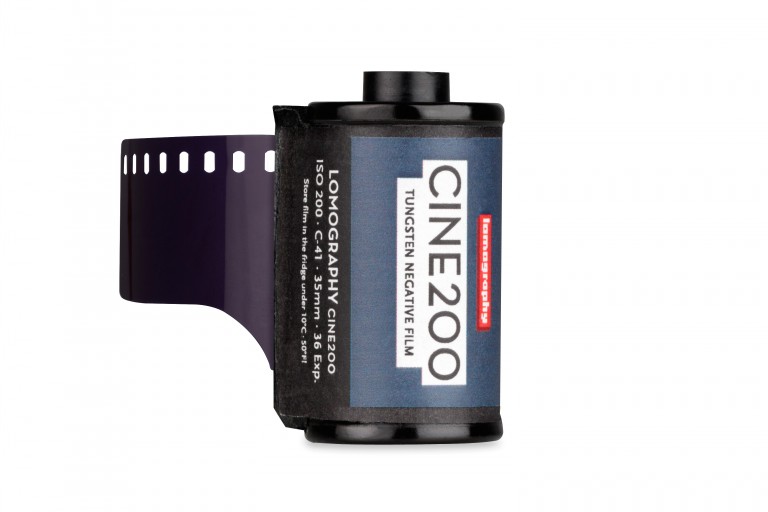 Free Aperture-to-Lightroom Library Migration Tool Released
Want to switch over to Lightroom now that Aperture will not be updated anymore? No problem! Introducing a new free Aperture to Lightroom library migration tool that is now available to the public called Aperture Exporter. Created by software developer Adrian Grah, the release is currently in its third beta stage. It's available as a free download currently and simplifies the process with very few options to migrate your library, so literally just a few clicks does the trick. Head over to the app's website to try it out for yourself: (via CTDP)

Don't Take Photos of a Border Patrol Agent
A group of boy scouts, the Central Iowa Boy Scout Troop No. 111 to be specific, had the scare of their life after simply taking a picture of a border patrol officer. After attempting to cross into Alaska from Canada, one of the scouts snapped a photo of the agent. The agent then threatened the boy who took the photo with 10 years in prison, a $10,000 fine and he even confiscated the camera. He then went on to search the entire van and all of their belongings. While simply removing a bag from the roof, one of the scouts then allegedly had a gun pulled on him, aimed at his head. In the end, after nearly four hours of searching and questioning, no one was hurt or charged. Now the U.S. Customs and Border Protection says the picture was taken at a port of entry, where photographs are indeed strictly prohibited. Also, after reviewing footage from that day, the CBP says the agent's gun was never un-holstered or used in the manner that the scouts claim. I still think this was taken a little too far though in the end, they're boy scouts after all! Watch the full news coverage below: (via KCCI)
Meet Brendon Barellini: A Blind & Deaf Photographer
There's a new fascinating mini-documentary on the day in the life of a blind and deaf photographer named Brendon Barellini. He is the first deaf and blind student to graduate from the Special Education Unit at the Cavendish Road State School and head on to college. It wasn't until he met Steve Mayer-Miller, the artistic director of Crossroads Arts, that he got into photography. He first picked up a camera as a joke but then began to actually try it out and ended up loving it. As most photographers use their eyes to frame the image, Brendon uses the sense of touch to feel his image before taking the shot. A truly amazing look into how easy we all have it compared to Brendon. (via ABC)
Introducing A Pepper Spray Canister That Takes Photos of the Perpetrator
Didn't see this coming: a new crowdfunding campaign on IndieGoGo combines photography and pepper spray. The campaign is promoting a self-defense pepper spray called The Defender which captures a photo while you go to spray the perpetrator. Working with both iOS and Android, it's actually a smartphone-enabled canister that connects via Bluetooth, which once sprayed, will upload the photo to their monitoring service and even tag your GPS location, then sending it out to local authorities. You can also specify if you want it to get sent out to medical or emergency personnel, prior to using the app. It already reached it's goal of $100,000 and is going for $159 for early adopters. Will you be getting one? (via SG)
Photographer Upset Over Motley Crue Photo Licensing Agreement
Motley Crue's photo release form says a concert photographer can't even license their own photograph without the band's consent, which is getting more and more common these days. Called the Red White & Crue Inc. licensing agreement, Clauses 1a and b are the lines in question. In 1a, Red White & Crüe Inc. is given non-exclusive rights to "exploit Materials in all manner and media now known or hereafter devised, including, without limitation, the use (for commercial or promotional purposes), in phonograph record albums, merchandise, motion pictures, television, via Internet/multimedia and website, via mobile telephones, videocassettes/DVDs, all audio-visual rights, publishing rights (in all forms) and publication rights for publicity or advertising purposes." Then, the agreement goes on in 1b to state: "Licensor agrees that it shall not license any of the Materials (or shall not exploit any of the Materials) without the written consent of the Licensee which shall be withheld in Licensee's sole discretion." The unnamed photographer who revealed the form online says, "Under these terms, I would not be able to license my images, and am signing away the right for Red, White & Crüe, Inc. to exploit my images without limitation for commercial or any purpose at all." Hmm, how do you feel about this? Is it okay for a band to do this sort of thing? (via PP)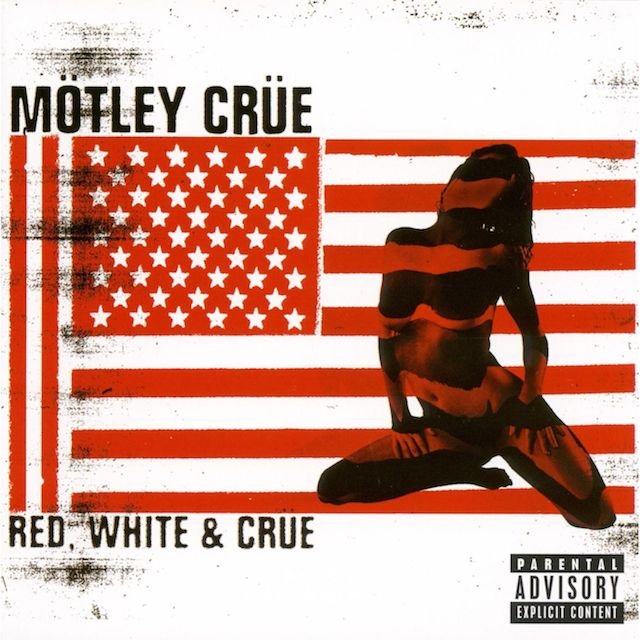 MIT Offering Free Online Photography Course
MIT is offering a documentary photography and photojournalism course online for FREE. Yup, originally taught in the Spring of 2009, the course is called 'Documentary Photography and Photojournalism: Still Images of a World in Motion'. It comes complete with the syllabus, readings, assignments, image galleries and even course material downloads. Basically you're the teacher and student in this situation so this is really only for those that don't have trouble self-motivating themselves. Click the cover below to check it out in full: (via Reddit)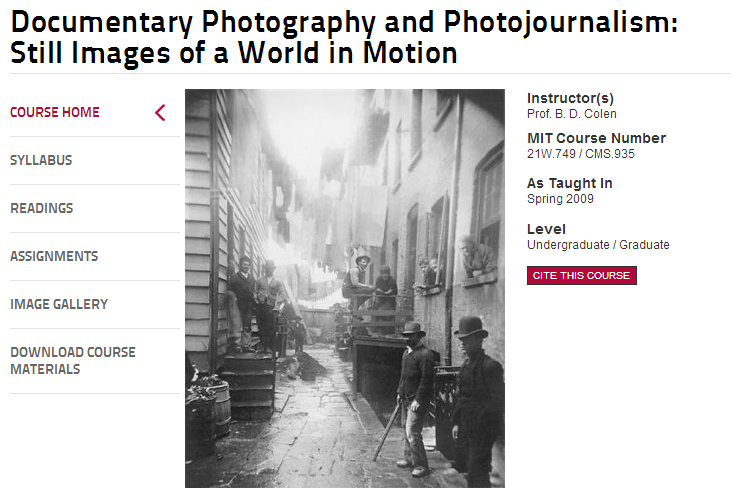 Coffee Universe: Combining Coffee and Photography
An artist named Flora Borsi really loves her coffee, so much that she made a new photo series called "Coffee Universe". The new series features coffee-like tinted photographs with the sky recreated as coffee swirls. She says, "Have you ever noticed how beautiful Coffee can be? I was wondering about the basic rules of Nature. Our common sight of the World. I've created something that is different than what you've seen so far. This is my Coffee Universe." Beautifully put, click the logo below to head on over to her official website to check out the tasty images: (via SLRL)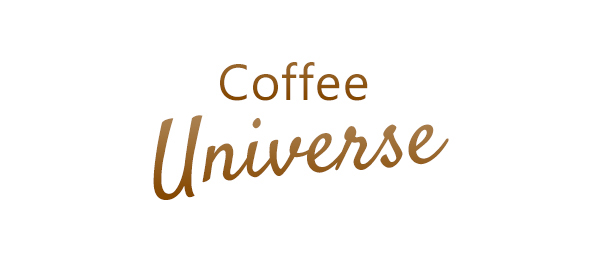 The Selfie Toaster Lets You Eat Your Own Face Every Morning
Best news of the week: if you need to print your own selfie, you can now do it on a slice of bread via the Selfie Toaster by Vermont Novelty Toaster corporation. You simply supply an image of yourself to the company, who then sends you a custom-made toaster that will literally burn your face into the toast every morning. Mashable's Lance Ulanoff tried one out and has an impressive breakdown of how exactly the toaster burns your selfie into the bread, You can eat your own face every morning for a mere $75. This would be a hilarious gag gift… (via Mashable)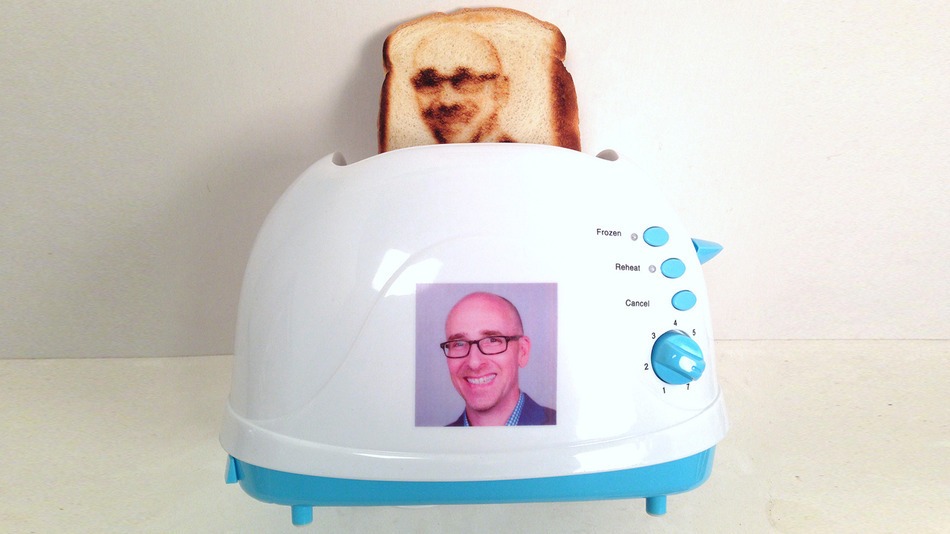 Image courtesy of Mashable
Photog Couple Creates Unique Film Wedding Invitations
Photography couple Katie and Kyle did something unique for their wedding invitations, making them out of empty 35mm film canisters. The duo printed 10-inch strips of paper with all the information about the wedding and rolled them into each canister. They also had custom stickers made for the outside of the canister which included the wedding date and their initials. The RSVP letter that was sent out alongside the canisters was even done up to mimic an old developing slip from a film lab too. Check out all the photos of the invitations over at Imgur. Hopefully my future wife will let me do something like this… (via PP)