RAWtalk Episode #098 - You Have To Put Yourself Into Situations To Be Successful
Click Here to download this weeks RAWtalk as an MP3.
Do you know how important it is to just put yourself into situations? Now I am not talking about putting yourself into situations that you know you shouldn't be. I am talking about putting yourself into situations to be successful. You never know who you are going to meet or the opportunities that may arise when you get out of the house.
This happened to me recently when I decided last minute to purchase a ticket for the Billy Joel concert. I had no expectations that I would come out of it with possibly shooting a show for Billy in the future. Well, that's exactly what happened and I discuss it in more detail during this weeks episode.
The moral of the story is put yourself in situations where you can be successful, you never know what will come out of it.
If you are a Polish or German fan we have some good news for you. Stephen and I will be making our way to Poland and Germany in the middle of September.
Stephen hits us with his photo news once again and I did not interrupt him once.
Finally we rap up the show with something a little different. Instead of regular flying solo questions, I answer the rapid fire top 5 questions that were submitted.
Thank you to Atomos for being this weeks main sponsor. Please check out Atomos.com and keep an ear out for the full contest rules to WIN a Ninja Star. Thank you to AllensCamera.com, Rode Microphone and all the people on the Wheel of Fro.
Here's all of Stephen's photo news stories in detail:
Adobe has officially put up their own microsite dedicated to the switch over from Apple Aperture to Lightroom. The website comes complete with a quick guide in the form of a PDF, which shows you how to manually transfer images over from Aperture. Now Adobe has announced that they are indeed working on their own migration tool, so if you'd rather it be an automatic process, you might want to wait for that. Here's what they have to say: "At Adobe, we're working on a migration tool to help you bring your photos into Adobe® Photoshop® Lightroom® from Aperture, but if you're eager to switch before the tool is ready, this guide can help ease your transition. We recognize that this migration may be a challenging process and offer the following resources to help get you up to speed with Lightroom and provide a road map for successfully migrating your photos.The first challenge is that the terminology, layout, and controls of the two applications are different." Click the screenshot below to get started! (via PP)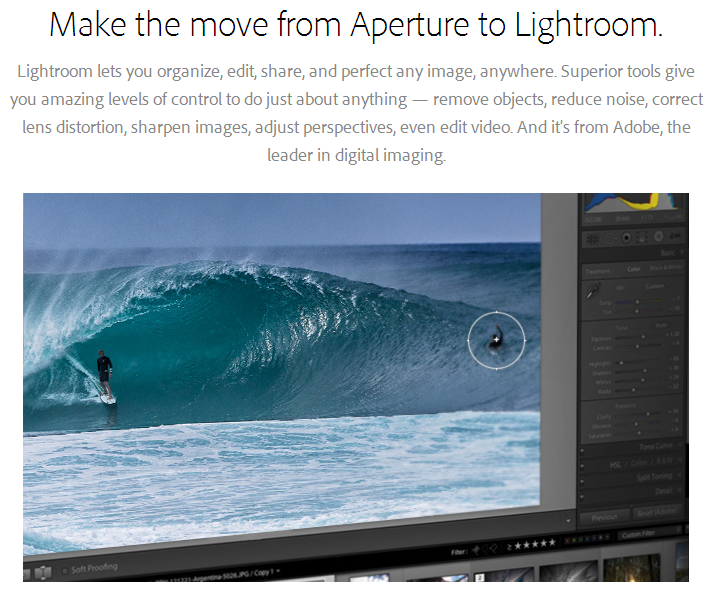 A rare Gold Supreme Hasselblad 503CW medium format camera is up for sale over on eBay for $10,000 USD. The 24 karat gold-plated camera is the last of the limited edition 500 run–marked #500 of 500–and comes with an 80mm f2.8 lens, a gold A12 magazine, a gold UV filter and all of the original accessories. The description says Hasselblad kept this final model of the limited run and gave it out as a 50th anniversary award. Oh, and it's in mint condition. Will you be bidding? (via SHP)

DJI is back in the news this week. They announced a new pro-level drone called the Spreading Wings S900. The hexacopter is capable of holding 5 kilograms–about 11 lbs–and has a flight time of 18 minutes. It also has retractable landing gear, carbon fiber arms, 15-inch propellers, and is capable of mounting almost any type of gimbal. Price wise, it'll be available for $3,800. Is it worth the upgrade?
Speaking of drones, a tourist crashed one into Yellowstone's Grand Prismatic Hot Spring. Officials say they're working on removing the drone but it's not the easiest since the temperature of the spring is 160 degrees. Just another reason why these are getting banned everywhere these days… (via Missoulian)
This is mindblowing, scientists at MIT, Microsoft, and Adobe have discovered a method to record audio by seeing vibrations with a camera. They look at the vibrations of the object from the video shot with a high speed camera and were able to recreate both music and speech with nothing but visual information. The example video shows them pointing the camera through soundproof glass at a potato chip bag, which captured the noise in the room, recreating speech. They said to do something like this normally requires a camera that has a faster framerate than the frequency of the audio, but they were able to still pull it off even with a DSLR at 60fps, however the quality was much worse but it still worked. They even Shazamed the music that the computer generated from the picture and it recognized the song; amazing. Watch the video below for a demo of the new technology in use: (via Gizmodo)
A Spanish media outlet named Marca had a Photoshop fail this week after they made a stadium appear to have attendees wearing their home team colors. A soccer game on U.S. soil in Michigan featuring Manchester United vs. Real Madrid took place, with the Spanish news source posting an aerial shot of the stadium showcasing it decked out with people wearing the red hue colors–the Real Madrid's colors Now, Bleacher Report and Twitter users pointed out the difference between the same shot that was posted under Manchester United's Twitter handle which clearly shows a different color in the initial shot. The Real Madrid ended up losing 3-1 in the end anyway. Check out the manipulated photo below along with the original:
"@PeriodistasAnon: En serio, lo de @marca es auténtica propaganda. Viva el photoshop!!! pic.twitter.com/6pAXmY1a1L"

— Román (@cdelrui) August 2, 2014
A new flow chart attempts to educate people on the rules of posting a photo that they found online. The infograph breaksdown copyright, fair use, creative commons, public domain–the works. It's a very simple chart and great to show to employees that are responsible for posting content online. (via LH)  
Photographer Marcus DeSieno took tintypes of parasites in a new photo series. He combines microscopic imagery with wetplate photography and took portraits of the disgusting looking parasites. He says, "I started out with broad parameters. This is really about my personal childhood fear of parasites, so it should be human-borne parasites or parasites that infect humans. And the second was whatever I could get my hands on." The parasites were already dead preserved in alcohol when he got to them. What he does is prints an image of them onto a transparancy, and then uses the transparency as a positive image to expose the photograph onto a ferrotype plate. Click the screenshot below to view the gallery (via SM)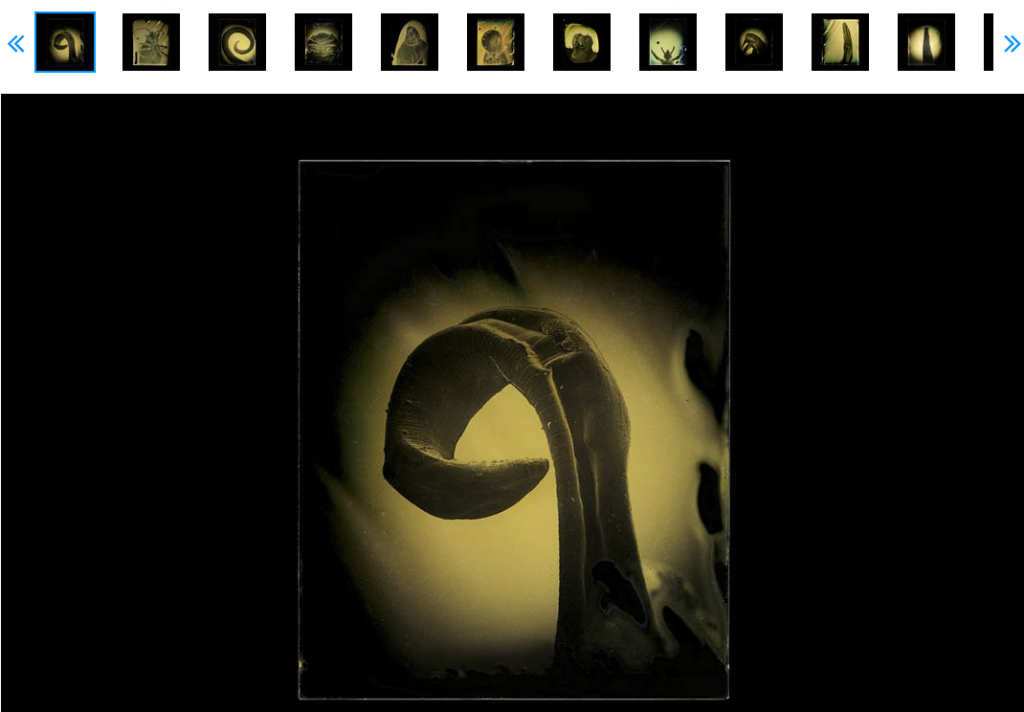 Photo via Marcus DeSieno
A photographer stumbled upon an abandoned film school full of a ton of photography history and old-school gear. The photo series features images of old film reels, projectors, destroyed classrooms, crumbling walls, etc. It looks like the school was under working conditions in the '80s and '90s, with almost all the reels of film still there (and dated), along with the chemicals. Head here to check out the full gallery. (via PP)
So Wikimedia is standing up for a monkey photographer who took a self portrait with photographer David Slater's camera back in 2011. The sister site to Wikipedia has the image up, refusing to remove it from its commons library, saying since Slater didn't technically take the photo, he therefore doesn't own the copyright. Here's what Slater says about the issue, "If the monkey took it, it owns copyright, not me, that's their basic argument. What they don't realize is that it needs a court to decide that," he told the The Telegraph. "I've told them it's not public domain, they've got no right to say that it's public domain. A monkey pressed the button, but I did all the setting up." He's preparing for legal action and will be taking this to court. Who do you think is in the wrong here? (via The Telegraph)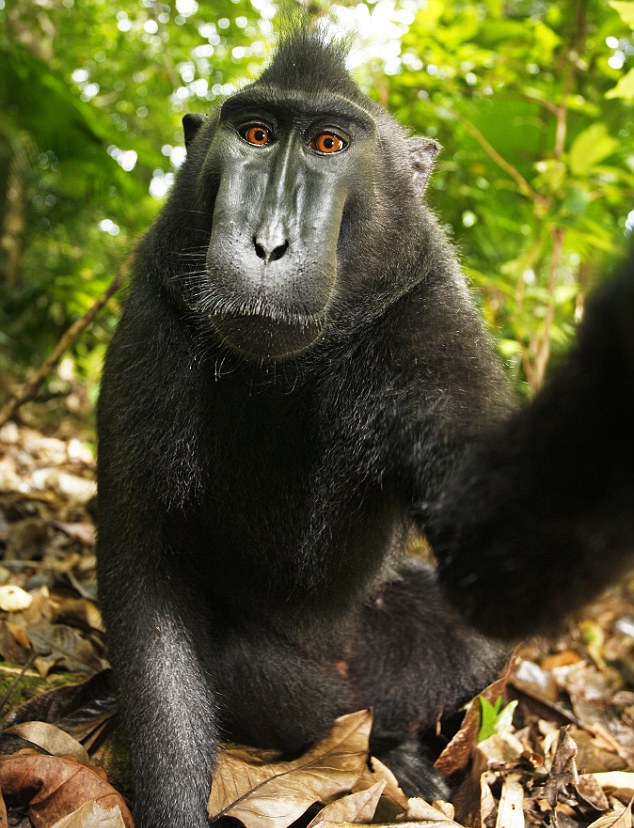 This is incredible: a wedding party featuring Jeff Goldblum, are shown running from a giant T-Rex in a new set of wedding formals. Mimicking his classic roll in Jurassic Park, the actor showed up to the wedding with his fiancee, and the photographer, Adam Biesenthal, came up with the idea, obviously based on his film past. Pretty epic tremendous. (via THP)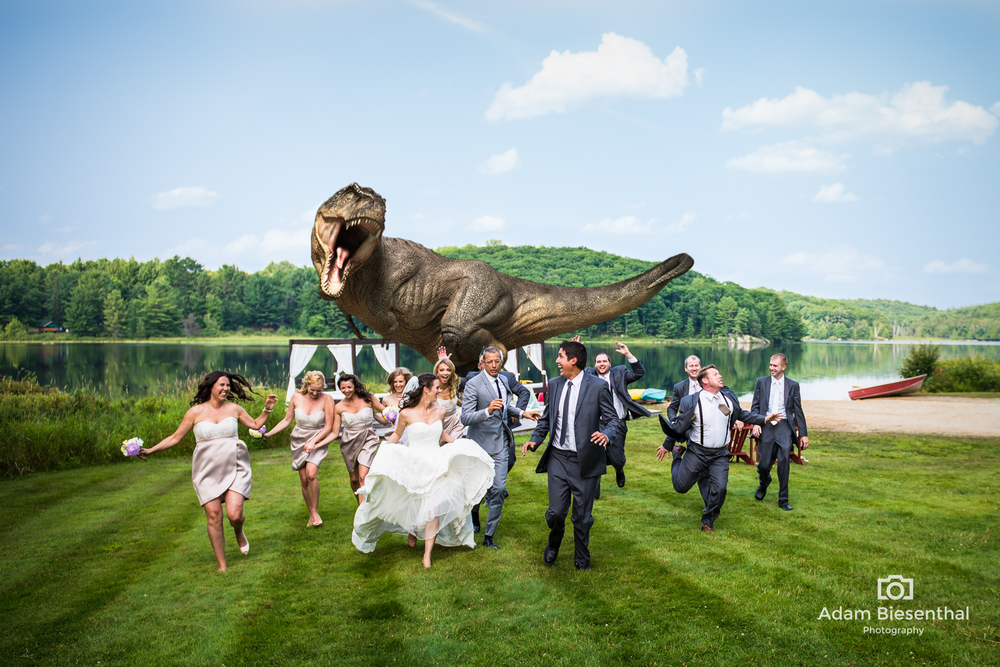 Photo via Adam Biesenthal
Researchers at Carnegie Mellon University developed a new  method to transform a normal 2D object in a photograph into a 3D model that will actually let you move it around, even showing parts of the object that weren't initially captured. The technique uses readily available 3D models online to convert day-to-day objects in a photo from two to three dimensions. You can then manipulate the object even if it shows parts of it that were not originally visible in the photograph while the software maintains "plausible shadows and illumination." You need to see the video below which showcases the technique in use: (via Engadget)
Yet another infograph that's specific to the wedding photography community. A wedding photographer named Francesco Spighi uses the analogy of the iceberg and the Titantic to visualize the costs of wedding photography. He describes the cost of equipment including everything from lenses and bodies to printers and computers, and also breaks down the overall experience. The thing I like about this is that it could really be applied to any type of photography business, not just weddings. Check it out below (click to view full screen): (via DIYP)

There's a new interesting way to clean your sensor. Japanese manufacturer Fujin released a lens shell that mimics a Canon L lens which has a small vacuum cleaner inside it. The lens look-alike is 3,500 Yen or $34 USD and is only available in Canon mounts. It has a filter of some sort, probably a Hepa filter or something which is meant to suck any dust out of you sensor. Would you trust this? (via CW)
The Nikon class action suit that began in February regarding the D600 sensor issue has officially been resolved. Now it's being reported that users of the D600 participating in the suit can get their cameras replaced with free D610s via a few simple steps that they have to complete before Nov. 30. Head over to Nikon Rumors to see how you can snag your own D610 body.