RAWtalk Episode #044: The Wedding Show
Right Click Here and hit save as to download this weeks RAWtalk Episode.
Always a bridesmaid never a bride.
Weddings, weddings, weddings, everyone wants to know how to shoot weddings. Continuing on the themed style show this week, I sat down to talk all things wedding photography. You guys supplied some fantastic questions that took this episode to a new length, literally.
If you didn't have the itch to shoot weddings before, you might just have it after listening to this week's show.

Photographer Benjamin Von Wong composed an instrumental track using solely Nikon DSLR bodies that he's calling the "Nikon Symphony." The photog used everything from shutter sounds to flashes to menu beeps to create the tune. He used a standard metronome to keep the beat, like any other recording musician, but it took 37 takes to get it right. Nikon fanatics won't be too happy to know that he also slammed a D3 on the ground to use as a crash cymbal; ouch. He posted a video of it along with behind-the-scenes making of footage and if that's not enough–he's also selling it as a ringtone for those interested. Check it all out below, what do you think?
Film fanboys (and girls) will be happy to hear that a method for making working film SLRs via consumer 3d printers is now available online and it'll only cost you a mere $30 to make! Thought up by Leo Marius, he's calling it the "openreflex camera," which takes about 16 hours to make. Marius posted the entire set of plans, from the layout to the source files–basically everything on how to make it. Check out a picture of the final product below and head over to his website for the complete setup if you're interested. (via DIYP)
Speaking of film, a photographer purchased the entire last shipment of Velvia 50 8×10 film at Fujifilm North America for a whopping $161,000, paid for up front too; woah. The unnamed photographer ordered 12,000 sheets of 8×10 film, which he hopes will last him the next 10 years. That equals out to about three pallets worth of film, weighing in at around 900 lbs total (40 cases each, 120 total)–it took six months alone just for the thing to ship from Japan to New York. Some fun facts about the order: if the film were laid out end to end, it would stretch nearly two miles. Also, the total area of the film in the shipment is roughly 80,000 square feet–almost enough to cover 1.5 football fields; wow. Check out a behind-the-scenes picture of the huge order below: (via PP)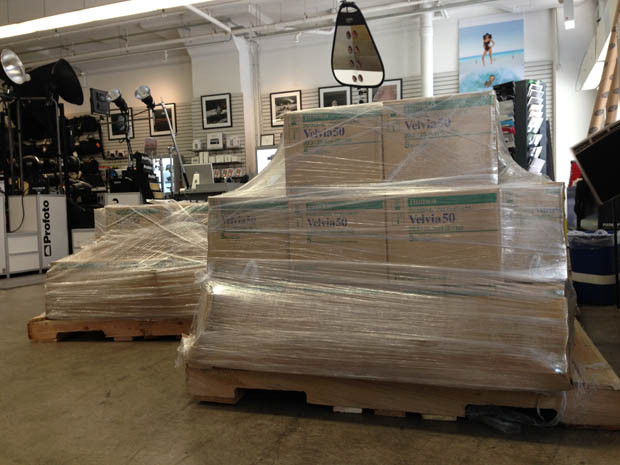 Photo Credit: Brandon Remler
Another music story this week: Actress turned musician, Zooey Deschanel, is the latest to ban cameras (which includes cameraphones) at her She & Him shows with her partner-in-crime M. Ward. Supposedly anyone that did take pictures at her recent gigs after failing to not follow the signage got a flashlight to their face from security guards. She's not the only one to implement this rule however, Jack White and Yeah Yeah Yeahs already beat her to the punch. Do you think this is fair? (via Gawker)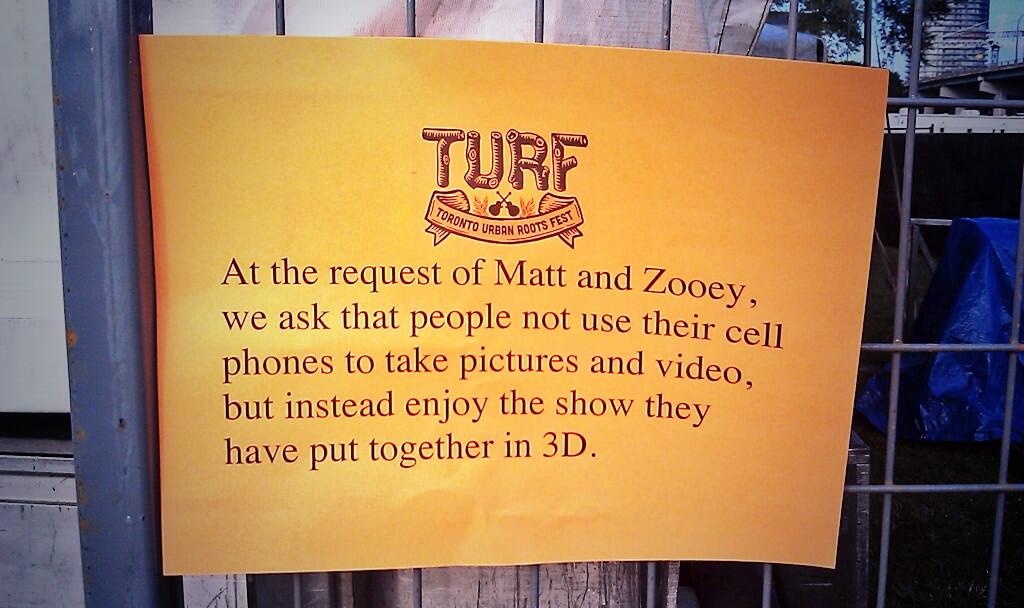 This is scary: a new video surfaced online showcasing how thieves in Russia steal tourist's DSLR lenses right from around their neck! The recently surfaced footage shows that after spotting a photographer with a pricey camera lens around his neck, the thieves quickly approach him or her in a pack and surround the lens. One of the thieves then shoves something in front of the photographer, hiding the camera and lens from view. At the same time, another robber reaches under the distraction and quickly removes the lens from the mount. By the time the photographer realizes that the lens is missing, it's extremely difficult to figure out which person in the group has the lens. So case in point, don't bring your DSLR to Russia, or maybe just bring a kit lens to be safe (I know, it's not easy…). Watch the operation unfold below: (via PP)
Nikon published this new video seen below which gives consumers a rare inside look at the design process of various Nikon products including DSLR bodies, binoculars, etc. The behind-the-scenes footage showcases the design room, initial sketches, 3d printing, designing the user interfaces, and even package and logo design. Check out the interesting 6-minute video below by clicking on the screenshot: (via Nikon Rumors)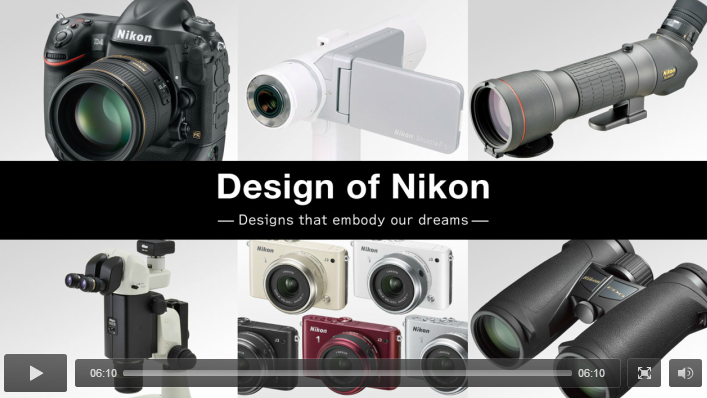 More news regarding Nikon. The brand's president, Makoto Kimura, stated in a recent interview that he wants to change the concept of cameras. Here's the direct quote:
"Rapid expansion of mobile devices is a change in business environment given to us… Our task going forward is to find an answer to that change." He went on to say "We want to create a product that will change the concept of cameras. It could be a non-camera consumer product."
Seems like they're working on making some kind of Nikon smartphone or something, what do you think they're up to? (via Verge)
And finally, a touching story to end the news this week. Photographer Ken Beerger was on an engagement shoot right here in Philadelphia at the Wissahickon Creek when a kid down the creek  in the background started to drown. Luckily, the bride-to-be named Becki Salmon (*ironic) happened to be a trained lifeguard and paramedic and jumped right in to save the boy all in the middle of posing for portraits. Beerger turned to photojournalist mode and shot the entire sequence of her saving the boy–why not video Ken? Good to know the boy made it out safe that day! Watch the news coverage about the incident below: (via SLRL)