RAWtalk Episode #49: I Went to the Dark Side
I know it sounds like I went to Canon, well I actually did. I went to Canon headquarters for a little meeting at their new facility in New York. I got a call a few weeks back asking if I would like to go up to Canon for a meeting and I figured this would be a good chance to be seen by everyone at Canon. For the record, they paid for transportation, hotel and a few drinks at dinner. For the full story as to what I saw when I was up there be sure to listen to this weeks RAWtalk.
Stephen hits us with his photo news and I attempt to sing some country songs before jumping into this weeks flying solo portion of the show. Don't forget to subscribe on iTunes as well as download this weeks episode as an MP3.
Right Click Here and hit save as to download this weeks RAWtalk.
So in this week's important lesson of what not to do at a Wedding: don't fly your GoPro-mounted drone directly into your groom. Yup, this happened to videographer/photographer WeddingMan123 on YouTube who posted the video(s) to showcase what not to do while operating one of these bad boys, specifically the DJI phantom aerial drone quadcopter mounted with a GoPro. He was doing a fly-over of the soon-to-be newlyweds during their bridal shoot two days prior to the actual wedding and WHAM–smacked the drone right into the groom's head. He says he miscalculated the lift time which resulted in the incident. The worst past? The groom was left with a cut on his cheek along with several cuts and scrapes on the side of his head; ouch. But hey, at least it wasn't the bride…Check out the GoPro footage below, slow-mo and everything, along with an explanation from the man behind the controls: (via IR)
We all know it's extremely dangerous to photograph a protest, as one photojournalist named Amanda Mustard documented in a semi-new first-person video. She mounted her GoPro on top of her camera, which captured her documenting the recent Egpyt protests. It's not the newest video but still a dramatic firsthand look at what actually goes on. There's also first-person footage, showcasing what it's like to photograph protests is Brazil which surfaced online a few months back (by another photojournalist). Check 'em both out below–would you risk your life for pictures? (via PP)
There's a video making its rounds online that showcases highspeed photography that was used back in the mid-60s with NASA. It's truly remarkable the kind of technology that was available back then. The footage showcases the Fastax high speed camera, which captured up to 18,000 fps, explaining why NASA took so long to switch to digital…There's 20 minutes of behind-the-scenes footage showing the camera in action along with the inside of the Fastax as well. Wonder how something captures life that fast? There's rotating prisms inside it that make it possible. (via ISW)
This is really cool: HP took the generic "crowd surfing" beach ball at concerts to new heights. As part of their "Making Memories Last" campaign, they mounted high-definition cameras (along with a WiFi antenna) to these giant beach balls and tossed them into the crowd, making it possible to thenstream video on the massive big screens at the show, straight from the ball's perspective, aka a crowd surfer. Also, since it is WiFi enabled, the photos were uploaded to HP booths in real time all around the venue where concertgoers could then search through and print out photos of themselves, taken directly from the beach ball. And for those who couldn't attend, the images were also uploaded to the brand's Facebook page. Check it out in action below; I want one! (via PJ)
These are amazing: a set of iconic black & white images that were colorized have hit the web. A group on reddit users under a subreddit called "colorized history" bring historic photos to life with color and they look like they were literally taken today (or with color film at least…). The images range from the mid 1800s to early 1900s. They feature pretty much a little of everything, including the classic Hindenberg shot, Albert Einstein sitting near a beach ("Einstein on the Beach"–great song!), Walt Whitman, Mark Twain, Charlie Chaplin and Elizabeth Taylor, just to name a few. Plus, if you're interested in how this process takes place, one of the redditors even uploaded a screenflow tutorial of how he specifically colorizes his photos. Click the image below to see the gallery and check out the video after the jump for the tutorial: (via reddit / TS)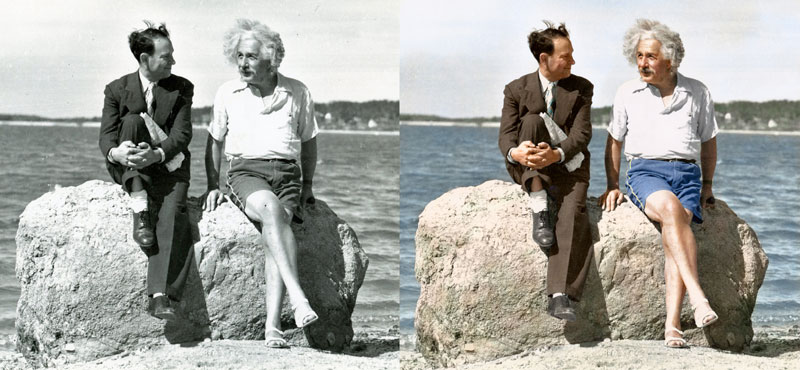 More news on copyright infringement this week: Instagram user @bogdhan recently won Samsung's "Live in the Moment" Instagram contest which earned him a NX300, however, the image he used wasn't his…The picture was a stolen altered version of another user's image,which he changed from black & white to a colorized filter effect. Samsung disqualified him and luckily didn't ship out the unearned prize just yet when the news hit. The company later apologized personally to the original owner and took down the infringer's stolen photo. What's your take on all of this? Did the company do the right thing? Should they have policed the contest better? (via IAV)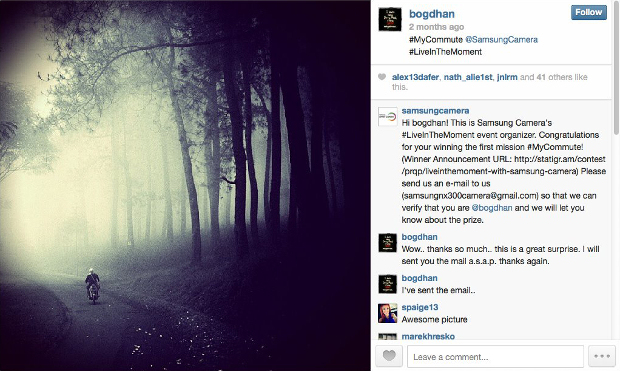 This is good for those gearheads that keep EVERYTHING, like Jared and myself. eBay rolled out a new feature called "my gadgets," which lets you track and manage all of the gear you own. So, when you're ready to sell them, it gives you the average prices of what you're trying to sell instead of trying to figure out how much to sell it for, saving you a couple headaches. Meanwhile, you can use it as an improved search and tracking function,  which is worth looking into if you have a ton of old old gear laying around. Oh, and eBay will automatically add all the gear you've already bought or are buying onto the list with ease. Will you be signing up? Check out the promo video below for more details: