Is Canon Back in the game? RAWtalk 119
Click Here to download this weeks show as an MP3.
00:00:16 – Intro
00:10:23 – Photo News
00:41:50 – Canon 5DS / 5DS R discussion
00:57:10 – Flying Solo
01:39:40 – Gear of the Week – Solid State Drives
01:41:56 – Wheel of Fro
The huge news this week centers around Canon releasing not one not two but four new DSLR's and an Ultra WIDE zoom pro lens. Does this put Canon back in the game or were they ever really out of it?
I personally don't think Canon was anywhere near out of the game. They have the 5D Mark III along with the 1D X as well as a lot of adapted professional lenses. This is what happens in the photo world, Nikon has something new for a while then Canon has something new so on and so forth. So one or the other is always on top for a period of time.
As a little side note, at the time of recording we did not have all the official specs. But I chose to discuss the camera after my inside source was able to verify the validity of information that was out there as fact.

I tried something new for Flying Solo where I put up a video on Facebook asking for your flying solo questions. It looked like it worked because over 200 questions came in which is more than double what we usually get. I chose 30 of the questions to feature on the show and moved at a pretty brisk pace to make sure I got to them all.
This weeks show was sponsored by RODE Microphone. As you know we use the RODE broadcaster Mics both in the loft and on the road. They sound fantastic and I think we have one of the best sounding Podcasts around because of them. Remember if you don't check out RODE's site this week our friend Scott over there's son may grow up to have blonde hair!!!
Here's all of Stephen's photo news stories in detail:
Inside The World's First "Photo Book"
There's a new behind-the-scenes look of the world's first photo book from 1843. The book, titled 'Photographs of British Algae: Cyanotype Impressions,' is by Anna Atkins and is considered to be the first ever photo book. Only 17 copies of this book are known to exist today, with them being sold in auction for around £200,000. The book that's shown is housed in The Royal Society in London. Now these aren't your normal photographs that we see today, they were cyanotypes. Atkins would place the algae specimens directly onto photographic paper and then expose the paper, creating silhouette photos of the algae once the paper was developed. Fun fact: Because of this book, it is believed that Atkins may have been the first woman to create a photograph. Go behind the scenes, inside the book below: (via Objectivity)
Rooftopping Photographers Arrested In Toronto
A group of rooftopping photographers were arrested in Toronto, (on a roof of course), for allegedly breaking into the rooftop observation deck of a downtown building. The three, Tomer "Tom" Ryaboi, Jaswinder Brar, and Eric Do, were caught by the building's security, found in an area that was off-limits to the general public. The police report states that the men were found on the deck taking pictures, that they had forced or broken locks in order to gain access to the roof, and that tools used in the break-in were found on the men. All three are being charged with "Break and Enter and Commit" and "Mischief Under $5000." Two of them are facing an additional charge of "Possession of Break-In Instruments." The men are scheduled to appear in court at Old City Hall in Toronto on Monday, March 16, 2015. Check out the full police report here (I like how it even gives you the definition of "roof-topping"). This is why you shouldn't do ILLEGAL things to get the shot… (via PP)
Ilford Says 30% of Film Users Are Under 35
A new poll by Ilford Photo says 30% of current day film users are under the age of 35. Thousands of users from over 70 countries around the world participated. Ilford says, "support for traditional film is growing," and "The results were inspiring." Of all the poll takers, 30% of them were younger than 35. Of those photographers, roughly 60% of them have been using film for less than five years. Fun fact: One of the big ways people got started is by first receiving a film camera as a gift from a friend or family member. Some more stats: 84% of the survey participants said they learned how to use film on their own with help from books and online (FroKnowsPhoto.com!). 49% of them develop and print their images in a darkroom–assuming most of those are students, since there aren't many darkrooms left. 98% of shooters say they shoot black and white, and 31% ONLY shoot B&W, with only 2% of the respondents shooting color. Ilford does have a website called Local Darkroom which helps photographers find a local darkroom that they can work in. Many of the people using film now say they aren't effected by the high processing charges since they do it themselves. Very interesting stuff! (via IR)
Brandon Stanton Raises $1 Million+ For a Brooklyn School
Photographer and the guy behind Humans of New York, Brandon Stanton, has raised over $1.2 Million for a Brooklyn school after sharing a single photograph online. The photo was of a student name Vidal who is just 13 years old. When asked about who had influenced him most in his life, Vidal surprised Stanton by saying his principal, Ms. Lopez. After the photo made its rounds online, Stanton visited the school, Mott Hall Bridges Academy, and interviewed Ms. Lopez. He then launched a crowdfunding campaign through Indiegogo with the initial goal of $100,000, which instantly raised a million bucks in less than a week. The campaign is still live and has about two days left at the time of writing this article. Ms. Lopez says The money will be used to take each year's incoming 6th grade class on a tour of Harvard. Stanton says, "since many of her scholars have never left New York, she wants them to know what it feels like to stand on the campus of one of the world's top schools, and know that they belong. She thinks the experience will broaden their horizons and expand their idea of their own potential." Each $30,000 raised will provide one class with a trip. The money will also be used for a scholarship fund for graduates of the school, to be named the "Vidal Scholarship Fund." It's first recipient will be Vidal. After all this went down, Stanton was even a guest on The Ellen Show to talk about his journey and this particular story. Ellen got Target to refit every classroom at the school with "state of the art technology" and they will also be giving similar grants to every school in the community, a total grant of $100,000. Check out the Ellen interview below, a behind-the-scenes video of the whole thing and more below: (via DIYP)
This Year's Superbowl is First To Feature LED Lighting
This year's Superbowl was the first to feature LED lighting. The University Of Phoenix Stadium got upgraded from its old lighting system–it's not the first stadium to feature LED lighting but the first to house a Superbowl with them. The new 312 LED lamps use 75% less energy and last significantly longer than the old lighting. As far as shooting the big game, Sports Illustrated photographer Simon Bruty got the cover for SI which features a photo of Tom Brady throwing the ball. Check out the cover below, what do you think? (via TV)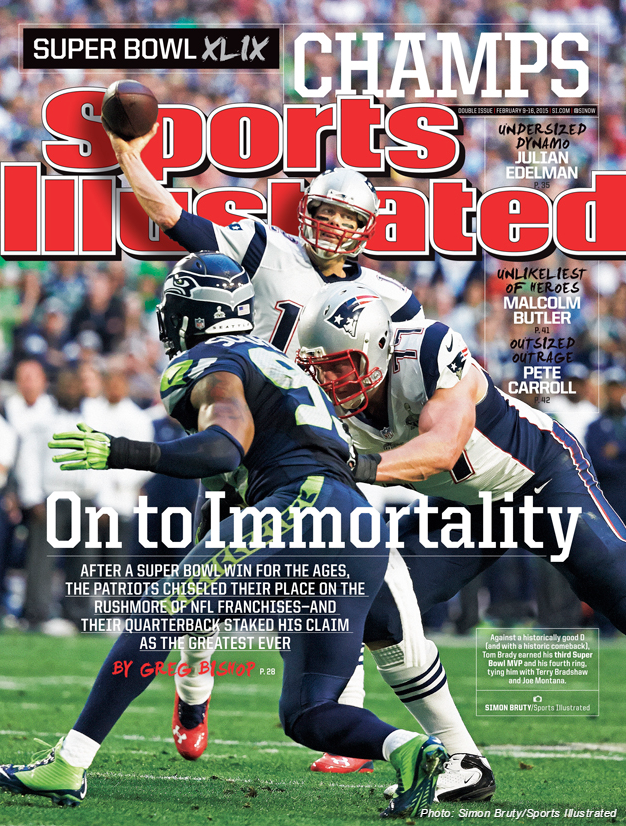 Cover via SI
Behind The Scenes of the Brady Bunch Snickers Superbowl Commercial
More with the big game: there's a behind the scenes look into how the Danny Trejo and Steve Buscemi Brady Bunch Snickers commercial was made. It's crazy how much work was done to composite him into the old footage to make it look realistic. Watch below as they explain how they needed to use the exact same camera angles, focal length, lighting, the whole works. They also showcase how the stand-in actors mouths were used to cover over the original Mr. and Mrs. Brady mouths; wow. (via FS)
Adobes Sues Forever 21 for Pirating Photoshop
Adobe has filed a lawsuit against Forever 21 for pirating copies of Photoshop. The lawsuit, which was filed last week, features Adobe, Autodesk and Corel as plaintiffs. They say the fashion retailer pirated Photoshop along with many other software programs including Autodesk, WinZip, and PaintShopPro, continuing "their infringing activities even after being contacted by Adobe regarding the infringement." Adobe reportedly has a copy of serial numbers, version numbers, and dates for every instance of Forever 21 using stolen software. Adobe is asking the courts to stop Forever 21 from pirating more software and order an undisclosed amount of compensation for damages and legal fees. They claim that Forever 21's actions caused "repeated and irreparable injury" and that it "would be difficult to ascertain the amount of money" that would provide the software companies with relief. Check out the court documents here for the full deetz! (via PP)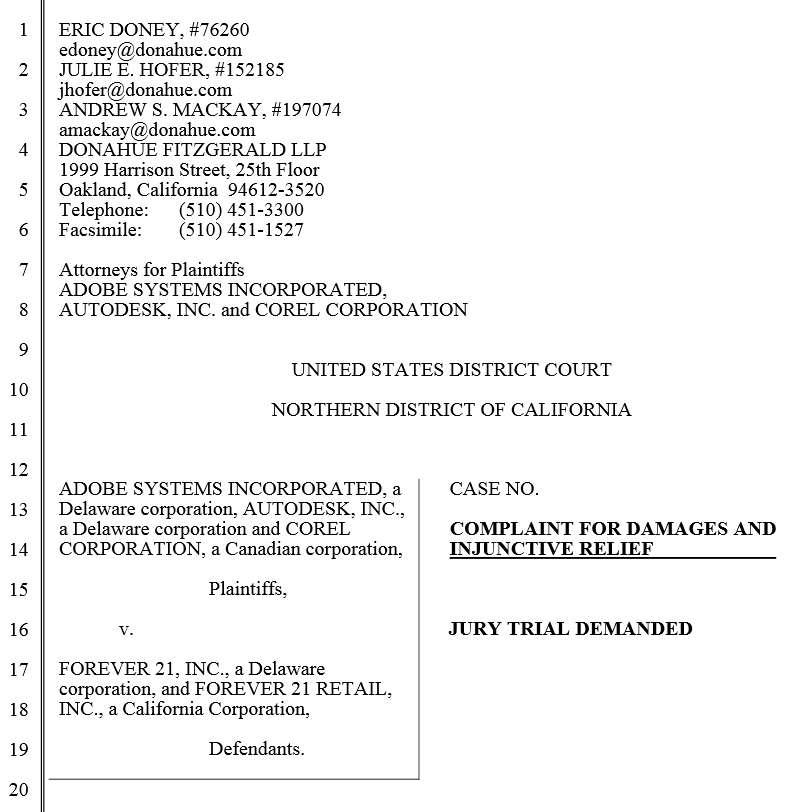 The SlowMoGuys Show You How A Shutter Works at 10K FPS

This is awesome: the SlowMoGuys over on Youtube showcase how a DSLR shutter works in super slow mo 10,000 frames per second! They show off how fast shutter speeds work vs. slow speeds, using a canon 7D, with the shutter only letting a slit of light in with the 1/8000th of a second exposure. They also showcase the effects of rolling shutter which is very interesting, comparing the 7D with the Phantom Flex shutter. Fun fact too: they've been using the same Canon 7D to film all of their videos since the start and it's still working like a beast even after getting exploded on, paint thrown on, toppled over, doused with water–everything! Check it out below: (via PP)
L.A. Photo Walk Mistaken For a Rave
A huge photo walk in L.A. was broken up after police mistook it for a rave. The event was actually a gathering organized by FlaskMob, which gets photographers together once a month to take pictures of a city. Nearly 1000 models and photographers showed up for the walk, which brought the attention of the LAPD (I don't blame them, that's A LOT of people!). A helicopter arrived around 7PM and began to disperse the crowd. Police report that photographers had "lit objects on fire so they could take pictures of them." Footage captured by local news crews show the photographers using burning steel wool for long exposure spark photographs which you can view below. Thankfully no arrests or injuries were made though, and they did eventually disband after holding up traffic in one area. Not going to lie, it totally looked like a rave… (via PP)
Nikon Patents New 24-70mm Lens with Phase Fresnel Element
Nikon patented a 24-70mm f2.8 lens featuring a Phase Fresnel element. The patent was originally filed back in may of 2014. the new technology will make the 24-70 significantly smaller and lighter than the current model. Hopefully this will be a Phase Fresnel lens WITH VR. It would be years down the road till this comes out though, if it is indeed made. (via NR)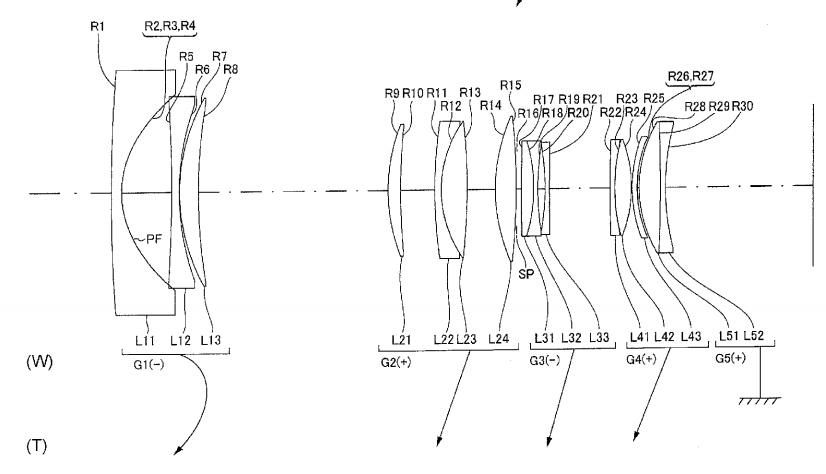 Solargraphy Project Creates Bomb Scare In Atlanta
A photographer created a bomb scare in Atlanta after they had a solargraphy camera placed on a busy freeway for months. The "tube-shaped object" was duct-taped to the side of the bridge overlooking the interstate. A worker who spotted the device said there was a note on it that said: "Slow motion video. Do not move until spring." It also noted that it was for an art project. The bomb squad was later called in after people saw the "device" there. The road was shut down and the bomb squad came out to "detonate" it. There's even video of it getting blown up which you can view below. Georgia State University is saying that the camera was one of 18 cameras placed around the city by students in an art project. The university is apologizing for the inconvenience it caused, and all those cameras are now being removed by authorities. Maybe next time you should alert the city BEFORE you run around placing mysterious handmade boxes everywhere… (via PP)
Canon 5D S and 5DS R Announced: 50MP Sensors
And to the big news story of the week: a brand new Canon 5D got announced–not the Mark IV–and not just one camera, but TWO: introducing the 5DS and 5DS R, which will both be available in June:
Spec wise the 5DS includes:

-50.6mp full frame CMOS sensor
-61 AF points (41 points cross type)
-ISO 100-6400 (extended to ISO 50-12800)
-Dual DIGIC 6 processors
-150,000 pixel RGB+IR metering sensor
-252 zone TTL metering
-EOS iSA system
-3.2 inch LCD 1.04 million pixels
-RAW (50MP), M-RAW (28MP), S-RAW (12.4MP)
-CF (UDMA7), SD / SDHC / SDXC (UHS-I) dual card slots
-1.3x and 1.6x crop modes
-100% field of view viewfinder
-Itr AF
-Anti-flicker detection
-Time-lapse movie
-Face recognition during live view
-1/8000 shutter
-5 FPS
-1920×1080 30fps (ALL-I or IPB) HD video
-Mini HDMI output terminal
-External microphone terminal
-No headphone jack
-LP-E6N / LP-E6 battery
-5DS: $3,699 / 5DS R: $3,899
Here's a full-res sample image directly from Canon.
Canon Reveals New Lineup of Rebels: The T6i and T6s
Canon also announced their new lineup of Canon rebels: the T6i and T6s or 750D and 760D if you're overseas, which will both be available in April:
Canon EOS T6i Specifications:

-24.2MP CMOS sensor
-Hybrid CMOS AF III
-7560 pixel RGB-IR photometry sensor
-63 zone TTL metering
-DIGIC6 processor
-95% field of view
-19 cross type AF points (Center F2.8 corresponding dual cross)
-ISO 100-12800 (extended to 25600)
-1/4000 shutter
-5 FPS
-3 inch 1.04 million dots Vari-Angle LCD touchscreen
-1920×1080 30fps HD video
-Wi-Fi / NFC (CS100 Connect Station Support, Remote operation by smartphone tablet)
-LP-E17 battery
-$749
Now for the T6s specs (FYI this one's the camera that leaked in the Connect Station ad a few weeks back), it generally is the same camera with a few extra "pro" features including:
-Top LCD panel
-Dial on the back
-Intelligent Viewfinder
-$849
The camera brand also announced the new long-rumored 11-24mm f4L lens that will be a whopping $3,000 and available later this month. It mimics the Nikon 14-24MM f2.8 with the giant bulbous lens and built in lens hood. The new lens is the world's widest-angle rectilinear zoom lens. It's dust and water resistant (better be for that price), features a Subwavelength Structure Coating (SWC) and Air Sphere Coating (ASC) for reducing ghosting and flare, and has a fluorine anti-smear coating for easier cleaning. Will you be purchasing one?
And finally for you mirrorless fans, the new EOS M3 was announced, however it's only available in Europe and Asia this April for $915. The main new features/upgrades from the M2 includes a textured grip, tiltable LCD screen, new control layout, hotshoe for an electronic viewfinder attachment, and pop up flash.