All My Bags Are Packed: RAWtalk Photography Episode #084
Right Click Here and hit save as to download this weeks RAWtalk as an MP3.
All my bags are packed I'm ready to go, I'm standing here outside your door, I'd hate to wake you up to say goodbye…… Yup my bags are packaged and I am on my way to Israel. At the time of this release I am hopefully in the air and a few hours into my 11 hour flight to Israel. Adam will be joining me there along with four other photographers from around the world. We will be in Israel thanks to an organization called Kinetis who's goal is to try and show you that Israel is more than just WAR. Well, Israel is part WAR, part history and part tech and I will be capturing a little bit of everything when I am there.
There will be a meet up at Google HQ in Tel-Aviv on Monday May 12th at 9:30 AM which is FREE to attend. All you have to do is e mail officemanager@kinetis.org.il and let them know how many people you will be attending with along with a phone number. They will e mail you back starting Thursday the 8th with all the information you will need for the meet up.
Stephen brings us his photo news stories with fewer interruptions than ever, maybe. Scientist Sutter talks about setting up the DJI Phantom with the 3 axis gimbal and how he needs to have his tonsils taken out.
Do you know how important it is to set up your employees for success? What I mean by this is setting them up with the tools to make their job easier which in turn saves time which saves money. See what I ordered Stephen to help him with editing.
Gear, gear, gear, we have a lot of gear on the table for this week as I showcase some of the items I will be taking with me to Israel.
Finally we strike hard with Flying Solo and Wheel of FRO.
A BIG THANK YOU to RODE Microphones, ATOMOS, AllensCamera, Nikon for the three D610's that we use to record each week and last but not least YOU!!!!!
Here's all of Stephen's photo news stories in detail:
Man Finds Incredible Thrift Shop Find
First up, a man named Matt Ames had a pretty amazing find at a local thrift shop in Roanoke, VA called the Good Samaritan Inn. Taking a liking for old technologies, he picked up a collection of over 400 old negatives that were in extremely good shape and already developed. He then went and had them scanned and digitized. Many of the negatives appear to be from Naples, Italy from around 1938, with even a couple rare photos of Adolf Hitler pre-World War II. After doing some research, Ames thinks the original photographer worked for Mobil Oil as an engineer and lived in New York, possibly on vacation or working overseas when he took the photos. Check out the whole set via Matt's Flickr; a fascinating look at early Italy.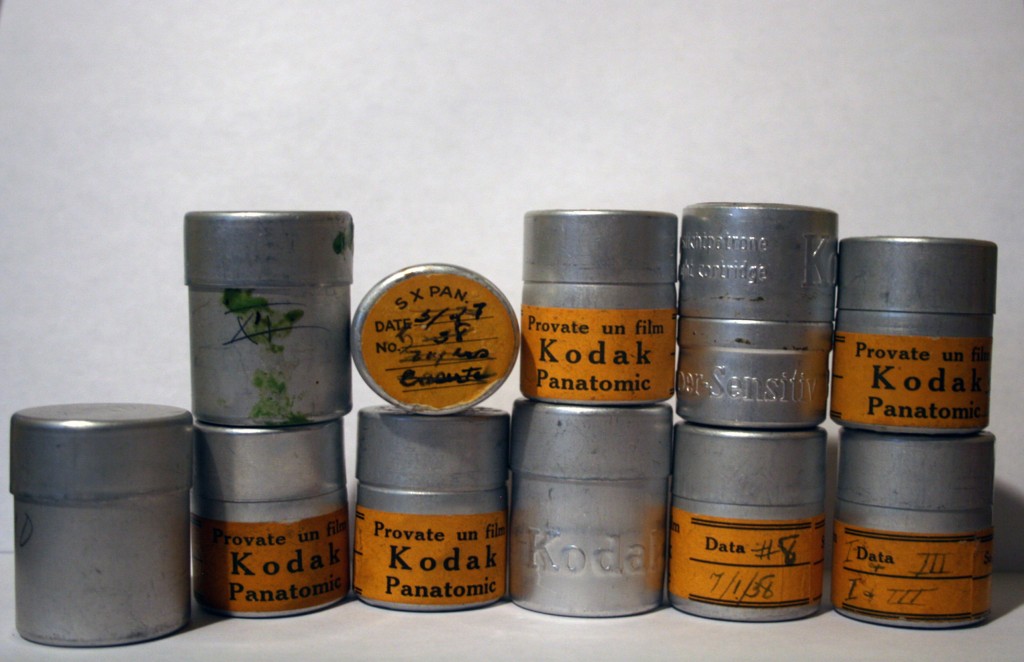 Photo courtesy of Matt Ames
Andy Warhol's First-Ever Digital Edit
This is interesting, old footage of Andy Warhol using his first-ever computer to digitally edit a photograph of Debbie Harry (Blondie) is now online. Watch below as he paints over her face using the Amiga 1000 photo editing software back at the brand's launch conference in 1985. Notice how limited the software's functions are, similar to using MS Paint or something. The reason I wanted to showcase this is because apparently the famous photographer worked on several photographs during the conference which spread across 41 floppy disks that have yet to see the light of day. Now, Carnegie Mellon University's Computer Club and a team of artists, archivists and curators set out to retrieve those images which was not an easy task since the format they were in is now extinct. The retrieval process was documented by a video crew from the Carnegie Museum of Art (CMOA) and will be premiering as a documentary called "Trapped: Andy Warhol's Amiga Experiments" on May 10 at the Pittsburgh Museum. However, if you won't be around the area like myself then they'll also be premiering the documentary on their website starting May 12. Will you be watching it? (via Engadget)
Sony Announces the a77 II
Sony has officially announced the a77 II. Some worth noting specs include a 24.3MP APS-C CMOS sensor, 79 autofocus points with 15 of them being crosstype, shoots 12fps, has an ISO range up to 25,600, a 3-inch tiltable LCD screen, full 1080P video at 60 fps and built-in WiFi. Check out the full list of specs via Sony's press release. The camera is set to be released in June at a price tag of $1200 for the body only or $1800 with the kit (includes a 16-50mm f2.8 lens). What do you think? A worthy upgrade?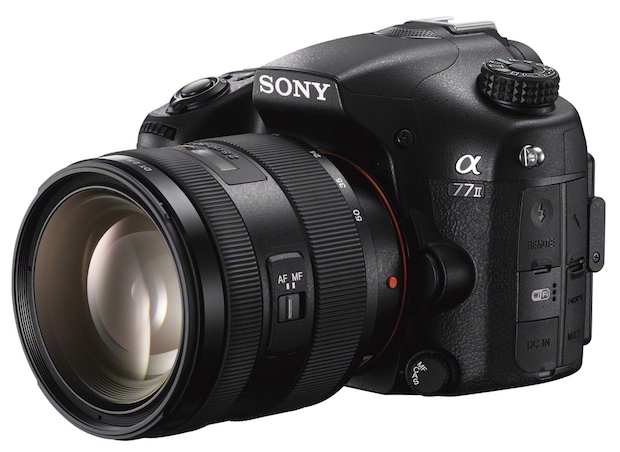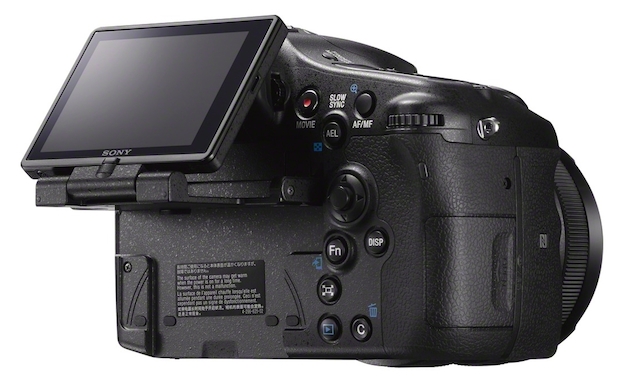 Samsung Kills The Point-&-Shoot Market Even More
Samsung unveiled a new camera phone that is actually a legit "camera phone". Called the Galaxy K Zoom, it has a 10x optical zoom with a 20.7MP sensor. Similar to the Galaxy S4 Zoom, it actually has a physical lens that zooms out. Some notable specs include a 1/2.3-inch BSI CMOS sensor (whatever that means), Optical Image Stabilization, a 4.8-inch display and a 10x optical zoom (24-240mm equivalent) f/3.1-6.3 lens. No word on when it will arrive or how much it will cost just yet. Another reason why point and shoot cameras are dead…
New Photo Series Poses World Leaders with Stuffed Animals
A new photo series simply titled "Celebrity" by photographer / retoucher Chunlong Sun takes infamous world leaders and has them posed with cute and cuddly stuffed animals. Ranging from Saddam Hussein to Fidel Castro, he basically started with models that looked extremely similar to the world leaders and transformed their faces to look like the leaders. Click the image below to view the full set along with the amazing before-and-after images: (via VN)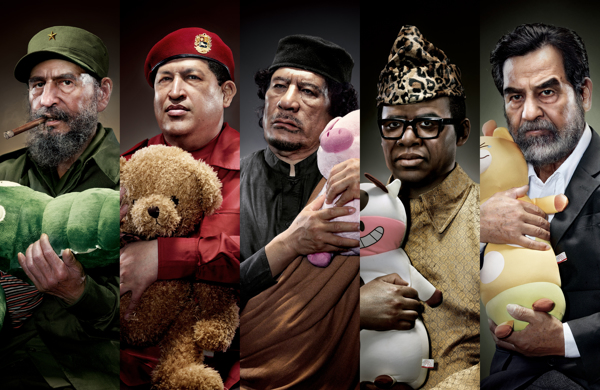 Photo courtesy of Chunlong Sun
This Is How The Thunderbirds Say Thanks To Photographers
I wish I could do this! Photographer Blair Bunting got the ride of his life in an F-16 Thunderbird. The flight was a way of saying "thank-you" from The Thunderbirds for photographing their plane at Luke Air Force Base in Arizona. They caught his whole experience and reaction via a cockpit-mounted GoPro and they reached speeds all the way up to 9G's, who Blunting says was an unpleasant and painful experience–he basically said it felt like his face was melting away and he began to lose vision. Check out his whole experience via the video below and his blog post recap. Now the question is, why can't more clients do this sort of thing?!
The First 100 Years of the Camera
Old footage from 1939 is now online which showcases the first 100 years of photography prior to that year. In celebration of the 100th anniversary of the camera, they talk about how the camera came about and all the various renditions of the light tight box. A very quick video for those that never took a photography class or simply want to know the history of the camera in less than three minutes.
7,000 Historic Photos Made Available Online
Speaking of old stuff, the American Museum of Natural History started digitizing their archive and made 7000 new old photos available to the public–it's about time! The images date back to the late 19th century. The museum says its an ongoing project to get the rest of the images online too. It's nice to see that these analog historic photos will live on through the digital age. Click the image below to browse through the galleries: (via DIYP)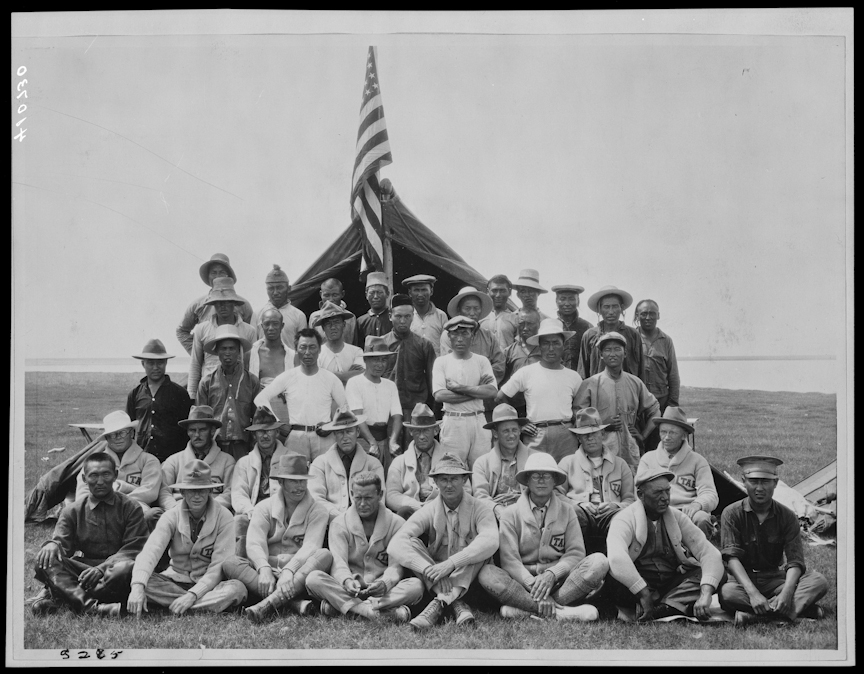 How To Extend Your Canon Battery Life 9x
This is for you Canon users who shoot a ton of video and end up going through multiple batteries in a single shoot. Well, photographer Chris Winter has solved that very problem and shared how you can extend your standard Canon battery up to 9x–about 9 hours of continuous shooting. It's a total do-it-yourself make-shift kind of method but still reliable according to Winter. The hack includes a 10,000mAh Anker battery, a DC coupler from either Amazon or Ebay, a hot-shoe plate and some industrial strength velcro which will cost anywhere from $50-100 for the whole kit depending on what brand you end up going with. He put together a video explaining the process which you can view below; I might have to invest in this myself! (via DIYP)
Brandon Stanton Shares Secrets To Photographing Strangers
This one is for those into street photography. Brandon Stanton, the man behind the 'Humans of New York' series, showcases how he approaches strangers on the streets. The 15-minute video is from his recent guest lecture at the University College of Dublin. It's very small and intricate details that he shows off including the biggest thing which is simply the energy you give off to a stranger, your overall vibe. Do you have a secret method that works for you?
Leica Store Robbed, $62K in Gear Stolen
Over $62,000 of camera gear was stolen from a Leica store in the UK; ouch. Red Dot Cameras released a list of all the gear that was stolen including the serial numbers which includes a bunch of lenses and a few bodies. Too bad they didn't have a Lenstag account…Check out the list of stolen gear below: (via LR)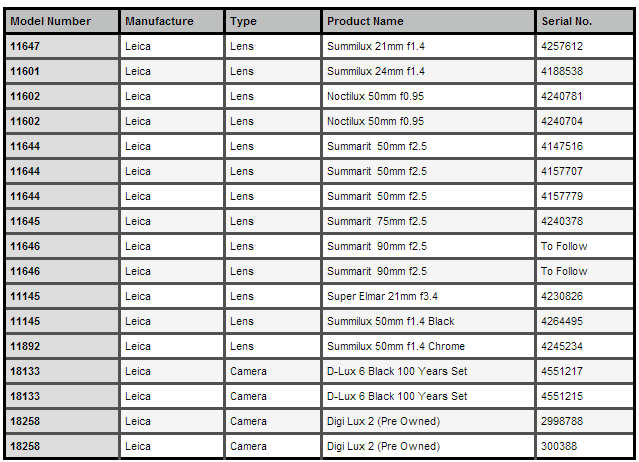 Leica's "Most Boring Ad Ever"
Moving forward regarding Leica news, they announced their new Leica T mirrorless camera which we talked about last week, the specs are the same as we talked about on last week's RAWtalk episode #083. Now what I will talk about is how the camera company released an ad for the new camera which is 45-minutes long. Yup, it's a promotional video that they're calling "the most boring ad ever made" which shows the polishing process into making one of these $2,000 cameras. It literally is just a Leica worker polishing a body for nearly an hour. Grab some popcorn and enjoy if you really do have that much free time on your hands…