Adam Elmakias FRO VS No FRO: RAWtalk Photography Episode #083
Right Click Here and hit save as to download this weeks RAWtalk as an MP3
Photo News Preview:

This week I had Adam Elmakias into the loft to sit down for an interview. If you are not familiar with Adam he is the guy behind the original lens bracelet and a touring music photographer. He has built a huge following on Instagram and Twitter and he sat down with me to share some of his stories on how he has built his following.
There was a flurry of news stories relating to concert photographers that we touched base on. I had an interview with one of them who asked a band to credit him and use his original image but they refused in an unbelievable fashion. The second was a tour manager ranting about photographers and how it's a privilege to shoot their bands.
For this weeks Gear of the Week I broke out some new bags and another flying thing to discuss.
We wrapped up this week with the Wheel of FRO where Jesus Chueca got to give it a spin.
Don't forget for more detail on this weeks Photo News stories please be sure to check out FroKnowsPhoto.con/rawtalk-83
Thank you to Atomos, RODE, AllensCamera.com and YOU for your continued support.
Click Here for the full article and full res photos from me photographing Elmakias
Here's all of Stephen's photo news stories this week:
GoPro Hero4 Leak Online
First up, rumored specs for the GoPro Hero4 have leaked online from a website called DGISE. Some of the main features include 4K video at 30fps, a 13MP sensor, talk of a new lens for shooting in low light, 1080P at 120fps, 720P at 240fps, a new HDR setting, electronic image stabilization and more. The improved action cam is expected to arrive this Summer with an estimated $340 price tag. Will you be upgrading? (via DGISE)
Lytro Reveals 2nd Generation Camera That Blows Original Out of the Water
After we bashed it last week, Lytro came back and hit us with the 2nd generation of the Lytro called the Illum. The new light-field camera looks like an actual camera now which is certainly a plus. It includes a 40 Megaray (whatever that means) resolution 1-inch sensor which is four times larger than the 1st generation. It's Android powered with the light-field engine 2.0. It sports an 8x optical zoom which is equivalent to 30-250mm lens with a constant f2 aperture. Features a 4-inch 800×480 tiltable touchscreen along with a max shutter of 1/4000. Exposure controls now include program mode, ISO priority, shutter priority and full manual. Lytro CEO Jason Rosenthal says "If Camera 1.0 was film-based, and Camera 2.0 was the transition from film to digital, we're at Camera 3.0. It's about collecting very rich information about the world." The Lytro Illum will be available starting July 15 for $1,600 or you can preorder it now for $100 cheaper if you want to save some cash. What do you think? Did they get it right this time?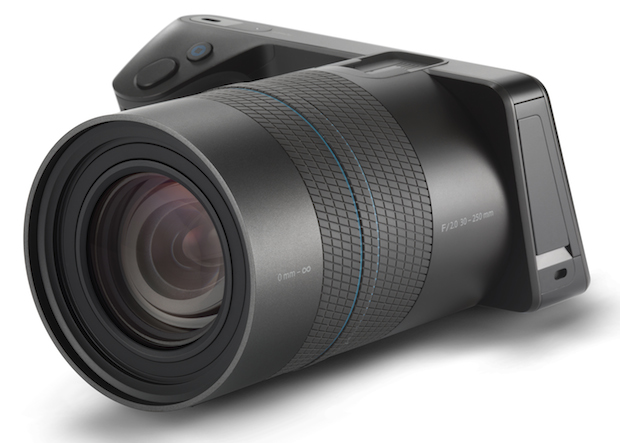 Toshiba Announces the World's Fastest MicroSD Card
Toshiba announced what they're calling "the World's fastest MicroSD cards" which comply with the new UHS-II standard. the new cards write 8x faster than their predecessors and read 3x faster too. The max read speed is 260 mb/s with a max write speed of 240 mb/s. This will be good for those shooting 4K on say a GoPro (I'm sure the Hero4 will support the UHS-II standard especially with 4K at 30fps). The cards will be available in both 32 and 64GB capacities. No price or availability announced just yet, but hopefully they'll hit sometime this Summer. (via Engadget)
Photographer Unveils Beautiful "First Responder" Photo Series
Wow, Photographer Brandon Cawood released a new photo series that documents first responders. The images are very cinematic, heavy composited pictures ranging from an EMS team to firefighters to nurses to police officers and much more in the realm of first responders. All of the people in the images are real first responders too and not models. Here's in his own words how he describes the set of images: "This series is a celebration of our communities' guardian and a memorial to the healers that put us back together when our bodies are broken. The women and men in this series are those who inspire our children to be noble and brave! They do what they do not for reward but because they want to make our community, our home, and our country a better place. Though they don't wear capes, these are our HEROES!" Check out a behind-the-scenes video on how he did the series below and check out the photos over on his website, really neat stuff. (via FS)
First Sample Footage of Nikonhackers Firmware Hack Surfaces
The first video samples of Nikonhacker's bitrate firmware hack on the D800 are now online, which brings the standard 24mb/s bitrate up to 64mb/s. There's also side-by-side comparisons of the original Nikon bitrate and the new Nikonhacker version which you can view below. There is noticeably more noise in the Nikonhacker video but that's simply because there's less compression. The uploader says with noise reduction applied in post, the Nikonhacker video cleans up rather nice. What do you think? Is it worth using or would you rather go clean HDMI out to say an Atomos? More sample footage can be found here. (via FS)
Leica's New Leica T Camera Revealed Too Early
A new camera from Leica called the Leica T (the "T" standing for touchscreen) accidently leaked online after the promotional website went live for a short period which was then taken down. Similar to Hassy's Lunar camera, this is Leica's "premium build" which is an all aluminum APS-C camera. They're saying the new camera is stripped down to the bare essentials, like the Nikon DF. Notable specs include a 16.5MP APS-C sensor, shoots 5fps, full HD video at 30fps, WiFi-enabled, a 3.7inch touchscreen LCD and 16GB internal memory. The new camera is expected to cost around $3,000 for the body only, another ridiculously overpriced product from Leica in my opinion. There's leaked photos on the website along with the wording from the site before it was taken down. Check it all out below:
"In the development of the new Leica-T system, we let ourselves be guided by values that have been strongly associated with the Leica name for more than 100 years. Dedication to innovation. Passion for technology. Love of design. Nevertheless, our steps took us down entirely new roads. We reduced everything to the essentials and never lost sight of our clearly defined objective: to create a camera that places the sheer joy of photography back in your hands.

The T-System offers dedicated photographers technical accessories to intensify the sheer joy of photography. Expand your creative horizons! The original accessories follow the same principles as the Leica T – a reduction to the essentials. We have subtracted the superfluous to concentrate on what's essential. The perfect picture. And the sheer joy it brings.

A clear and precise focus is essential to the nature of photography. Denial is not a suitable beginning, but fusion certainly is. A fusion of style, true craftsmanship and simple handling –a  symbiosis of the best. Discover the whole story – and how Leica and the Leica T break entirely new ground in the world of photography. In this film, the story is told in the very personal words of Dr Kaufmann, the Chairman of the Supervisory Board of Leica Camera AG. The New Leica T-System.

The system is totally convincing. In its reduction to the essentials. Both in its design and its inner technologies. It has everything it needs and nothing more. Minimised, yet so perfect. Never before has taking pictures been this easy. And never before has it felt so good. Find inspiration in the pictures and look forward to seeing many more." (via LVL)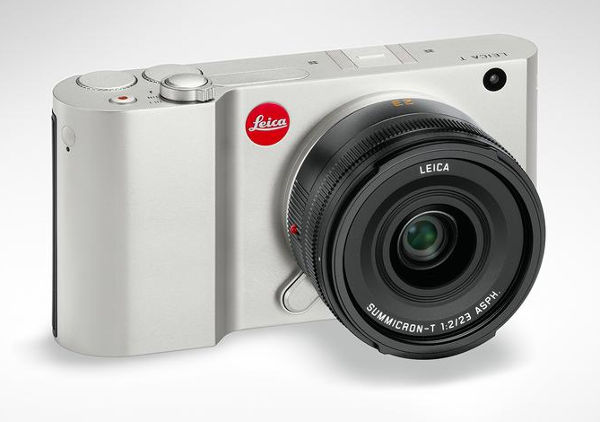 This Is How Astronauts Photographed Space 25 Years Ago
New old footage was posted online that features astronauts playing around with the very first digital camera in space during the 1991 space shuttle–the camera was called the Kodak Hawkeye II. It was a hacked camera that featured a Kodak-built 1.3mp CCD sensor that was attached to the back of a Nikon F3 body. The camera was tethered to a processing unit and power supplied by a 20-pin serial connector, with the photos going right into a 100MB hard drive. The interesting part is how they showcased the lens which was equivalent to a 1000mm lens because they had two teleconverters on it, both a 1.4x and 2x converter. Check out the retro footage below; it's amazing at how far we've come since… (via NR)
Band Steals Photographers Image, Photographer Fires Back and Wins
And finally, the biggest news story this week: The Red Jumpsuit Apparatus–a band that used to be pretty relevant in the mainstream due to their hit "Face Down"–stole a photographer named Rohan Anderson's photo without any compensation, credit or permission. The photographer fired back with a huge lengthy blog post about the whole thing. It starts with the band using one of his images and cropping it and applying a filter to it on Instagram (the watermark was cropped out due to the 1:1 recropping). After several comments on the image and emails to the band, the band then credited him on the image. However, he initially wanted the image taken down, so he emailed them again saying they need to take it down and they responded with a smiley face saying "go for it" after he threatened to take "the matter further." The band finally responded to the email with their own saying, "You have no legal claim as the photo is credited and is not posted for a monetary gain and features our likeness and image not yours. Also you have just got your self banned from any festival or show we ever play again in that region for life! Congrats!" Anderson then quickly responded by saying he would take legal action if they didn't take it down and demanded an apology–I don't blame him. RJA then fired back again with the following poorly written statement:
"We welcome the "lawyer" and his response. As for the lol it was funny, life is funny. If you want to take it any other way that's fine with us. As for the "tables turning" remark our music is everywhere illegally and we let it go like all other "professionals" try it out sometime. Most unknown photographers are happy to have world wide known bands use their photos and consider it an honor, you are clearly an example of the opposite.

Don't send anymore threats or you'll be hearing from our Lawyer!

Have a nice day ;)"
Ouch, then the band got in touch with the editor of the publication he had photographed their show for and presented a list of events to try and get Anderson in trouble. This was cleared up fairly quickly when Anderson sent the editor their entire e-mail conversation and the company instead blacklisted the band. Here's the email from the publication to the photographer: "As I suspected, you have been entirely professional against a barrage of unprofessional and juvenile behaviour from the band… rest assured that the band is now blacklisted. It's a shame that they've acted in this manner. We support you 100% on this." The publication wasn't named but kudos to them for taking the photog's side! The image was then eventually removed and the band did pay him and finally apologized, but not before calling him a tool publicly on Twitter and linking to his website. Ouch. Now adding to that story, Three Days Grace's tour manager named Shawn Hamm got involved and commented publicly on the story. He bashed concert "photographers" who ask for payment when a band shares a watermarked and credited image on their social media feeds.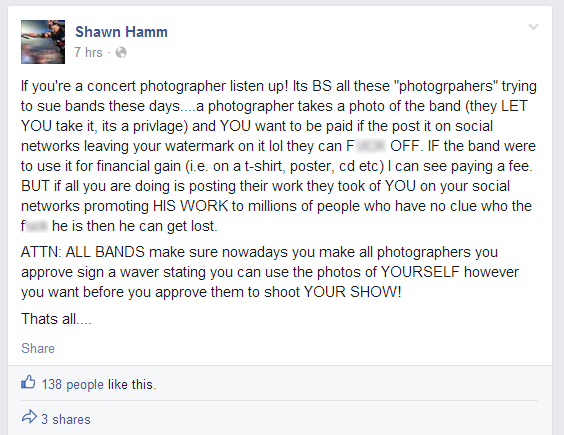 Screenshot courtesy of PetaPixel
He went on to say however that the band should credit the photographer and there should be a watermark on the image when posting. What do you think about all of this? Chime in with your thoughts below and check out Jared's interview with Rohan after the jump for his perspective on the whole situation: