Introducing The Most REVOLUTIONARY Photography Product Ever
Introducing to you the most REVOLUTIONARY Photography Product Ever!!!! CLICK HERE TO ORDER YOURS
Click Here to order yours WHILE SUPPLIES LAST

Introducing the FroKnowsPhoto "Limited Edition" Talking Bobble Head (2 AA Batteries Included)!!!!! The FRO Bobble head stands roughly 8.5 inches in tall (fro pick to bottom of the base). It comes with 2 AA batteries already installed and says 10 different things totaling 30 seconds of audio.
PRODUCT SOLD IN THE USA ONLY.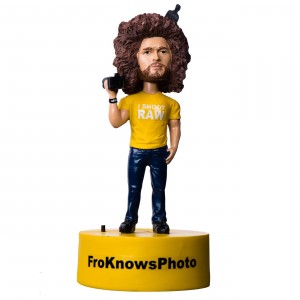 The 10 Phrases Are:
"Jared Polin FroKnowsPhoto.com"
"I SHOOT RAW"
"Glass, Glass, Glass, Glass, Glass"
"I think I like the horizonticle better"
"Squirrel"
"Let's un-box it and give it a sniffy sniff"
"Thing-a-ma-bobber"
"I think it's time for a ranty mc ranterson"
"It's Postman Fro with a package for you"
"See ya"
*****NOTICE***** THIS ITEM WILL ONLY BE SHIPPING INSIDE THE USA.
Bobble Head Shipping USA Only $6.99 Flat Rate Via USPS Priority Mail. This item will SHIP by itself for one flat rate (USA only). If you purchase other items they will ship separately and shipping costs will be based on their weight. This Item will only ship in the USA due to the cost of shipping and the possibility of damage to the bobble head being sent overseas.
If you are outside the USA and add this to your cart you will see a shipping fee of $60. If you place an order from outside the USA your order will not be shipped and will be refunded.
If you order more than one Bobble Head you will see a shipping charge for each one. If we are able to ship them together we will contact you to refund the difference in shipping.