The MUST HAVE accessory for ALL Camera Owners RØDE SmartLav
There is a very good reason I say the RØDE SmartLav is a must have for all camera owners and in this review you will find out why.
First things first, how many times have you set out to record and interview with the built in microphone of your camera? Now how many times have you been happy with the audio from the built in? If you are like me the answer would be a BIG NEVER. The reason the audio is so bad is that the microphone in the camera picks up every noise from focusing the camera to breathing to wind all without picking up clear audio of your subject. Beyond that your subject sounds like they are very far away which makes them come across as unprofessional.
The key to a great video interview is even better audio. You may have the most expensive camera in the world but without solid audio the video may be worthless. This is where the SmartLav from RØDE will help you take your videos audio to the next level. This $60 microphone in my opinion is one accessory that every camera owner should have in their bag at all times.
Pick up a SmartLav Mic for $60 Right Here and get a a FREE RODE Vampire Clip (a $10.99 Value), plus a 5% discount with code FROKNOWS.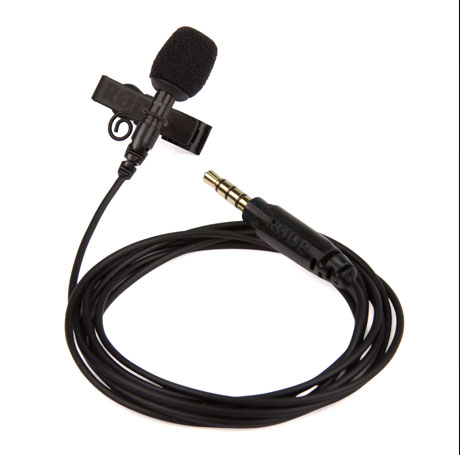 Lets look at the microphone itself. Right out of the box you have 90% of everything you need to start capturing clean, solid audio. The microphone employees an omni-directional condenser capsule which picks up clean audio from all around the microphone. It also includes a built in pop shield to block out wind as well as pronounced letters like P's and T's. Along with a small carrying pouch the SmartLav comes with a mounting clip to attach to your subject. The only thing you need to start recording audio with your SmartLav is the FREE or Pro RØDE Rec App for IOS and Android devices.
Click Here to download the sample audio clips from the SmartLav, Sony and Camera Audio.

Now that I mentioned the app lets talk about that. The FREE app will give any non audiophile plenty of options to work with. It is very simple to use, you plug the SmartLav in open the app, hit record and you are ready to go. The one thing you should do is turn your phone onto airplane mode as if you get a phone call during recording it will be interrupted by the call. The free app gives you plenty of recording options and the pay app gives you even more control.
To get the files off the phone you can connect it to the computer, email (not a good option for large files, upload to an FTP, upload to Soundcloud or drop box (pay app) or have it upload to RØDE's servers to be downloaded from any computer. I chose to use the server option which gives you an IP address to type in any browser which than lets you download your file quickly.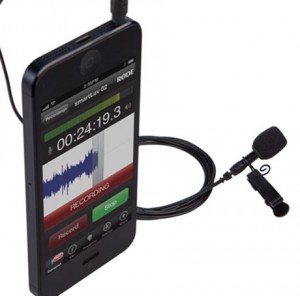 The most important question you should be asking is how is the audio quality of this $60 mic. The quick answer is its very very good. We tested it next to my $600 Sony Wireless Microphone and in all honesty most people would not be able to tell the difference between them. What you are paying for with the Sony's is the ability to wirelessly send the audio to your camera via a transmitter and receiver and have your audio synced right in camera.
With the RØDE you are not able to sync the audio at the time of recording but it could not be more simple in this day and age to have your audio sync with the video in post. This is one extra step that is worth the $540 savings.
Here is the best way to make sure you can simply sync your audio in post. You want to make sure your camera is recording audio along with your RØDE. When you start recording you want to CLAP so both devices pick it up. In post all you have to do is line up the claps delete the camera audio and bam, you have synced up audio. With apps like Final Cut you will have an easier time syncing audio via the built in sync features.
What it comes down to is if you ever need to capture audio for interviews or you think you may need to one day, my suggestion would be to pick up a RØDE SmarLav and have it in your bag at all times. If your option is the built in microphone or the SmarLav the difference is night and day, it's a no brainer. The ability to capture professional sounding audio for as little as $60 could be the difference between getting the job or not.
I fully recommend this product based on its value, quality and ease of use.
Pick up a SmartLav Mic for $60 Right Here and get a FREE pack of Gator Clips a $10.99 Value with code FROKNOWS.